After a busy week of trades and free-agent signings, the focus now is on players who joined new teams and how those changes will impact their fantasy values.
The first, second, and third waves of free agency have been covered:
Those moves resulted in plenty of fantasy updates:
So now let's look at the biggest beneficiaries, including players who may not have been free agents, but they still saw their fantasy stock rise significantly this past week.
Todd Gurley and Hayden Hurst, Falcons - The two newest Falcons will get opportunities in Atlanta. Gurley might be a declining asset due to his arthritic knee, but he steps into a backfield where Devonta Freeman vacated 243 touches, an average of 17.4 per game over his 14 appearances in 2019. Gurley averaged 16.9 touches per contest with the Rams last season. Meanwhile, Hurst takes over at tight end for Austin Hooper, who was on pace for 100-plus targets in 2019 before injuries cost him time. Only 11 tight ends saw 80-plus targets last campaign, and Hurst could reach that plateau as Matt Ryan's safety valve next season.
Darrell Henderson and Malcom Brown, Rams - With Gurley gone, the hype around Henderson will be raging once again after he spent most of his rookie season on the bench. Brown, who's a better pass-blocker, was given more touches while serving as Gurley's primary backup. But neither Brown nor Henderson were particularly efficient in 2019 behind an offensive line that Pro Football Focus ranked 31st. Until the Rams address that weakness, getting excited about this budding timeshare will be hard. Still, Henderson's game-breaking skills make him an RB3 with upside and the potential to become a star if he develops into an all-round back.
Tom Brady, Buccaneers - Entering his age-43 season, Brady joins the only NFL offense that boasts two top-10 wideouts. As we outlined in our recent breakdown, he likely can't produce another elite fantasy campaign, but Tampa gives him the best chance to remain in the QB1 ranks.
Jarrett Stidham and Brian Hoyer, Patriots - As it stands now, Stidham and Hoyer will compete to replace Brady in New England. While Stidham shined during preseason duties, Hoyer is experienced in the system following two previous stints with the team. Whoever wins the job will hold value as a fantasy QB2, unless the Pats sign or draft a big name.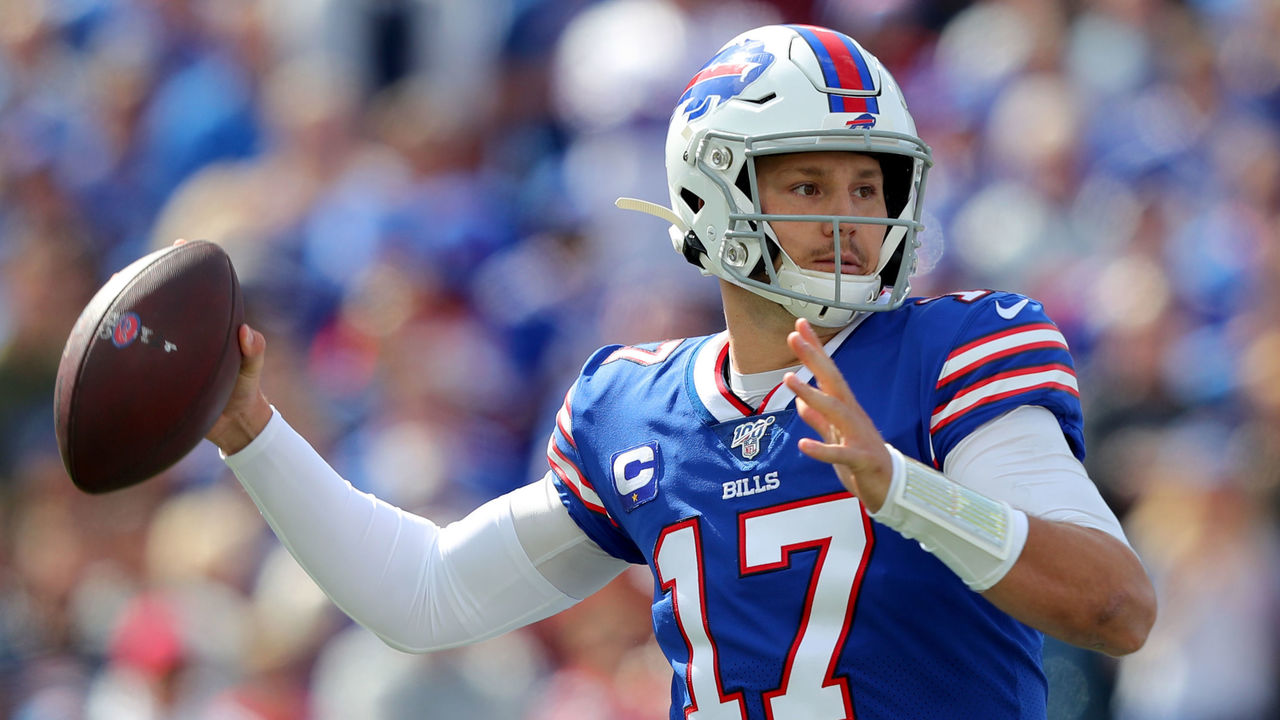 Josh Allen, Bills - Stefon Diggs might not receive the kind of target volume he's looking for in Buffalo, but another explosive weapon has been added to Allen's receiving corps. After finishing with the sixth-most fantasy points among quarterbacks in 2019, Allen will get another chance to raise his game as the Bills continue to surround him with talent.
Adam Thielen and Irv Smith Jr., Vikings - Diggs departing leaves 94 targets from 2019 unaccounted for in Minnesota. The run powers the Vikings' offense, which makes targets extremely valuable in their low-volume passing attack. Thielen's share will slightly increase, setting him up to bounce back after an injury-plagued campaign. And depending on what the Vikings do in the draft, second-year tight end Smith Jr. could break out as the team's de facto No. 2 pass-catching threat. The 21-year-old came close to matching the receptions and yardage totals of starter Kyle Rudolph despite playing almost 200 fewer snaps in 2019.
Blake Jarwin, Cowboys - Speaking of tight ends with breakouts on the horizon, Jarwin's stock is trending up now that Jason Witten has signed with the Las Vegas Raiders. Down the stretch in 2018, Jarwin posted stat lines of 7-56-0, 4-45-0, and 7-119-3 before Witten came out of retirement to block his path to a full-time starting job. Randall Cobb leaving in free agency could also help redirect more targets toward Jarwin.
David Johnson and Will Fuller, Texans - We already covered the winners and losers from the blockbuster trade that saw Johnson head to the Texans and DeAndre Hopkins move to the Cardinals. Johnson will be given every opportunity to excel as Houston's lead back. In that role, Carlos Hyde finished as the RB23 in standard leagues and the RB30 in PPR formats in 2019. Unlike Hyde, Johnson offers a true three-down skill set, putting him back on the RB2 map with the Texans. With Hopkins out of the picture, Fuller has the upside to be a top-20 player at his position, with just one major caveat: his extensive injury history.
Kyler Murray and Kenyan Drake, Cardinals - The Cardinals' offense emerges from free agency as a rising unit, with Hopkins giving it a legitimate receiving threat atop the depth chart, and Drake signing his transition tag to return as the starting ball carrier. Murray was a top-seven fantasy QB as a rookie without Hopkins in the mix, so there isn't a limit on his ceiling this season. Drake already improved the team's backfield production after arriving through a midseason trade in 2019. With Johnson no longer siphoning touches, a healthy Drake will push for RB1 fantasy numbers.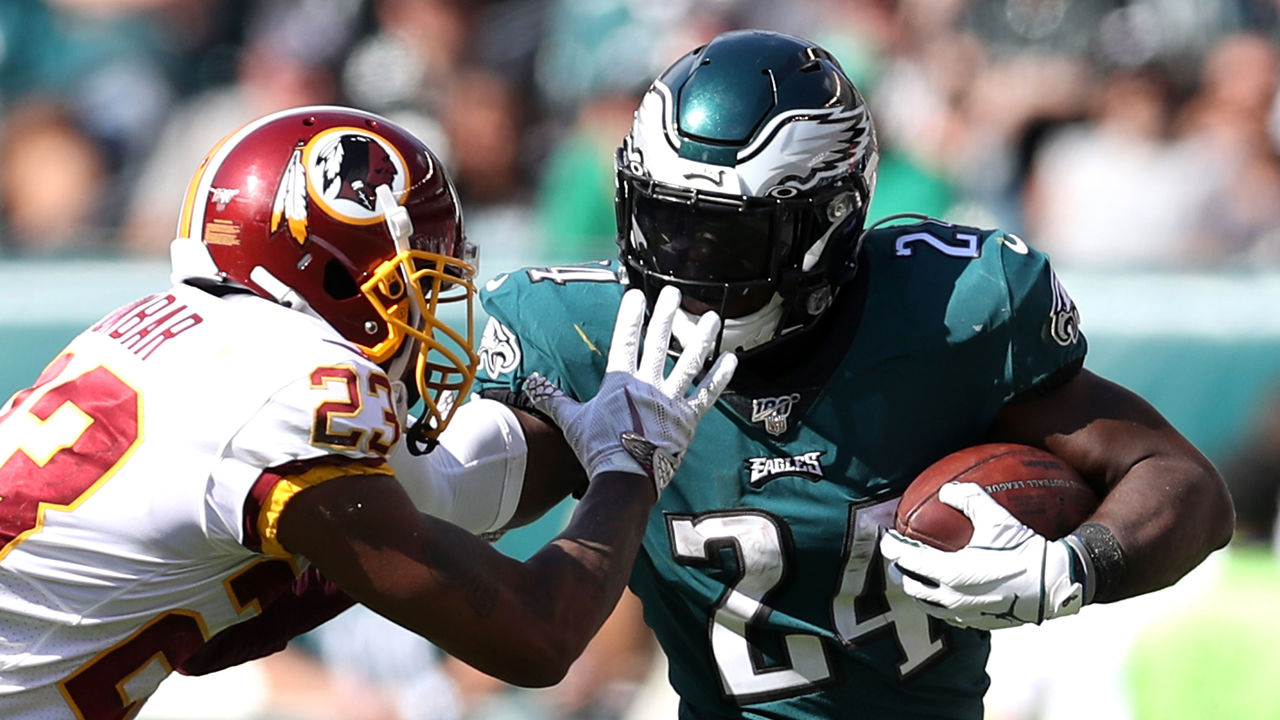 Jordan Howard, Dolphins - Howard was a top-20 fantasy back in PPR leagues in each of his three seasons in Chicago, and he maintained that status through nine games with the Eagles before an injury derailed him in 2019. Miami can give him a monster workload if the Dolphins pass on selecting a running back during the early rounds of the draft. A rookie will likely join the depth chart, but even in that scenario, Howard will still be valuable during the first half of 2020.
Miles Sanders, Eagles - Sanders replaced Howard midseason in 2019, with the rookie posting top-10 fantasy stats across all formats over the final seven games. Now Howard is off the roster, and Sanders will be set loose as a runner and pass-catcher in a Philly offense poised to rebound after terrible injury luck in 2019. Hopefully, the Eagles' front office doesn't draft another running back and complicate things.
Nick Foles and Allen Robinson, Bears - Foles, an Eagles legend, returns to the NFC following a brief Jaguars stint. The price Chicago paid for the Super Bowl LII MVP - a fourth-round pick - is slightly more than the going rate for backups, which makes sense since all signs point toward an open competition against struggling starter Mitch Trubisky. Chicago's offense is loaded with talent, offering Foles a chance to get back on the fantasy radar as a QB2 if he wins the job in camp. His arrival also brings hope for Robinson, who continues to produce, but his ceiling would be even higher with more competent quarterback play.
Gardner Minshew, Jaguars - The Foles trade clears the way for Minshew to enter Week 1 under center. Barring an unlikely run at Cam Newton, Jameis Winston, Andy Dalton, or a top-flight quarterback prospect, Jacksonville will see if it can build around the eccentric sophomore passer. D.J. Chark, Dede Westbrook, and Leonard Fournette provide plenty of weaponry for new offensive coordinator Jay Gruden. However, expecting a sixth-round pick not named Tom Brady to develop into a reliable starting QB is a long shot.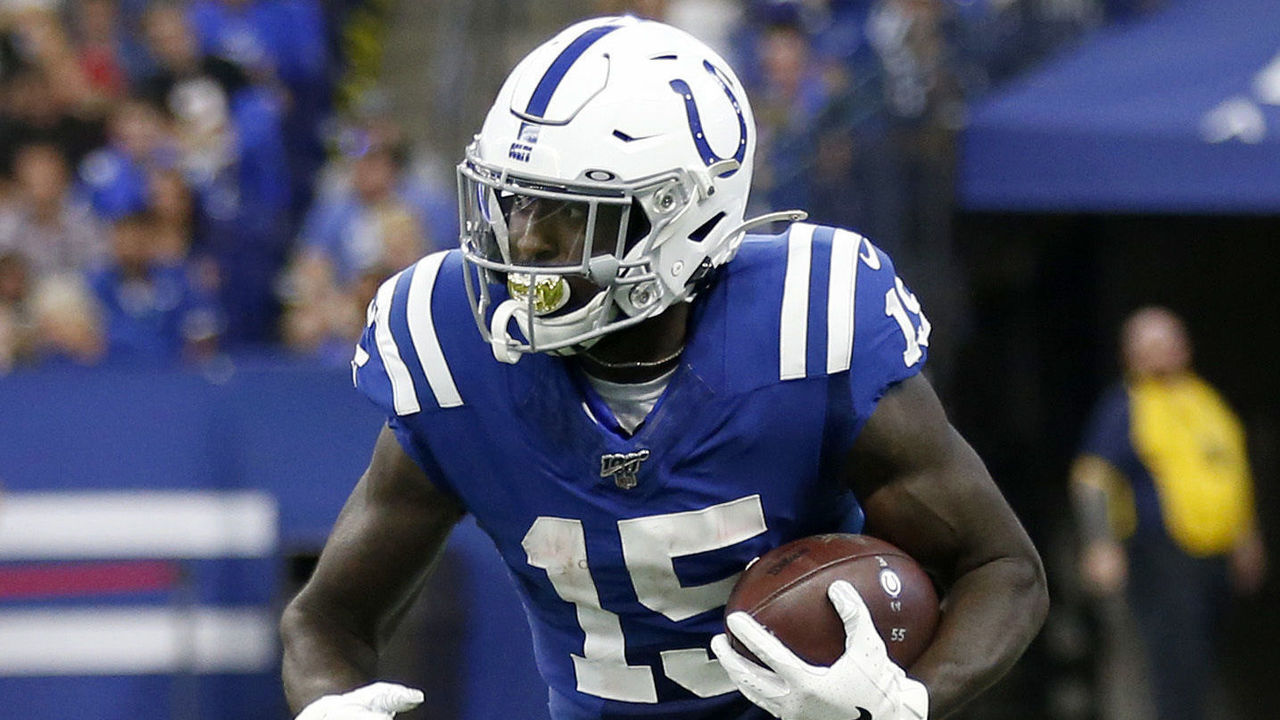 Colts' skill position players - This is hardly a knock on Jacoby Brissett, but Philip Rivers will bring veteran experience to the Colts and help T.Y. Hilton, Parris Campbell, Jack Doyle, Marlon Mack, and even Nyheim Hines improve their consistency. Rivers' short-to-intermediate passing will ignite Campbell's yards-after-catch ability, making him a 2020 sleeper. The signal-caller always leans on his tight ends and running backs, and that trend should continue given his history with Colts head coach Frank Reich and OC Nick Sirianni dating back to their time with the Chargers. If you have a close decision to make on draft day, lean toward the Colts' skill position players, who will be underrated after a down year for the entire offense.
Tyrod Taylor, Chargers - At the moment, the Chargers seem content to replace Rivers with the 30-year-old Taylor, whose last starting gig didn't end well in Cleveland two years ago. The team will rely on a strong defense and rushing attack to grind games out while attempting to limit turnovers - something Taylor does quite well, perhaps to a fault. Taylor hasn't held fantasy value in a while, so proceed with caution.
Justin Jackson, Chargers - Melvin Gordon signing with the division rival Broncos means Jackson's stock temporarily rises. He'll still need to survive the draft, but the team's coaching staff has spoken highly of him, and the Chargers appear willing to give Jackson a shot at playing Austin Ekeler's sidekick. Both Ekeler and Gordon were starting-caliber fantasy backs down the stretch in 2019, a level Jackson can aspire to reach.
A.J. Brown and Jonnu Smith, Titans - Brown's late-season breakout occurred with Ryan Tannehill at the helm, so the Titans inking their passer to a long-term deal is a positive for the wideout's fantasy outlook. Continuity is often underrated as young players develop, and Smith will also benefit from familiarity as the 24-year-old tight end assumes the starting job heading into his fourth season in Tennessee. Smith posted 50-plus yards and/or a touchdown in six of the final 11 games of the fantasy season in 2019 after taking over for Delanie Walker, who's currently a free agent.
Teddy Bridgewater, Panthers - We still don't know if Carolina is rebuilding, but enough talent surrounds Bridgewater to give the team's offense a jump-start, allowing him to produce QB2 fantasy numbers. He'll be a welcome upgrade for wideouts DJ Moore and Curtis Samuel after a year spent with inaccurate backup Kyle Allen starting.