The early rush of blockbuster signings and trades is over. Exhale. Now it's time to assess the biggest risers and fallers in NFL free agency so far.
Winner: Buccaneers
Tampa Bay Buccaneers quarterback Tom Brady. Let that sink in.
A free agent for the first time in his career, leaving a Patriots team with which he won six Super Bowls and 17 division titles, Brady really chose an organization that hasn't been to the playoffs since 2007 and hasn't won a playoff game since its 2002 Super Bowl season. The Bucs pulling this off was nothing short of incredible.
Any short-sighted move comes with its detractors - football is the ultimate team-building exercise, and there will always be fans who hate the idea of adding a player they deem to be past his prime. But if you're not one of the lucky teams with a franchise quarterback already in place, this is a move you make 100 times out of 100.
Tampa Bay all of a sudden finds itself walking into a two-year championship window after countless years as a basement dweller. Brady isn't what he once was, but don't let a weird season in New England fool you into thinking he can no longer be a difference-maker en route to a title. The soon-to-be 43-year-old is just two seasons removed from adding another ring to his obscene collection of hardware.
Dead set on winning yet another title before he goes out - and doing so independent of Belichick - Brady choosing the Bucs was the ultimate vote of confidence for what Tampa is building. Mike Evans and Chris Godwin provide him with one of the league's premier receiver tandems, a stark contrast to what he had to work with last season. Bruce Arians might be the perfect offensive mastermind to make it all come together in short order. And Todd Bowles' work on the other side of the ball saw the Bucs quietly finish last season with the NFL's sixth-ranked defense.
Add in the LeBron-like effect of Brady's presence on the Bucs, with a "high number of players" reportedly expressing interest in joining him (Todd Gurley, anyone?), and it's not difficult to imagine how quickly things could go in the other direction for Tampa Bay just one season after having the first quarterback to ever throw 30 touchdowns and 30 interceptions.
The Bucs just became the NFL's most exciting team. See you in prime time.
Loser: Bill O'Brien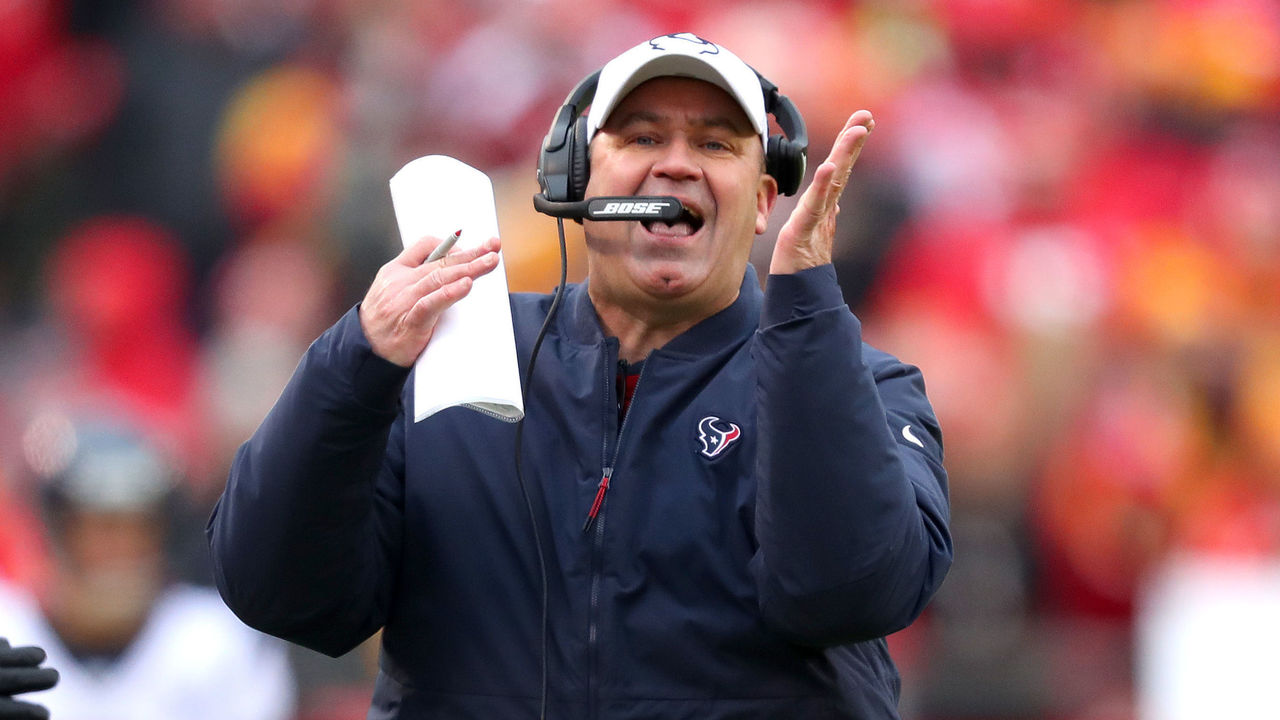 In the last seven months, Bill O'Brien traded away DeAndre Hopkins and Jadeveon Clowney. He should have two extra first-round picks to show for it, but instead, he has none.
If any other general manager in football traded a perennial All-Pro like Hopkins for a Day 2 draft pick and David Johnson, a running back so ravaged by injuries he looks like he's running in a snowsuit, an immediate firing would be on the table.
But O'Brien won't be held accountable for getting fleeced. He's his own boss and holds more power than any coach or GM in pro football. Heck, he might give himself a raise.
Friction between O'Brien and Hopkins reportedly precipitated the trade, including the allegation that the coach compared the player to deceased murderer Aaron Hernandez during a heated meeting (Hopkins has since downplayed this anecdote). Hopkins also reportedly planned to hold out to force a new contract.
Even if we grant that O'Brien was correct to move on from Hopkins, his apparent neglect to shop the wideout around the league to ensure the best possible return is inexcusable. The Vikings got a first-round pick and more from the Bills for Stefon Diggs - a talented receiver, but not one who produces in the same elite tier as Hopkins.
It seems like O'Brien saw an available veteran RB and couldn't resist pulling the trigger. Somehow, this is the third time in less than a year O'Brien has traded for a veteran tailback. Last season, he traded a third-round pick for Duke Johnson and an offensive lineman for Carlos Hyde.
The Texans made the playoffs with a Johnson-Hyde backfield, but they couldn't keep up with the Chiefs' high-scoring offense. Does anyone believe they have a better chance of doing so in 2020 with David Johnson instead of DeAndre Hopkins?
Winner: Football fans
With the world's sports on pause amid the coronavirus pandemic, the NFL figured out how to conduct free agency with minimal interpersonal contact and grabbed almost every available headline because of it.
In the days leading up to start of the new league year, rumors swirled that the NFL would push back the opening of its offseason player market. Instead, the league held firm to its schedule while slightly altering its usual procedures, allowing players to take physicals where they reside before deals become official rather than traveling to be evaluated by various teams' doctors.
The most entertaining free-agency period in years ensued, offering a welcome distraction from the frightening virus updates dominating every other facet of the news.
The sports world will eventually return to normal and games will eventually resume being played. But it might be a while, and the rush of excitement the NFL provided via blockbuster trades and signings will sustain fans for now.
Loser: Dolphins and Lions
If the Patriots' dynasty is truly over, the Dolphins and Lions are blind to it. Each team, coached by a former defensive disciple of Bill Belichick, aggressively targeted former Patriots in free agency in an apparent attempt to borrow Foxborough's blueprint for winning - something that's been tried countless times over the years with no notable successes.
Brian Flores' Dolphins committed to pay linebacker Kyle Van Noy $51 million over four years before also adding Elandon Roberts to their linebacking corps and center Ted Karras to the offense. All three are the sort of unexceptional but highly versatile players who have excelled in New England over the last two decades but regularly failed to make an impact elsewhere.
The Dolphins also made ex-Cowboy Byron Jones the highest-paid cornerback in history with a five-year, $82.5-million deal. The ultra-athletic but not exactly ultra-productive Jones, who has two interceptions in his five pro seasons, will pair with former highest-paid cornerback Xavien Howard in a secondary that will disappoint if it's anything less than the NFL's best.
The Dolphins spent like they believe they're ready to contend, but a quick look at Miami's offensive personnel suggests that's far from the case.
In Detroit, Matt Patricia's Lions followed a 2019 free-agency period in which they gave former Patriots pass-rusher Trey Flowers a five-year deal worth $90 million by adding another pair of former Pats front-seven defenders in linebacker Jamie Collins and defensive tackle Danny Shelton.
Both Collins and Shelton have previously played outside of New England and neither was close to effective in other colors.
Winner: Kyler Murray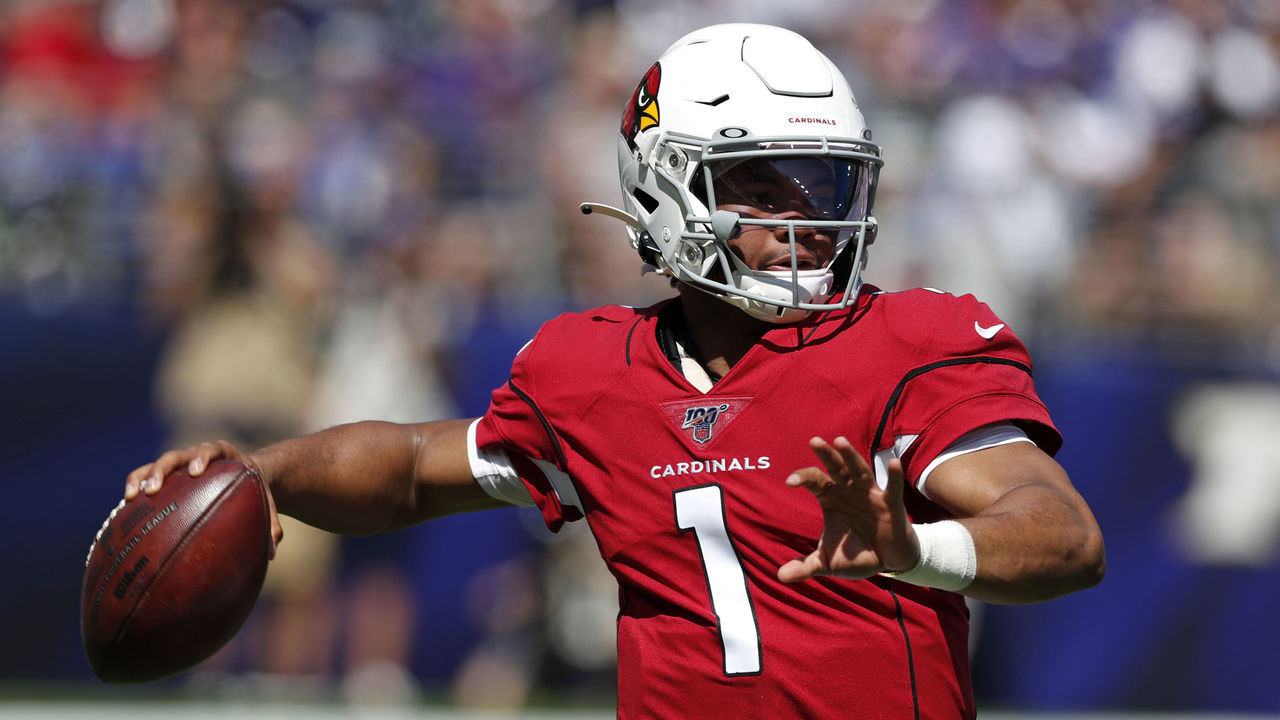 Already a popular choice to make a Patrick Mahomes or Lamar Jackson-like sophomore leap into MVP contention, Kyler Murray now gets to throw to DeAndre Hopkins.
Unquestionably one of the NFL's best wideouts, Hopkins has averaged 105 catches for 1,372 yards and 10 touchdowns over his last three seasons. Those are Larry-Fitzgerald-in-his-prime numbers, and now he'll play alongside Fitzgerald as his heir apparent. Hopkins' impact on Murray's development will be enormous, and he'll be worth every penny of the new contract the Cardinals are sure to give him.
Arizona didn't win many games in Murray's rookie season, but the former first overall pick flashed enormous potential en route to winning Offensive Rookie of the Year honors. And he got better as the season wore on, even with a supporting cast that notably lacked reliable receivers beyond a fading Fitzgerald.
We still haven't seen Kliff Kingsbury's Air Raid offense fully unleashed on the NFL because the Cardinals lacked the personnel to attack defenses out of four-wide sets. The addition of Hopkins is an enormous development in that regard.
Losers: Jadeveon Clowney and Melvin Gordon
Household names among football fans, Jadeveon Clowney and Melvin Gordon are likely grappling with the unpleasant reality that fame doesn't always translate to free-agent dollars.
Both of them remain unsigned as the initial wave of big-money deals transitions to a slow stream of bargain-basement signings, and there's little reported interest in either player.
Clowney seems to have set his asking price much too high at a reported $20 million per year, especially considering he's coming off a three-sack season. Returning to Seattle on a one-year "prove it again" deal at a discount might be his best option.
Gordon likely regrets not taking the $10 million per season the Chargers reportedly offered him before the 2019 campaign kicked off. Gordon's holdout accomplished nothing beyond helping to showcase Austin Ekeler and get the former backup paid.
It's a buyer's market for running backs with a glut of capable veterans, including Devonta Freeman and Lamar Miller, still seeking work. It's not unthinkable that Gordon will opt to swallow his pride and re-sign with the Chargers at far less than he believes he's worth.
Winners: Offensive linemen
It pays to be an offensive lineman in today's NFL - literally.
With starting-caliber talent so scarce across the league, teams looking to fill a need up front can't afford to miss out when an opportunity, however uninspiring, may present itself. That desperation is why we see so many out-of-whack free-agent contracts at this position group.
Ereck Flowers, one of the more infamous first-round left tackle busts in recent memory, finally showed some promise last year after making the move to guard. He wasn't spectacular by any means, but apparently it was enough for the Miami Dolphins to give him a three-year, $30-million contract, matching the deal Bryan Bulaga got from the Chargers. An annual average of $10 million now puts Flowers in a tie as the NFL's fifth-highest-paid left guard.
Halapoulivaati Vaitai was a valuable swing tackle with the Eagles, stepping in on either end of the line as needed, but he still only started four games over the last two years. No matter - the Lions are so confident he'll thrive as a full-time right tackle that they're giving him $45 million over five years, making him the NFL's seventh-highest-paid player at the position.
The free-agent market will always drive prices up, but this is the kind of reckless spending that teams so often come to regret. Offensive linemen around the league must be loving what they see, though.
Losers: Free-agent wideouts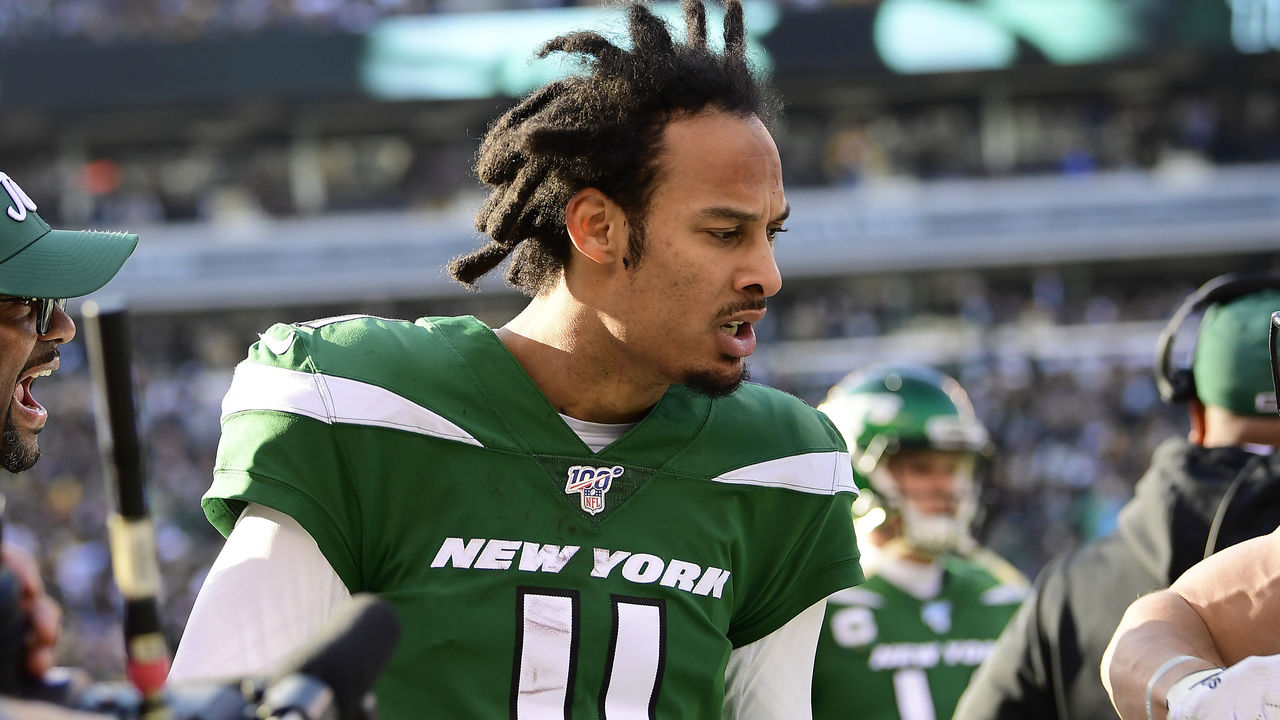 Amari Cooper got his megadeal, but that was always going to happen. The rare elite receiver to hit the market at the age of 25, it would have been a surprise if he didn't get his $20 million per year. No other receiver has been scooped up yet, and it's not difficult to see why.
It certainly isn't for a lack of talent; Robby Anderson and Emmanuel Sanders, among others, can be extremely valuable pieces for a high-level passing offense. And eventually, they will be signed. But it won't be for the kind of money they might have been able to land if they were free agents in another year.
With a historically talented rookie class of receivers on the way, teams probably just aren't all that eager to give Anderson a long-term deal averaging anywhere close to the $15 million he was rumored to be seeking. And it's tough to blame them.
Anderson and Sanders might end up having to settle for shorter and/or significantly cheaper deals than they were angling for. They'll be steals for their respective teams as a result, but it's an unfortunate development for two talented players deserving of paydays.
Winner: Chargers
No Brady? No problem.
Nice as it would have been to roll into their new stadium with the greatest quarterback of all time under center, and devastating as it probably was to finish second in the race for his services, the Chargers still find themselves in tremendous shape after a sneaky-good start to the offseason.
The offensive line was upgraded with the trade for Trai Turner and the signing of Bryan Bulaga, while adding Chris Harris Jr. and Linval Joseph bolstered what was already a strong defense. Questions remain at quarterback and left tackle, but the path to answering them is clear - and exciting.
A lack of needs elsewhere on the roster should give Los Angeles the freedom and encouragement to send the Redskins whatever draft picks necessary to get the No. 2 overall selection and take Tua Tagovailoa. While they're at it, the Chargers might as well see what they'd have to throw in to make All-Pro left tackle Trent Williams a part of the deal. If the cost for Williams is prohibitive, Jason Peters is out there as an interesting short-term fix at that spot.
Either way, not getting Brady could actually be a blessing in disguise for the Chargers. Spending money in other ways further strengthens an already stacked roster and theoretically allows them to go all-in on addressing the quarterback spot in the draft, which is the more prudent long-term play, anyway. The Chargers can create a wide Super Bowl window for themselves if they play this right.
Loser: Bears
Remember when Ryan Pace won Executive of the Year? Feels like a long time ago, doesn't it?
Faced with a make-or-break offseason, with the short- and long-term future of the Bears hanging in the balance, Pace has responded by making one puzzling move after another.
The No. 1 priority heading in, of course, was to address the quarterback position - Mitchell Trubisky is not the answer. In the rare year where the NFL seemed destined to have quarterback supply exceed demand, with at least one longtime starter apparently fated to be the odd man out, there was no shortage of options for the Bears. And they settled on a trade for Nick Foles.
Foles is fine. But there were so many more inspiring solutions than a flash-in-the-pan journeyman who was forced out of Jacksonville by a sixth-round rookie. If the Bears decided that a salary at Foles' level was manageable under the cap, why not pay up for Teddy Bridgewater or Jameis Winston? How about Andy Dalton or Cam Newton? The latter comes with injury risk, but at least there's still MVP-level upside. And if the idea was to provide competition for Trubisky, which may realistically be all that Foles does, Marcus Mariota could have been signed for cheap. Of all these options, trading a fourth-round pick for Foles might have been the worst.
Compounding the confusion, Chicago gave Robert Quinn a five-year, $70-million contract - presumably based off the one good year that followed four not-so-great seasons - and added Jimmy Graham on a two-year, $16-million deal that wasn't warranted by anything other than name recognition.
The Bears might have the foundation of talent to overcome all of these potential blunders and remain a playoff contender, but that didn't need to be the conversation we're having. The ceiling should be so much higher - and it could have been, with the right approach to the offseason. It's getting increasingly difficult to believe in the direction of this organization.