When John Urschel got to the NFL as a fifth-round draft pick of the Baltimore Ravens in 2014, he was listed on the depth chart behind Marshal Yanda, the team's mainstay at right guard. Urschel immediately understood he needed to pay attention to Yanda's approach to his craft - but only to a point.
"I would see the things he would do," Urschel once told me, "and people were telling me, 'Don't try to imitate Marshal Yanda. This is not something you can do.'"
Yanda announced his retirement this week after 13 seasons, all with the Ravens. He had the distinction of being one of the best players at his position throughout his career. He has a Super Bowl ring. His toughness is the stuff of legend. Yet a fan outside Baltimore can be forgiven for never having heard of him. As Robert Mays of The Ringer put it a few years back: "In an age of unceasing information, (Yanda is) a walking contradiction: a future Hall of Famer hiding in plain sight."
Interior offensive linemen tend to toil in obscurity, the great ones paving the way so others can be featured in a viral highlight clip. That about sums up Yanda's career. Only 15 guards are in the Pro Football Hall of Fame, with Steve Hutchinson set to join that group this summer. Yanda is a lock to get there someday, too.
This did not seem to be his career trajectory back when he was at North Iowa Area Community College. Yanda grew up on a family farm baling hay and clearing calf stalls in Anamosa, Iowa, where he dreamed of playing for the Iowa Hawkeyes. Here's Mays' description of how Yanda finally got the Hawkeyes to offer him a scholarship:
On Sundays during the 2004 college football season, he would hop in his truck and drive the 165 miles from NIACC's campus in Mason City to Iowa City. While the Hawkeyes stretched and jogged Kinnick Stadium, Yanda hung around hoping to get noticed. "It was kind of like a dog on your porch that won't go away," Iowa head coach Kirk Ferentz says.

The ploy eventually worked. On the morning Yanda was supposed to drive to Ames to sign his national letter of intent with Iowa State, he woke up to a voicemail from Hawkeyes offensive line coach Reese Morgan. Iowa was ready to give him what he had always wanted.
The Ravens selected Yanda in the third round of the 2007 draft. By Week 2 of his rookie season he was a starter - at right tackle. That versatility would serve him well in the years ahead, even if full measure of his NFL ability was not yet known.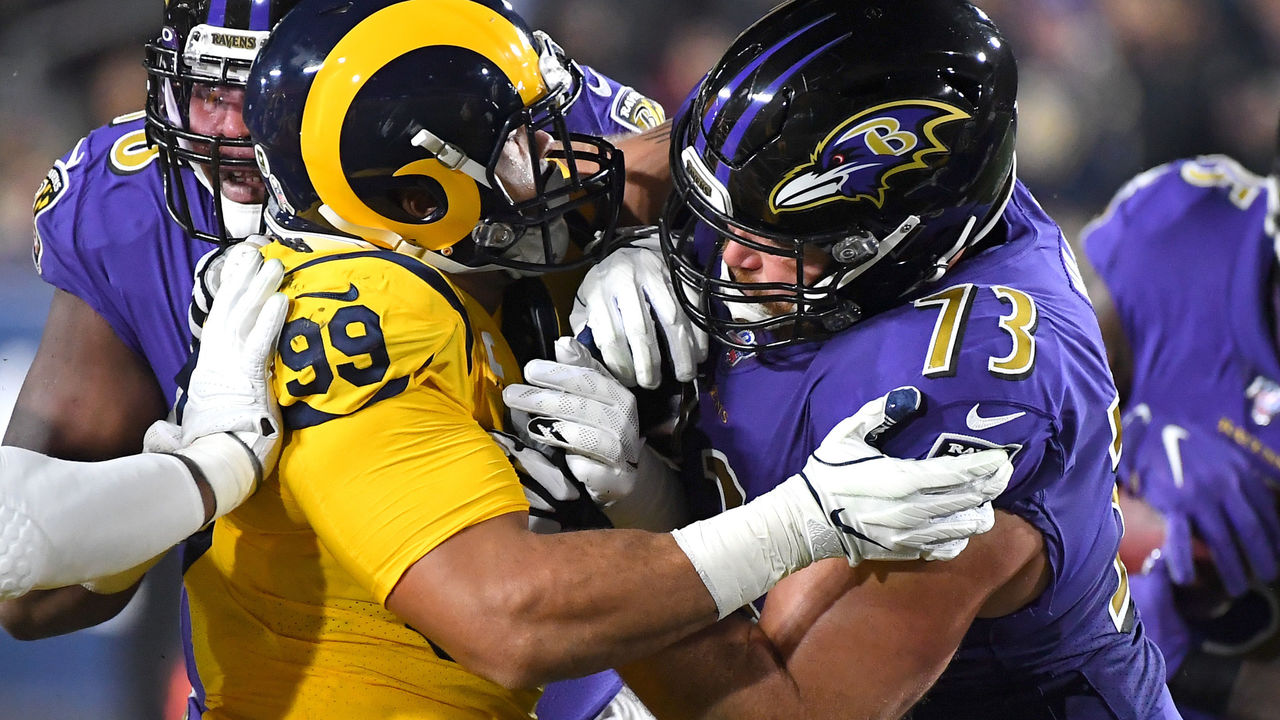 Now that it's possible to quantify offensive line play, it's easy to understand Yanda's dominance. Among guards on both the left and right side to play at least 50% of the league-maximum snaps in a season, Yanda ranked in the top 12 in fewest pressures allowed seven times, per PFF. He ranked first or second three times, including first in 2019. And twice in his first four seasons, when Yanda frequently played right tackle, he ranked in the top 10 among all qualified tackles in fewest pressures allowed.
"He's the best," Urschel told me before pausing for several seconds, as though he intended those words to be all he'd have to say on the matter. "No, I mean, the best."
Urschel gained some notoriety in 2017 for quitting the NFL to focus on his passion for mathematics. In his book, "Mind and Matter: A Life in Math and Football," Urschel marveled more specifically at Yanda's singular ability.
"In one game late in my rookie season, I watched him help our right tackle double-team the defensive end with a quick punch, slide over to handle the nose tackle, and then block the inside linebacker," Urschel wrote. "I had never seen a defender handle three different defenders quite like that. It took a combination of awareness, quickness, strength, agility, and instinctive calculation that no one could match. Of course, to him it was no big deal."
Justin Forsett got credit for a 23-yard run on the play below. But none of it happens without Yanda (No. 73) clearing space for him:
"I couldn't hope to copy Yanda's style," Urschel wrote in his book. "For one thing, he did a few things unconventionally, giving space where other guys were aggressive, daring defenders to bull-rush him. It worked - but only for him."
It worked for Yanda because he used his lack of size - at 6-foot-3 and 305 pounds, he was considered small for an NFL guard - to his advantage, which allowed him to get under defenders as they came to him. He could get away with this in ways others couldn't because of his exceptional strength in addition to his preparation, which helped him understand the angles and the foot and hand placement he'd need against a particular defender.
Yanda told Mays he played this way because of his early years as a tackle, which required him to give edge rushers a step at the snap. He also told Mays his habit was to download an upcoming opponent's previous six games to his iPad, which allowed him to devour tape of defenders' tics and tendencies whether or not an internet connection was available. In his book, Urschel relayed that Yanda once warned him to pay close attention to opposing defenders who were in their contract years, because he knew money tended to be a big motivator.
But Yanda's true technical genius - the big part of his game that Urschel genuinely tried to emulate - was the way he'd always play within the system. Offensive line play is reliant on the cohesion of the unit, and someone with Yanda's strength and ability could easily mess that up by trying to do too much. Yanda rarely did.
Which isn't to suggest Yanda was passive, either. Just look at this hard-charging clear out of Bengals linebacker Rey Maualuga that paved the way for a 70-yard Ray Rice touchdown in 2011:
Yanda happened to play that game with injured ribs that hurt him so badly he "couldn't even bend over to put on his socks and shoes," according to Kevin Van Valkenburg, then of the Baltimore Sun. A division title was on the line and Yanda wanted to play, so he pumped himself up with what he described as "some heavy prescription drugs," and went out to do his job.
That anecdote speaks to a particular brand of toughness that's valued in the NFL, and by football players more broadly. But it's also a time capsule with a window into the kind of naivete (if not maliciousness) the NFL displayed toward pain management for far too long; within a few years, Eugene Monroe, one of Yanda's former teammates, provided graphic description of how he and his teammates were pumped with addictive painkillers as part of a plea for medical marijuana as a safer alternative. The league has also since been hit with more than one lawsuit from ex-players on this front.
But Yanda had that kind of toughness. "I was once standing there on the sidelines with him when he mentioned that his foot was bothering him," Urschel wrote. "He pulled off his shoe and then stripped off his sock, which was drenched in blood. The callus on the ball of his foot had come off. He calmly pulled off the hanging skin, put his sock and shoe back on, and ran back onto the field."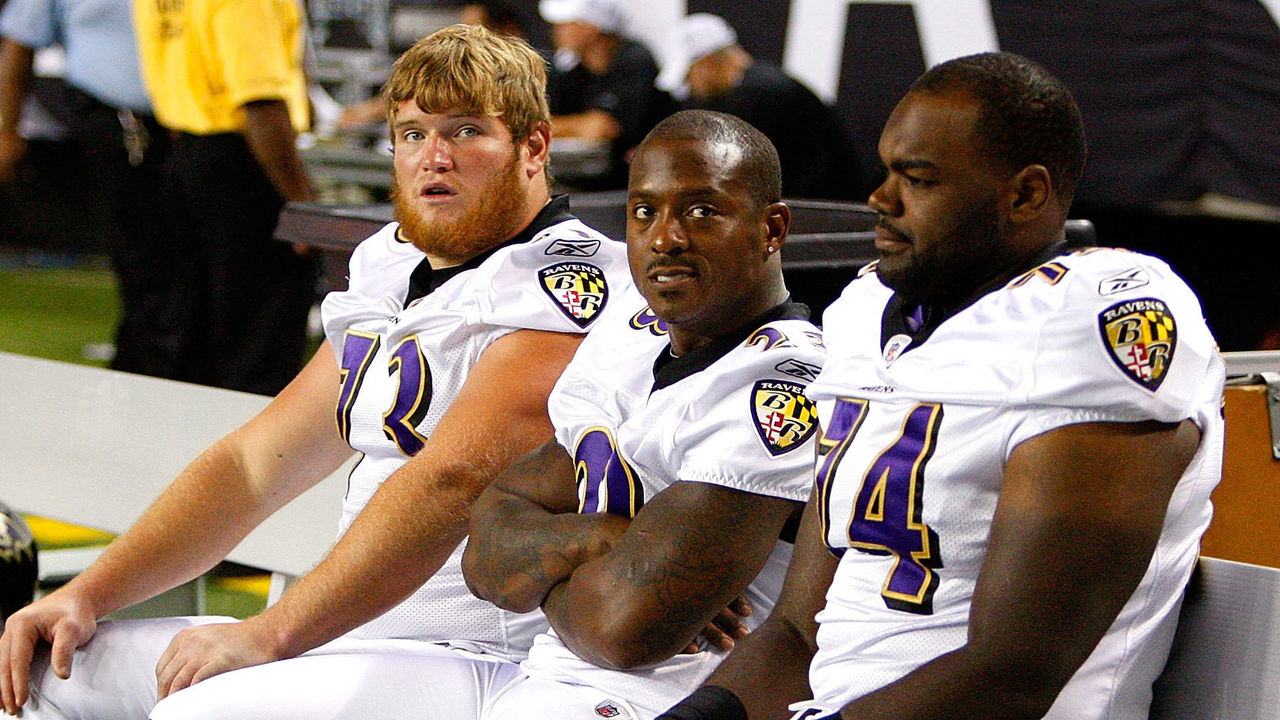 Yanda missed most of the 2008 season with a torn ACL. One of his thumbs is bent at an awkward angle. In 2016, he sustained a severe shoulder injury and switched to left guard to reduce the impact he'd take. He missed nearly all of 2017 with a broken ankle. And then there's the taser story:
Yanda is 35, and he plans to return to Iowa to live out his years. His was a career arc that will indeed be difficult to imitate.
Dom Cosentino is a senior features writer at theScore.