R.I.P. Lou Reed, New York's least likely celebrity Knicks fan
Singer, songwriter, guitarist and all-around artist Lou Reed died from liver disease yesterday at the age of 71. Depending on who you ask, Reed was best known as either the lead singer of the proto-everything '60s art-rock denizens the Velvet Underground, or the solo artist behind 1973's much gentler (and much more commercially successful) tour of the underground "Walk on the Wild Side." Either way, Reed had endured for nearly a half-century as one of rock's most unique and influential figures, as well as an inextricable icon of New York culture. 
He was also a surprisingly big Knicks fan. Perhaps it shouldn't be all that surprising, considering that the Knicks have long held a strong pull for the higher-minded NBA fan, dating back to the endless-prose-inspiring championship teams of the early '70s, which employed both noted thinkers like future senator Bill Bradley and future zen master Phil Jackson, as well as right-brained creatives and individualists like Walt "Clyde" Frazier and Earl "The Pearl" Monroe. This is, after all, a team whose two most high-profile fans are both Oscar-nominated filmmakers. Clearly you don't have to come up as a jock to be into the Knicks. 

Still, listening to Lou Reed's music, you get an image of a New York that doesn't really have a lot to do with Madison Square Garden. It's all dive bars, sex shops and drag revues, and maybe a little later on, coffee houses, art installations and off-off-Broadway theater. It's hard to imagine Lou deigning to even take the train up to the crass tourist center of midtown Manhattan, much less pulling strings for a seat in Celebrity Row to watch Carmelo Anthony (or Patrick Ewing, or Bernard King) up close and personal. 

Truly, though, Reed was a Knicks fan to the end. There's written record in a 2000 Esquire essay Reed wrote entitled "What I've Learned," where he claims that he's "played basketball all [his] life" and expresses empathy toward a post-PJ Carlesimo Latrell Sprewell, saying "You have to think about choking the coach. Well, you know, you're a grown man, guy's standing there screaming at ya...I'll speak for myself: I could be in that position." 

There's also visual record. In 2010, with indie queen actress Chloe Sevigny: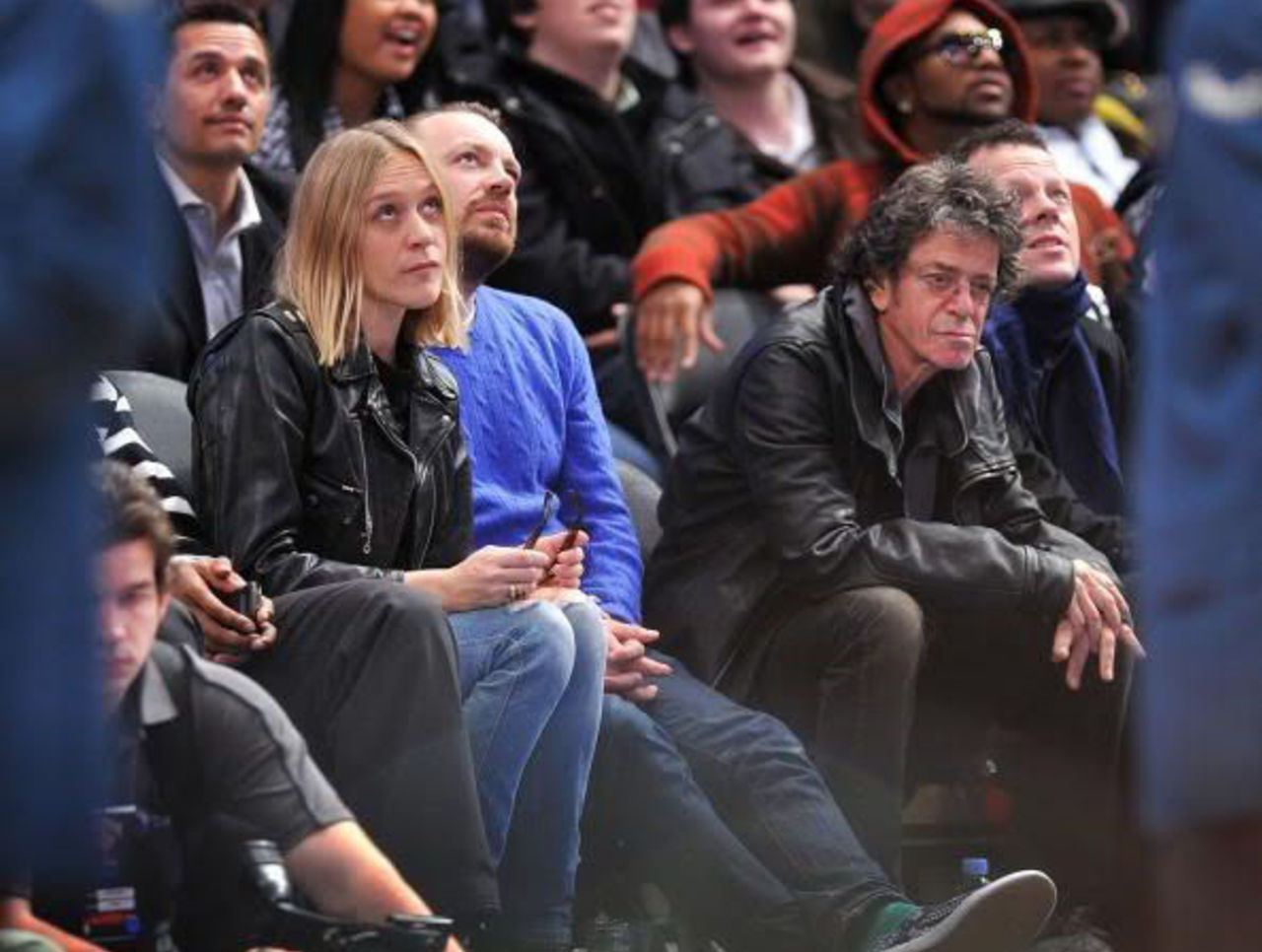 And much more strangely, in 2007, with superstar singer/songwriter Alicia Keys: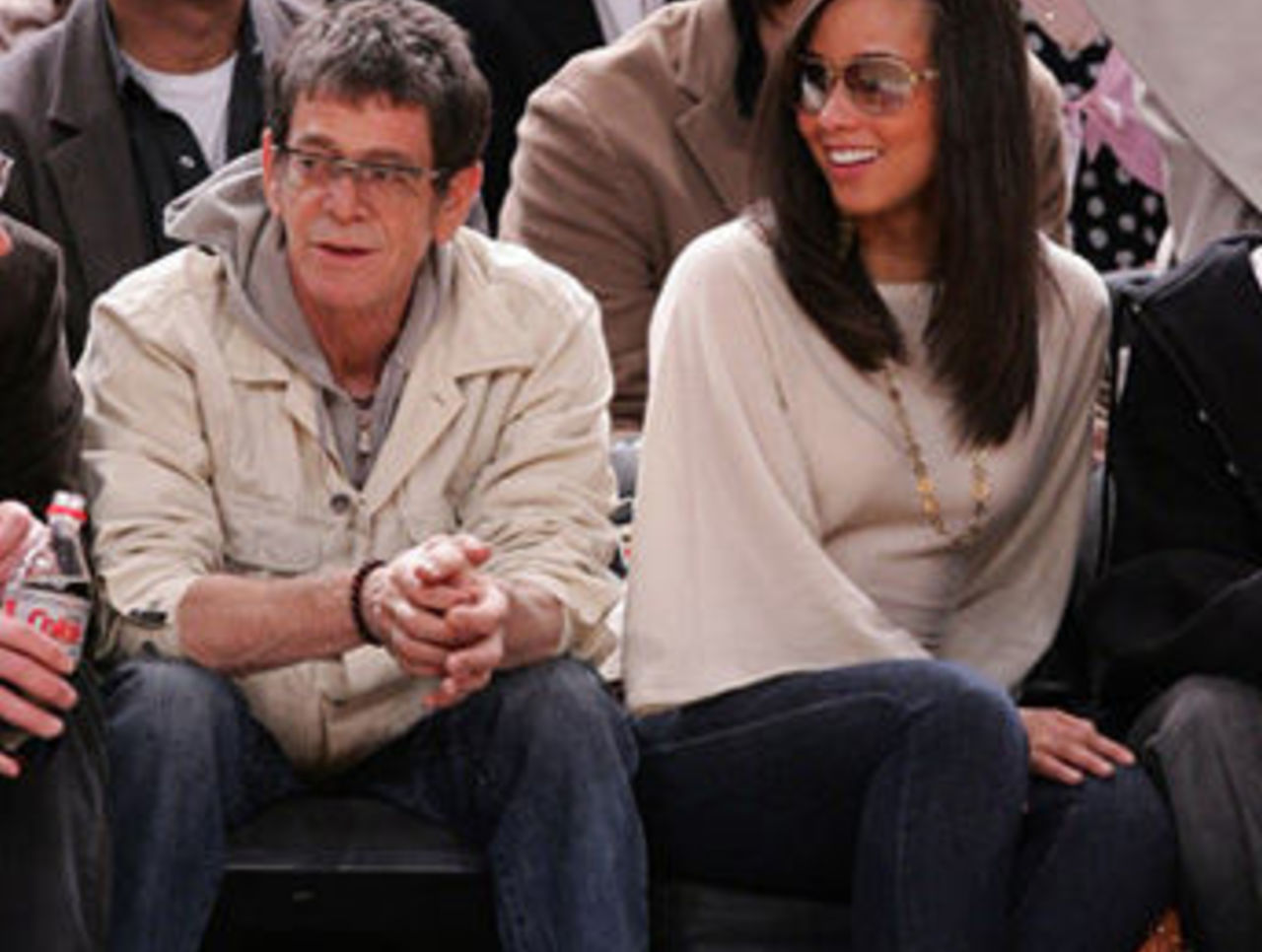 It's also worth noting that Reed, who always appeared far too much of a recalcitrant to have the patience for a willing role in mainstream culture--at the peak of his stateside commercial success in the mid-'70s, he released a double LP of melody-free noise rock called Metal Machine Music and declared "anyone that gets to side four is dumber than I am" - Lou actually seemed a little salty that he was rarely noted in Celebrity Row sightings. 

"There I am: me, Spike, and Woody. But they don't put the camera on me," Reed lamented in the previously mentioned Esquire essay. Later, he ranted on the subject at a Larry Clark photo exhibit (of course), as reported by the New York Daily News: "I go to Knicks games all the time, and they always put the camera on Spike Lee, Woody Allen and Matthew Modine, and never on me." 
Can't blame Lou for being pissed at getting boxed out by Matthew Modine, the Vision Quest and Full Metal Jacket actor whose artistic renown and association with the Big Apple certainly pale in comparison to Reed's, but it remains surprising to hear the guy who convinced the world's most famous metal band to record a borderline-unlistenable 70 minute concept album based on a controversial 19th-century German theatrical work bemoan a lack of JumboTron face time. 

That's just the Knicks, I guess. Something about them tends to really engage fans on a deeper level than your average sports team, and as unlikely a fan as Lou Reed might be, it's also perhaps as unlikely that he'd spend as much time living in and being heavily associated with New York City without being touched by the Knicks in some way. Hell, Kim Gordon of Sonic Youth was a Sprewell fan too. One of the guys from Grizzly Bear was spotted courtside a couple years back. Lou probably couldn't go to a game at MSG these last few decades without bumping into an old buddy from Max's Kansas City or CBGB. 
So long, Sweet Lou. Rest in peace, knowing that you're really not missing much this year with the whole Andrea Bargnani thing.
Comments
✕
R.I.P. Lou Reed, New York's least likely celebrity Knicks fan
  Got something to say? Leave a comment below!