1 matchup to watch in Saturday's 7 blockbuster CFB games
After a scheduling dud last weekend which featured zero matchups between ranked opponents, it's a blockbuster-filled slate on Saturday for Week 4 of the college football season.
Six different games between ranked opponents await, with a seventh contest between No. 4 Florida State and Clemson also snagging headlines.
Here's one matchup to watch for in each of the games that could go a long way towards deciding who is a serious playoff contender and who is a pretender.
Florida State at Clemson - 12:00 p.m. ET
The ACC has essentially been Clemson's playground since 2015, but the Seminoles have to be feeling extra confident ahead of this weekend's game in Death Valley. The Tigers have won the last seven meetings between the two schools, but that was long before blowout defeats to Duke became associated with the Clemson program.
Florida State didn't exactly win any style points while almost blowing a 31-10 lead at Boston College last weekend, but there's no question the Seminoles have the better resume entering play on Saturday - with that opening-week LSU win looking better every day.
Matchup to watch: Clemson's defense versus the potent Florida State attack
Clemson is 80th in the country in rushing defense based largely on the fact it allowed 199 yards to Duke in the opener. Quarterback Riley Leonard had 98 of those yards - a sign that the Tigers could be in for a long afternoon considering Jordan Travis is an even more polished runner than Leonard. If Clemson can slow down the nation's 12th-ranked rushing attack, it stands a chance on Saturday. If it can't, the power of the ACC will likely be shifting to Tallahassee.
Ole Miss at Alabama - 3:30 p.m. ET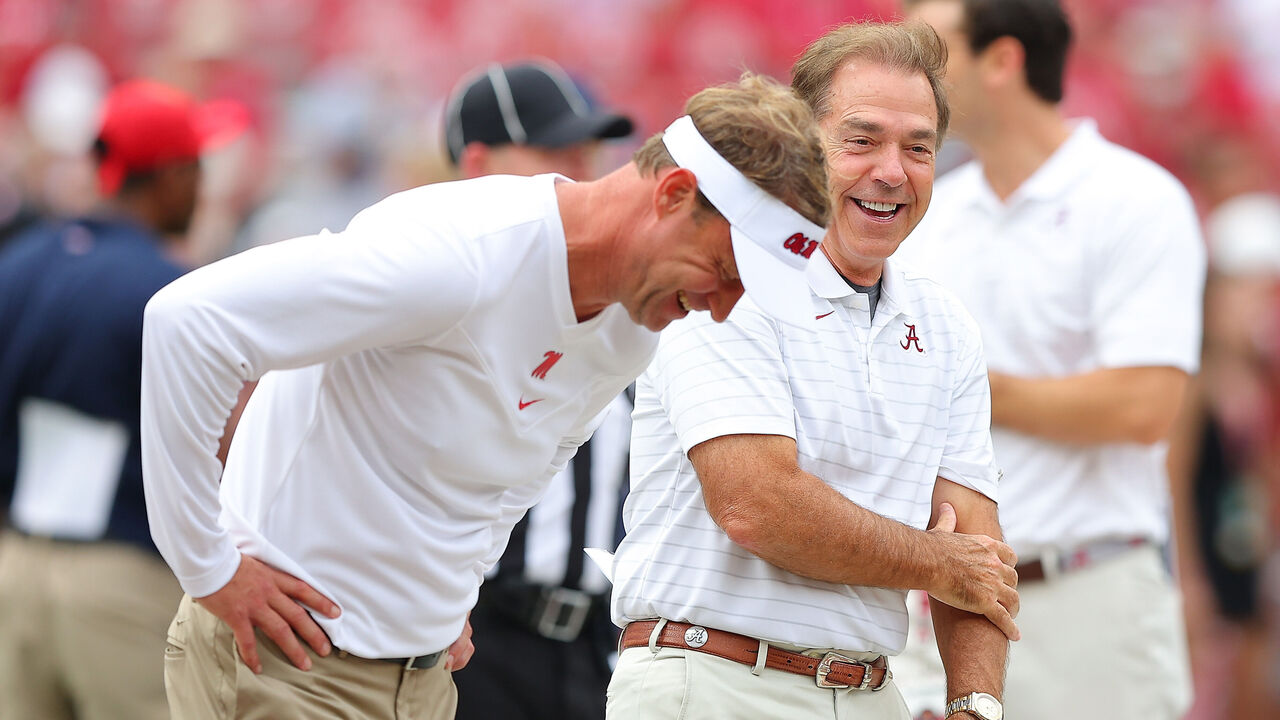 Any time one of Nick Saban's former assistants squares off with the legend, it's an interesting clash. But the presence of Lane Kiffin always adds some spice to proceedings. Kiffin, who was Alabama's offensive coordinator for three seasons, tossed some gasoline on the proverbial fire earlier in the week, suggesting that Ole Miss was preparing as though Crimson Tide defensive coordinator Kevin Steele had relinquished play-calling duties to defensive backs coach Travaris Robinson. Saban refuted the claim, but not before it made its way through the full media cycle.
Matchup to watch: Coordinator Pete Golding vs. Jalen Milroe
The Crimson Tide are currently playing one of the worst games of quarterback musical chairs in recent memory as they hope to avoid losing two games in the month of September for the first time since 2007. Jalen Milroe is back as the starter after Saban opted to play Tyler Buchner and Ty Simpson in the narrow win over South Florida last week. Milroe is certainly a more dangerous option than that duo, but he showed against Texas that he can make some questionable decisions that result in turnovers. The man tasked with creating the defense to force those is none other than Pete Golding, formerly Alabama's defensive coordinator. Golding left for Ole Miss in the offseason and now faces his former boss for the first time on Saturday. He should be very familiar with how to defend Milroe given his time in Tuscaloosa.
Colorado at Oregon - 3:30 p.m. ET
Fresh off an outrageous double-overtime win last Saturday, Coach Prime takes Colorado on the road to Oregon for its toughest test of the young season. Just one week after entering as 24-point favorites against Colorado State, the Buffaloes find themselves as 21-point underdogs against the 10th-ranked Ducks. That would probably be enough for Coach Prime to find a personal edge, but Oregon's Dan Lanning also supplied one this summer when Colorado announced it was departing for the Big 12 after this season.
"I'm trying to remember what they won to affect this conference," Lanning said. "I don't remember. Do you remember them winning anything? I don't remember them winning anything."
Colorado faces a huge challenge with a major talent and size advantage on the other side of the football, but the team's shown this season that it should never be counted out.
Matchup to watch: Shedeur Sanders vs. Oregon pass defense
Shedeur has been nothing short of incredible this season and absolutely deserves to rock his Rolex and refer to Brady mode as a result. However, that party might come to an abrupt halt on Saturday in Eugene, with the Oregon defense waiting to feast on one of the nation's worst offensive lines. Only two teams in the entire FBS have given up more sacks per game than the Buffaloes, and the virtual non-existent running game in the offense will have the Ducks ready to tee off on the talented passer. Oregon's defense showed its potential during the thrilling win at Texas Tech with three interceptions and four sacks on the road. Can offensive coordinator Sean Lewis concoct a game plan to move the ball and keep Shedeur upright at the same time?
UCLA at Utah - 3:30 p.m. ET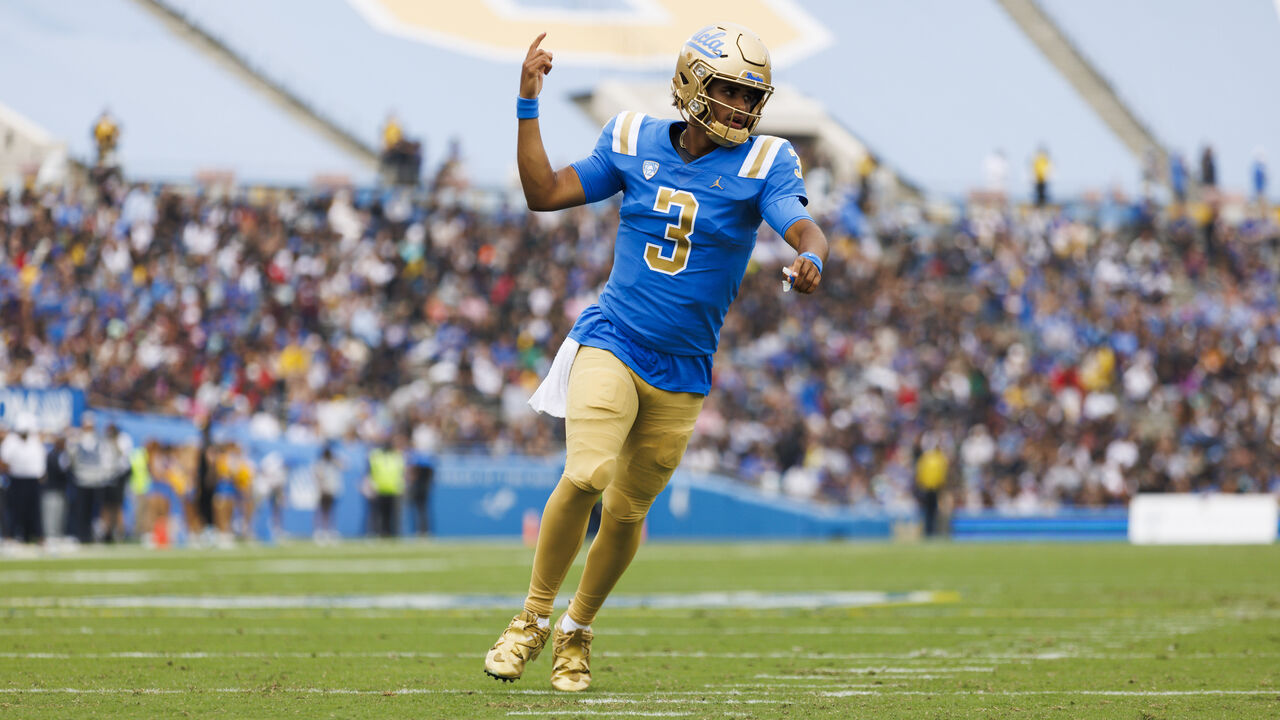 This one is flying under the radar given it's happening at the same time as Ole Miss and Alabama, as well as Colorado and Oregon, but it should be an absolute banger. UCLA has been brilliant this season since Dante Moore took over as starting quarterback in Week 2, while Utah has gotten out to a 3-0 start despite not having star Cameron Rising behind center. It looks as though Rising will be cleared for this one, something that will give a huge boost to the anemic passing attack the Utes have displayed thus far.
Matchup to watch: UCLA's rushing attack vs. Utah's front seven
The true freshman Moore has been a revelation thus far, throwing for 616 yards and seven touchdowns against just one interception. He's also been massively helped by one of the nation's top rushing attacks. UCLA ranks seventh in the country in yards per rushing attempt and has piled up over 650 yards on the ground in the last two games combined. However, Utah has shown time and again that the game changes in Salt Lake City, with the stout Utes defense ruining game plans with great pressure up front. In the Week 1 win over Florida, Utah held the Gators to a paltry 13 yards rushing for the entire contest. It's Moore's first Power 5 road start of his career, so a successful running game will be vital in keeping the young star calm.
Oregon State at Washington State - 7:00 p.m. ET
The remaining members of the soon-to-be Pac-2, or 2Pac to those of us who grew up in the 1990s, go head-to-head in Pullman this Saturday in what should be a very close contest. The only two members of the conference who haven't locked in a move following this season are both off to impressive starts that are serving as potential auditions to other conferences looking to add.
Matchup to watch: Cameron Ward vs. DJ Uiagalelei
They aren't on the field at the same time, but this game will likely come down to which quarterback can produce the best down the stretch. Ward has been blazing hot this season with 986 yards passing, nine touchdowns, and zero interceptions, while also adding 95 yards and two scores on the ground. Uiagalelei has 630 yards passing with six touchdowns, while also scoring four times running the football. Considering both teams sport top-20 rushing defenses nationally, there shouldn't be much room to move the ball between the tackles. That will result in both teams relying on the air attack, and whichever quarterback performs better will likely decide this game.
Ohio State at Notre Dame - 7:30 p.m. ET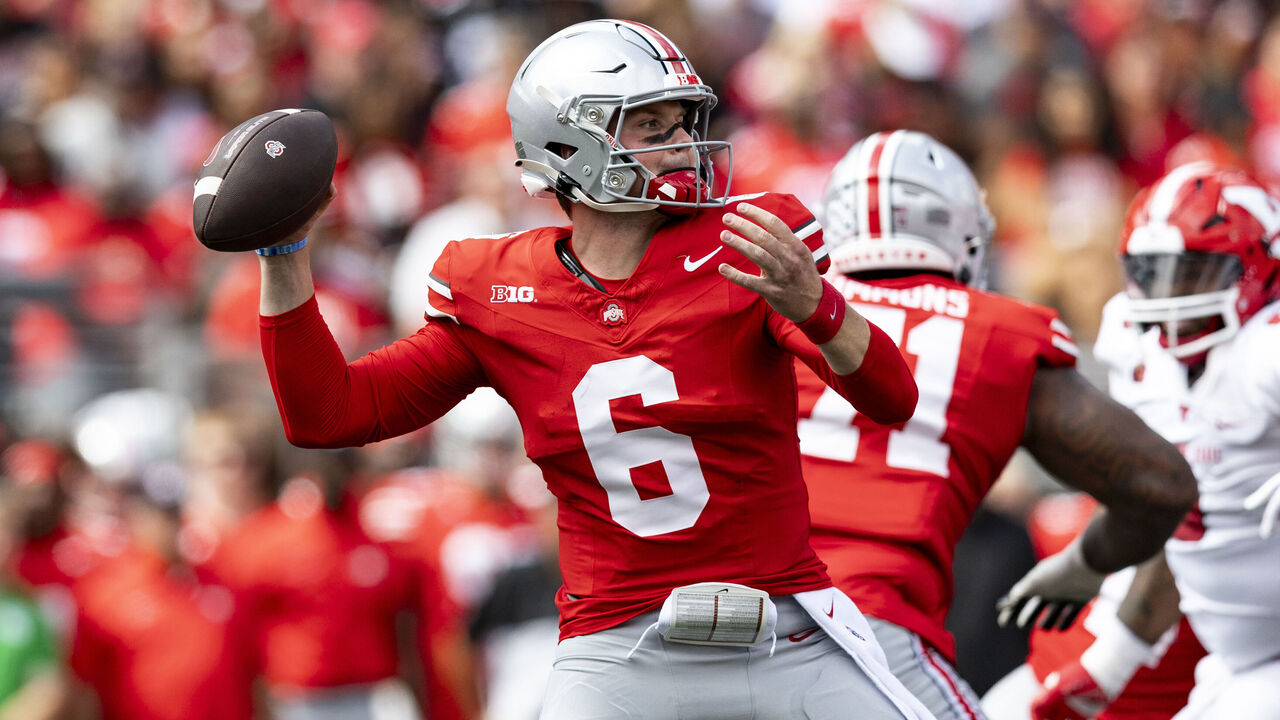 It's a rematch from the season opener last year, but this time, Notre Dame has the better quarterback in the matchup with Sam Hartman behind center and C.J. Stroud in the NFL. Hartman has been exceptional for the Fighting Irish since coming over as a graduate transfer following a prolific career at Wake Forest. He's already fifth in the nation in passing yards, with just under 1,000 yards less than last year's leading passer Drew Pyne had for the entire season. While he hasn't been at Hartman's production level, Kyle McCord has done a fine job in replacing Stroud as the Buckeyes' starter. After pedestrian numbers in the opener at Indiana, McCord has shone bright in two home wins over Youngstown State and Western Kentucky. However, replicating that in the raucous atmosphere at Notre Dame could be a challenge.
Matchup to watch: Kyle McCord vs. Notre Dame crowd
These two teams are very evenly matched across the board at this point in the season. Both have top-15 offensive and defensive units in the nation thanks to versatile approaches that feature strong running and passing attacks. Ohio State holds the edge in future NFL talent, and, as a result, is favored despite being on the road. The biggest thing that could determine the winner in South Bend is how McCord handles the most intense setting in his career. The opener at Indiana was the first road start of the third-year player's career, and a noon kickoff in Bloomington is a far cry from a night game in the iconic stadium on Notre Dame's campus.
Iowa at Penn State - 7:30 p.m. ET
Despite Penn State and Iowa being relegated to second-screen status in most households, the white-out scene at Beaver Stadium will be worth tuning in for alone. There's some history in this rivalry from the last contest in 2021, when Kirk Ferentz defended Iowa fans for booing late injuries to Penn State players that they deemed suspicious. While the Hawkeyes' coach suggested that it isn't an issue this weekend, it wouldn't be surprising to see some bad blood on the field.
Matchup to watch: Iowa rush defense vs. Allen, Singleton
We have enough evidence at this point to realize Iowa isn't going to score many points in this one. The team needs to hit 325 points on the year to have offensive coordinator Brian Ferentz's contract renewed, but a road trip to Penn State doesn't seem like a break-out game. That will put even more pressure on a Hawkeyes defense that has carried the team for years. However, if there's one area to exploit, it's the nation's 48th-ranked rush defense. While the Nittany Lions certainly have the personnel to do so in the star tandem of Kaytron Allen and Nicholas Singleton, the running game has struggled to get going thus far. Penn State ranks 61st in the nation in yards per rush, almost a full yard shy of last year's output.