CFB Wrap-Up: Week 1 overreactions
Week 1 of the 2023 college football season is finally upon us, with a number of big matchups Saturday. Naturally, it's time to overreact about the state of each team. Below, theScore identifies those bound for glory and those that might need to apologize to their fan bases.
Deion was right about everything
After talking the talk in the offseason, Deion Sanders had his first opportunity to walk the walk Saturday. Just as he did throughout his legendary playing career, Sanders did just that, as his Buffaloes delivered an astonishing upset of TCU on the road.
Coach Prime told us his son, Shedeur, could compete for the Heisman Trophy last season while he was playing at the FCS level for Jackson State. Most may have passed that off as a dad hyping up his son, but the younger Sanders proved his father right in a massive way Saturday. Shedeur broke the single-game Colorado passing record with an insane 510 yards through the air and four touchdowns. Deion was right.
Sanders also raved about Travis Hunter, telling Steven Gaither of HBCU GameDay last year: "Travis is so far ahead of me when I was his age, it's ridiculous." In Hunter's first game with Colorado, he became the first FBS player in at least 20 years to have over 100 yards receiving and an interception. Deion was right.
Dylan Edwards flipped his commitment from Notre Dame to Colorado primarily due to his familiarity with Sanders - whom he'd known since the age of 4. In February, Sanders highlighted the running back's diverse skill set, telling Brian Howell of BuffZone.com: "He does quite a bit. He's explosive, and we like those explosive players that can change the game quickly." Edwards was an absolute menace Saturday, compiling over 150 total yards and four touchdowns. Deion was right.
The Coach Prime era is now officially off and running in Boulder. Through one game, it seems incredibly foolish to doubt Sanders for the foreseeable future.
TCU was a one-hit wonder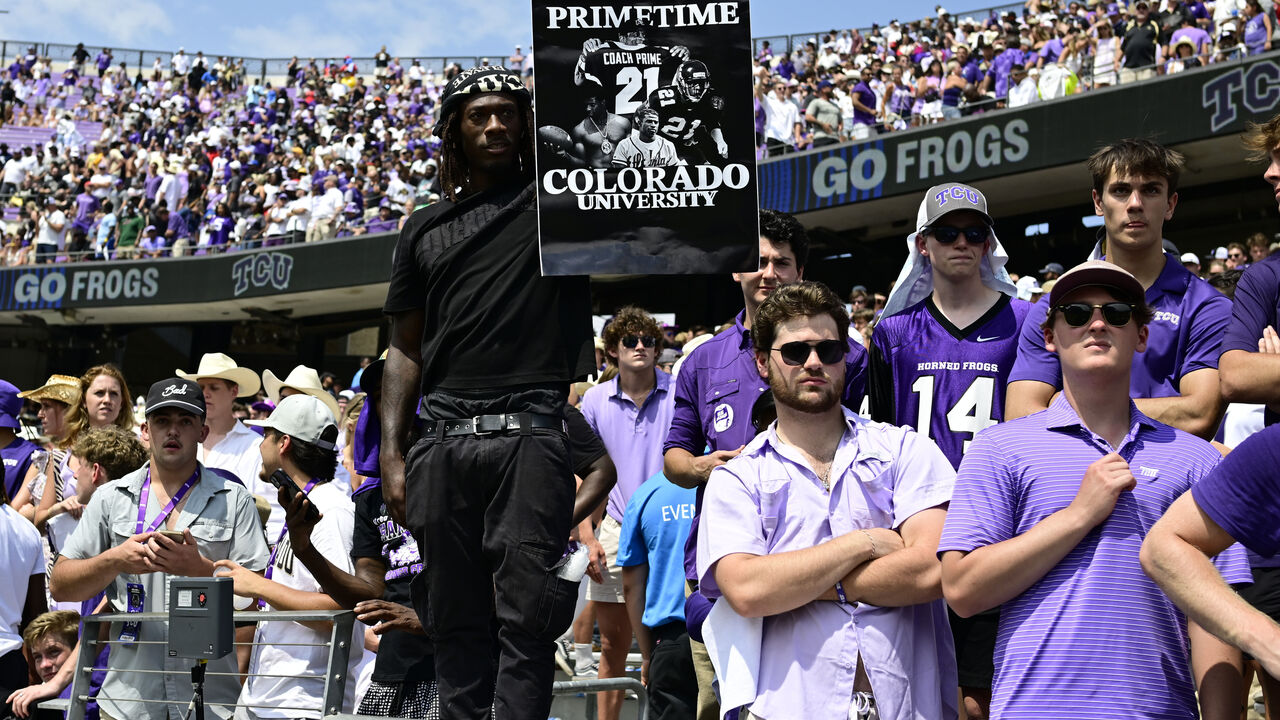 There won't be another run to the College Football Playoff for TCU this season. After being humbled by a 65-7 blowout to Georgia in the national title game, the Horned Frogs couldn't stop Colorado from matching its win total from the entire 2022 season. The TCU offense held up its end of the bargain, putting 541 yards on the state sheet and 42 points on the scoreboard. However, the defense allowed over 500 yards passing at a startling 10.9 per pass.
Last year, Sonny Dykes' outfit seemingly pulled a rabbit out of a hat on almost a weekly basis, putting up a 6-1 record in one-score games. But TCU simply couldn't get off the field in the second half Saturday, allowing lengthy scoring drives on the last three possessions of the game for Colorado.
5 plays, 75 yards: touchdown
6 plays, 75 yards: touchdown
5 plays, 82 yards: touchdown
Last year was magical for the entire TCU program, but this season should reset expectations for what fans can realistically and consistently expect in Fort Worth.
Brian Ferentz in trouble*
(*Might not be an overreaction)
Through one week - which most thought would be the easiest test on the entire schedule - it's borderline impossible to see Brian Ferentz keeping his job as the Iowa offensive coordinator. The embattled assistant entered the year with one of the wildest contract stipulations we've ever seen - needing his team to win seven games and average 25 points per contest in order for his contract to be renewed next summer. The opening-week competition came in the form of Utah State and last year's 99th-ranked scoring defense, but that wasn't enough to help the Hawkeyes past that 25-point mark. The traditional dominant Iowa defense ensured it'd still win the game, but the offense struggled yet again.
The opening quarter looked like Ferentz and the offense had made serious strides in the offseason. Michigan transfer Cade McNamara looked very comfortable at quarterback in leading two touchdown drives to start the game. However, the Hawkeyes managed just 10 points over the next 10 drives and averaged only 21 yards each time out.
The seven-win portion of the contract for Ferentz looks very attainable, but if the offense can't put up more than 25 points on Utah State, it's very tough to see him hitting his threshold to return next season.
Oregon, Oklahoma will both break scoring record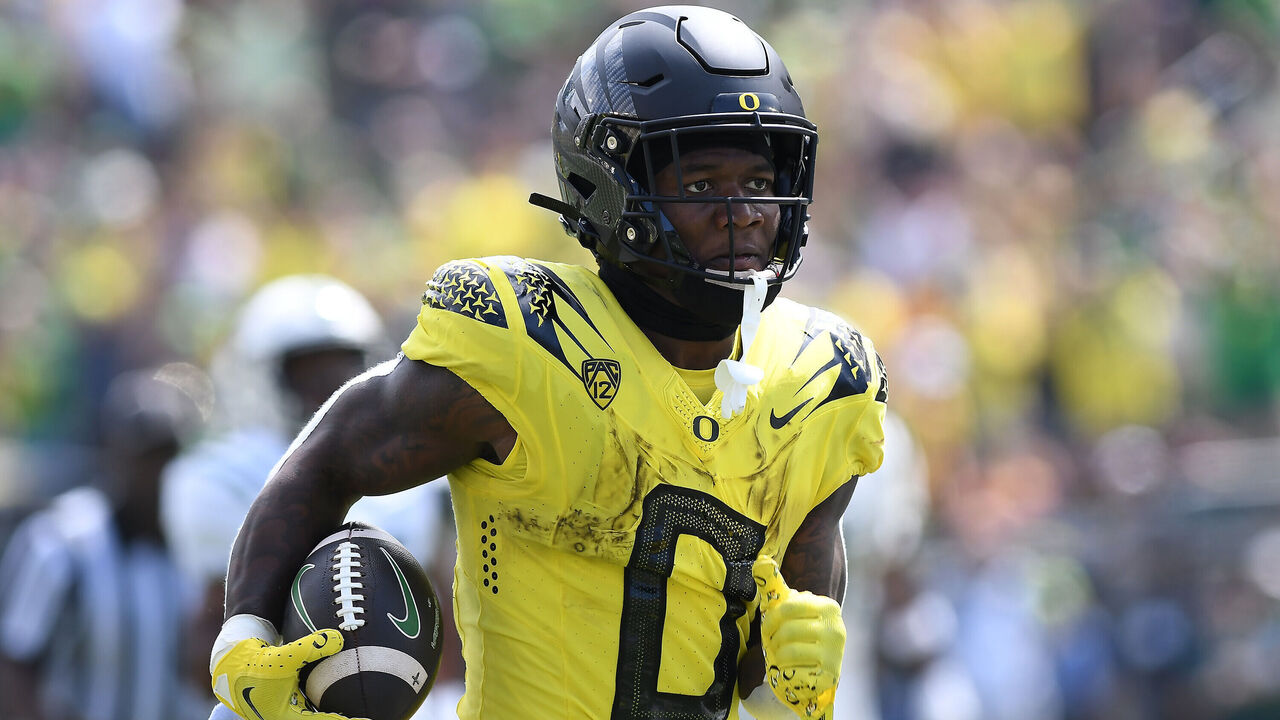 The realistic reaction Saturday is that it's clear Oregon and Oklahoma should have two of the better offensive units in the country this season. However, the overreaction would be to say they'll both clearly break Baylor's scoring record of 52.4 points per game, set in 2013.
The Sooners absolutely trucked Arkansas State on Saturday, putting up as many touchdowns as the Red Wolves had first downs. The 73-0 shutout came very close to an all-time record.
Next up was the Ducks in their first regular-season contest without last year's offensive coordinator Kenny Dillingham. Safe to say they didn't feel his absence whatsoever, with an 81-point outburst to show in a blowout of Portland State. While most people associated with Oregon will likely be thrilled with the outcome, it's doubtful the mascot feels the same way.
Ohio State will be led by defense this year
C.J. Stroud is in the NFL and the once-powerful Ohio State offense has been effectively neutered. However, all is not lost in Columbus as a dominant defense has risen to lead the Buckeyes in the 2023 season. That may read like an incredibly weird scenario given Ohio State's recent history but it was exactly the case on Saturday in a 23-3 win over Indiana.
Kyle McCord took the majority of the snaps at quarterback and finished 20-of-33 for 239 yards with an interception and no touchdown passes. Devin Brown saw two series at quarterback that resulted in two three-and-out drives. Star receiver Marvin Harrison Jr. hauled in just two passes for 18 yards total (although he did have a scoring reception called back). After watching Harrison absolutely torch everyone in college football the past two seasons, it seems unfathomable that he could ever finish a contest with just two catches.
The defense was a different story, with Jim Knowles' unit not allowing Indiana to breathe all game. The final number was just 153 total yards of offense and one field goal. It was the Buckeyes' best defensive performance since the 2019 season.
Penix, Williams will threaten 62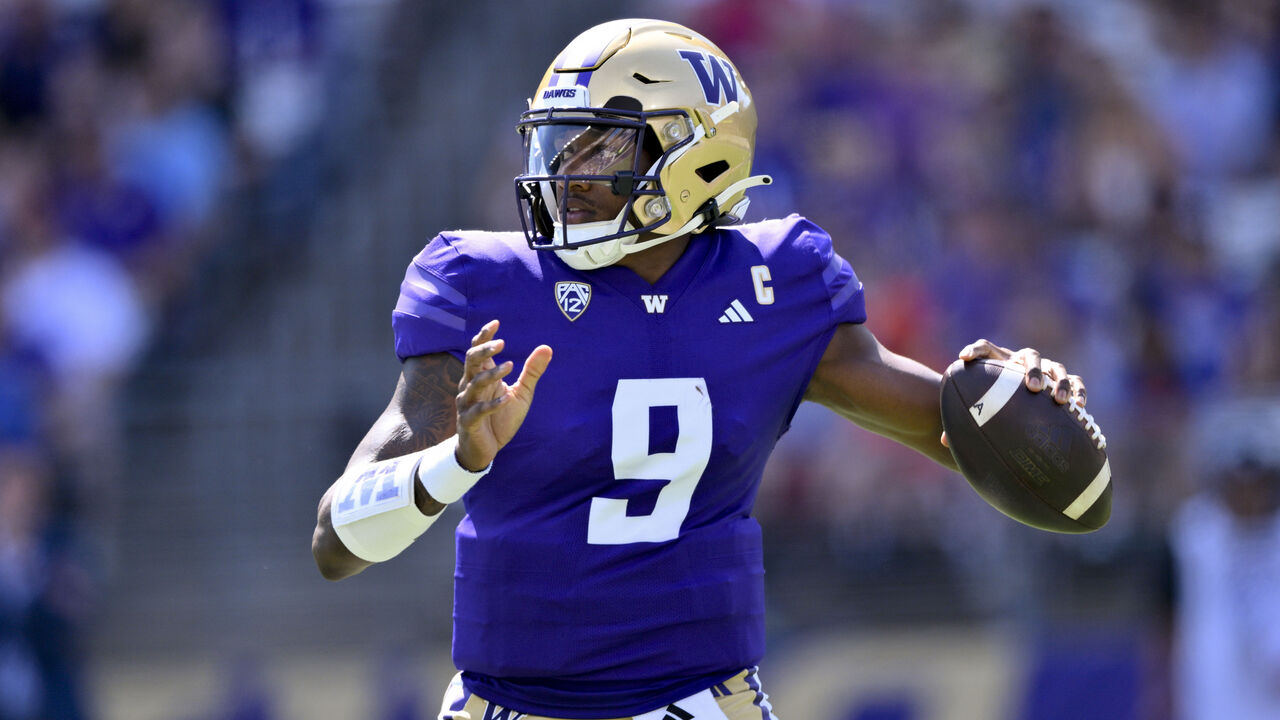 Bailey Zappe's FBS record of 62 touchdown passes in the 2019 season will come under fire this season from not one, but two separate Pac-12 quarterbacks. Michael Penix Jr. and Caleb Williams are fighting for the conference title, the Heisman and NFL draft positioning this season - so we might as well add something else for them to battle over. Washington's Penix torched Boise State's defense at home, throwing for 450 yards and five scores, while Williams and USC took it to Nevada with five touchdowns of his own in just three quarters of work.
Williams played in Week Zero, so the reigning Heisman winner now has nine touchdowns through two games. He faces friendly competition next week with Stanford and its 94th-ranked passing defense last year on the schedule. One of the more impressive things about Penix's performance is who it came against - the Broncos ranked seventh in the nation in passer rating allowed last year.
The two passers are set to play each other on Nov. 4 in a game that could feature two quarterbacks closing in on 45 touchdown passes.
Texas offense might not be ready for Alabama
It wasn't always pretty, but Texas used a big third quarter to pull away from Rice for a 37-10 win on Saturday. While opening with a victory is nice, plenty of the Longhorns' attention was undoubtedly on next weekend's blockbuster matchup at Alabama. A very productive week of practice will be needed because Texas did little to show they were ready for the Crimson Tide against the Owls.
Quinn Ewers looked fairly solid with a 19-for-30 passing line to finish with 260 yards and three touchdowns, but the offense lacked the explosive plays that will be needed to slice up Alabama. The rushing attack produced just one play over 20 yards - and that was against a Rice defense that ranked 123rd in the nation in defending the run.
The Longhorns defense stood tall all day on Saturday and will enter next week with confidence, but Steve Sarkisian will have to work on opening things up for Ewers and the offense before the road trip to face his former boss, Nick Saban.
Allar makes Penn State a CFP contender
This one might actually be completely rational. Drew Allar has been the 'next one' since arriving on the Penn State campus as the second-ranked quarterback in the country for the class of 2022. He only proved that notion in the first opening-week start of his career, topping 300 yards and throwing three touchdowns in a comfortable home win over West Virginia.
Sean Clifford wasn't a bad quarterback for the Nittany Lions, but he didn't have the massive ceiling that a player like Allar has. That's essential for a program like Penn State to compete for a division title over talent-rich teams like Michigan and Ohio State. J.J. McCarthy is certainly a strong quarterback, but, after Saturday, Allar is unquestionably better than any passer on the Ohio State roster right now. That should make every Lions fan feel pretty good about the Oct. 21 road trip to Columbus.
Milroe is the man for Alabama
The only thing that might make this an overreaction is Alabama's level of competition on Saturday. Middle Tennessee State certainly isn't striking fear into the Crimson Tide, but that shouldn't diminish Jalen Milroe's performance. After winning the starting job for Week 1 in a training camp battle, the sophomore showed off his skills with both his arm and legs, piling up over 240 yards of total offense. His three passing touchdowns and two rushing scores put him in the Alabama record books.
With both leading passer Bryce Young and rusher Jahmyr Gibbs now in the NFL, there's a huge void in the Crimson Tide attack for this year's offense. Milroe showed Saturday that he's more than willing to fill the void in both avenues. We don't have to wait long to see if he can keep the same production against stronger competition with a blockbuster contest versus Texas next week.
North Carolina's defense is officially fixed
There's no way to say this nicely - North Carolina's defense was absolutely terrible in 2022. Its inability to pressure the quarterback or get off the field on the third down was the main reason Drake Maye and the Tar Heels didn't challenge for a spot in the CFP. By the end of the campaign, North Carolina ranked 129th of 131 FBS programs in sacks per game at 1.1.
After Saturday's win over South Carolina, all those fears that the defense hasn't been fixed can be put to bed and we can declare the Tar Heels a juggernaut. After compiling a paltry 17 sacks for the entire 2022 season, North Carolina harassed Spencer Rattler all night to bring down the South Carolina quarterback nine times in total.
If that's the type of production the Tar Heels defensive line is going to turn in, there's no reason Maye and North Carolina can't challenge for the ACC title.