It's never too early for a mock draft.
With the college season getting underway and NFL action right around the corner, what better time to look all the way ahead to April, when football worlds will once again collide.
Below, theScore's Mike Alessandrini, Dane Belbeck, and Dan Wilkins make some early projections for how the first round of the 2021 NFL Draft could shake out.
1. Jacksonville Jaguars - Trevor Lawrence, QB, Clemson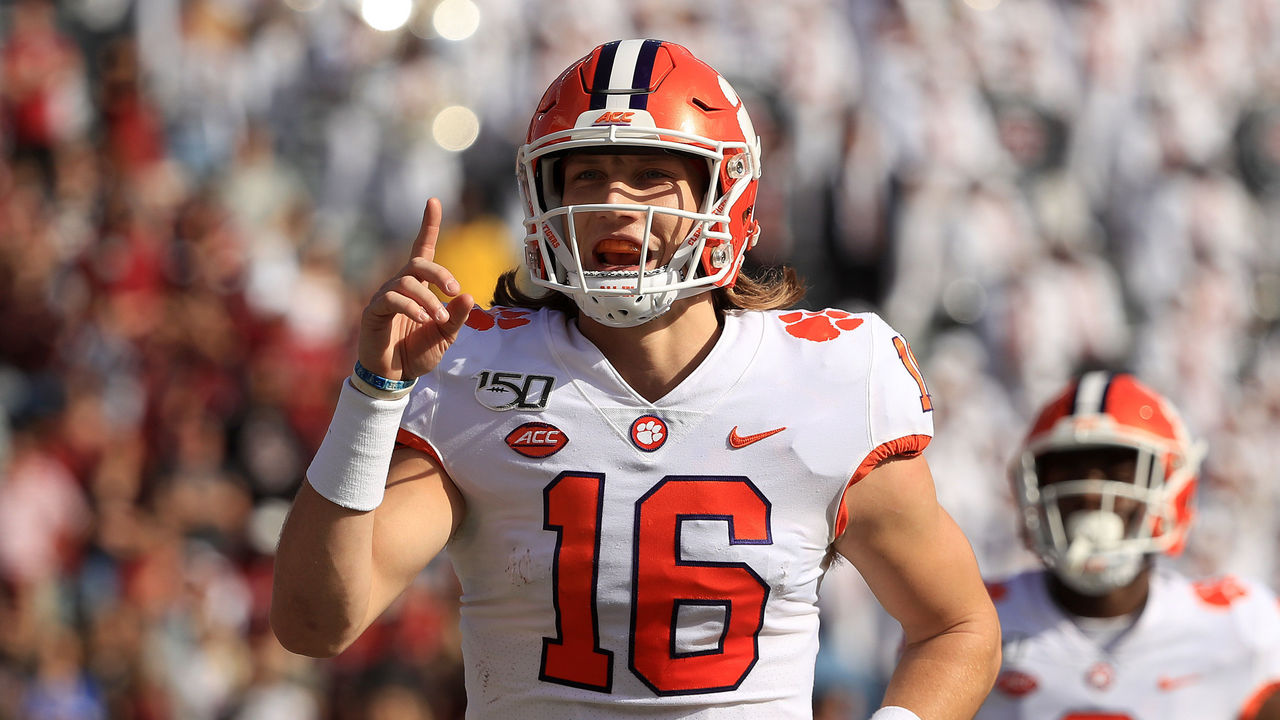 The Jaguars may not intentionally be tanking, but the amount of talent they've lost over the past few years would appear to make them clear front-runners for the No. 1 overall pick. An unflattering status, to be sure, but basement-dwelling this season would come with the opportunity to select one of the most celebrated quarterback prospects of this era. Lawrence is the kind of rare talent who could lead a turnaround in Jacksonville.
2. Washington - Justin Fields, QB, Ohio State
Washington won't be anywhere near the No. 2 pick if Dwayne Haskins thrives under Ron Rivera and his staff. However, the NFC East club will certainly need a new quarterback if it does end up in this slot. Enter Fields, who, like Haskins, has also starred at Ohio State but is more of a dual-threat option. The Buckeyes may not be playing this fall, but Fields' 2019 numbers are more than enough proof that he's a worthy top-3 pick.
3. Carolina Panthers - Penei Sewell, OT, Oregon
With the top two quarterbacks off the board, the Panthers look elsewhere and continue to build the rest of the roster. Sewell is one of the best offensive line prospects in recent memory and would be a phenomenal piece for the future.
4. Cincinnati Bengals - Ja'Marr Chase, WR, LSU
Chase opting out of the 2020 season is a major loss for college football, but he had nothing left to prove. The LSU star may have been the top receiver in last year's loaded class of pass-catchers if he'd been eligible. It'd be tough for the Bengals to pass up the opportunity to reunite him with Joe Burrow as the A.J. Green era comes to an end.
5. New York Jets - Gregory Rousseau, EDGE, Miami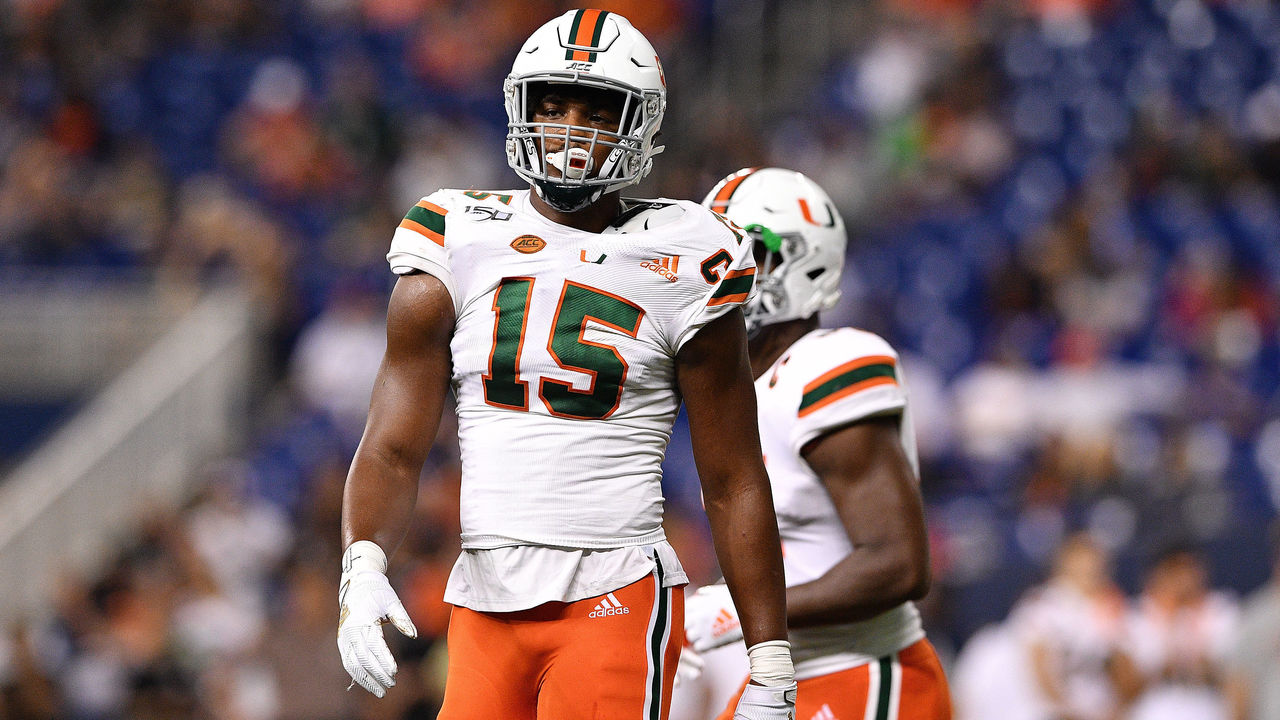 Rousseau opted out of the 2020 college season, but his 15.5-sack campaign in 2019 provided enough tape on why he's the top pass-rusher in the draft. There's no doubt that Jets defensive coordinator Gregg Williams would love to add another disruptor to the line, and New York does just that at No. 5.
6. Miami Dolphins - Rashod Bateman, WR, Minnesota
Upgrading the receiving corps will be a priority as the Dolphins continue to build around Tua Tagovailoa. Bateman, who profiles as a potential No. 1 option at the next level, would join DeVante Parker in giving Miami a pair of high-upside targets on the outside.
7. New York Giants - Micah Parsons, LB, Penn State
Slowly but surely, New York's offense is coming together. The defense still has a ways to go, but landing a leader in the middle, like Parsons, would do wonders for that unit's development. Parsons is the latest in a long line of stud linebackers from Penn State and should be an impact defender on all three downs.
8. Las Vegas Raiders - Trey Lance, QB, North Dakota State
If Jon Gruden decides he's had enough of Derek Carr after three years together, the Raiders will run to the podium to select Lance at No. 8. The North Dakota State star may not have the FBS resumes of Lawrence or Fields, but his pure talent will definitely appeal to Gruden. An exciting young quarterback seems like a perfect way for the Raiders to really take off in Las Vegas.
9. Detroit Lions - Patrick Surtain II, CB, Alabama
Going with a cornerback in the top 10 in back-to-back years may seem odd, but the position has never been more valuable. Pairing Surtain with 2020 first-rounder Jeff Okudah would give the Lions one of the league's most talented, young defensive tandems on the outside.
10. Miami Dolphins (from HOU) - Kwity Paye, EDGE, Michigan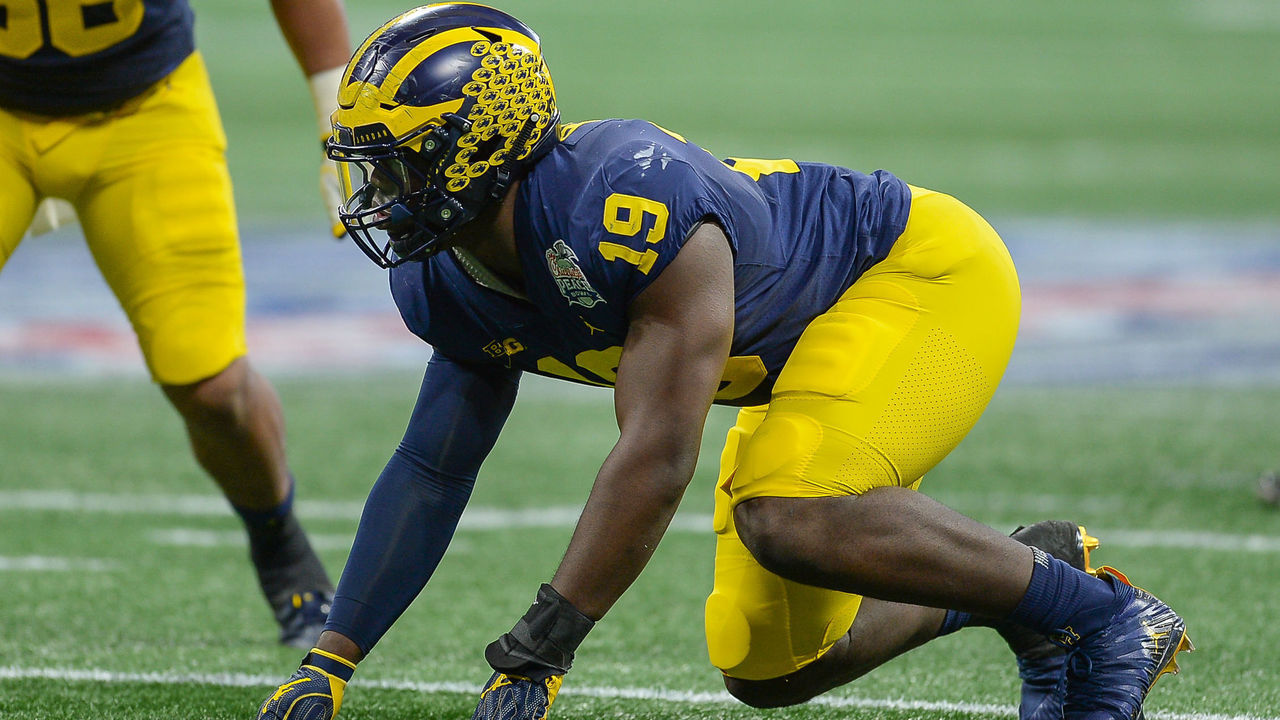 Miami has done plenty of work to rebuild the defense both at linebacker and in the secondary. Next up is finding pass-rushers to take things to the next level up front, and Paye fits the bill. The Michigan standout would join Christian Wilkins in providing a young foundation for the defensive line.
11. Jacksonville Jaguars (from LAR) - Shaun Wade, CB, Ohio State
The Ohio State defensive back pipeline to the NFL continues with Wade heading to the Jaguars at No. 11. Jacksonville desperately needs playmakers on the backend, and the versatile Wade could pair with CJ Henderson to give the AFC South club a fantastic one-two punch at corner.
12. Los Angeles Chargers - Alex Leatherwood, OT, Alabama
The Chargers' biggest need heading into next offseason would appear to be at left tackle. Landing a player like Leatherwood would be an ideal way to take care of that all-important position for years to come and round out what is quietly becoming one of the NFL's most complete rosters.
13. Denver Broncos - Caleb Farley, CB, Virginia Tech
The Broncos brought in AJ Bouye following the free-agent departure of Chris Harris, but addressing the long-term future at the cornerback position remains a top priority. Farley is arguably the top player in a talented cornerback class and could be a steal outside the top 12.
14. Atlanta Falcons - Jaylen Waddle, WR, Alabama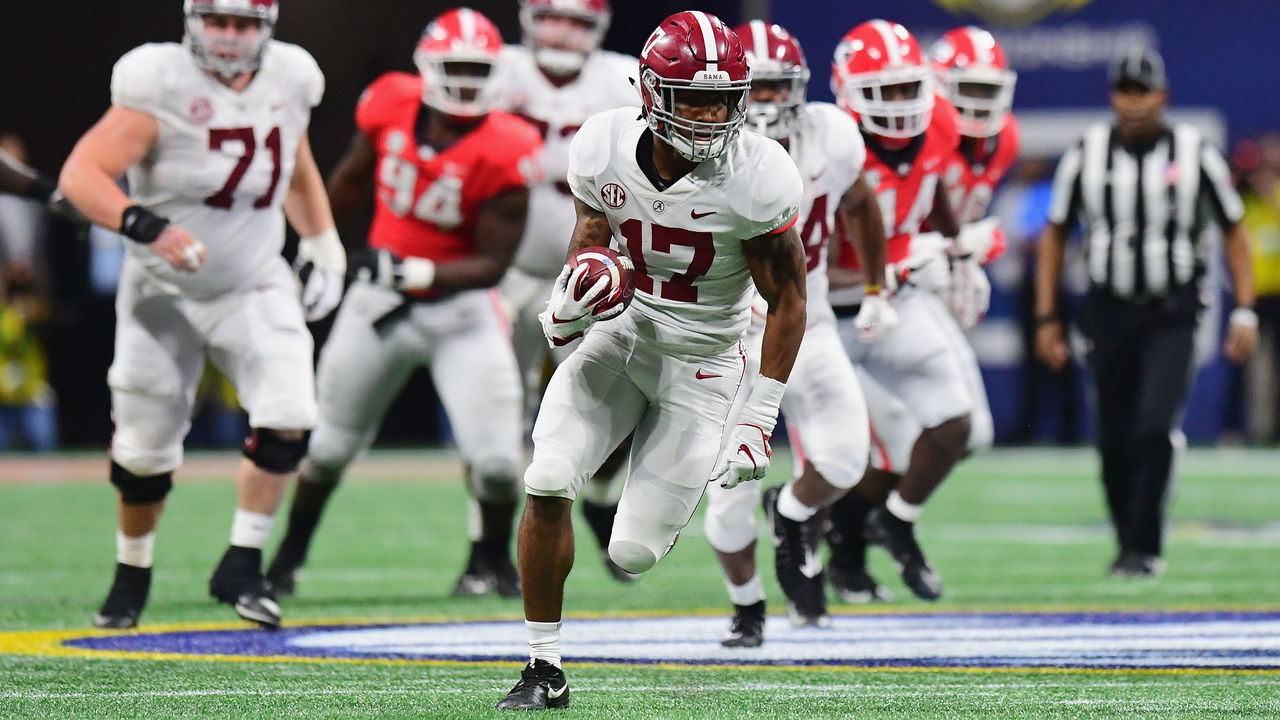 Julio Jones is undoubtedly among the top receivers in football when healthy, but the Falcons need to stockpile talent for the future. With Jones and Calvin Ridley already on the roster, Atlanta continues dipping into the Alabama talent pool with the game-breaking Waddle.
15. Arizona Cardinals - Creed Humphrey, OL, Oklahoma
The Kyle Murray-led Cardinals have all the weapons they need to run Kliff Kingsbury's offense. But that unit won't reach its potential until the young quarterback has the protection he needs. Reuniting Murray with former college teammate Humphrey would be another important step in giving him just that.
16. Chicago Bears - Rondale Moore, WR, Purdue
Even if the Bears are able to re-sign Allen Robinson this offseason, he could certainly use a running mate. The shifty Moore is a big play waiting to happen, particularly after the catch. He would add some much-needed explosiveness to Chicago's offense.
17. Cleveland Browns - Dylan Moses, LB, Alabama
Moses would only be available at No. 17 due to his injury history. The Browns would jump at the chance to take one of the most athletic linebackers in the draft, which instantly gives their defense a playmaker behind Myles Garrett.
18. Tennessee Titans - Carlos Basham Jr., EDGE, Wake Forest
Tennessee still has a long-term need on the edge after signing both Jadeveon Clowney and Vic Beasley to one-year deals. Basham is one of the few pass-rushers in this class generating first-round buzz.
19. Minnesota Vikings - Trey Smith, OT, Tennessee
The Vikings shouldn't stop adding to the offensive line after taking Ezra Cleveland in the second round this past April. The unit is one of Minnesota's few areas of concern, and Smith is an imposing force who could pave the way for Dalvin Cook and Co. for years to come.
20. Buffalo Bills - Quincy Roche, EDGE, Miami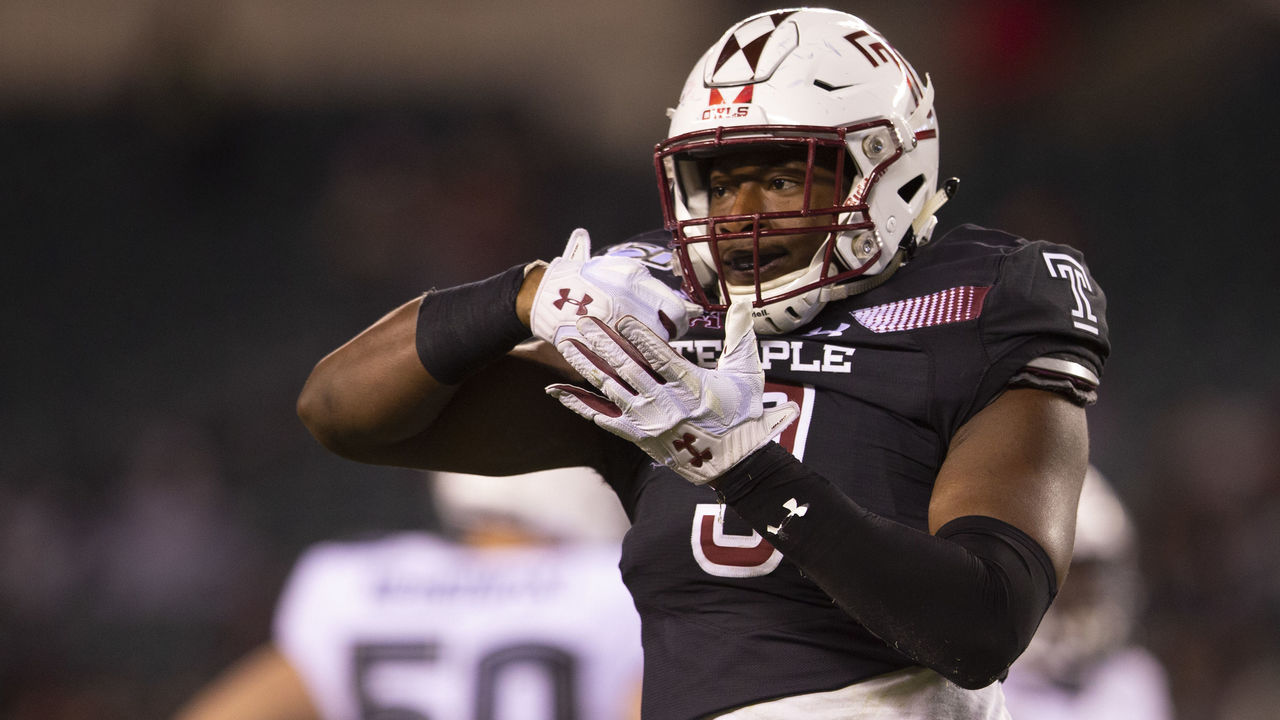 The second defender from Miami goes off the board at No. 20 as Roche joins the Bills. After putting up impressive numbers at Temple, Roche opted to transfer to a Power 5 program for better competition. A strong season with the Hurricanes could actually see Roche move into the top 15.
21. Pittsburgh Steelers - Kyle Pitts, TE, Florida
Tight end has been a revolving door in Pittsburgh for years. The names coming in and out have never held the offense back from success, but now that the rest of the roster is in such good shape, the Steelers can afford to take care of that spot with a premium pick. Pitts is an impressive athlete who could be a matchup nightmare at the next level.
22. Green Bay Packers - DeVonta Smith, WR, Alabama
Who knows whether Aaron Rodgers will still be around to enjoy it, but the Packers finally make a major addition to their receiving corps. Yet another top receiver talent coming out of Alabama, Smith's playmaking ability would fit in nicely opposite Davante Adams.
23. New England Patriots - Jaylen Twyman, DL, Pitt
Twyman is a very talented interior pass-rusher and the type of player Bill Belichick will love in New England. He may have just 21 games of experience at the collegiate level after deciding to opt out of the 2020 season, but Twyman's incredible athleticism at the position makes this a steal at No. 23.
24. Indianapolis Colts - Jevon Holland, S, Oregon
Landing a pick this low in the first round would complicate Indy's ideal scenario of picking a quarterback. In this situation, the Colts look to the defensive side, where Holland would slide in as the replacement for impending free agent Malik Hooker.
25. Philadelphia Eagles - Tyson Campbell, CB, Georgia
Philly may not value corners as much as other teams, but you can only allow a position to be such a glaring problem for so long before addressing the issue. Campbell has all the traits to be a top cover man and he could be a major upgrade opposite Darius Slay.
26. New York Jets (from SEA) - Travis Etienne, RB, Clemson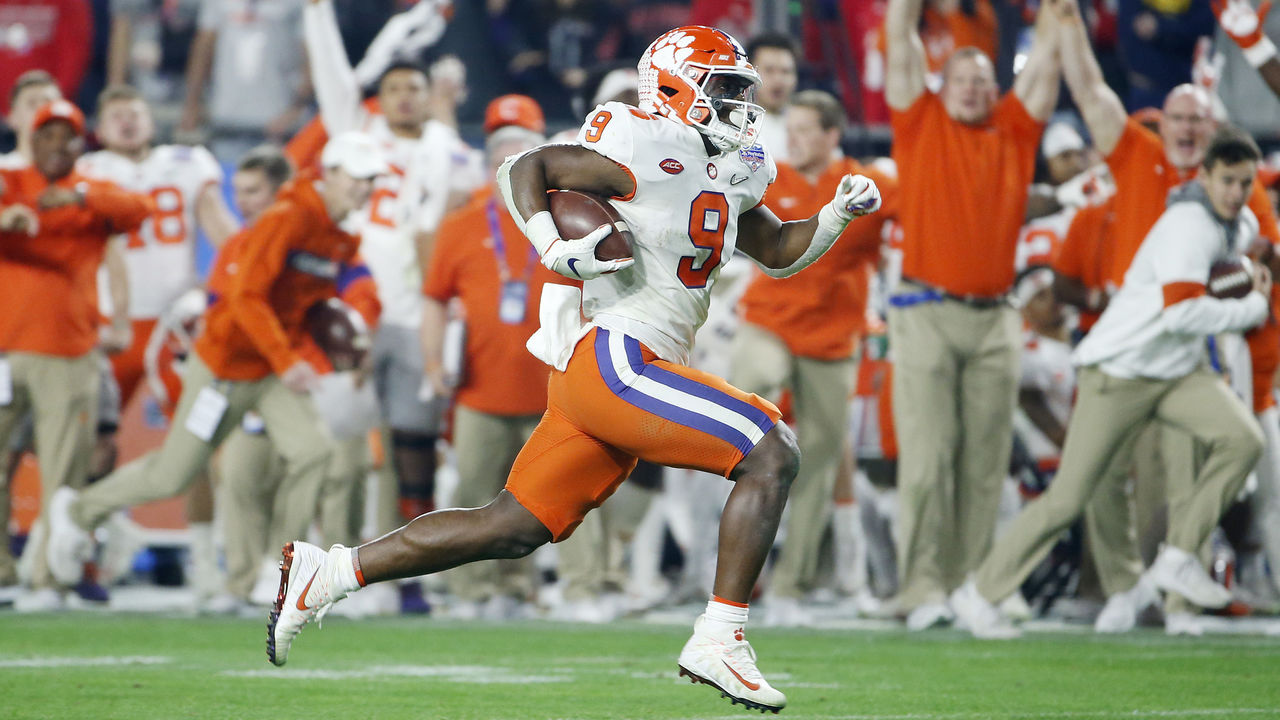 Le'Veon Bell's addition hasn't beefed up the Jets' offense nearly as much as they hoped, and the addition of Etienne should bring some much-needed excitement to the AFC East club. The speedster from Clemson shocked many by returning to school for 2020 but should be an impact player from Day 1 at the next level.
27. Dallas Cowboys - Hamsah Nasirildeen, S, Florida State
The defensive backfield represents one of few needs on an otherwise loaded Cowboys roster. Nasirildeen's versatility would allow him to be a matchup player who could line up at a number of different positions and make an impact all over the field.
28. Tampa Bay Buccaneers - Marvin Wilson, DT, Florida State
The Bucs have already done as much as they can to build up the offense around Tom Brady, so the focus here should be on the defensive side. Wilson has impact potential on the interior defensive front, both as a pass-rusher and as a run defender.
29. New Orleans Saints - Cameron McGrone, LB, Michigan
McGrone makes up for his lack of experience as a one-year starter with his athleticism. This would be a perfect landing spot for the Michigan standout; he'd join a strong Saints unit to perfect his craft and give New Orleans some depth at linebacker.
30. Baltimore Ravens - Justyn Ross, WR, Clemson
Ross could be selected much earlier if he gets a clean bill of health after his neck injury. The uncertainty pushes him down the board for the time being, though, allowing the Ravens to land a big-bodied playmaker who would be the ideal complement to the speedy "Hollywood" Brown.
31. San Francisco 49ers - Wyatt Davis, OG, Ohio State
San Francisco's offensive line is already in a fairly good spot, but a top interior talent could help push that group further among the NFL's elite. Davis was a consensus All-American in 2019 and has consistently dominated opponents up front.
32. Kansas City Chiefs - Israel Mukuamu, CB, South Carolina
The defending champions don't have a ton of holes, but they can address their depth in the secondary. Enter Mukuamu from South Carolina, a rangy 6-foot-4 athlete who is among the draft's more intriguing talents.