The NCAA released a set of standards for the return of college sports on Thursday. Included was a chart that doesn't offer much hope for college football returning anytime soon.
"As the graph below indicates, when the NCAA began discussions about return of sport after the cancellation of 2020 winter and spring championships, there was an expectation that such a return would take place within a context that assumed syndromic surveillance, national testing strategies, and enhanced contact tracing," the NCAA's release read. "Although testing and contact tracing infrastructure have expanded considerably, the variations in approach to reopening America for business and recreation have correlated with a considerable spike in cases in recent weeks.
"This requires that schools contemplate a holistic strategy that includes testing to return to sports with a high contact risk."
Translation: The gap between where we thought we'd be and where we are is widening each week.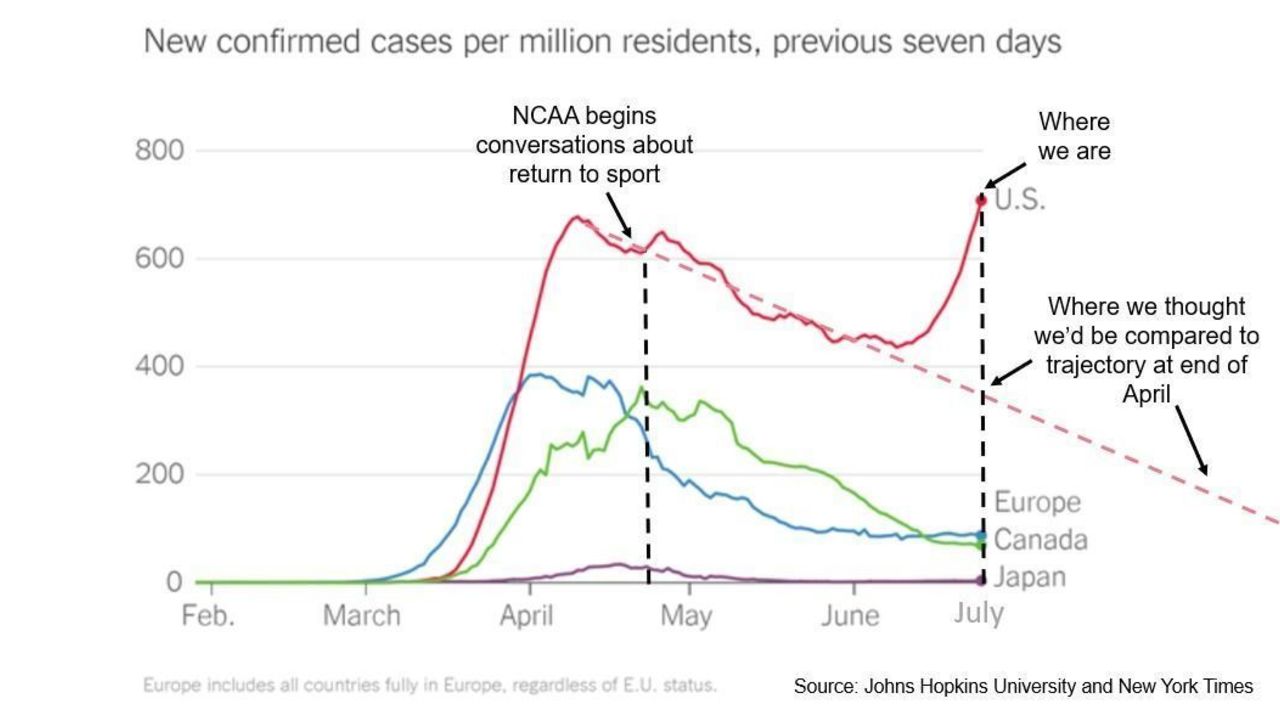 Let's unpack the NCAA's recommendations and what those guidelines might mean for the fate of the fall sports season.
Will the NCAA set a COVID-19 testing standard?
The NCAA's suggested strategies for testing aren't requirements. As has become apparent over the last month, when conferences make decisions individually, there isn't a cohesive, overarching plan for college sports returning. But it's clear that if the NCAA COVID-19 advisory panel had its way, there would be a testing standard set before fall sports can return.
The NCAA's guidance separates sports into "low contact risk," "medium contact risk," and "high contact risk." The high contact risk sports include football, basketball, field hockey, ice hockey, lacrosse, rowing, rugby, soccer, squash, volleyball, water polo, and wrestling.
The NCAA recommends testing athletes in high contact risk sports within 72 hours of competing. If testing cannot be performed within 72 hours, "then the competition should be postponed or canceled, or an alternative plan for testing should be developed and agreed upon."
Testing should be performed on all high contact risk athletes and personnel for whom physical distancing, masking, and other protective measures are not maintained.
It will be the schools' responsibility to acquire the necessary tests and resources. For a football program with 100-plus players (including walk-ons), that means using over 1,000 tests throughout a season. West Virginia athletic director Shane Lyons estimates the cost of testing all athletes will be $20,000-25,000 per week, ESPN's Heather Dinich reported.
Referees and officials working football and basketball games should also be tested weekly, according to the NCAA's recommendations.
What happens if an athlete tests positive?
In its recommendations, the NCAA lamented the lack of a federal contact-tracing program while encouraging athletic departments to look into the accessibility of local programs. The document also offered a straightforward procedure for how departments should handle positive cases.
"All individuals with a high risk of exposure should be placed in quarantine for 14 days as per CDC guidance," it reads. "This includes members of opposing teams after competition. The difficulty is defining individuals with a high risk of exposure, and in some cases, this could mean an entire team (or teams)."
What constitutes a high risk of exposure? The NCAA is following CDC guidelines:
• Anyone who was within six feet of someone with COVID-19 for at least 15 minutes.
• An individual who provided home care to someone who is sick with COVID-19.
• An individual who was directly in physical contact with an infected person (touched, hugged, or kissed them).
• An individual who shared eating or drinking utensils.
• An individual who an infected person sneezed or coughed on, or respiratory droplets someone touched them.
That could lead to an entire position group being classified as exposed. Or an entire team. Or an entire coaching staff. During the season, a positive test would create a domino effect.
That's one reason why the Big Ten and Pac-12 decided to play conference-only schedules, as uniform testing guidelines can be imposed on conference members. The move also gives those conferences the ability to postpone games and be flexible with the calendar as needed.
Still, the idea of a full season in this climate, without a bevy of postponements, seems implausible.
Are there recommendations for practice?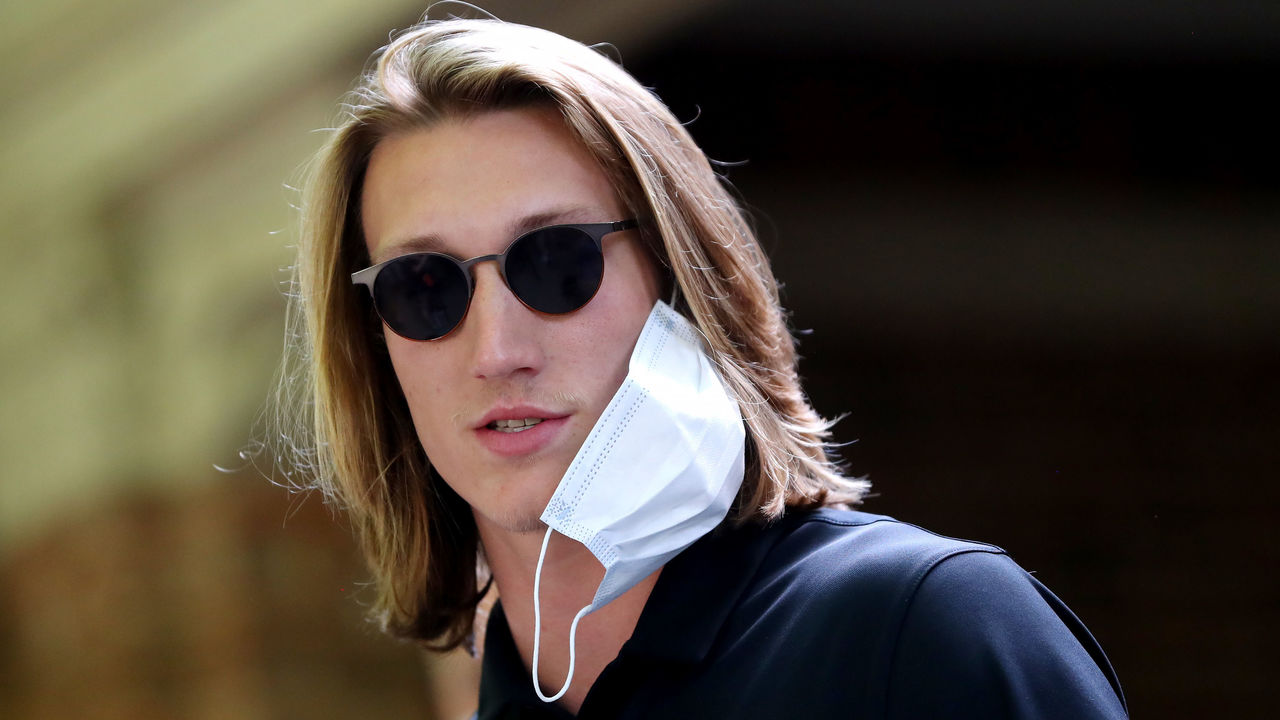 The NCAA suggests schools consider establishing "functional units" of 5-10 people who work out and participate in activities together. Keeping units small could mitigate the spread of the coronavirus and make it easier to contact trace.
The NCAA also suggests wearing face coverings for practices and games or adding face shields to football helmets.
One more minor, but potentially crucial, suggestion: Coaches should replace traditional whistles with electronic ones to avoid the "deep breath and forced burst of droplet-filled air" that comes with whistle use.
What could cause a sport to shut down?
The NCAA offers schools five tenets to use when deciding whether to pause or outright discontinue athletic activities:
• An inability to isolate new positive cases or quarantine high contact risk cases on campus.
• Unavailability or an inability to perform symptomatic, surveillance, and pre-competition testing when warranted and as per recommendations.
• Campus-wide or community test rates that local public health officials consider unsafe.
• Inability to perform adequate contact tracing consistent with government requirements or recommendations.
• Local public health officials stating the hospital infrastructure can't accommodate a surge in hospitalizations related to COVID-19.
The third and fifth tenets - which are tied to local test rates and hospital infrastructure - could vary wildly from place to place. It's not difficult to imagine a chaotic fall in which schools in some states could continue practicing (and potentially playing), while other campuses must take more caution.
What if an athlete doesn't feel comfortable playing?
The SEC joined the Big Ten and Pac-12 on Friday in announcing that colleges and universities will honor the scholarships of athletes who don't participate this fall because of health or safety concerns.
That should ease some of the pressure athletes may feel to return to campus.
"Our message to our student-athletes must be clear and unequivocal - we support you and we will stand by you in your decision-making during this time whether you can compete or not," LSU athletic director Scott Woodward said in a statement. "Your scholarship and the education and opportunities it affords will be protected here at LSU and across the SEC."
Still, the NCAA and its conferences could take it a step further and offer a "redshirt" for any athlete who forgoes this season because of COVID-19 concerns. Even if an athlete maintains his or her scholarship, choosing not to participate this fall could mean losing a year of eligibility.
So, what's the likelihood there's a football season?
More FCS conferences announced postponements or cancellations this week. Among football-playing conferences, the Ivy League, Patriot League, and MEAC have canceled their fall seasons.
Meanwhile, the Colonial Athletic Association announced Friday it won't play a league schedule, though its football programs can operate as independents this fall. Other non-football playing conferences, including the Big East, Atlantic 10, and America East, have also postponed fall competitions.
No FBS conference or individual school has canceled the fall season yet, and only the Big Ten and Pac-12 have made the move to conference-only schedules. But as the number of positive COVID-19 cases grows, pessimism about a fall football season hangs in the air. The major conferences postponed virtual media days, which are typically scheduled for mid-July, with only the Big 12 announcing a new date (Aug. 3).
"We are running out of time to correct and get things right, and as a society we owe it to each other to be as healthy as we can be," SEC commissioner Greg Sankey told Marty & McGee on ESPN Radio last weekend.
Mark Cooper is theScore's NCAA writer