So far, college football's return has been a series of false starts.
At least three schools - Houston, Kansas State, and Boise State - paused voluntary workouts after reported outbreaks of the coronavirus among athletes or on campus. Numerous other universities, including LSU and Clemson, reported positive cases. Not every school has its players back on campus yet.
Unlike the NBA and NHL, which are set to return with a uniform plan reliant on bubbles and hub cities, college football has no central force enforcing its COVID-19 protocols. Schools are relying on experts, but their plans to restart football activities vary from program to program and conference to conference.
It leaves a lot of confusion and a number of questions. Below, we'll attempt to answer some of the most pressing ones.
What's the timeline for returning players to campus?
The NCAA permitted voluntary athletic activities to begin June 1. The reaction from schools and conferences varied. Some universities took immediate advantage and began bringing football players back to campus at the start of the month.
Others waited. USC announced Tuesday it would begin bringing back "local" players - within an hour of the Los Angeles campus - June 24. Athletes are returning in three phases, with the third phase, for new and incoming players, beginning July 13.
Oklahoma also waited. It won't reopen its facilities until July 1.
"Our medical personnel have told us that the safest thing we can do is keep our players off campus for as long as possible," Sooners coach Lincoln Riley said in a news release announcing the plan. "We chose the latest point that we could bring them back and still have enough time to prepare."
How are schools attempting to safely return players to campus? Are schools testing for COVID-19, and how frequently?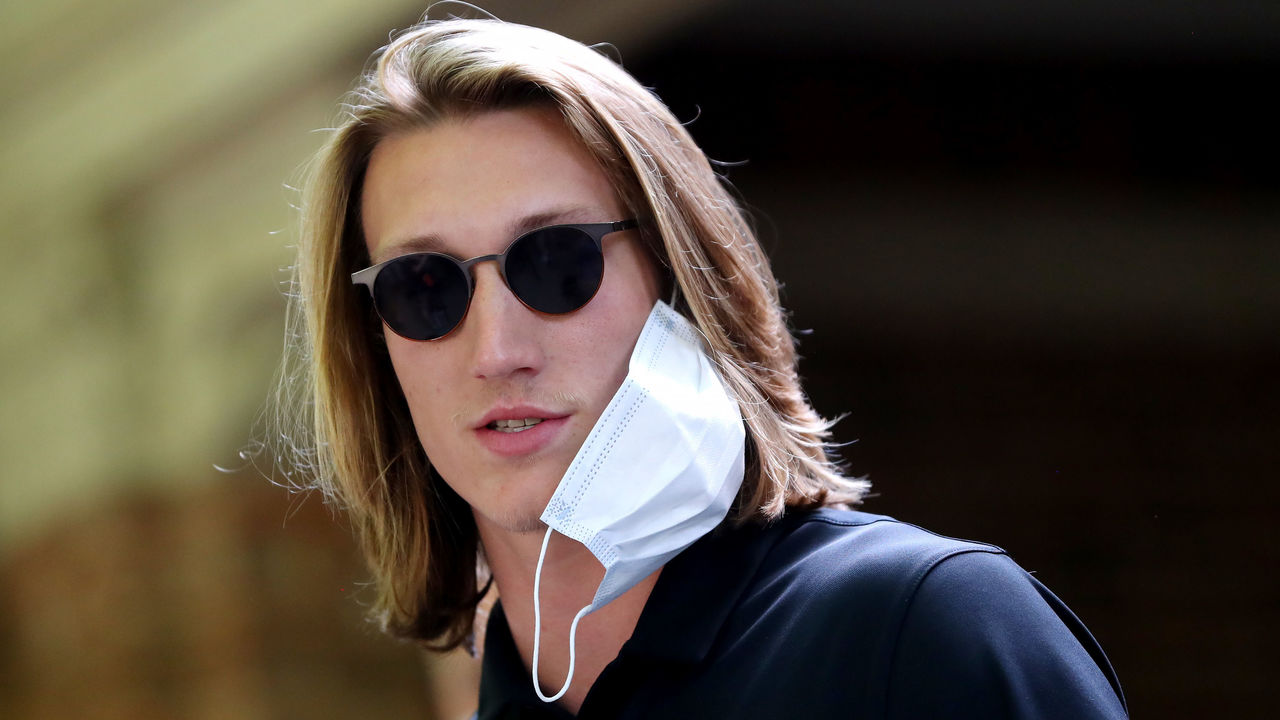 Without a centralized plan, processes have varied. Most schools appear to be testing athletes for COVID-19 upon their return to campus, but not all.
Let's use Clemson as one example. The university began bringing athletes to campus on June 1, with the goal to begin voluntary activities on June 8. The timeline coincided with a 14-day period of "social and physical distancing" - seven at home, seven on campus. If no symptoms occurred, athletes then underwent physicals, which included a COVID-19 test and an antibody test.
The return-to-campus plan included guidelines for strength and conditioning: groups of no larger than 10, face coverings and physical distancing required, and cleaning and sanitization to take place between each use of a machine.
Another example: Michigan State. Athletes from four sports, including football, began returning to campus on June 15 and were immediately tested for COVID-19 and then told to self-isolate for one week. A second test was administered Monday. Only after a second negative could voluntary summer workouts begin. Of 124 athletes tested on June 15, one tested positive, MSU reported.
Boston College, which brought the football team back Monday, is following state recommendations and requiring players to self-quarantine for 14 days. The school will test athletes for COVID-19 on the eighth day of quarantine. It says that day was selected based on most current medical evidence.
But not every school is testing every athlete for COVID-19. Arkansas and Kentucky, for example, tested their athletes for antibodies but did not administer COVID-19 tests to everyone.
Few schools, if any, are testing enough, said Dr. Kathleen Bachynski, an assistant professor of public health at Muhlenberg College. Ideally, players would be tested multiple times per week or even daily, she said.
The impracticality of putting college football programs in a so-called "bubble" raises other issues.
"I don't think it's sufficient to just test at the beginning, but it's especially helpful if you're sort of saying OK, we're quarantining you and now that we're comfortable from the get-go that everybody is negative, we're going to keep you in a bubble," Bachynski told theScore. "But that's not what's happening because college campuses can't really create a bubble. So you're sort of then in the situation of, at least we got everyone here. But now what happens for the rest of the semester?"
Of course, frequent tests could get expensive for universities quickly. That's part of what makes the return of college sports seem more challenging than professional, and even youth, sports.
"College to me seems like the toughest of all the three because you've got the travel and the interactions on campus," Bachynski said. "And you're not paid and you don't have the same kind of resources that the pro level does. So it's in a way, I think, sort of the toughest combination of all three in terms of what they're dealing with."
Where have athletes tested positive? What happens then?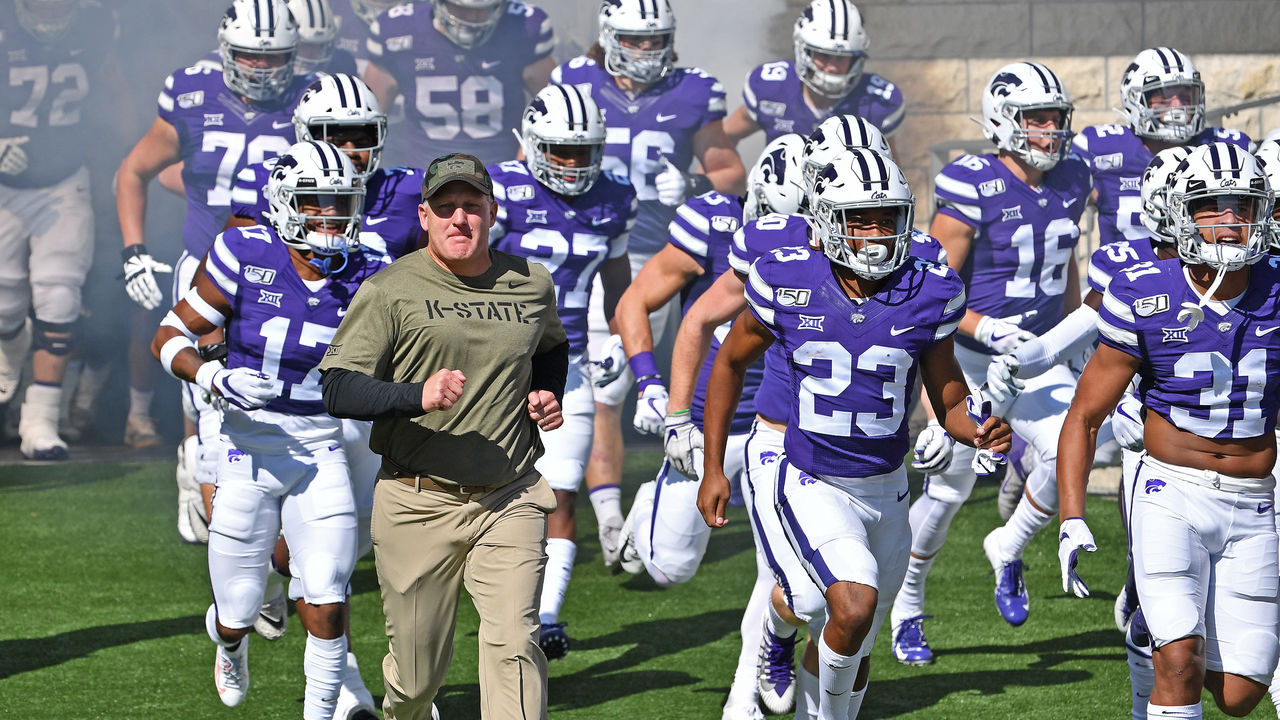 A USA Today tracker lists at least 40 schools - from Alabama to Rutgers, Texas to North Dakota State - that have either disclosed positive COVID-19 tests or have had them reported by the media. And we're not at the point yet where all programs are on their respective campuses.
Out of 315 tests conducted at Clemson, 28 came back positive. The school's plan was to have those who tested positive quarantine for 10 days, and to ask their close contacts to self-isolate as well. But while 23 football players tested positive, voluntary workouts continue for those who are healthy, The State (S.C.) reported.
That isn't the case everywhere. At Houston, six symptomatic COVID-19 cases caused the school to halt all on-campus workouts. The program was only testing athletes who showed symptoms, according to the Houston Chronicle.
Kansas State also put a stop to workouts for 14 days. In Manhattan, Kansas, 14 athletes tested positive.
"The 14 individuals who have tested positive are being medically managed according to current local, state, national, and CDC guidelines, which begins with self-isolation for 10 days and until the patient is without fever for 72 hours without medication, whichever takes longer," the football program announced.
Boise State paused workouts for six days after eight positive cases on campus, though it's unclear whether any athletes tested positive.
At Michigan, there were two positives out of 221 tests conducted. At Notre Dame, one of 91 players tested positive. At Iowa, 12 of 386 tests for athletes and staff came back positive.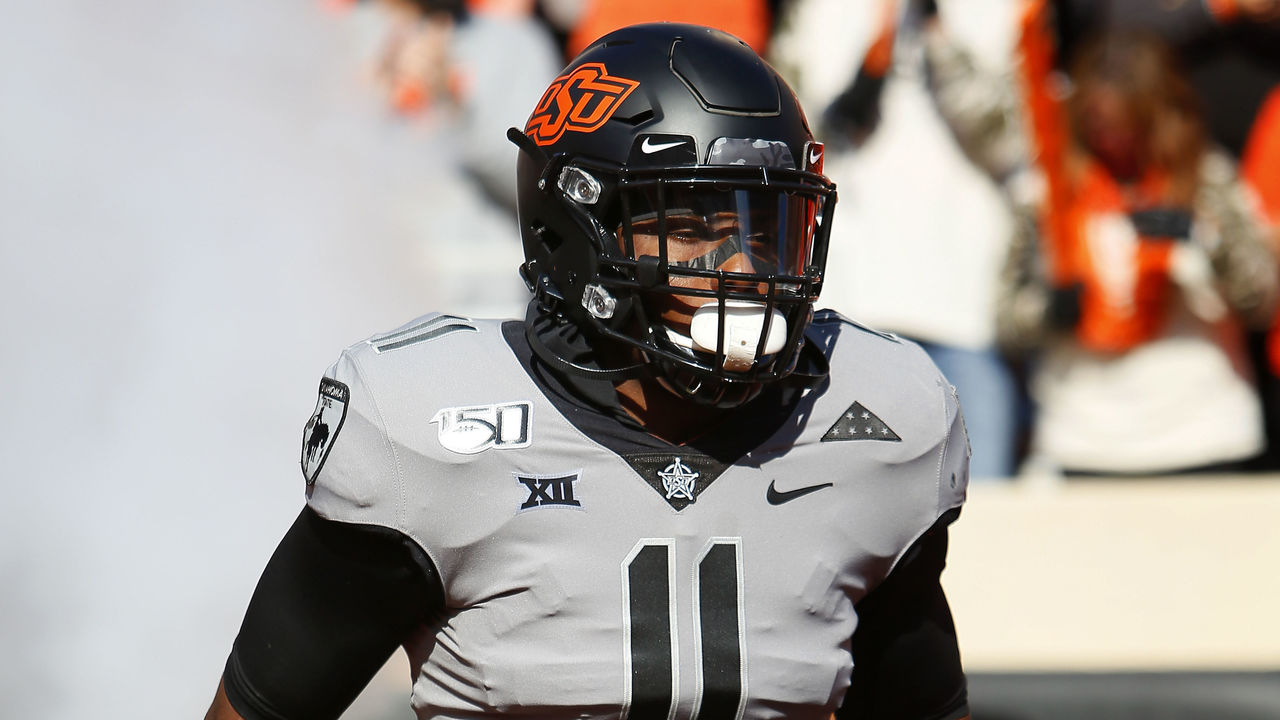 Not all schools are releasing information, however, citing federal privacy laws. Miami (Fla.), North Carolina, Syracuse, and UCF are among the schools that stated they won't release information about positive tests specific to the football program (or athletic department).
That falls in line with how college football programs generally handle health information - for many coaches, talk of injuries ends in a "no comment." But COVID-19 is different, Bachynski said, and there's a case for transparency because of the public's right to know.
"This is an infectious disease where the risk is to whoever you potentially come in contact with or had close contact with," Bachynski said. "And so there's a really imminent need for the community and certainly health officials and first responders and anyone who needs to be addressing COVID-19 to have up-to-date, as immediate as possible, information on where cases are."
Do players have a say?
All athletes who returned to campus have done so for "voluntary" workouts. That word alone would seem to allow for an athlete to stay home if he or she felt uncomfortable traveling because of the COVID-19 pandemic.
But is that the case? At SMU, football players were asked to sign a liability waiver before returning to campus, The Dallas Morning News reported.
At Ohio State, athletes were asked to sign the "Buckeye Pledge," a two-page document that essentially acts as an acknowledgement of risk. Ohio State athletic director Gene Smith told ESPN that it wasn't meant to be a legal document, though it does state that "any failure to comply with my Buckeye Pledge above may lead to immediate removal of athletic participation privileges (not my athletics scholarship) and/or the inability to use athletics facilities."
There haven't been any reports of football players who didn't report to campus for that reason. But as players find their voices and realize their leverage this summer, they could also keep their institutions accountable.
That's one way of describing what happened at UCLA last week. The Los Angeles Times reported that 30 UCLA football players signed a document demanding health protections. Those demands included third-party health officials to be present at all team activities to enforce COVID-19 regulations. The document also demanded players be given the discretion to make decisions for the benefit of their health without risk of losing their scholarship. UCLA addressed the requests, Yahoo Sports reported.
The voice of the athlete could grow louder as the season approaches. College athletes have been leading participants in speaking out about racism. From Florida State to Oklahoma State to West Virginia, players have been outspoken in recent weeks about the actions of their coaches. Those same players are the ones bearing the physical health risk of playing football and could ensure sufficient testing for COVID-19 takes place as games approach.
"It's also hard for me to look at this and not think about the reality that the majority of football players are disproportionately African American and are unpaid and are sort of being asked to take on these risks without the sort of protections, the basic health protections, which would be sufficient testing," Bachynski said.
When can practices begin?
The NCAA's Division I Football Oversight Committee approved a preseason plan that creates a slow buildup toward preseason camp.
Voluntary workouts are currently permitted. Required summer activities can begin 25 days before the first permissible preseason practice. If a team opens its season on Saturday, Sept. 5, that means required summer activities can begin July 13. Athletes will be permitted to engage in eight hours of weight training, conditioning, and film review per week.
From July 24-Aug. 6, athletes can participate in 20 hours of athletic activities per week (not more than four hours per day). The NCAA allows for up to eight hours of weight training and conditioning; six hours for film review, team meetings, position meetings, and one-on-one meetings; and six hours for walk-throughs, which may include the use of a football.
Preseason camp will operate on the same schedule it typically does. Teams can begin practicing 29 days before their first game and must hold five non-padded practices to acclimate before the first practice in full pads.
Have any games been canceled?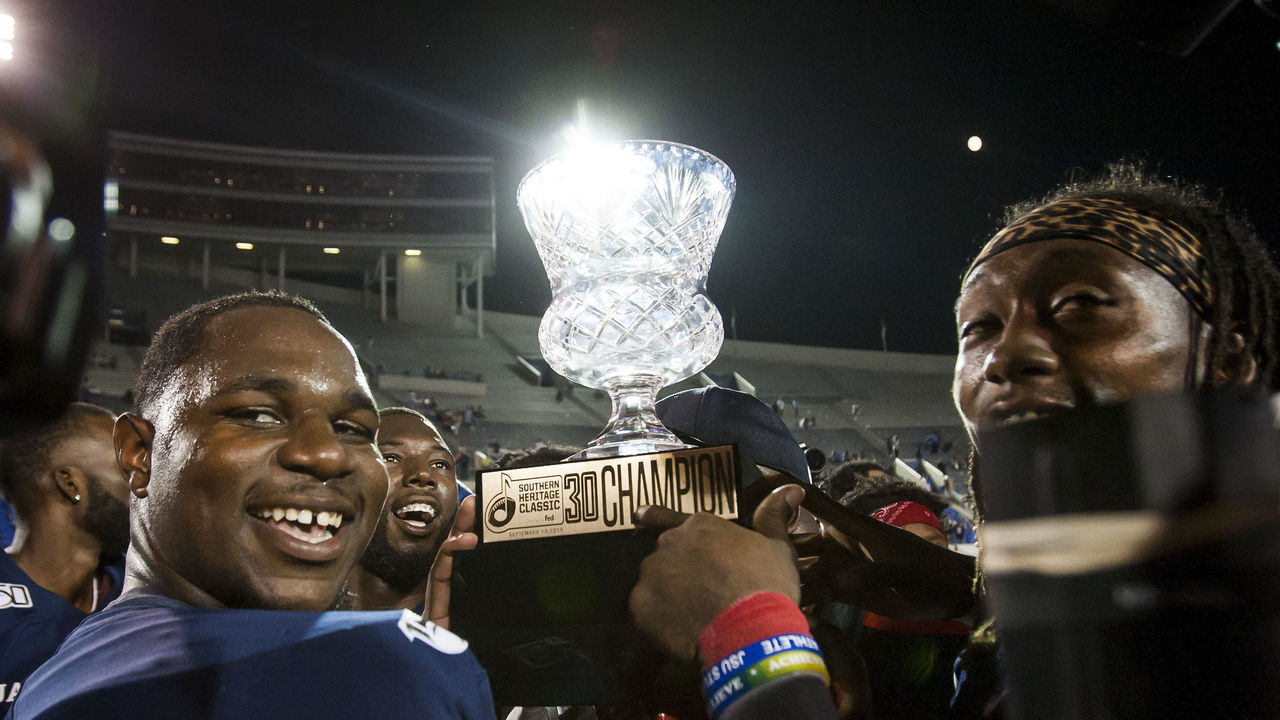 At the FBS level, not yet. But four games at the FCS level have been canceled, all featuring historically Black colleges and universities.
The Southern Heritage Classic, pitting Jackson State and Tennessee State and played annually in Memphis since 1990, was canceled. A neutral-site game between Southern and Tennessee State in Detroit was also canceled. Southern also canceled its second game of the season, against Florida A&M. Jackson State's season opener against Langston University was canceled because Langston, an NAIA school, is prohibited from playing before Sept. 12, The New York Times reported.
The Patriot League, which operates at the FCS level for football, announced it would return athletes to campus at the same time as other students. It also announced that none of its teams would fly to games and, with rare exceptions, "regular-season competition will exclude overnight travel."
The conference's move could have a ripple effect at the FBS level. There are a couple Patriot League-versus-FBS matchups that would seem to require a flight, or at least overnight travel: Colgate at Western Michigan (Sept. 4) and Fordham at Hawaii (Sept. 12). Other scheduled games include Bucknell at Army (Sept. 4), Colgate at Syracuse (Sept. 19), and Holy Cross at Boston College (Oct. 31).
What are the chances this all works in-season?
On one hand, college football programs are testing and isolating their athletes now.
On the other hand, three schools have already paused workouts. What happens when the logistics of traveling across the country are a factor? What happens if a key starter - or, say, an entire starting offensive line - tests positive a few days before a game?
With a little more than two months before the presumed start of the season, there are still endless questions and hypotheticals.
One of the biggest challenges college sports will face is that no matter the precautions, it won't be operating in a controlled environment. Students will return to campus in the fall, though perhaps not to football games. Even if athletes mostly take online classes, they're bound to come into contact with people outside of their football program.
It's been only three months since the NCAA Tournament was canceled and college campuses quickly emptied. It's nearly impossible to know what the landscape will look like three months from now.
"We're not even to the point of games and travel," Bachynski said. "And I hate to say it but the other major concern with the fall, which I'm sure you've heard about, is the potential for there to be more of a spike that also would coincide with flu season. So if anything the potential risk or the potential strain on healthcare resources is likely to be even greater by the time November rolls around. So it's also very difficult for me to imagine the current plan making it all the way into the fall or through to December."
Mark Cooper is theScore's college sports writer.