Four months ago, the Ivy League was ahead of the curve.
On March 10, it canceled its men's and women's basketball conference tournaments because of growing concern about the coronavirus. Two days later, after the Utah Jazz's Rudy Gobert tested positive for COVID-19 and the NBA paused its season, the rest of college basketball - and the sports world - followed suit.
In the immediate aftermath of the Ivy League's decision, the conference caught flack for what some thought was a hasty decision.
It turned out to be prescient. And now, it begs the question: Is the Ivy League once again foreshadowing what's to come?
The eight-school league took another pioneering step amid the pandemic Wednesday, canceling its fall sports seasons and putting a moratorium on all sports until at least the end of the fall semester. It means no football season, at least in the traditional sense. It also means that if a college basketball season begins on schedule, Ivy League schools would likely miss at least the nonconference portion.
The Ivy League Council of Presidents made its stance clear in a statement: Safety matters most.
"With the information available to us today regarding the continued spread of the virus, we simply do not believe we can create and maintain an environment for intercollegiate athletic competition that meets our requirements for safety and acceptable levels of risk, consistent with the policies that each of our schools is adopting as part of its reopening plans this fall," the eight Ivy League presidents said in a joint statement.

"We are entrusted to create and maintain an educational environment that is guided by health and safety considerations. There can be no greater responsibility - and that is the basis for this difficult decision."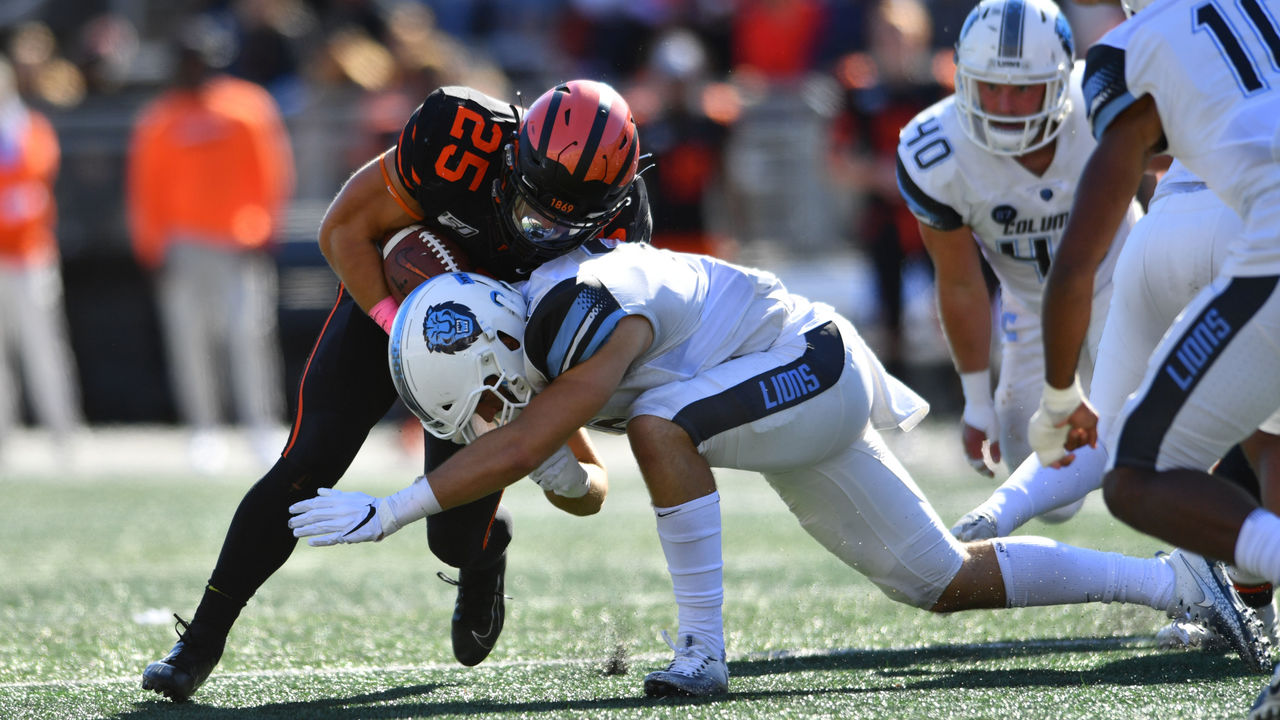 The Ivy League being the first to take this step makes sense. As an FCS conference that doesn't even participate in the football postseason, the Ivy League doesn't rely on football revenue the way many power-conference universities do. In the near future, it'll be interesting to see if the Ivy League's decision affects how other FCS conferences handle their fall sports. Already, the Patriot League announced it would return athletes to campus at the same time as other students and would not fly to games. Fordham, a Patriot League member in football, canceled its first three games Tuesday.
But while conferences like the SEC, the Big Ten, and the Big 12 have more to think about in terms of revenue, the Ivy League's decision is a reminder of what matters. While the Ivy League might not have a direct influence on college football's top-tier programs, its line of thinking should rub off.
Whether or not the Ivy League pursues a spring football season remains to be seen. In a news release, the conference said it would make a decision on the remaining calendar for winter and spring sports, as well as whether any fall sport would be feasible in the spring, at a later date.
But the overarching question remains: Will this be a harbinger for things to come? As the Division I college athletics season approaches, will the Ivy League's decision cause a cascading effect among other conferences?
Wednesday's news comes as major college programs grapple with the reality of the pandemic. Already, the attempted restart of athletic workouts on college campuses has been met by hiccups and health concerns. On Tuesday, Louisville paused men's basketball workouts for two weeks after two members of the program tested positive. On Wednesday, it was North Carolina that reportedly stopped football workouts for at least one week after announcing 37 positive tests (not specified by sport). Houston, Kansas State, Boise State, and New Mexico State are among the schools that halted on-campus workouts after a number of positive tests.
Return-to-campus protocol has differed from school to school and conference to conference, with universities relying on their own experts. Testing frequency has differed, too. Issues arose quickly - and we haven't reached the hardest part: How are college teams expected to travel across time zones to play each week before returning to campuses that (might) also house a general student population if cases continue to rise?
The resumption of college sports was always going to be a more difficult task than in the pros. First, the players being asked to return to campus and participate in a contact sport are not being paid to do so. And unlike the NBA and NHL, which focused their postseason efforts on individual cities, and the MLB, which has an overarching testing policy, college football - and college athletics in general - is operating without a centralized plan.
"College to me seems like the toughest of all the three because you've got the travel and the interactions on campus," Dr. Kathleen Bachynski, an assistant professor of public health at Muhlenberg College, told theScore two weeks ago. "And you're not paid and you don't have the same kind of resources that the pro level does. So it's in a way, I think, sort of the toughest combination of all three in terms of what they're dealing with."
Testing college athletes for COVID-19 will only become a larger issue, and one that could divide the haves and have-nots. West Virginia athletic director Shane Lyons told ESPN's Heather Dinich that testing could cost universities $20,000-$25,000 per week.
And travel concerns could continue to mount. Consider: Right now New York, New Jersey, and Connecticut are advising travelers from 19 states to quarantine for 14 days upon arrival. Massachusetts is directing travelers from 42 states to do the same.
Among the states listed: Oklahoma. The Sooners are scheduled to travel to Army - in West Point, New York - on Sept. 26.
Florida, Georgia, and North Carolina are on the list, too. Syracuse hosts Florida State, Georgia Tech, and North Carolina State as part of its ACC schedule.
Buffalo opens the season at Kansas State on Sept. 5. If New York's travel advisory is still in place in two months, would every member of the Bulls program be required to quarantine for 14 days upon returning to campus?
A spring football season isn't a sure thing, but it should be among the options. Athletic directors shared mixed opinions when asked about the prospect of a spring season if one can't be held in the fall.
Penn State athletic director Sandy Barbour called it a "last resort."
Oklahoma State athletic director Mike Holder said on a conference call last week: "It might not be preferred, but yeah, anything's possible and I think our athletes - they just want to play."
Over all other considerations, athletes' safety must be prioritized.
Mark Cooper is theScore's college sports writer.