Before he became San Diego State's head coach in 2017, Brian Dutcher worked 28 seasons as Steve Fisher's assistant with the Aztecs and at Michigan. He first joined Michigan in 1989, which means he was part of the staff that brought the Fab Five to Ann Arbor.
Three decades and two time zones removed from Michigan, Dutcher assembled his 2019-20 San Diego State roster in a completely different, albeit modern, way: He brought in the best transfers he could find.
There was Malachi Flynn, the 6-foot-1 guard who starred at Washington State for two seasons but left after the Cougars went just 25-37 over that span. He sat out last year, then blossomed into an All-American (and sleeper Player of the Year) candidate for SDSU this season.
There was Yanni Wetzell, the 6-foot-10 Vanderbilt graduate transfer from New Zealand. On the worst team in the SEC last year, Wetzell came off the bench most of the time and averaged 5.9 points per game. At San Diego State, Wetzell started every game and became one of the Mountain West's premier inside scorers, averaging 11.6 points and 6.5 rebounds.
There was KJ Feagin, a former volume scorer at Santa Clara who settled into a complementary role as a grad transfer, scoring 9.1 points per game.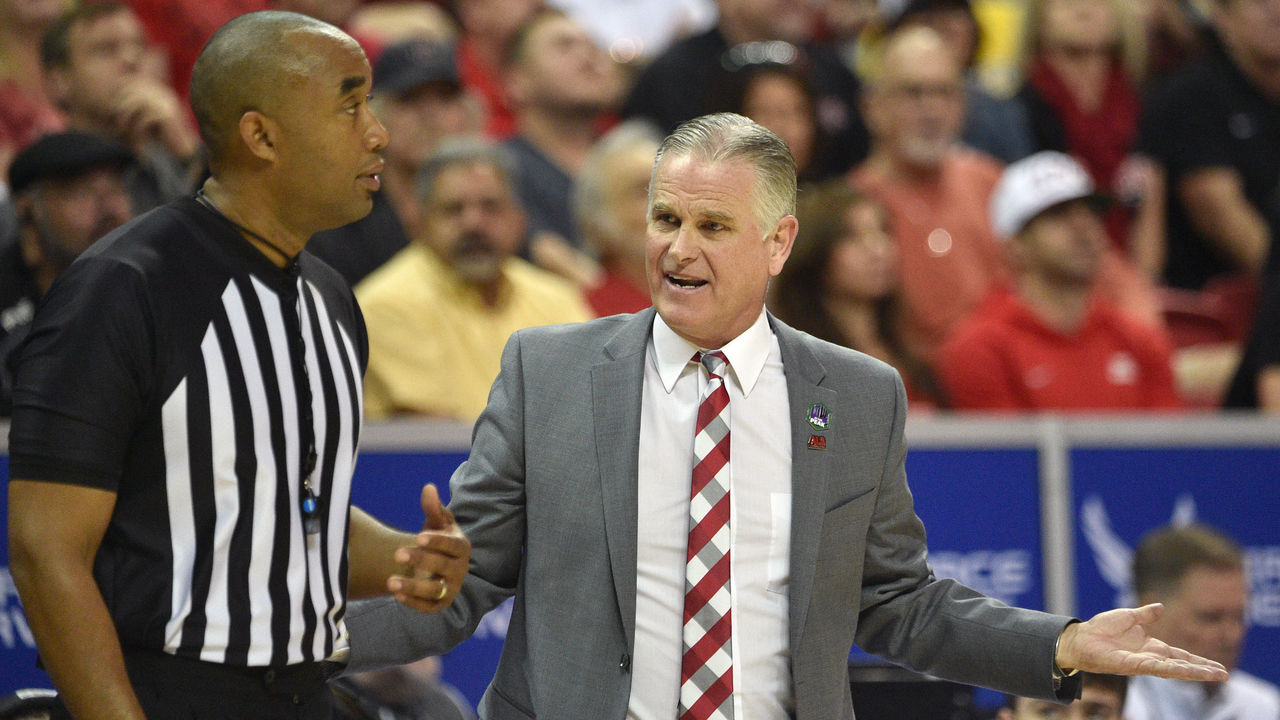 And there were the two constants, juniors Matt Mitchell and Jordan Schakel. In their third seasons in the program, they gave the Aztecs some sense of continuity. They also became San Diego State's most accurate shooters, combining to make 115 3-pointers at a 41.8% clip.
The result: An Aztecs team that lost its top two scorers and entered the season ranked No. 97 by KenPom became college basketball's last undefeated team in 2020. San Diego State started this year a surprising 26-0 and was 30-2 when the NCAA canceled its tournament on March 12.
San Diego State came on suddenly and under the radar. The NCAA Tournament was meant to be a showcase for the Aztecs to prove they were the real deal on a national stage.
But when we look back on this season down the road, we'll see that San Diego State did enough to validate its opulent record in the regular season.
The Aztecs stacked three nonconference wins that looked more impressive as the season went on. On Nov. 9, they won on the road against a BYU squad that won 24 games. The Cougars didn't lose another home game the rest of the year.
On Nov. 28 in Las Vegas, San Diego State smacked Creighton 83-52. Yes, that's the same Bluejays team that went on to share the Big East regular-season title.
The next day, SDSU beat Iowa 83-73. The Aztecs were the only team to hold Hawkeyes forward Luka Garza below 10 points.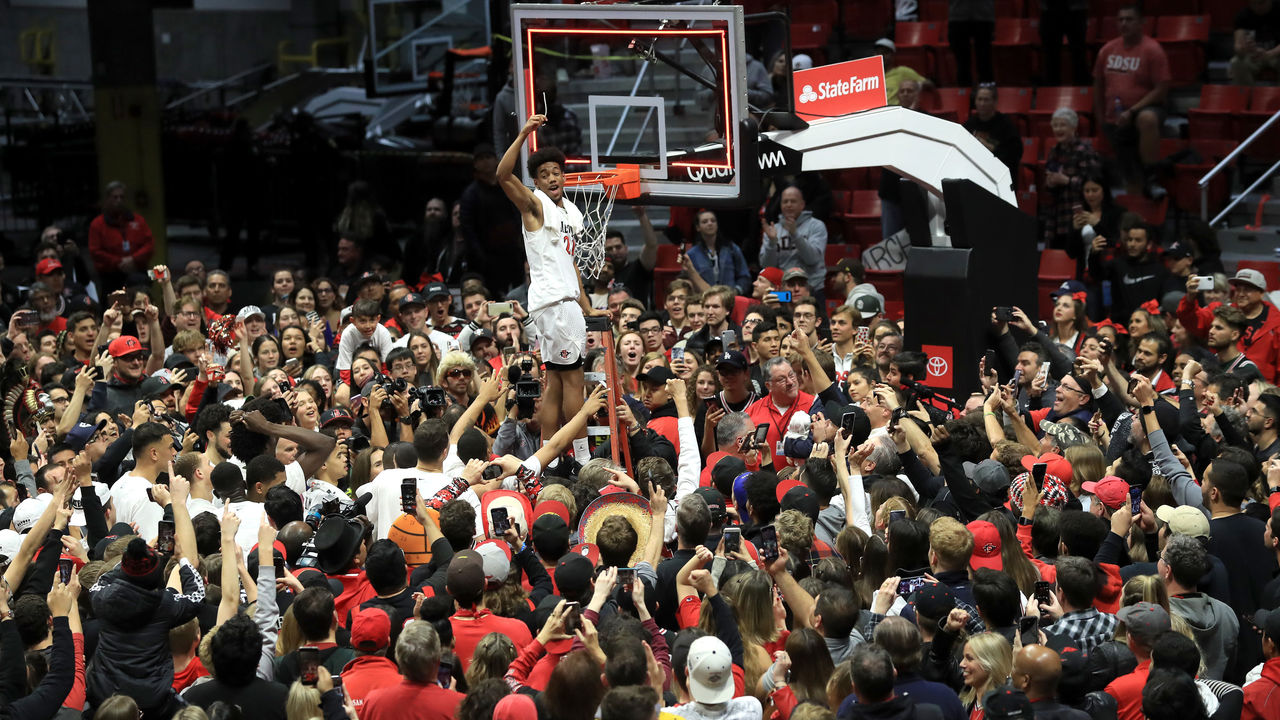 The Aztecs peaked at No. 4 in the AP Top 25, matching the 2010-11 Kawhi Leonard-led team for the highest ranking in school history. They swept the Mountain West's other NCAA Tournament team, Utah State, in the regular season.
They were three games away from an undefeated regular season when UNLV clipped them 66-63 in Viejas Arena on Feb. 22. Their second loss came in the Mountain West tournament championship against Utah State.
But those losses don't diminish what Dutcher and Co. were able to accomplish. It's not easy to bring in so many new pieces - especially players with set roles at their old schools - and expect them to jell right away. It's not often you see a top-10 team with more transfers than high school recruits in the starting lineup. Transfers are a vital part of the equation (Kansas, Baylor, and Dayton started four transfers combined this season), but SDSU took it to the extreme, and it worked.
The Aztecs looked built to succeed in March, too. San Diego State was one of six teams that ranked in the top 10 in adjusted offensive and defensive efficiency, per KenPom; Kansas, Baylor, Duke, Michigan State, and Ohio State were the others. The Aztecs also ranked in the top 10 in effective field-goal percentage on both offense and defense, another statistic that tends to correlate with success in tournament play.
Because the team had so many transfers and upperclassmen, San Diego State would have benefited from its age, too. Flynn, who averaged 17.6 points and 5.1 assists per game, turns 22 in May. (He could still return for his senior season.) Wetzell and Feagin were seniors who missed their only chance to play in the NCAA Tournament.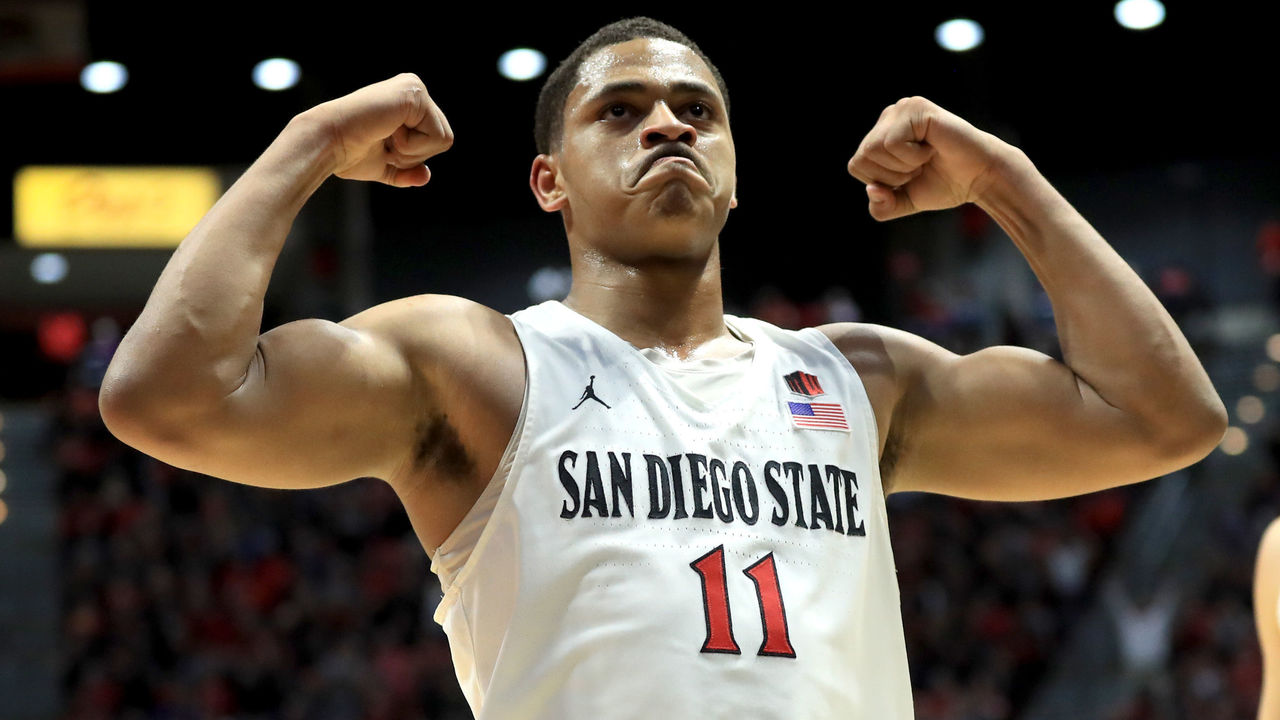 The good news for the Aztecs? Aside from those two seniors, every player in the rotation is eligible to return in 2020-21.
But it's going to be a challenge to create that kind of chemistry again.