NORTH ANDOVER, Mass. - It's the pinnacle of his sport, but right now, Joe Gallo is trying to play down the importance of March Madness.
It's not that Gallo doesn't treasure the NCAA Tournament. As a kid in central New Jersey, his family had season tickets to Rutgers the last time it reached the tourney. As an assistant coach at Robert Morris in 2015, he went head to head with Duke in the first round.
Gallo loves the tournament as much as anyone. He'll love it again when his Merrimack program is eligible to compete in it. But as the 39-year-old head coach sits in his modest office, there's only one sane way to approach what's happened this season: Make peace with the facts.
Merrimack ranks first in the Northeast Conference. It also has no chance of participating in March Madness.
"I'll probably think about it for the two or three days while that actual (Northeast Conference Tournament) is going on," Gallo said. "In the past, we never talked about postseason until it actually came anyway. Our guys aren't going to not play hard because there's not a postseason."
The thing to know about Merrimack basketball is that it flies in the face of expectation - in multiple ways.
For one, its defense creates steals at a higher rate than any other team in the last three years. It also plays a zone 94% of the time. At the top of the zone, senior Juvaris Hayes is just 24 steals away from the NCAA career record at any level. "People hear zone and they think, 'Sit back and let people shoot,'" Gallo said. "We're the complete opposite. We're either trying to steal your basketball or run you off the 3-point line."
Another contradiction: Of the 353 Division I teams in the nation, Merrimack ranks 345th in average height, according to KenPom.com. Yet it also features freshman Jordan Minor, the nation's leader in offensive rebounding rate.
The most incongruous aspect of all, though, is what makes this program one of the most unique stories in college basketball this season. In its first year at the D-I level, Merrimack is the best team in its league. Entering Thursday, the Warriors (15-8, 9-1 NEC) have won eight in a row and hold a one-game lead over Robert Morris in the Northeast Conference.
However, the NCAA requires schools that join D-I to endure a four-year reclassification period, so the Warriors can't compete in the NCAA Tournament until the 2023-24 season. That hasn't stopped them from making a statement in their first campaign at the top.
"I think the hard thing to do is (win the regular season)," Gallo said. "That is hard to do. You've got to be consistent every day."
It would seem especially hard to do in Year 1, and even more so with a roster composed of many players who were recruited to the Division II level.
So far, though, Merrimack is defying the odds.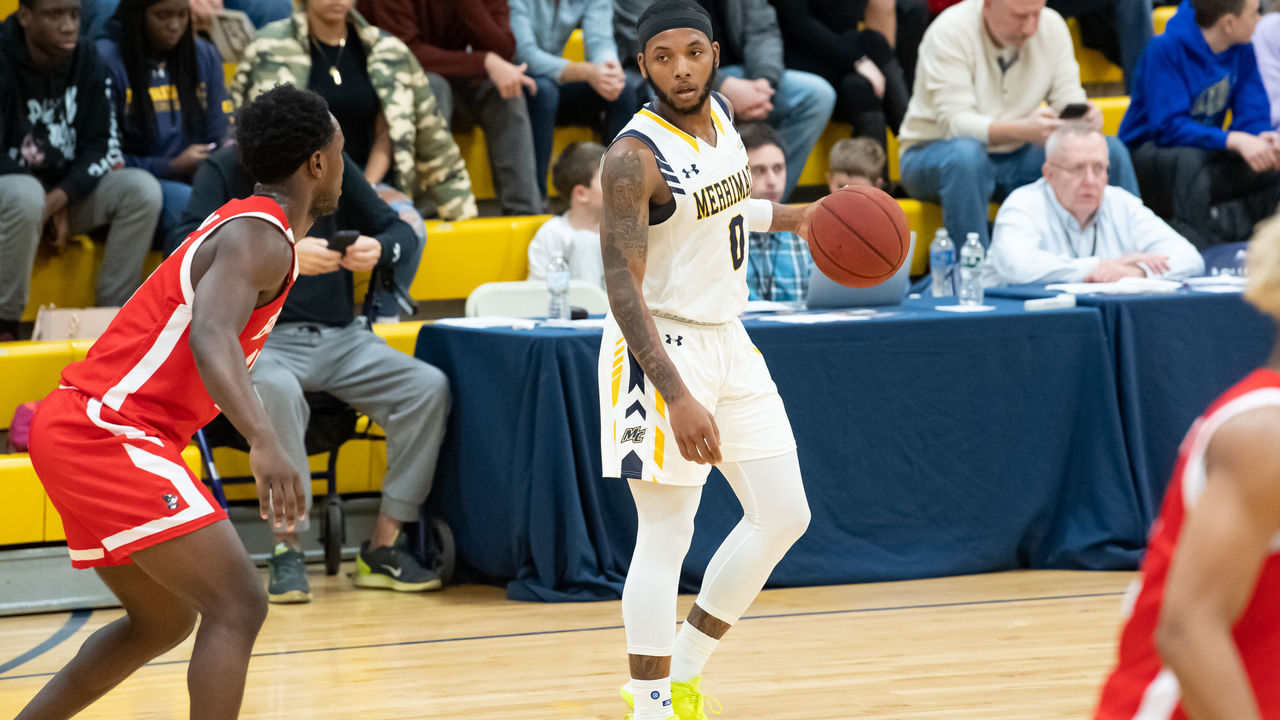 It's early December as 14 basketball players file into a meeting room and Gallo prepares to show them the good, the bad, and the ugly of their season to date. The room has the accoutrements of a program that's aspiring to make it in Division I but is only part of the way there. Inspirational quotes adorn the walls, including one from San Antonio Spurs coach Gregg Popovich. In one corner, a computer desk has been repurposed into a makeshift "fuel station."
Two days earlier, the Warriors had submitted perhaps their ugliest performance as a D-I team - an 82-55 loss at Brown - so Gallo has an idea for the film session.
He starts by showing his players the first 22 offensive possessions from the Brown game. Next, he shows the first 20 or so possessions from Merrimack's second contest of the season, when it put itself on the map by shocking Northwestern 71-61 on the road. The difference in purpose and result is obvious.
"Play fast, but be responsible," Gallo reminds his team.
After the win over Northwestern, national analysts had praised Merrimack's performance on social media. For many casual fans, it was likely the moment they discovered that yes, Merrimack was a new D-I team. For the players, it was an experience that could not have been replicated at the D-II level.
"The atmosphere - as soon as we stepped in the arena, we saw a big Jumbotron and the seating arrangements in the facility. We were just like, 'This is crazy,'" Hayes said.
For Gallo, the victory was a relief after Merrimack opened the season with a 20-point loss to Maine.
"It was like, 'Oh, man, how competitive are we really going to be?'" he said.
The process of moving to Division I spanned two coaches and nearly a decade. It had been in the plans of Merrimack president Christopher Hopey since he took the job in 2010.
Jaleel Lord, a senior and Merrimack's leading scorer, first heard about those plans when he was being recruited by Gallo's predecessor, Bert Hammel, who retired after the 2015-16 season. Gallo, who played at the school from 2000-04, took the job knowing he would be the coach to lead the transition.
The Warriors then qualified for the Division II NCAA Tournament in Gallo's first three seasons at the helm, putting the program in good shape for its move from the Northeast-10 Conference to the Northeast Conference.
The team also entered this season with a trio of seniors in their eighth year as teammates. Hayes, Lord, and Idris Joyner - Merrimack's three leading scorers - all played for legendary coach Bob Hurley at St. Anthony High School in Jersey City, New Jersey.
"With us, unity beats anything," Lord said. "Once we're united and everybody's communicating well, everybody's feeling good, nobody can beat us."
For the most part, that's been the case since Gallo's film session in December. Merrimack's gone 9-1 in 2020, with its last loss coming on Jan. 4 to Robert Morris - the place where Gallo worked for four seasons before returning to his alma mater. On Jan. 18, Merrimack avenged that loss with a four-point win at RMU.
The Warriors win with defense, turning opponents over on 25.7% of possessions (fifth in D-I) while running shooters off the 3-point line. They play an extended zone scheme, with Hayes and guard Mikey Watkins often venturing beyond the arc to pressure ball-handlers and deflect passes. Gallo, who learned that defense at Robert Morris, began employing it full time at Merrimack after seeing how uncomfortable it made opponents.
"Not a lot of people play it," he said. "I thought it cut down a lot on scouting so you could focus more on yourself. And you noticed people really didn't like playing against it. Not only is it a different defense - you're usually playing against people's second-best offense because people don't spend a whole lot of time working on zone offense."
Merrimack also has a knack for winning close games, with a 6-1 record in contests decided by five points or fewer. Gallo credits his players for executing in stressful moments.
That clutch ability was most evident in a double-overtime home win over Fairleigh Dickinson two weeks ago. The Warriors trailed by two in the final minute of regulation, but they tied the score when Lord made a tough driving layup with 1.7 seconds remaining.
In the second overtime, the left-handed Lord buried a 3-pointer with five seconds to play to deliver a 74-71 win. After the shot, a couple of fans began to step onto the court in the excitement even though the game wasn't quite over.
That's another area where Merrimack appears new to D-I. The team's fan base is growing, but Gallo joked after the win over Fairleigh Dickinson that it still has some things to learn.
"We might call a town hall meeting and teach the fans when they're supposed to yell and when they're not supposed to yell," he said. "At one point there, FDU was shooting a free throw and I felt like I was in church."
Merrimack is facing some other disadvantages while adjusting to Division I.
Though the program's weight room and other multi-use facilities benefit from the fact that its men's and women's hockey programs have long competed at the D-I level, its locker room could use some upgrades.
Gallo has two full-time assistant coaches, one fewer than most D-I schools. There's no director of operations, video coordinator, or any of the other positions that are standard at high-major programs. There are two student managers, but no graduate assistants. Gallo and his assistants - Micky Burtnyk and Phil Gaetano - are typically hands-on at practices.
Hammel Court, Merrimack's home gym, was renovated in 2013, but the building's 1,200-seat capacity makes it among the 10 smallest venues in Division I. (Merrimack's hockey arena, Lawler Rink, holds more than double that number.)
All of that makes the Warriors' fast start in its inaugural Northeast Conference season even more impressive - and a point of pride for Gallo.
"Eventually, we will build to a full staff," he said. "I don't have the exact timing of that but I think each year we'll add another piece. For what we've been able to do, I give (Burtnyk and Gaetano) all the credit in the world. They've done an incredible job."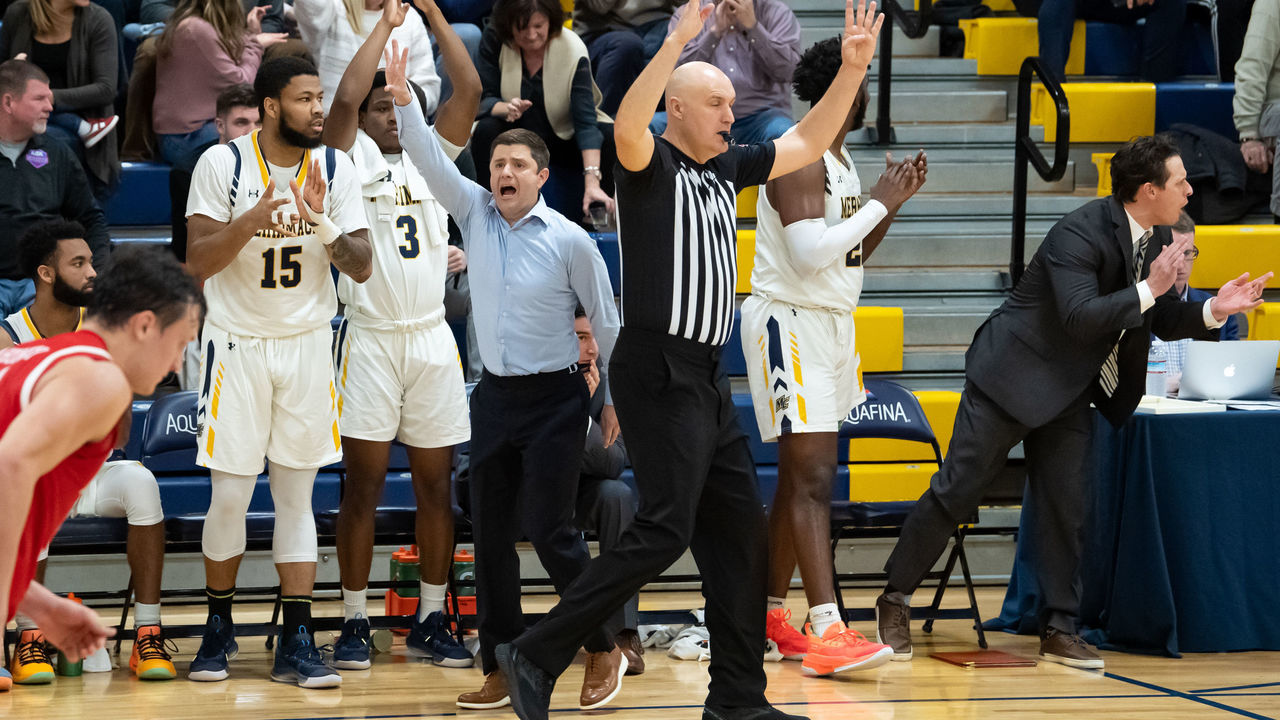 Of course, that Merrimack cannot play in the NCAA Tournament - or the NIT, for that matter - is another disadvantage in the short term. And it will become a sore subject if the Warriors win the regular-season conference championship.
But there will likely be a postseason in some shape or form, Gallo said. Merrimack is eligible for one of the smaller tournaments: the CIT or the CBI. Both have expressed interest in the Warriors, who will have a strong chance of continuing their season as long as they finish with a winning record overall.
"There's more than the NCAA Tournament," Gallo said. "You have to get recognized and invited to these others as well. At our level, these leagues are only sending one team anyway. It's huge. Especially for these seniors who, they didn't lose a single game their senior year in high school. They were all teammates at St. Anthony and then they go to three straight NCAA Tournaments at Division II. To be able to get recognized and get invited to one of these other tournaments is huge."
Mark Cooper is theScore's NCAA writer.