SYRACUSE, New York - More than 22,000 people escaped the cold and passed through revolving doors at the Carrier Dome, optimistically welcoming the return of college basketball. It didn't take long, however, for their ear-ringing cheers and harmonic chants to be replaced by an anxious ambient murmur.
Welcome to the experience of playing against Virginia's merciless, stifling defense. For their first act as defending national champions, the Cavaliers held Syracuse to two points in the first 11 minutes of the season. Opening the season against Virginia is like going on a tropical vacation and arriving to torrential thunderstorms.
The Cavaliers squeezed the life out of the Orange in a 48-34 victory Wednesday, holding Syracuse to its lowest point total since 1945.
"A little bit, yeah," Virginia forward Jay Huff said when asked if players can feel the tension rising when they smother an opponent in their own building. "Sometimes even the fans will - they'll get dead for a little bit, and then they'll try to pick it back up and then it kind of ebbs and flows."
For most of coach Tony Bennett's 11-year tenure, the Cavaliers have staked their reputation on their pack line defense. Virginia takes the fun out of basketball for its opponents, limiting them to attempting the toughest of baskets until, eventually, they tap out. In seven of the last eight seasons, the Cavaliers' defense has ranked in the top 10 in efficiency, per KenPom. That includes last season, when Virginia exorcised its March demons and delivered a national title to Charlottesville.
Prior to Wednesday's season opener, though, it was not clear how effective the 2019-20 version would be. Virginia lost its top three scorers, all of whom were selected in the NBA draft: De'Andre Hunter, Ty Jerome, and Kyle Guy. The new-look Cavaliers started a freshman and a junior-college transfer against the Orange. Virginia's No. 11 ranking in the preseason Associated Press Top 25 felt like a tip of the cap to Bennett, whose teams have defied soft expectations to win the ACC in the past.
But a season opener on the road, in conference play, acted as an early proving ground. If we learned anything Wednesday, it's that these Cavaliers - led by undersized but relentless point guard Kihei Clark and long-limbed forward Mamadi Diakite - could be even tougher to score on than the previous teams.
"It's simple," Diakite said. "It's basically: We score, and we don't allow anyone to score on us. If you're scoring on us, then it has to be tough shots. All night."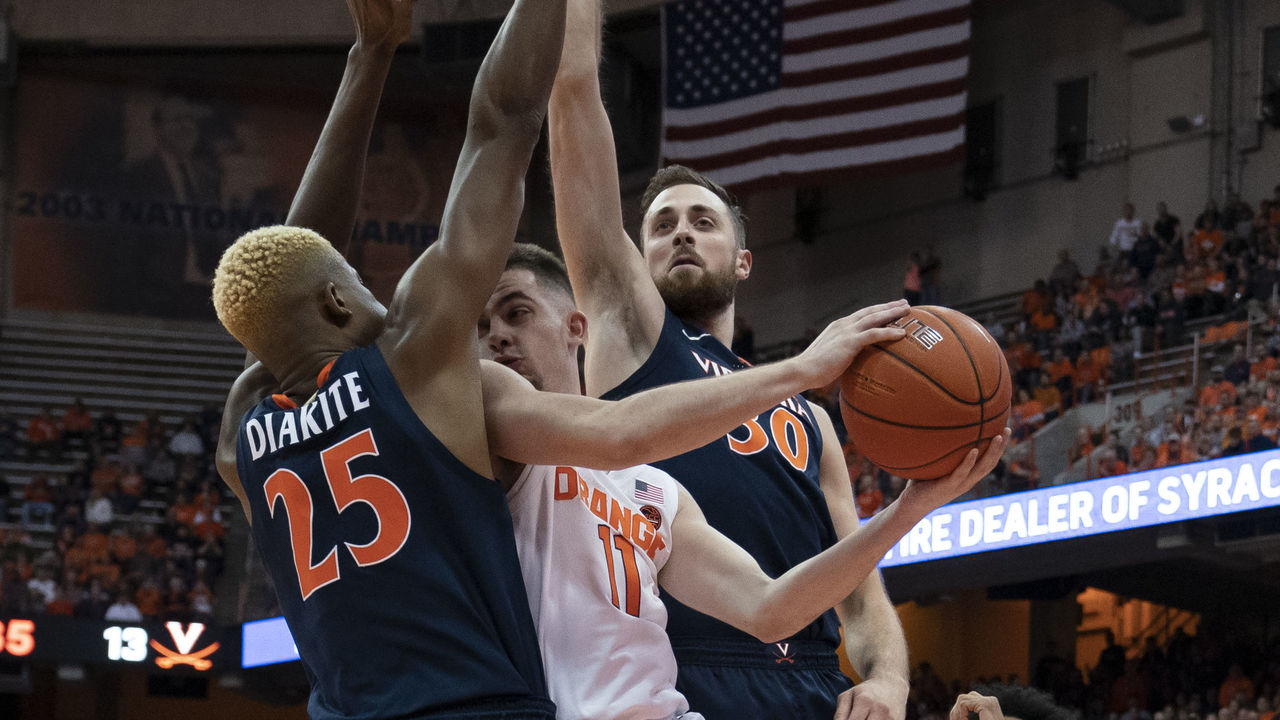 To hear it from the Virginia players, winning a national championship didn't change the way the they pursued perfection this summer. If anything, after losing 68% of his team's scoring, Bennett pushed the Cavaliers even harder.
"Coach knew what to do at practice in order to get us to this level," said Diakite, who led Virginia with 12 points in its opener.
Diakite considered joining his former teammates in professional basketball after last season. But 45 minutes before the deadline to withdraw from the NBA draft, he announced on Instagram that he would return for his senior campaign.
He returned to a place where practices, he said, are "way harder" than games. That's by design.
Huff, a 7-foot-1 sophomore, explained that some of Virginia's drills push players harder than they will experience on the court in a game setting. He described a nonstop, three-minute transition exercise that puts players in a situation where they have to get into their half-court defense while fatigued - "simulating having to get back on defense with a team coming full speed ahead," he said.
The profits of such a drill were on display against the Orange, who often failed in their attempts to beat Virginia down the court and score before the Cavaliers could set up.
Take one play, 37 minutes into a game that was well on its way to being decided. The Cavaliers led 46-32 when Syracuse's Buddy Boeheim blocked a 3-point attempt by Clark late in the shot clock. Jalen Carey corralled the ball and pushed it to Elijah Hughes as the Orange tried to create an opportunity before Virginia could establish its defense.
But even late in a game in which the Cavaliers were up by double digits, their retreat had more urgency than Syracuse's attack. Clark leapt into the passing lane between Hughes and Boeheim and tapped a pass out of bounds to quell the transition threat.
The Orange finished with just five points in transition. Of course, they didn't score much, period; Virginia limited Syracuse to 15 points outside the paint, finishing at 13.2% (5-of-38) on jump shots.
One of the most impressive aspects of Virginia's dominant defensive performance is Bennett's apparent ability to get immediate results from his young players.
In his first college game, true freshman Casey Morsell spent large chunks of time assigned to Hughes, Syracuse's go-to offensive player. Morsell and senior Braxton Key took turns frustrating Hughes, who finished with 14 points on 4-of-14 shooting. Only one of those field goals was made with Morsell contesting him.
Having freshmen ready to play defense at a high level, against a top ACC opponent, isn't easy in January, let alone November. But Diakite said Virginia's program requires commitment from the start.
"Whenever he recruits someone, he tells you: 'You're going to have to buy into the defense,'" Diakite said. "And that's not going to change."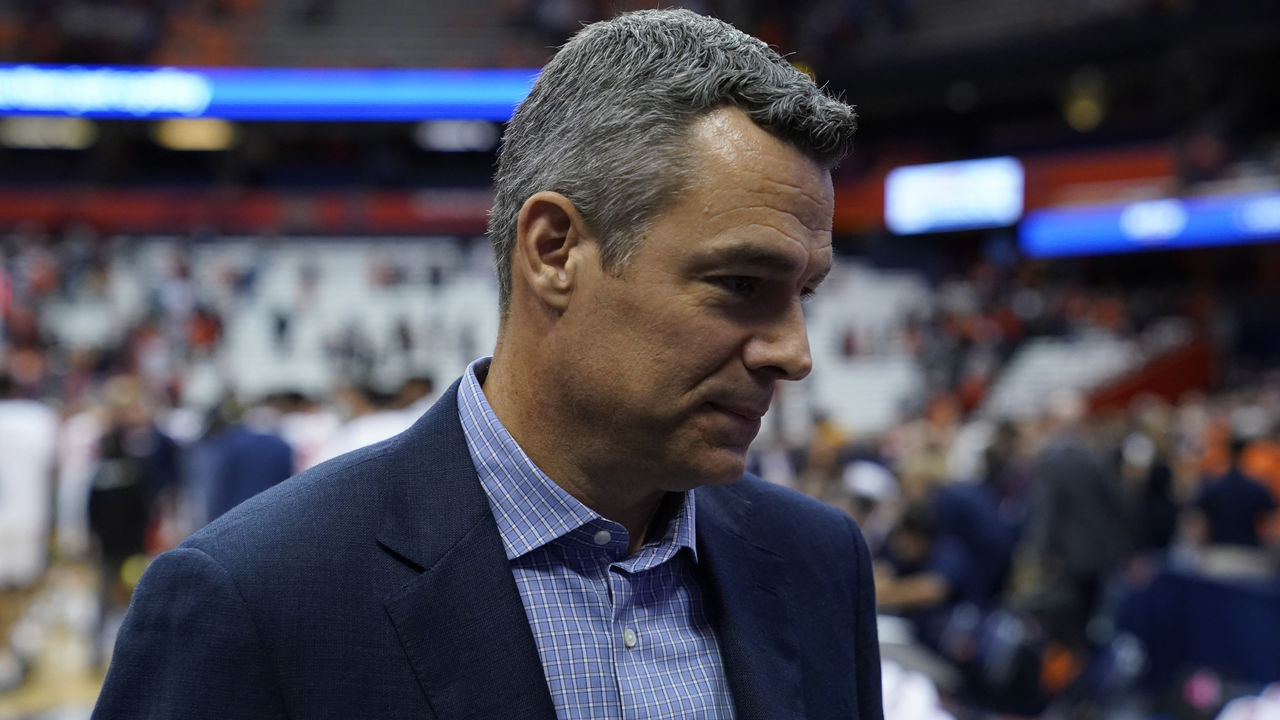 The other question Virginia faced as it prepared to defend its title was about leadership. Hunter, Jerome, and Guy didn't just score points. They led the Cavaliers in minutes played and came through in big moments.
Through one game, at least, Clark has answered any questions about who represents this team's heartbeat.
Clark, a 5-foot-9 guard from Woodland Hills, California, was already a revelation for Virginia last year. The No. 397-ranked player in his class per 247Sports, Clark's only major-conference offer was Virginia. He ended up starting 20 games, including all six in the NCAA Tournament (following in the footsteps of another under-recruited Los Angeles-area guard who started for Bennett at Virginia, London Perrantes). The nation learned about Clark in the Elite Eight after he found Diakite with a one-handed pass for a buzzer-beating shot that forced overtime against Purdue.
Still, Clark's numbers as a freshman were modest - 4.5 points per game, 2.6 assists. As one would expect from a player who is often the shortest on the court, he averaged only 2.3 rebounds.
Fast-forward to Wednesday night as Bennett addressed his team in the visitor's locker room after the 14-point win. He decided to read the numbers from the final stat sheet to his team.
"Mamadi, six rebounds. … Braxton, 10, nice job. … Jay, 12. Great," Bennett said.
"Wait a second. Kihei, 11 rebounds."
(Diakite's reaction: "What?! Eleven?! … I'm impressed. Way to go. I didn't expect that out of the little dude.")
Clark was everywhere his team needed him to be, producing 10 points, 11 rebounds, and seven assists while playing the full 40 minutes for the first time. The 11 rebounds were obviously a career high. So were the seven assists. And the 10 points marked only the third time in 39 games that he had scored in double figures.
More than that, he set the tone defensively, pestering Syracuse's point guards. His stats only showed one steal, but it was impressive: As Carey drove into the paint in the first half, Clark stuck to him, eventually snatching the ball from Carey's hands and shoving it to a teammate as Clark fell out of bounds.
Virginia led by as many as 18 points, but Bennett never removed the sophomore. Clark even remained in the game after he took a knee from Huff while battling for a rebound in the final three minutes. For a team playing new faces and new rotations, Clark's presence and communication were vital.
"He's pretty important for this team and I thought his heart and toughness showed," Bennett said. "His ability to stick some shots and make some plays, guard and all that."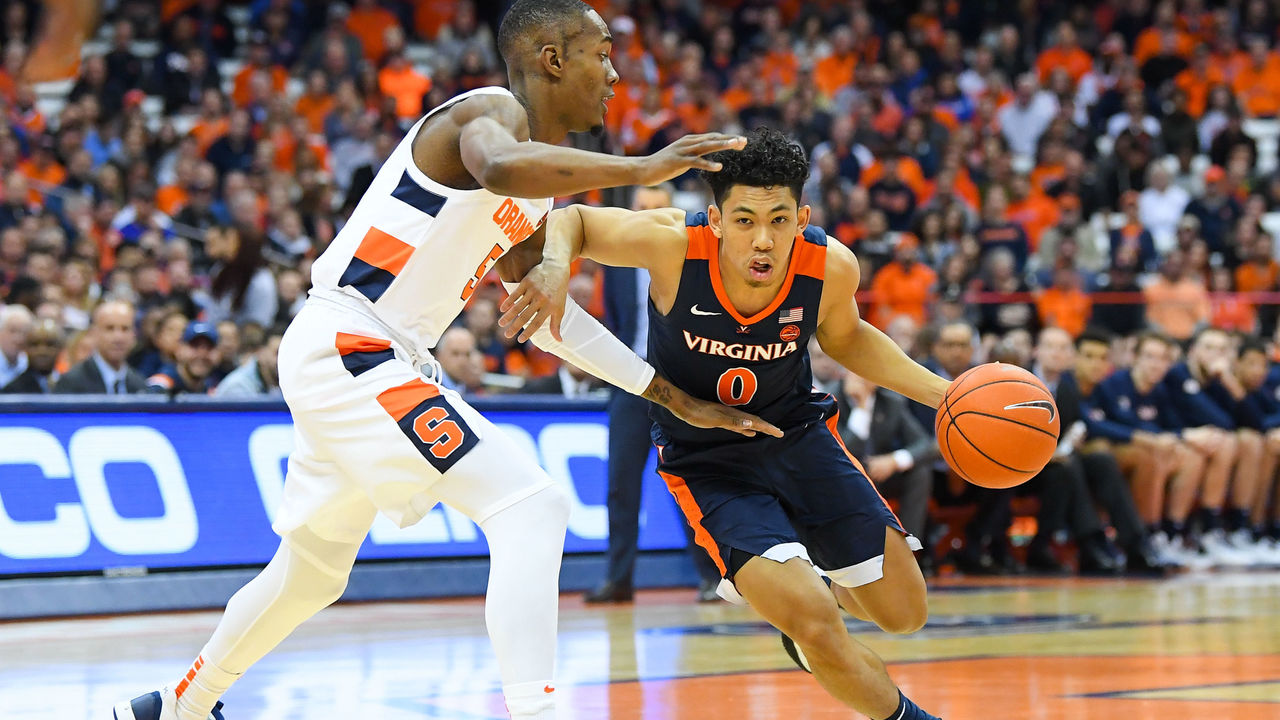 Despite the decisive win, Virginia's time in Syracuse wasn't entirely rosy, especially for the offense.
As poor as the Orange's shooting was, Virginia didn't fare much better. The team shot 16% (4-of-25) from 3-point range, relying heavily on Diakite (6-of-10 shooting) and Huff (5-of-6) to score inside against coach Jim Boeheim's 2-3 zone.
It's also not yet clear who the Cavaliers will turn to for a bucket at a critical moment. Clark, Diakite, and Huff were all efficient, but none are great at creating their own shot.
Virginia averaged 0.81 points per possession Wednesday, its worst offensive performance since a 65-39 loss to Florida in the second round of the 2017 NCAA Tournament. But Virginia also held Syracuse to 0.58 points per possession, its best performance using that metric in three years - and third-best against an ACC opponent in Bennett's 11 seasons.
"I know we have to be good defensively," Bennett said. "That will be very significant for how good we can be. But I think our team understands that that will be a very important aspect of it. There's the size and the physicality and I think the willingness.
"And it starts with willingness."
As small as the sample size may be, the lid Virginia placed over the rim Wednesday suggests that this year's team could be even tougher defensively than the one that just won a national championship.
The college basketball world should be terrified by the mere prospect.
Mark Cooper is theScore's NCAA writer.