NBA MVP rankings: Don't get accustomed to the incredible
As the 2021-22 NBA season passes its halfway mark, the contenders have begun to separate themselves in the MVP race. Let's check in on the top 10 candidates.
10. Chris Paul, Suns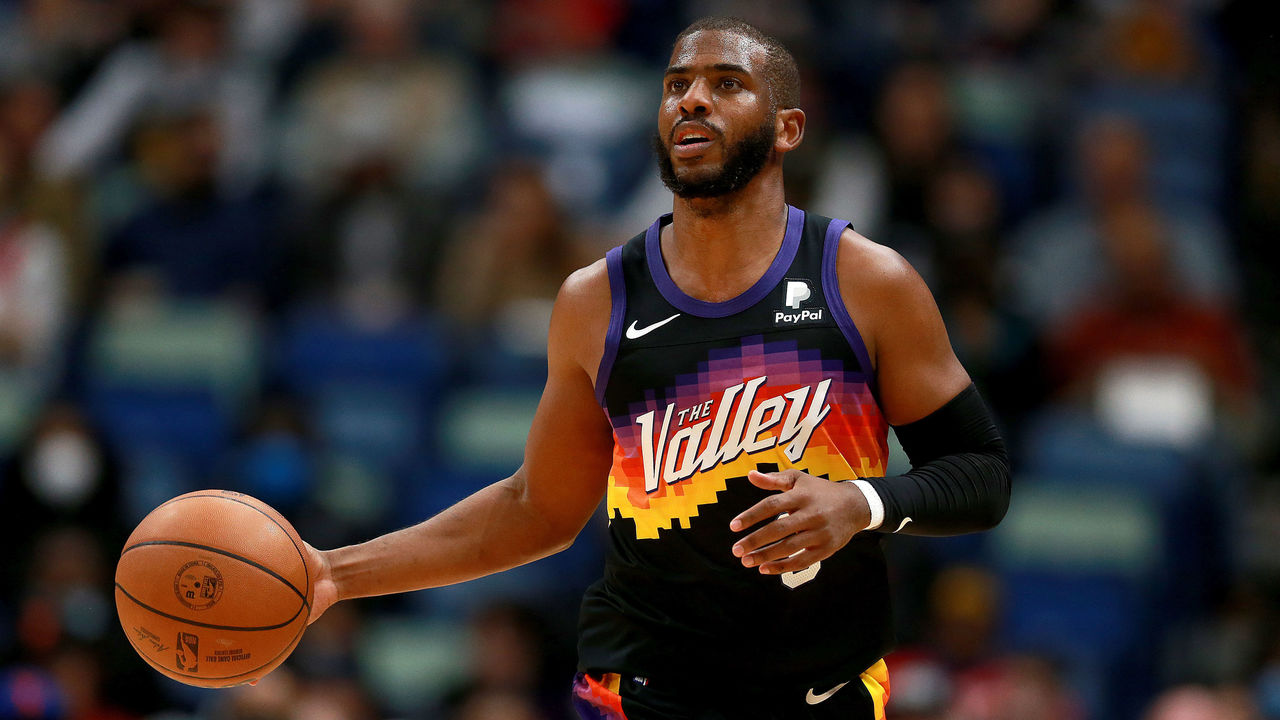 Previous: 9
Given the Phoenix Suns' recent history, it's easy to forget that the franchise missed the playoffs for an entire decade prior to Paul's arrival. Since his acquisition via trade in the 2020 offseason, the team has won just under 74% of their regular-season games and already has one Finals appearance.
Paul is currently a hair behind James Harden for the league lead in assists per game (9.9) and ranks second only to the San Antonio Spurs' Dejounte Murray in steals per game (two). Devin Booker remains the most prolific scorer on the team, and Deandre Ayton and Mikal Bridges have emerged as top-flight supporting players, but Paul remains the team's maestro, managing the game with aplomb on both ends of the floor.
9. DeMar DeRozan, Bulls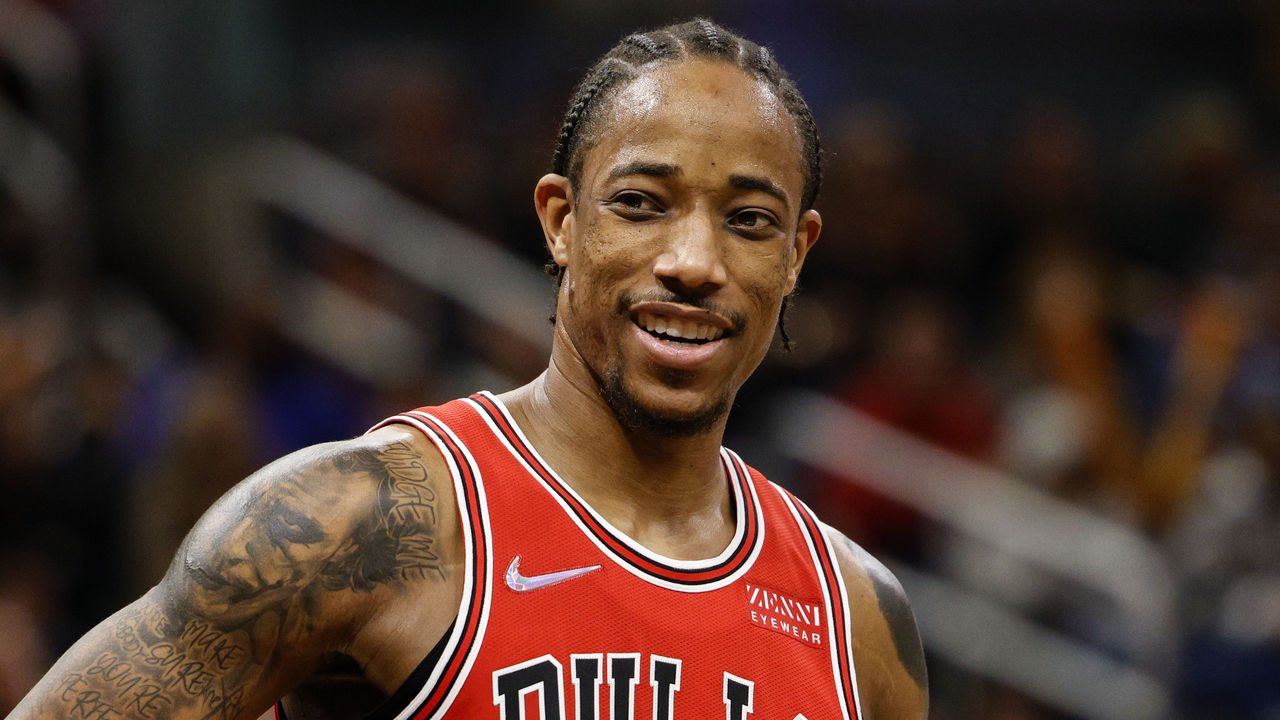 Previous: 6
The Chicago Bulls have hit a bit of a rough patch but still sit atop the Eastern Conference standings. Not bad for a squad with no shortage of doubters coming into the season - especially those who mocked what the team gave up to bring in an aging DeRozan: three picks (including a protected first) and a three-year, $81.9-million contract.
Second-year team president Arturas Karnisovas is the one laughing now. DeRozan is having his best year since his Toronto Raptors heyday, putting up 25.7 points, 5.2 rebounds, and 4.8 assists per game with career-best 35.2% shooting on threes.
And concerns about whether he and Zach LaVine could co-exist as high-usage playmakers? The Bulls have outscored opponents by 6.2 points per 100 possessions with the combo guard and point forward on the floor together.
8. Ja Morant, Grizzlies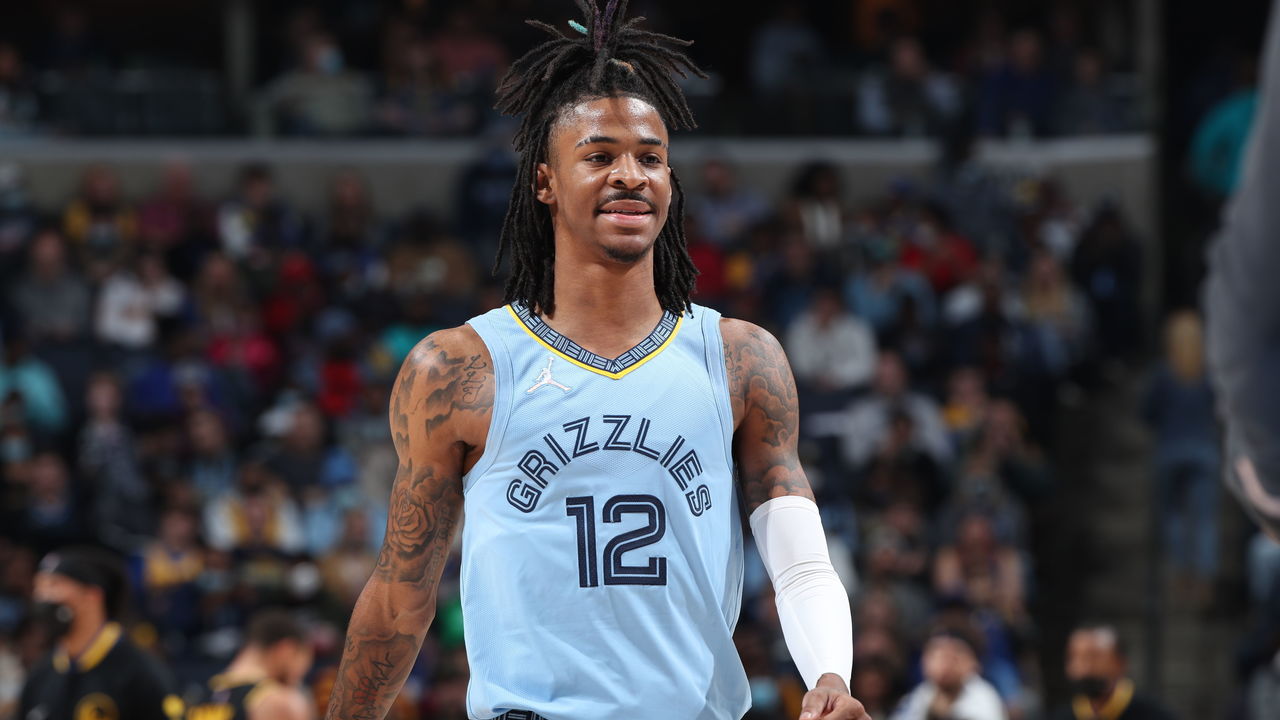 Previous: N/A
Morant is clearly taking a decisive leap toward NBA stardom. He's up to a career-best 24.4 points per game and has cemented himself as the avatar of an ascendant Memphis Grizzlies squad - a team that just saw its franchise-best 11-game win streak come to an end.
It's worth pointing out the Grizzlies have technically - technically - been better with the face of the franchise off the court. They've outscored opponents by 4.7 points per 100 possessions when Morant has sat versus a net rating of just 1.5 with him in the game. That speaks mostly to the strength of the Grizzlies' tremendous depth and Taylor Jenkins' coaching; the team has gone 11-2 with Morant inactive.
7. Rudy Gobert, Jazz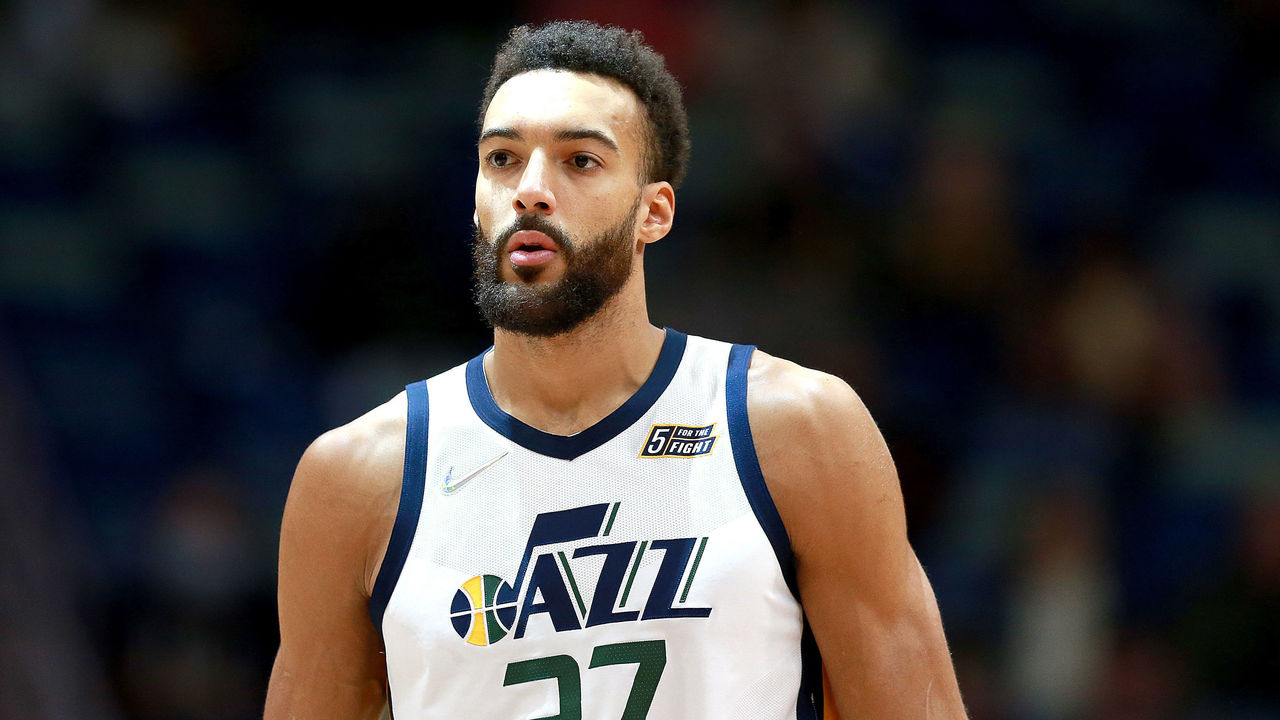 Previous: 5
Thanks to his consistent presence up the middle, Rudy Gobert ranks third in the league with 6.8 win shares. He's currently putting up 15.6 points, a league-best 15.2 rebounds, and 2.3 blocks per night to help keep the Utah Jazz's defense afloat despite some slippage elsewhere on the roster.
It should be little surprise that the Jazz are 14 points per 100 possessions better with Gobert patrolling the point than when he sits. He doesn't have the requisite flash to inspire a serious MVP push, but with Golden State Warriors anchor Draymond Green currently hurt, there's an opening for the Stifle Tower to capture his fourth career Defensive Player of the Year award.
6. Joel Embiid, 76ers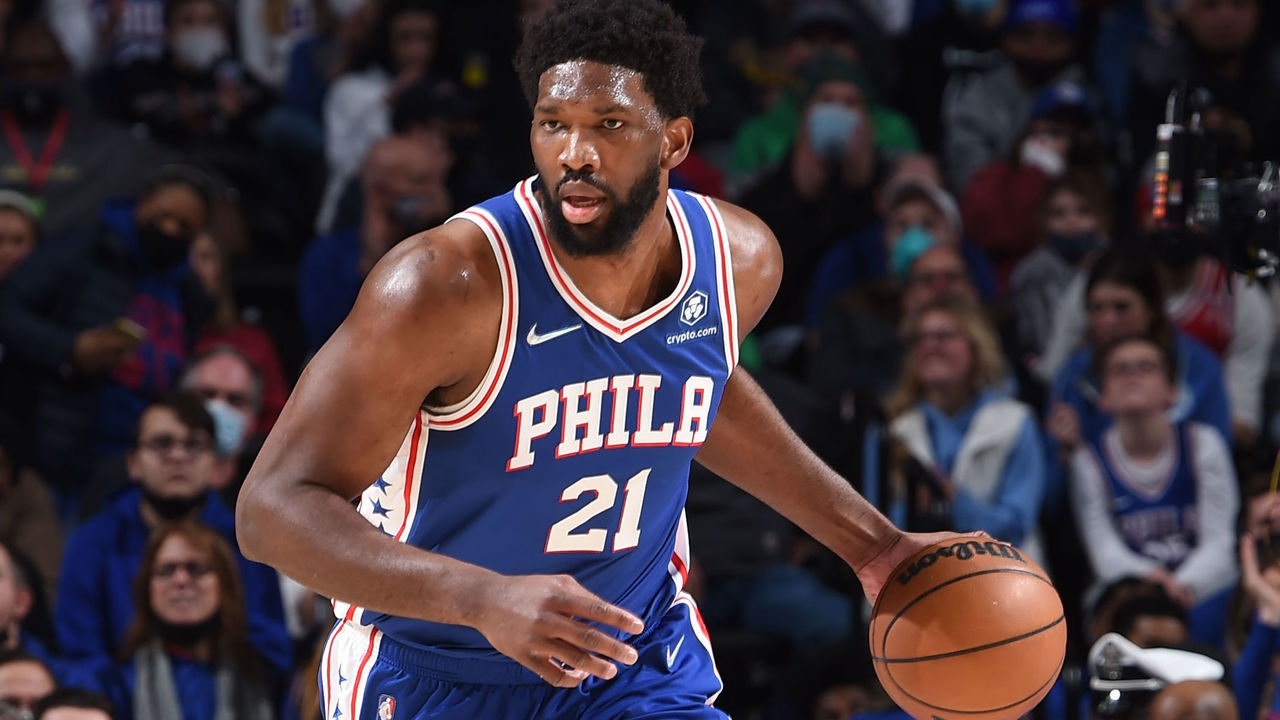 Previous: 10
The Philadelphia 76ers have undoubtedly taken a hit without point forward Ben Simmons - last year's runner-up for Defensive Player of the Year. After posting a 49-23 (.681) record in 2020-21, the team's winning percentage has dropped to .595 in 2021-22.
However, with Embiid in the lineup, the team has gone 22-9 (.710). The towering center has been nearly as good as ever. In 32.9 minutes a night, he's tallied 27.1 points, 10.5 boards, 1.4 blocks, and 1.1 steals - and a career-high 4.3 assists per game.
Once again, the only thing really holding Embiid back from stronger MVP consideration is availability. He's missed over a quarter of Philly's games so far - with the bulk of the absences coming during a nine-game stint in COVID-19 protocol.
If Embiid stays healthy and the 76ers continue to gel after some early-season instability, the big fella could find himself making a dark-horse push for his second straight top-three MVP finish.
5. Kevin Durant, Nets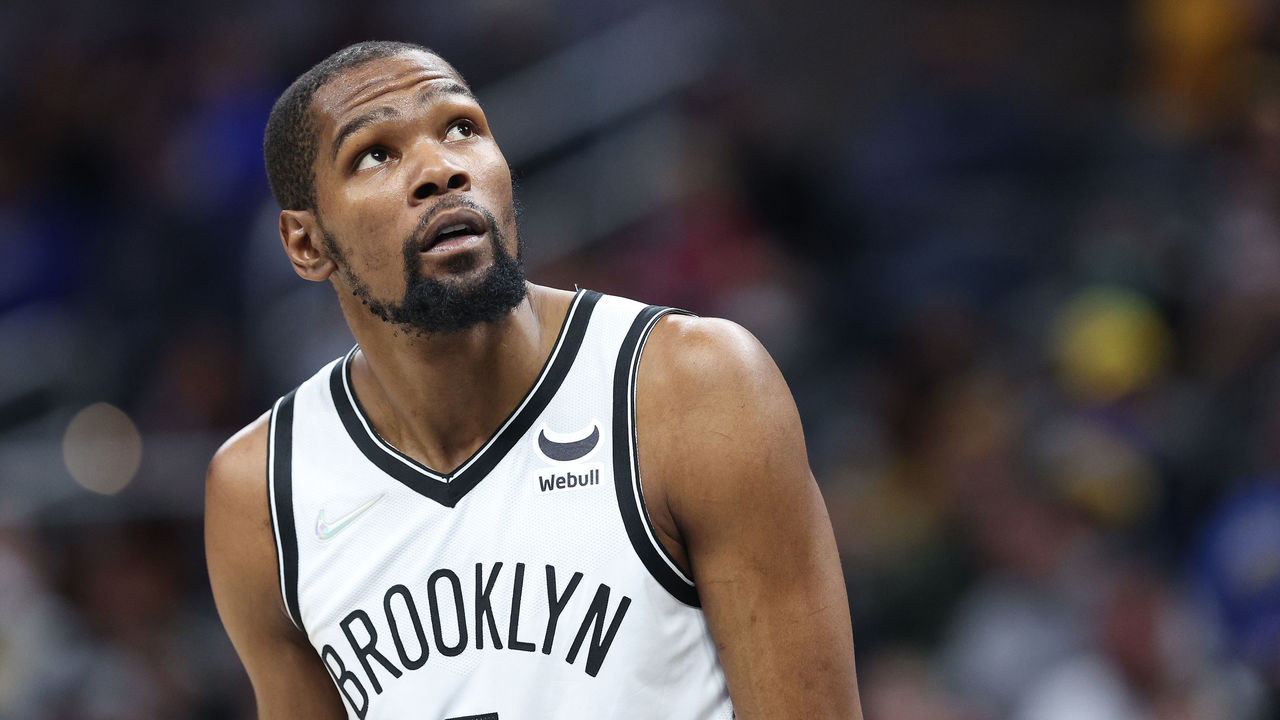 Previous: 3
The likelihood of Durant hoisting his second career MVP trophy dried up considerably with the news that he'll miss four-to-six weeks with an MCL sprain. If voting were held today, however, he'd be well represented on reams of ballots.
The 33-year-old is dropping a league-best 29.3 points per game, keeping the Brooklyn Nets in title contention despite Harden's early-season struggles and Kyrie Irving's vaccination-related holdout.
Ironically, KD's absence will almost certainly underscore his value to the team. The Nets are 24-12 (.667) with the Slim Reaper in the lineup but just 3-3 (.500) without him.
4. LeBron James, Lakers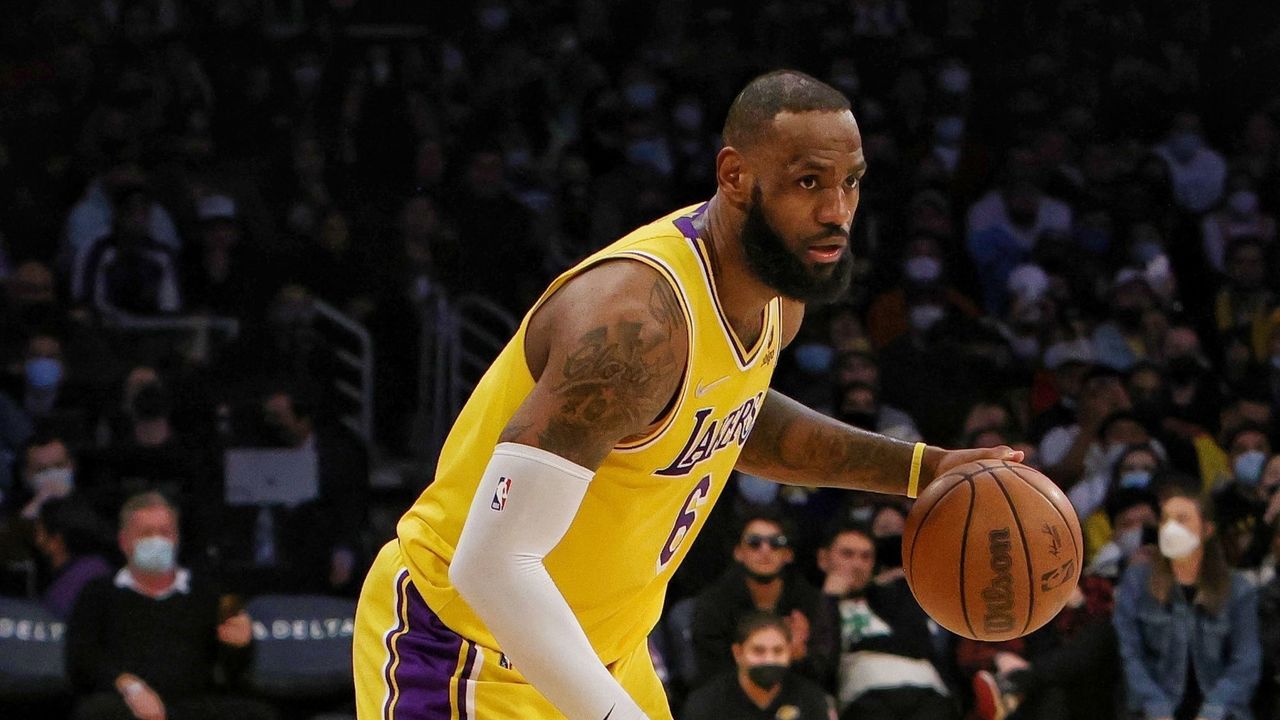 Previous: N/A
You can't find much fault with James' traditional stats. His averages of 28.9 points, 7.5 rebounds, 1.6 steals, and 1.2 blocks are all above his career rates, and his 6.5 dimes a night aren't far off either. His 58.8% effective field goal rate is the fifth-highest of his career - and best since joining the Los Angeles Lakers in 2018.
It would've been great if the team's brain trust (James included) had done their homework and surrounded the all-time great with talents that better fit his skills - namely, roleplayers who can spread the floor and defend like hell. In fairness, it doesn't help that Anthony Davis has missed 16 games and counting.
Consider James' on-court relationship with Russell Westbrook. The Lakers have been outscored by 2.2 points per 100 possessions with Westbrook on the floor this season - but the net rating jumps to plus-1.8 when LeBron's also in the game.
The fact remains: The Lakers are currently a game below .500. We're only one prolonged LeBron absence away from determining just how much worse things could get without the King in tow.
3. Stephen Curry, Warriors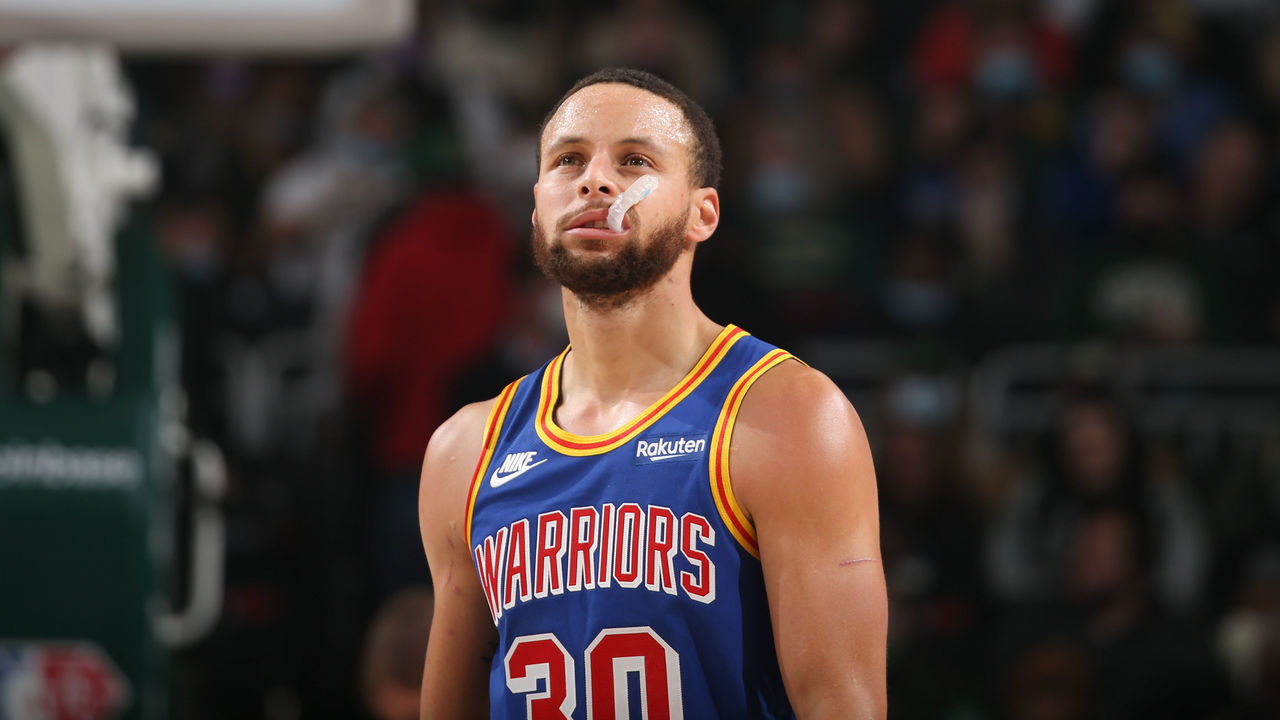 Previous: 1
Curry is currently the betting favorite to win MVP - not bad for what has statistically been his worst season since before the rise of the Golden State Warriors' dynasty midway through last decade.
He's still putting up 26.3 points, six assists, 5.4 rebounds, and 1.4 steals per game - a career year for a lesser player. But move past the traditional boxscore figures and you begin to see a player stretched perhaps a bit beyond himself. Curry's 38.4% accuracy from 3-point range is the lowest mark of his career (save for 2019-20's injury-obliterated campaign), but he's hoisting a career-high 12.8 attempts per game from beyond the arc.
Thinking big picture, there's still a strong case that the mere threat of Curry's long-range greatness is a skill in itself. Andrew Wiggins - earning significant All-Star consideration after many gave up on the former No. 1 pick - and Jordan Poole are having career years thanks in part to the spacing afforded by their legendary point man.
Add it all together and the Warriors own the best net rating in the entire league and are neck and neck with the Suns for the top record. Even a subpar version of Steph has an outsized impact on Golden State's fortunes.
2. Giannis Antetokounmpo, Bucks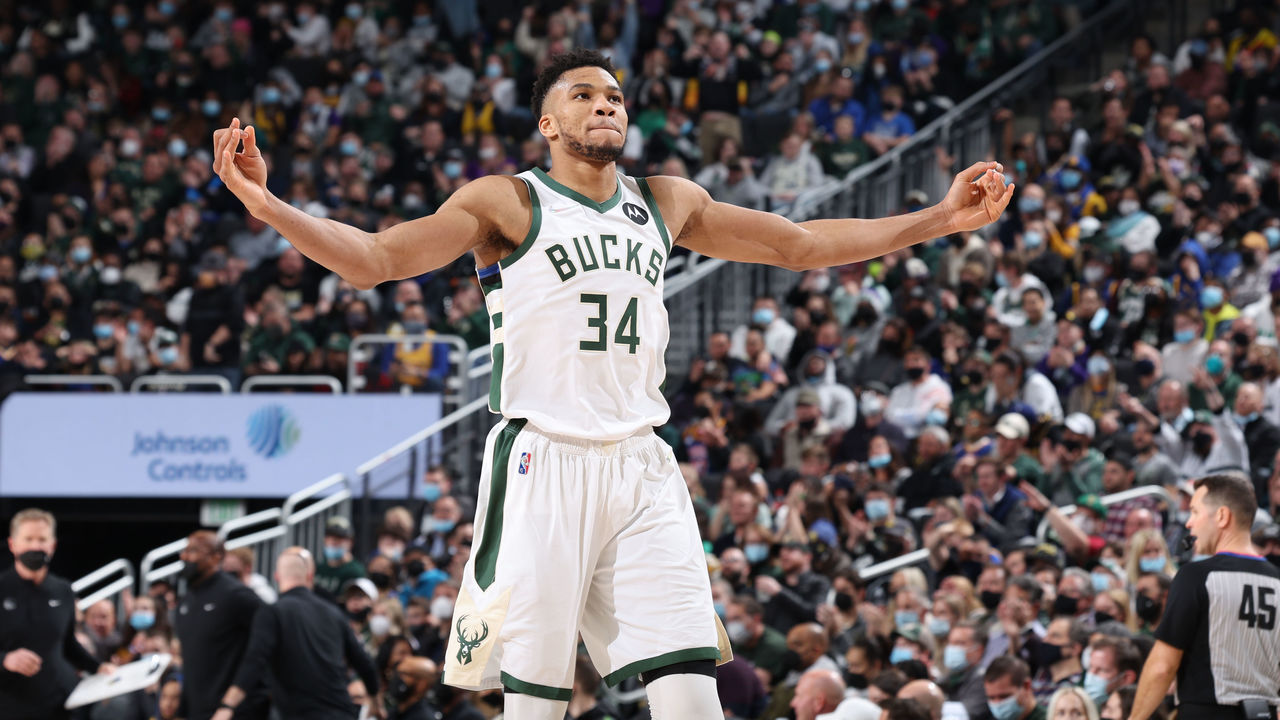 Previous: 8
The Milwaukee Bucks clobber opponents to the tune of a plus-10 net rating with Antetokounmpo on the floor - and get bullied by 4.6 points per 100 possessions when he sits.
If history is any indicator, a strong MVP case is often equal parts individual excellence and team success. On the latter front, the Bucks will certainly have a record befitting a top-flight contender as they're only two games behind the Bulls for the top seed in the East and boast the sixth-best net rating in the league.
In terms of personal contributions, Antetokounmpo is putting up numbers nearly identical to the previous three seasons - when he captured two MVP awards:
| Stat | 2018-21 | 2021-22 |
| --- | --- | --- |
| MPG | 32.1 | 32.5 |
| PTS | 28.4 | 28.5 |
| REB | 12.4 | 11.3 |
| AST | 5.8 | 6.1 |
| STL | 1.1 | 1.0 |
| BLK | 1.3 | 1.5 |
| eFG% | 59.6 | 56.8 |
Some other statistical highlights for you:
With Giannis as the primary defender, opponents are shooting a preposterously low 46.7% within six feet of the hoop. For comparison, Rudy Gobert's dFG% in that scenario is 50.7%.
Grayson Allen, Pat Connaughton, George Hill, Rodney Hood, Khris Middleton, Jordan Nwora, and Bobby Portis are collectively shooting 44.7% on 295 threes off of Giannis passes.
Giannis' 1.15 points per transition possession ranks seventh among players with at least 100 such attempts. No one comes close to drawing more free throws in those situations, either, with the Greek Freak getting to the line on 30.8% of his transition possessions.
Only one other player currently boasts as much of an impact on both ends of the floor, doing just about everything he can to maximize his own talents and those of the players around him.
1. Nikola Jokic, Nuggets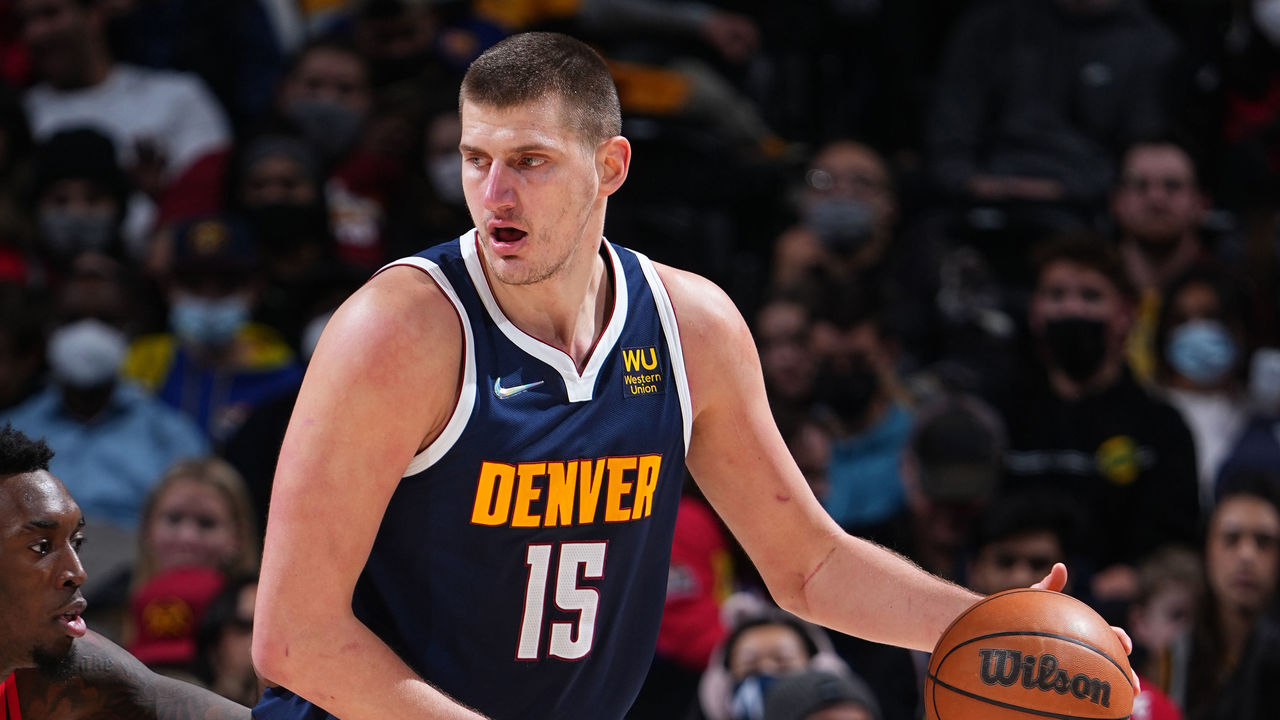 Previous: 2
Whenever the subject of MVP voter fatigue is broached, I think of the late film critic Roger Ebert's review of "The Phantom Menace." "How quickly do we grow accustomed to wonders," he wrote of the unevenly received 1999 Star Wars prequel.
Have NBA fans, too, been spoiled by nightly spectacle? Reigning league MVP Nikola Jokic is right in front of us, and the bulk of NBA watchers appear to have become bored with his night-in, night-out greatness.
Yes, he's still on pace to post the highest single-season PER in NBA history. Better than anything Michael Jordan or LeBron James ever mustered; superior to a year that Wilt Chamberlain averaged 50 points and 25 rebounds a night.
Jokic is doing it by averaging 25.3 points, 13.9 rebounds, and 7.4 assists per game with blistering shooting efficiency: 63% shooting on twos, 35.9% on threes, and 78.2% from the charity stripe. His 6.3 contested rebounds per game rank first, ahead of league rebounding leader Gobert's six contested boards per night.
And he's without his two most-talented running mates. Say what you want about LeBron's top two lieutenants, but at least AD and Westbrook have combined for 70 appearances; an ailing Michael Porter Jr. gave the Nuggets nine limp outings before hitting the shelf, and Jamal Murray hasn't suited up at all since last season's ACL tear.
The Nuggets are still on pace to avoid the crapshoot of the play-in games, clinging to the sixth seed in the busy Western Conference despite Joker being flanked by an underwhelming supporting cast featuring Aaron Gordon, Monte Morris, Will Barton, Jeff Green, and Facundo Campazzo.
The most-used non-Jokic lineup - Morris, Barton, Green, Gordon, and JaMychal Green - is an abominable minus-22 in 71 minutes. Four of the six most frequent non-Jokic lineups have net ratings worse than minus-20. The Jokic-less minutes make stigmata look like papercuts.
There but for the grace of Jokic does Denver go. He's been the league's most valuable player through three months. Whether that makes him the MVP remains to be seen.
Comments
✕
NBA MVP rankings: Don't get accustomed to the incredible
  Got something to say? Leave a comment below!