Can Brooklyn win with Kevin Durant alone?
Nathaniel S. Butler / NBA / Getty Images
Editor's note: This piece was published before Game 5 on Tuesday, when James Harden's status was unknown.
To the extent that a superteam can be considered cursed, the 2021 Brooklyn Nets probably warrant the distinction. The Nets have been plagued by various injuries and absences all year. After all the hullabaloo over their acquisition of James Harden, the vaunted trio of Harden, Kevin Durant, and Kyrie Irving spent all of 202 minutes on the floor together during the regular season.
Durant sat out more than half the season with a hamstring injury, Irving missed time due to a combination of minor injuries and personal matters, and even Harden, the NBA's most durable superstar this side of Nikola Jokic, missed 20 games with a hamstring strain. Head coach Steve Nash tinkered with lineup combinations like they were panels on a Rubik's cube. Brooklyn used a franchise-record 38 different starting units, more than any other playoff team.
The Nets motored along through it all, protected from their myriad setbacks by the safety net of having three Hall of Fame-caliber talents. But the bad juju that's been tailing them throughout the year may have finally fully caught up because they're now facing Game 5 of their East semifinal against the Milwaukee Bucks with their Big Three likely reduced to a Big One.
The Nets lost Harden to a re-injured hamstring after just 47 seconds in Game 1 but went on to thoroughly dominate the first two games anyway. Now they find themselves in a precarious best-of-three after dropping both games in Milwaukee and losing Irving to a nasty ankle sprain in the second quarter of Game 4. Irving has been ruled out and Harden is doubtful for Game 5.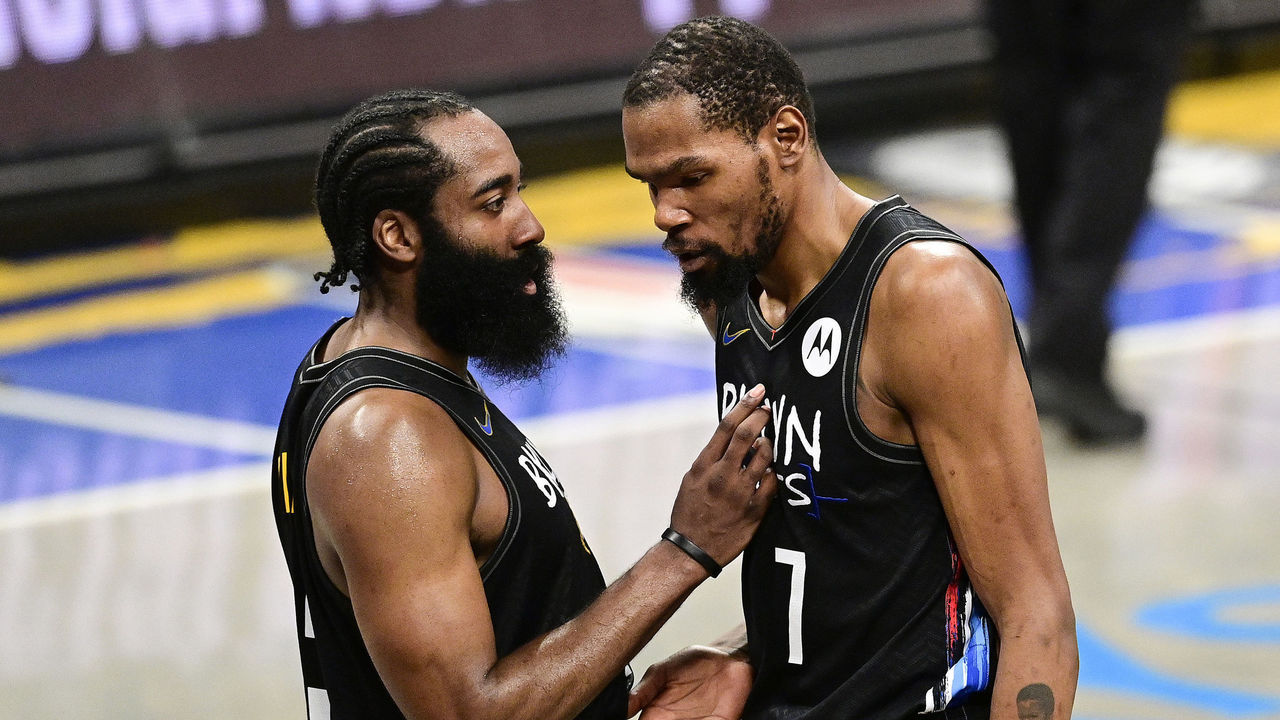 The Nets actually fared extremely well in 162 Durant-only minutes during the season, posting a 120.5 offensive rating and outscoring opponents by 14.5 points per 100 possessions. Durant himself was absurd in those minutes, averaging 35.7 points and 7.3 assists per 36 on 74.4% true shooting. But there's obviously a big difference between doing that in the regular season, often against bench-heavy opposing units, and doing it against the formidable Bucks starters.
Even after Harden went out, Nets coach Steve Nash preferred to tether Durant's and Irving's substitutions together, rather than staggering them. Durant has played 33 playoff minutes without either Harden or Irving on the floor with him, and 26 of them came in Game 4 against the Bucks. The Nets managed a meager 77.2 offensive rating in those minutes, with Durant shooting 6-of-19 from the field and 0-of-6 from 3-point range. He looked completely exhausted by game's end.
When the Nets struggle to score, it creates a negative feedback loop. More misses from them means more opportunities for the Bucks to get out on the break, which means more Giannis Antetokounmpo freight-train rim runs and fewer possessions in which Brooklyn's set defense can jam up Milwaukee's stilted half-court attack. So far this series, the Bucks are averaging 109.7 points per 100 possessions in transition compared to just 81.9 per 100 in the half court, according to Cleaning the Glass.
The Bucks can throw plenty of extra attention Durant's way, and it's not like P.J. Tucker has been making things a picnic in one-on-one scenarios. They'll continue to have a defender stapled to Joe Harris, but should feel comfortable helping from anywhere else. In the second half of Game 4, Brook Lopez also moved his pickup point higher when defending Durant pick-and-rolls, recognizing that he could afford to take the extra step or two out to limit Durant's pull-up game because the Bucks were more likely to survive the help rotations on the back side.
So much of Durant's power comes from his off-ball work: cutting, screening, flying off of pindowns, canning catch-and-shoot triples, or leveraging his massive gravitational pull to crack open opportunities for others. But that's not much of an option anymore. When you lose not one but two star ball-handlers, you're dealing with more than just their individual absences; the ripple effects force the remaining healthy guys to morph into different players. That includes Durant, who's obviously an exceptional on-ball player but isn't accustomed to running a zillion pick-and-rolls a game.
Where is the supplemental shot creation going to come from? Is Blake Griffin capable of scaling up his point-forward skills at this stage? Can Harris do more off the dribble? Will Nash be forced to trust Mike James as much as Mike James trusts Mike James? These options don't inspire a ton of confidence.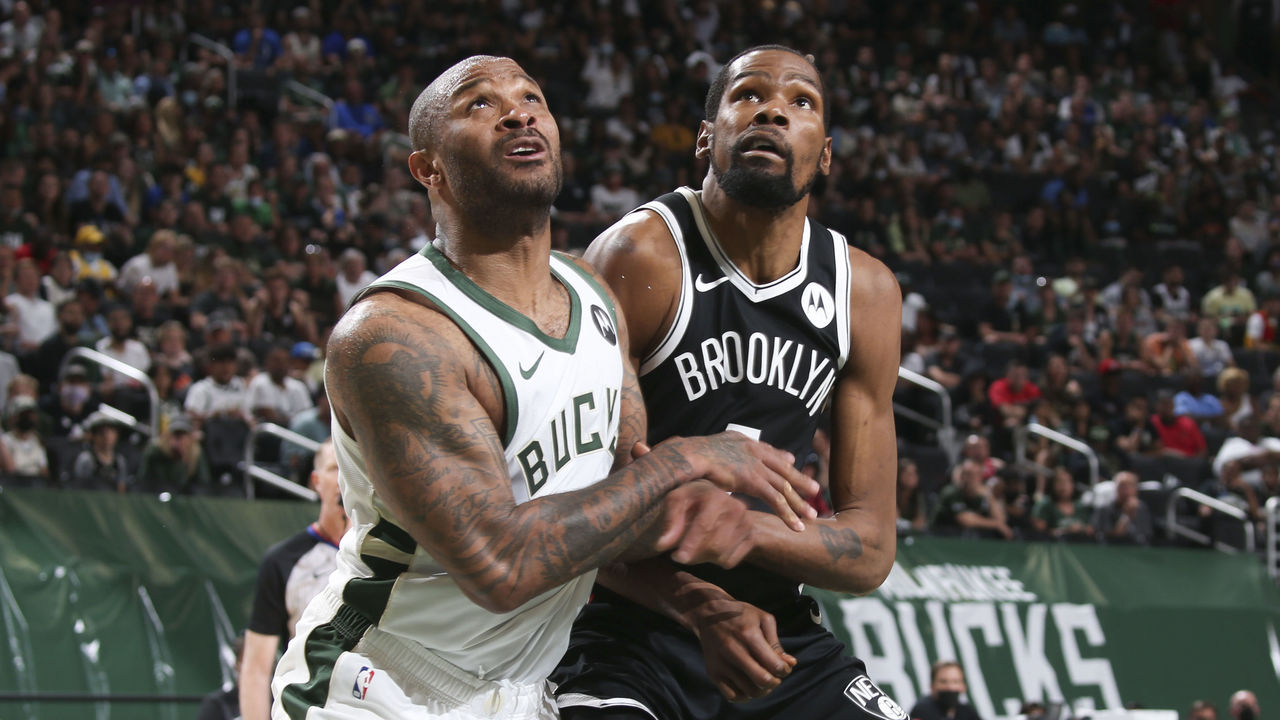 Realistically, Durant is going to have to create almost everything for himself and everyone else, all while functionally serving as the team's primary rim-protector when he isn't tasked with locking down Khris Middleton on the perimeter. On top of putting major stress on his playmaking chops (which are strong, but not exceptional), that's going to be ridiculously taxing. Durant is probably the Nets' best overall player, but if they could pick only one of their three superstars with whom to try and win a game, Harden would be the better choice, given his superior passing and his experience shouldering a huge volume of on-ball reps.
Unfortunately, they don't get to pick. Fortunately, they still have Kevin Durant, who is entirely capable of winning them Game 5 without a co-lead.
Crucially, Brooklyn has defended Milwaukee extremely well, even in the Bucks' two wins, and Irving's absence shouldn't impact that too much. If they can continue to hold the Bucks in check - which, again, is contingent on keeping the game confined to the half court as often as possible - Durant's offensive exploits may be enough to get the Nets across the finish line.
Durant is maybe the best pure shotmaker in the league, and a ton of his misses in Games 3 and 4 came on looks that he converts more often than not. Despite how much Tucker's physicality bothered him in those games, Durant is still plenty capable of rising up and scoring over him, or Jrue Holiday, or Middleton, as he demonstrated repeatedly in Games 1 and 2. (It will be interesting to see if the Bucks are more inclined to give the primary assignment to Antetokounmpo now that there are so few dangers elsewhere.)
There are also things he and the Nets can do to make things easier. For example, running pick-and-roll at Antetokounmpo while stashing Griffin in the weak-side corner - allowing Lopez to rove liberally and help at the rim - isn't a recipe for success:
Conversely, keeping Antetokounmpo away from the central action and putting Bryn Forbes' man in the weak corner tends to open things up:
Even then, you can see how laborious it was. Durant needs someone to step up and help him carry the scoring load.
Harris is by far the most capable player of doing so, but he's having a tough series and removing another creator from the equation makes it a lot easier for the Bucks to lock in on him away from the ball. It's incumbent on both Harris and the Nets to get him his looks. Taking eight shots, as he did in Game 4, isn't going to cut it.
Running Durant-Harris pick-and-pops is nice in theory, but the Bucks can just switch those actions because with no other perimeter threats to worry about, one of Holiday or Middleton is always going to be defending Harris. A better option might be to simply run more sets in which Harris is the lone shooter on the weak side, something Brooklyn did surprisingly little of in Game 4. Consider this possession:
With Lopez showing near the level of the screen, Nic Claxton was able to score on the roll. But imagine Harris in Jeff Green's place on the right wing and Holiday in Antetokounmpo's place as the low man, forced to decide whether to tag or whether to stay attached to one of the best shooters on the planet.
Bottom line: the Nets are undoubtedly in a bad spot, but they still have a guy who can easily drop 40-plus while bending the Bucks' defense any which way. He'll need help, but Durant alone gives Brooklyn a fighting chance.
Comments
✕
Can Brooklyn win with Kevin Durant alone?
  Got something to say? Leave a comment below!