Who ya got? Previewing Bucks vs. Heat
Milwaukee and Miami meet for a second straight season, only this time it's in the postseason's opening round. NBA feature writers Joseph Casciaro and Joe Wolfond are here to break it down.
Prediction
Casciaro: Bucks in 7
I called Miami upsetting Milwaukee in the playoffs last year months before the postseason even started, but I'm riding with Giannis Antetokounmpo and the Bucks slaying one of their playoff demons in this series.
Milwaukee's offense is more diversified now, both in terms of how and where on the court Antetokounmpo begins his attacks and by the presence of Jrue Holiday, who's been an efficient, two-way beast. Miami's hyper-aggressive defense can be burned if the Bucks make quick decisions and hit their open jumpers. Holiday helps on both fronts.
In addition, the Bucks' defense has been much more amenable to change this season, particularly when it comes to switching, and a thinner roster might actually save coach Mike Budenholzer from himself. With less depth than years past, Bud will have no choice but to lean on his stars and starters.
Having said all that, the Heat are still built to frustrate Giannis' Bucks, and I think they'll do just that in a long, grueling series.
Miami's playing its best basketball of the season right now, peaking at just the right time. Jimmy Butler quietly put together perhaps his finest overall campaign and didn't play in any of the Heat's three games against Milwaukee, of which the Bucks won two. Miami's defense has rounded into form, and Bam Adebayo remains one of the best options on the planet for guarding Antetokounmpo. The way each possession is valued and magnified during the playoffs usually makes for a more methodical, half-court game, in which the slower-paced Heat (29th in pace) will feel more comfortable than the faster Bucks (second).
Heat coach Erik Spoelstra will press all the right buttons, and the Bucks need to be ready. That same hyper-aggressive Miami defense that Milwaukee can exploit can also be the Bucks' undoing if they revert to the bad habits that sunk them a year ago. Nearly 46% of opponents' field-goal attempts against Miami came from 3-point territory - the highest opponent 3-point attempt rate in the league - but if the Bucks are indecisive navigating the Heat's walls and traps, or if Giannis' supporting cast isn't ready to be big-shot makers, they'll be in trouble again.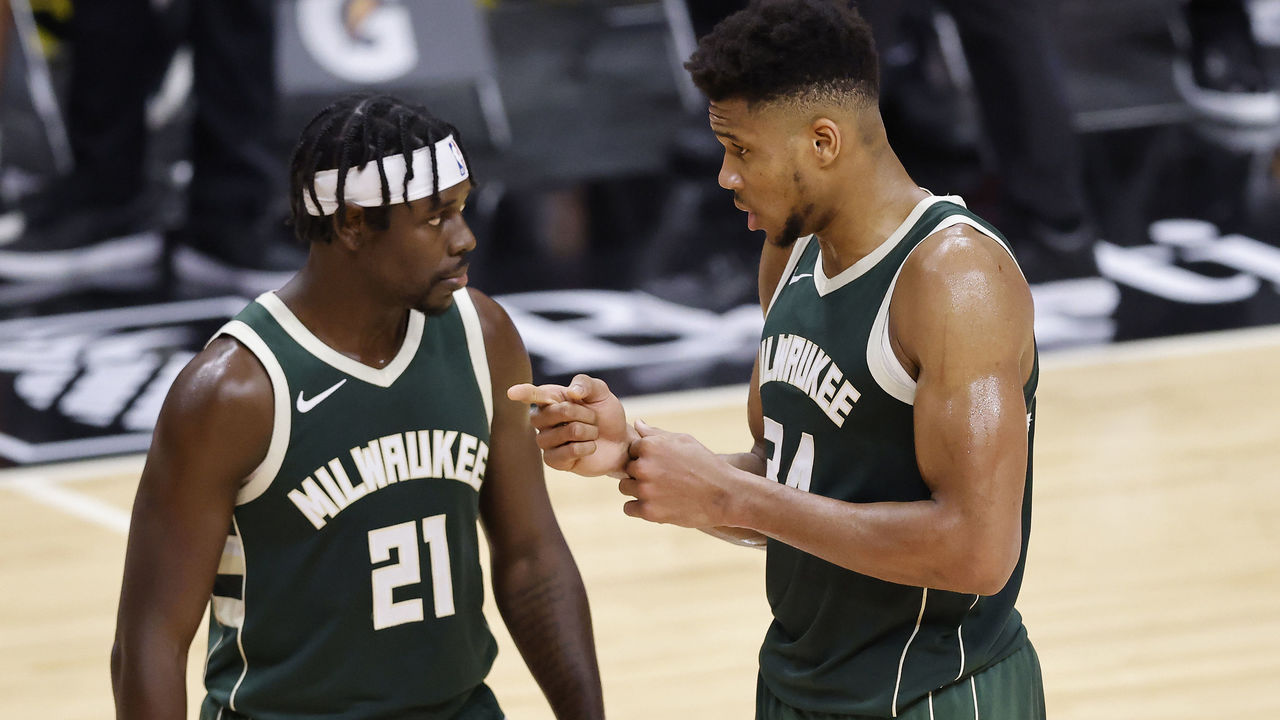 Wolfond: Bucks in 6
It's hard to overstate just how much Holiday changes this matchup.
So much of what the Heat did with their help defense in last year's series was made possible by their ability to completely ignore Eric Bledsoe with zero consequences. Not only does Holiday's far superior jumper need to be accounted for when he doesn't have the ball, but as an on-ball creator, he poses problems for Miami's less-than-stellar backcourt defenders (Tyler Herro, Goran Dragic, Kendrick Nunn), all of whom he can bully on drives or post-ups. Butler can only guard either Holiday or Khris Middleton. Who's going to guard the other?
The Bucks are also far better equipped to use Giannis in an off-ball role this time around, deploying him as a screener and either getting him the ball on the move or leveraging his roll gravity to open up clean catch-and-shoot threes. They have movement shooters who can turn Giannis into a dribble-handoff hub and punish defenders for sagging off him. Miami isn't going to short-circuit Milwaukee's offense just by building a wall against him. And building that wall won't be as easy without Jae Crowder, anyway.
The Heat can still give the Bucks headaches at the other end, but the fall-off in their 3-point shooting (from second in the league last year to 19th this season) makes them less of a nightmare matchup for Milwaukee's deep-drop base coverage. Even if they can bust the drop via pull-up shooting from Dragic and Herro or deadly Duncan Robinson DHOs, the Bucks now have the option to downsize with P.J. Tucker and go with a switch-heavy approach to take away those built-in looks.
The memory of the bubble is still fresh, but this is a different Bucks team and a different Heat team. I see the rematch playing out much differently.
Series X-factor
Casciaro: Goran Dragic
Dragic was fantastic during Miami's run to the Finals last year but has often been a shell of himself since, as he's battled back, ankle, knee, and foot injuries this season. Nunn has picked up the slack in Dragic's absence, but something close to the best version of The Dragon would give the Heat a different dynamic.
Dragic can put pressure on the rim in ways Miami's other guards can't, and he would give the Bucks another problem to solve, with Holiday likely guarding Butler and Antetokounmpo playing as more of a help defender. He doesn't have to be the All-Star version of himself, but if Dragic can summon what he captured in the 2020 playoff bubble, it could tilt things in Miami's favor.
For what it's worth, he appeared to be getting his legs under him down the stretch, averaging 15.3 points and 4.4 assists in more than 28 minutes per game over his last 10 contests. He also shot better than 43% from deep over that stretch.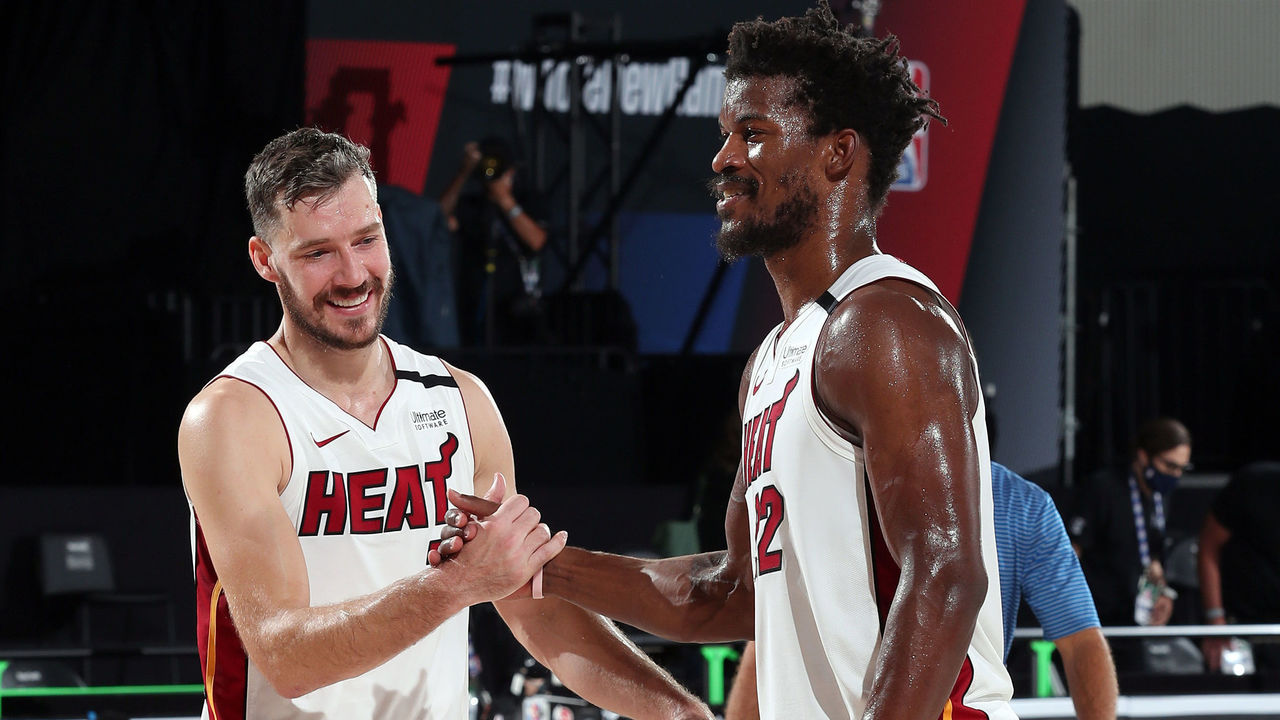 Wolfond: Mike Budenholzer
So many of the questions surrounding the Bucks come down to trust. And so many of those trust issues come down to the man calling the shots from the sideline.
Budenholzer put in an objectively poor performance in last year's series. His rotation patterns were vexing, he overplayed his bench, and he failed to make necessary schematic adjustments at key moments. As encouraging as it's been to see him embracing stylistic flexibility this season, it's still not entirely clear that he knows how to use that flexibility. He has more buttons at his disposal, but do you trust him to press the right ones at the right times? Milwaukee's shaky performance in crunch time is a slightly troubling indicator.
I'm not sure any single figure in this year's postseason has as much to prove as Budenholzer. Solving the matchup that undid his 2020 campaign would be a great place to start.
Comments
✕
Who ya got? Previewing Bucks vs. Heat
  Got something to say? Leave a comment below!