Uninspiring Clippers have no answers for Luka's Mavs
Adam Pantozzi / National Basketball Association / Getty Images
The Clippers dropping the first two home games of their Western Conference quarterfinal against Luka Doncic's Mavericks is troubling enough. What's most concerning is how little it appears Tyronn Lue's team can do about it.
Heading to Dallas down 2-0 - only eight months after a spectacular second-round implosion against Denver - the Clippers are out of answers before they could even find one.
Doncic is the story of the series so far. As was the case in Saturday's opener, there was nothing the Clippers could do to slow Dallas' superstar Tuesday.
He shook a hard-defending Paul George like one of the European veterans he used to cook as a teenager in Madrid. With a size advantage on Patrick Beverley, Doncic treated the bombastic, defensive guard as nothing more than a mild inconvenience. He hit Kawhi Leonard with a high-arching, one-legged turnaround so pure that the broadcast cut to Dirk Nowitzki in the crowd to confirm the Mavericks legend wasn't wearing No. 77 in white. Last but not least: Luka put up a running, one-legged 3-pointer - while fading to his left - in the second half of a two-possession playoff game and found nothing but net.
The only thing Doncic hasn't done to the Clippers at this point is step over Lue.
Doncic needed 39 individual possessions (which included seven turnovers) to score his 39 points, but he made it look much easier than that, dictating the game's terms from start to finish. When the Clippers went big, whether it was with a disappointing Ivica Zubac or a clearly not 100% Serge Ibaka, Doncic and the Mavs put Los Angeles' bigs in pick-and-roll actions and had their way with them. When the Clippers went small, Dallas either got to the rim or got Kristaps Porzingis the ball in the middle of the floor, where he shot over top of smaller defenders with ease.
The Clippers profile as a bona fide contender, yet the Mavs have had them toggling between perplexed and uninspired for all 96 minutes.
Leonard scored 30 first-half points in Game 2, and both he and George caught fire as part of a 73-point first half for L.A., yet the Clippers were only up two at the break. L.A. was awarded the first 12 free throws of the game, and Dallas missed 11 freebies overall, yet it was the Clippers playing from behind most of the night. L.A. allowed only four offensive rebounds, yet Dallas somehow managed to score 13 second-chance points on those four elongated possessions.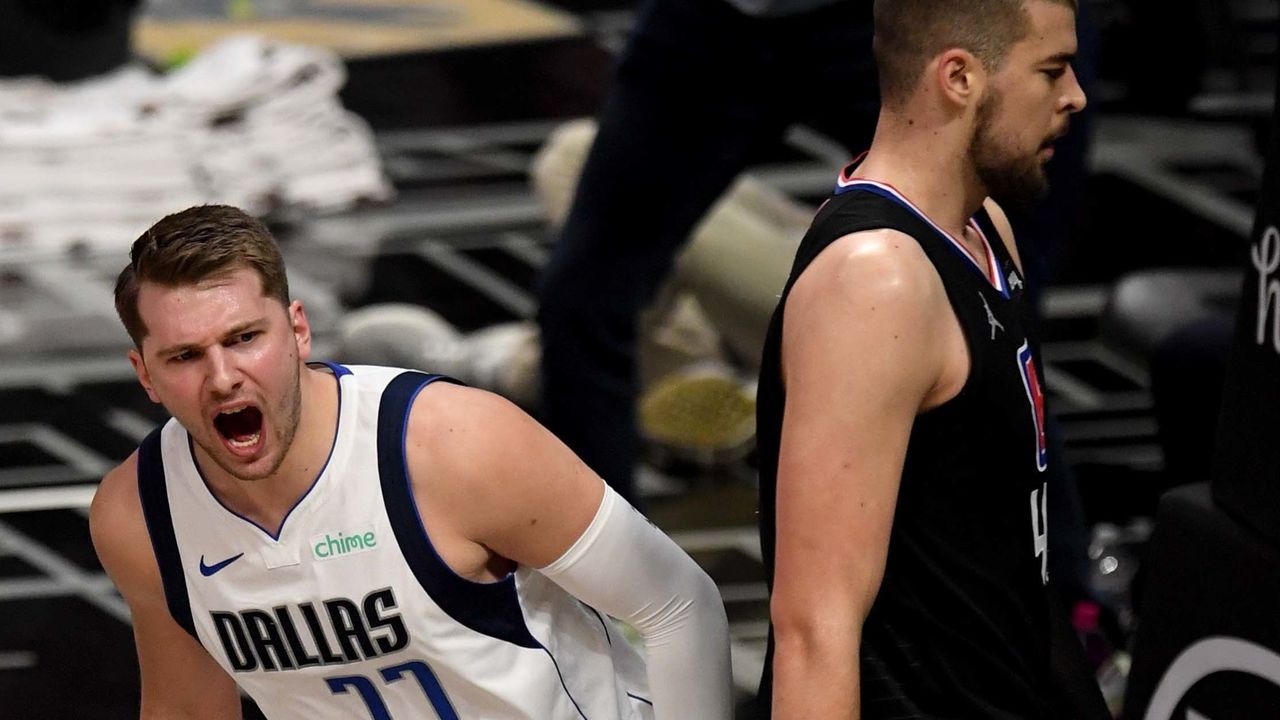 George remaining in attack mode when adversity hits would be nice, but that seems like wishful thinking at this point, as evidenced by his fourth-quarter decision to settle for a (bricked) jumper rather than attack Porzingis on a mismatch. The contrast between that decision and George's aggressive, ankle-breaking drive on Porzingis in the first half was the perfect microcosm of PG's playoff yips over the last couple years.
A healthier Ibaka anchoring lineups at center would certainly help, too, but even at full strength, the 31-year-old isn't what he once was defending in space.
Dallas cooling off from deep would give the Clippers some life after non-Doncic Mavs shot 54.3% (25-of-46) on 3-pointers between Games 1 and 2, but Hope The Other Team Starts Missing isn't the most reassuring strategy.
The Clippers are already grasping at straws here, which is quite the turn of events, considering they out-tanked the shamelessly self-sabotaging Thunder and Rockets on the season's final weekend to get this matchup (and avoid a first-round date with the Lakers).
Between Leonard, George, and one of the best two-way teams in the league, the Clippers should be capable of getting back into this series. But until proven otherwise, Doncic now has to be regarded as the best player in this matchup, and the Clippers now have to beat him four out of five.
It's possible, sure, but the more likely scenario is Doncic and the Mavs putting this broken Clippers team out of its misery.
Comments
✕
Uninspiring Clippers have no answers for Luka's Mavs
  Got something to say? Leave a comment below!