Who ya got? Previewing Jazz vs. Grizzlies
The young Memphis Grizzlies proved their resilience this season, bouncing back from losing the NBA's first-ever play-in game last year to win two straight play-in games this campaign, including one against Steph Curry's Warriors. The Grizzlies' reward? One day off after an overtime thriller in San Francisco before playing Game 1 against the league's No. 1 overall seed in Utah.
NBA feature writers Joseph Casciaro and Joe Wolfond are here to break it down.
Prediction
Casciaro: Jazz in 5
The Jazz finished 14 games ahead of Memphis in the standings and swept the season series by beating the Grizzlies three times in six nights back in the last week of March. They're also well-rested, earning a week off at home while Memphis fought tooth and nail for its playoff lives up until late Friday night.
I'm giving the Grizzlies a game because they're a good defensive team whose young players (like Ja Morant and Dillon Brooks) are absolute gamers and will be unafraid of the moment. But it's tough to overstate how much better the Jazz are. Utah was also one of an exclusive few teams to check every box of a championship contender this season from a statistical standpoint.
Between Mike Conley and Royce O'Neale, the Jazz can frustrate Morant and perhaps even force Brooks into the kind of unconscious shooting discipline that sometimes backfires on his Grizzlies. In addition, Rudy Gobert can neutralize Jonas Valanciunas inside, which puts a giant dent in Memphis' offensive game plan. Valanciunas averaged 14.3 points on just 43.9% shooting in three games against Utah this season.
On the other end, the Grizzlies have the defensive personnel to trouble some of the Jazz's best offensive talents - and I imagine we'll see Brooks on Donovan Mitchell to start. But between Mitchell, Conley, Bojan Bogdanovic, and then Joe Ingles and Jordan Clarkson off the bench, Utah has too many weapons for this Memphis team to contend with.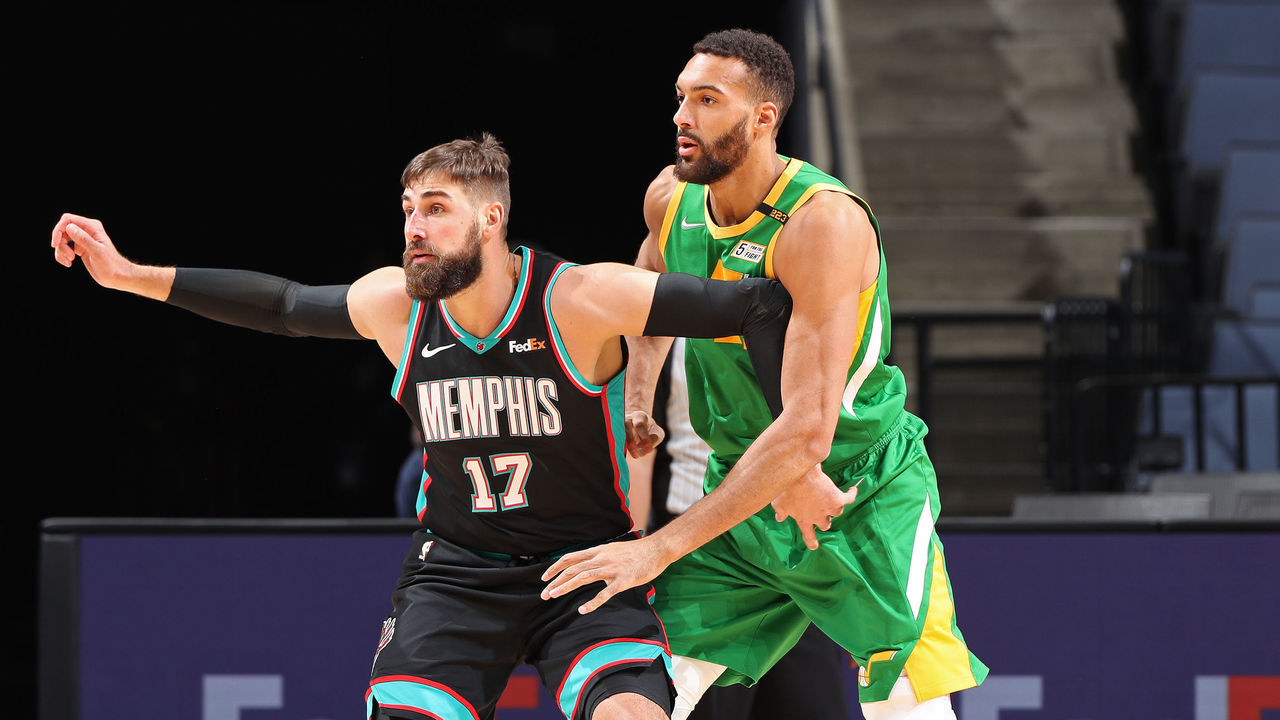 Wolfond: Jazz in 5
I have all the respect in the world for this young, tough, resilient Grizzlies team, but I don't see them scoring enough to make this a competitive series. Morant will have a hard time scoring at the rim, and the shooting display he put on in the play-in is more the exception than the rule (for now), so Utah should be able to comfortably stay in its drop. I think the Jazz will be fine with basically every individual matchup here. It's not going to be easy for Memphis to get them in rotation.
I'll disagree with you slightly about Gobert's ability to lock down Valanciunas. Despite what the numbers from this season might say, JV is the rare breed of hulking low-post mauler who can actually give the slender Frenchman issues in a one-on-one tilt. But I also think it's a bad sign that it might be the closest thing Memphis has to a matchup advantage. The Jazz are just better everywhere; they're better in the backcourt, better on the wing, and better off the bench. They have more ball-handling, more playmaking, and way, way more shooting.
The one area the Grizzlies should be able to win is the possession battle. Utah commits a lot of turnovers while forcing very few; Memphis forces a lot of turnovers while committing very few. But the possession disparity won't be enough to make up for the disparity between what each team can do with those possessions.
Series X-factor
Casciaro: Jaren Jackson Jr.
Jackson hasn't yet rounded into form since returning only a month ago from a nearly nine-month absence following a torn left meniscus, so this might be wishful thinking. But let's be real; wishful thinking is Memphis' only hope in this series.
The Grizzlies' best chance to compete and truly make Utah uncomfortable would be going smaller with the stretchier Jackson at center rather than spending the majority of his time beside Valanciunas. Jackson can pull Gobert away from the rim in ways JV can't, and perhaps Valanciunas might have more luck spending most of his time going up against Derrick Favors and a Gobert-less bench (though Favors is obviously no defensive slouch).
Going to Jackson-at-center lineups would demand a lot of the young big man, though, and I'm not sure he's up for that taxing challenge so soon after his return from a serious injury. If he is, this series might take on a different complexion.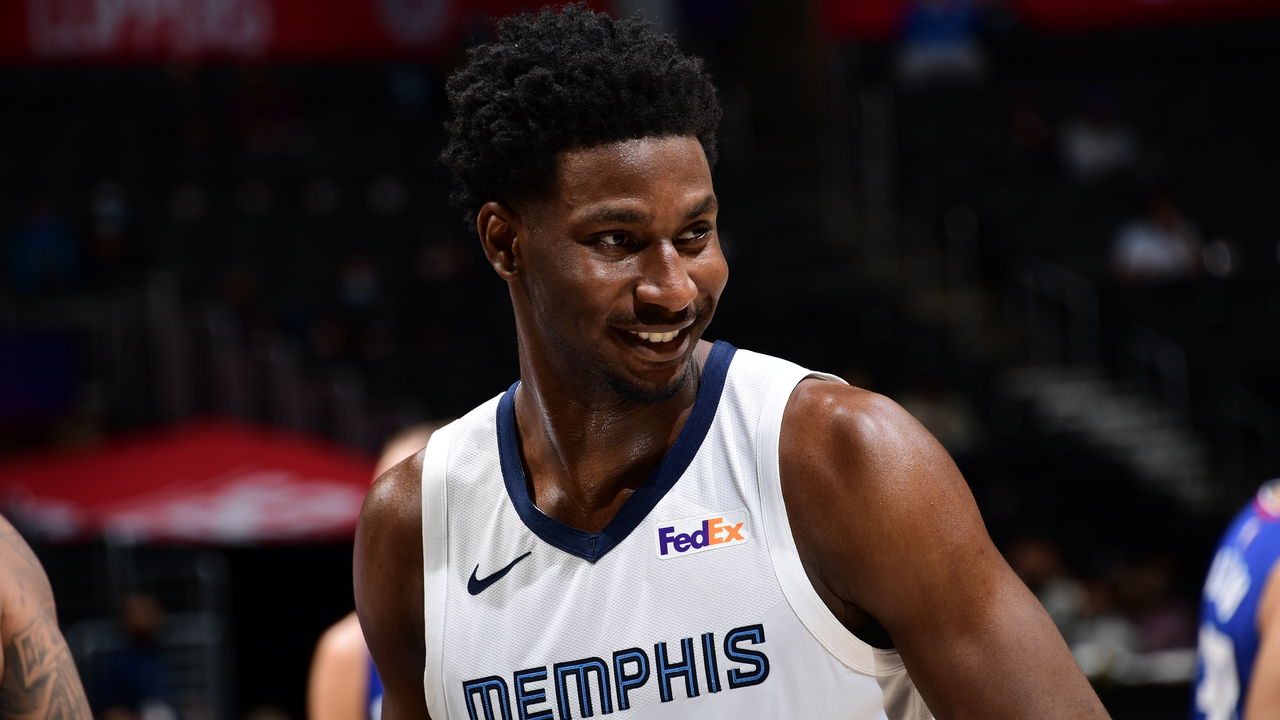 Wolfond: The floaters
Here's one thing that's really interesting to me about this matchup: The Jazz's defense excels at limiting shots the Grizzlies aren't all that fond of taking anyway (i.e., layups, threes, and free throws) and is specifically designed to coax the kind of shots Memphis already likes to indulge (i.e., floaters). Is that a good or bad thing for the Grizzlies? On the one hand, it means they're going to do exactly what the Jazz want them to do. On the other hand, they're better equipped than almost any team to succeed by taking what Utah's defense gives them.
The Grizzlies arguably shoot too many floaters as it is, even though they do so relatively effectively (ranking sixth in the league at 0.945 points per floater, according to Synergy). Being forced to lean even harder into that tendency - when what they really need to do to keep pace is up their 3-point and free-throw rates - is only going to put them further behind the eight ball in a matchup that poses a significant math problem. Not to mention the fact that, with Gobert's massive tentacles sweeping through the paint, the Jazz happen to be very good at defending those floaters, allowing just 0.855 points per shot.
All that said, there are games in which the Grizzlies collectively get red-hot from that zone and force their opponent to adjust. If they can punish Utah's drop often enough to get Gobert to start committing to the ball-handler earlier, it will really help unlock Valanciunas on the roll and offensive glass. Make enough of those floaters, and maybe the math starts to change.
Utah, by the way, is one of the five teams that shot floaters more accurately than Memphis did this season, with Conley, Mitchell, and Clarkson leading the charge. And the Grizzlies also happen to deploy a drop-heavy base defensive scheme that encourages in-between shots. So we could absolutely see one of these games decided by which team makes more of them.
Comments
✕
Who ya got? Previewing Jazz vs. Grizzlies
  Got something to say? Leave a comment below!