A team's playoff success often dictates how we continue to evaluate a given player, coach, or executive within that organization. The postseason gives individuals the ideal stage to showcase their value, and in a few cases, becomes a platform where some can take the next step in their career development.
Here are five individuals who have improved their stock thus far in the playoffs.
Jamal Murray
Murray entered Denver's postseason run as a proven scoring threat but wasn't someone many considered a legitimate No. 1 playoffs option. Lo and behold, he's become exactly that in these playoffs, putting the Nuggets on his shoulders with several sensational performances.
The 23-year-old increased his scoring average from 18.5 points per game in the regular season to 26.5 in this year's playoffs. His efficiency from the field was spectacular, too - the Kitchener native connected on an incredible 45.3% of his 7.2 long-range attempts per game.
Murray's offensive improvement isn't the only element of his game that's made massive strides. The floor general averaged a team-best 6.6 assists in 19 contests. It's no surprise, with Murray's combination of distributing and producing points, that Denver scored an astronomical 116.3 points per 100 possessions with him on the floor this postseason, per Cleaning The Glass.
After what we've witnessed from Murray in high-pressure games - he's registered a pair of 50-point games and two 40-point outings in the playoffs - it's safe to say the Canadian has taken a legitimate star turn that should have Nuggets fans excited for years to come.
Jimmy Butler
Butler was a perfect fit from the first day he joined Miami in free agency this past offseason. His mentality both on and off the court meshes perfectly with the Heat's culture of rigorous hard work and having their players in peak physical shape.
Butler's mentorship of the Heat's up-and-coming talents - most notably sharpshooting rookie Tyler Herro, second-year player Duncan Robinson, and budding star big man Bam Adebayo - is arguably more important than his strong regular and postseason statistical output.
Before this season, Butler had a notable history of clashing with teammates while with his past two teams and had never made it past the second round of the playoffs. Both trends have changed with Butler in Miami, however - the forward appears to gel well with teammates and is now heading to his first NBA Finals. His leadership role on this Heat squad has rejuvenated the franchise and remains a crucial element of their collective success.
Pat Riley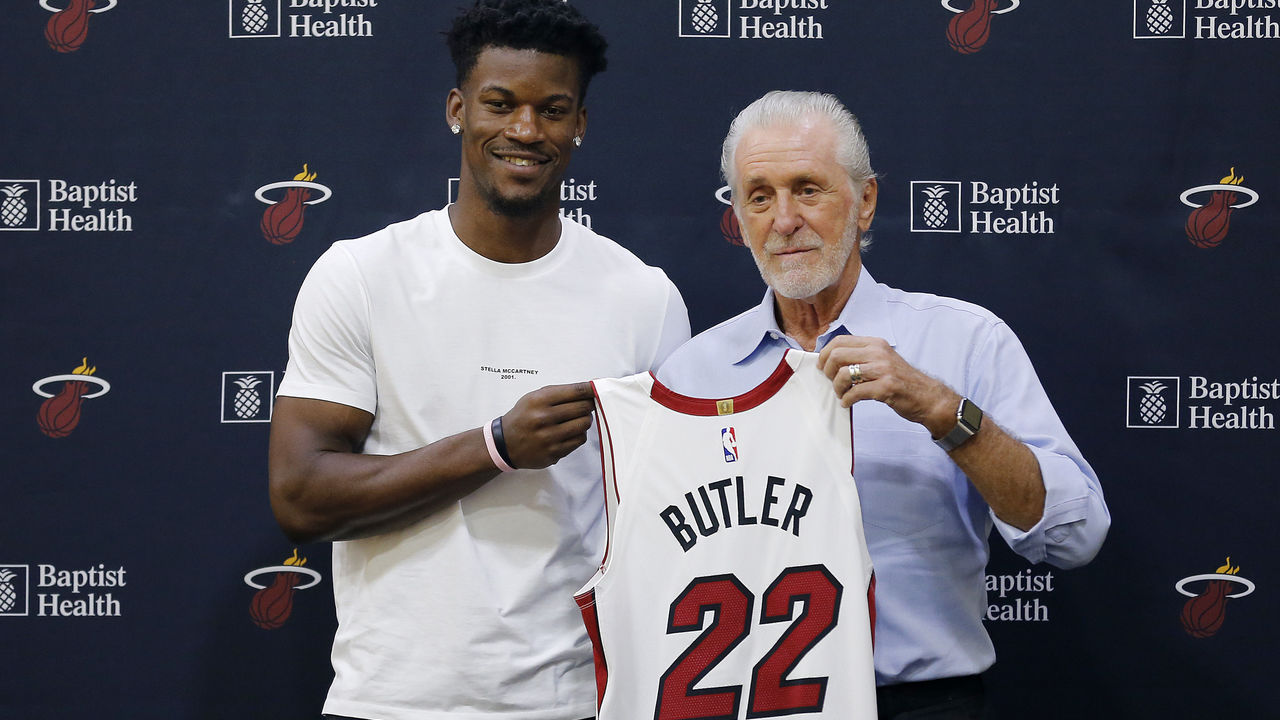 Riley deserves significant credit for his work guiding Miami back to prominence after a subpar 2018-19 campaign.
| Season | Record | Offensive Rating | Defensive Rating | Net Rating |
| --- | --- | --- | --- | --- |
| 2018-19 | 39-43 | 106.7 | 107.1 | -0.4 |
| 2019-20 | 44-29 | 111.9 | 109.3 | 2.7 |
The Heat architect's most significant achievement this past summer was Butler's recruitment to South Beach. However, some earlier transactions from last season also warrant attention.
Riley made pivotal decisions to sign undrafted rookie Kendrick Nunn and convert Robinson from a two-way contract last April. Head coach Erik Spoelstra has regularly featured both players in his rotation this season, with the former finishing second in Rookie of the Year voting and Robinson setting a single-season franchise record with 270 made 3-pointers.
The longtime executive drafted Herro in the first round to follow up those two signings, and then went on to acquire veterans Andre Iguodala and Jae Crowder at the trade deadline - two players who have considerable playoff experience.
Riley's shrewd dealings to remove Dion Waiters and James Johnson's expensive contracts from the team's books have proved essential for a team apparently facing a dire salary cap situation after last season. Now, after stunningly reaching the NBA Finals for the first time since 2014, the Heat project to have the necessary financial flexibility to chase marquee free agents.
Anthony Davis
Davis' decision to force his way to the Los Angeles Lakers this past summer has paid off exactly the way he'd hoped. The seven-time All-Star's decision to pair up with LeBron James has successfully expedited his window to compete for a title, after entering this season with only two playoff appearances on his professional resume.
The All-NBA big man has torched defenses all postseason long, pouring in 28.8 points per game on 57.1% shooting as the Lakers' top scoring option through 15 playoff games. L.A. also owns an impressive plus-14 net rating when Davis in on the floor, the second-highest mark on the team.
Now, Davis - after delivering the elite level of production Lakers fans were picturing when the team acquired him for a King's ransom - is set to compete in his first NBA Finals and is only four wins away from capturing a long-coveted championship.
Luka Doncic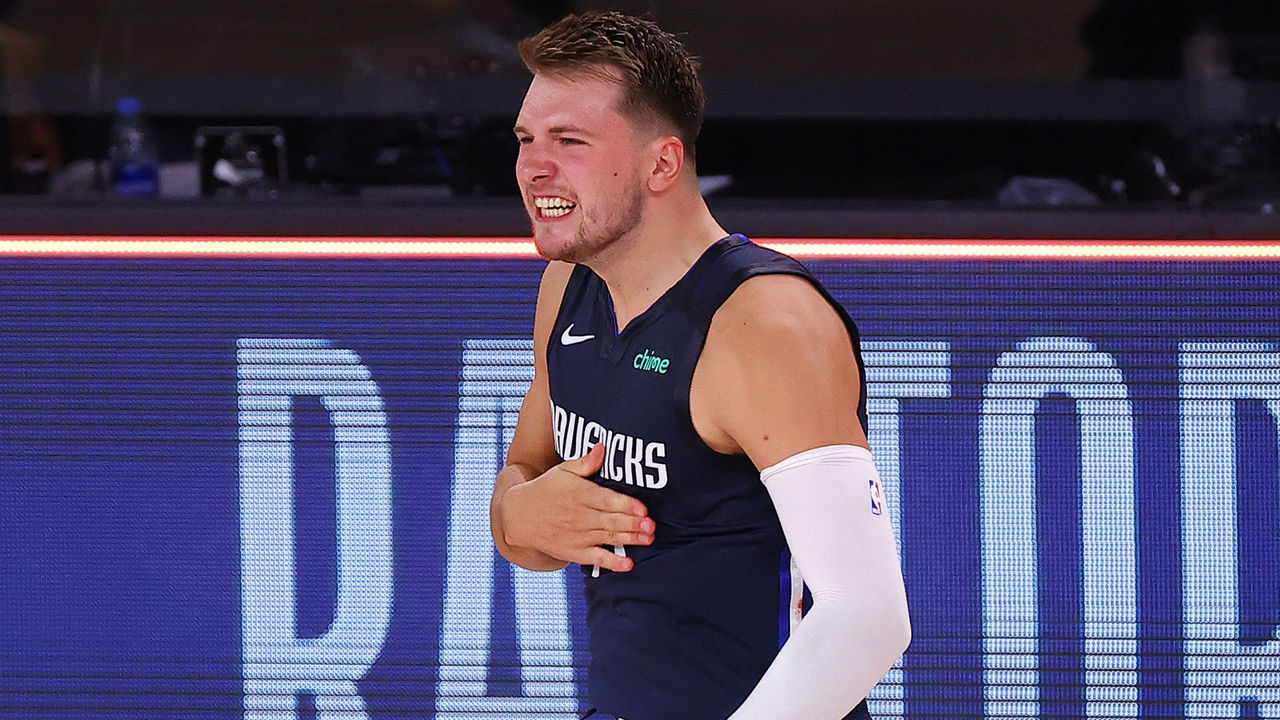 Doncic - already regarded as one of the game's elite talents after just two seasons in the league - has cemented his status as a legend in the making with a historic first career playoff run.
The Slovenian averaged 31 points, 9.8 rebounds, and 8.7 assists in a hard-fought six-game series loss to the Los Angeles Clippers. In doing so, he became only the fifth player in NBA history to average at least 30-8-8 in a playoff series, according to ESPN Stats & Info.
In Game 1, Doncic set a new NBA record for most points in a playoff debut with 42. He became the youngest player with a playoff triple-double two games later, then followed that up with one of the most sensational postseason performances of all-time in Game 4.
The wunderkind dismantled the Clippers with a masterful 43-point, 17-rebound, 13-assist outing while battling an ankle sprain. Not only did Doncic become the youngest player to record back-to-back playoff triple-doubles, but he's also just the third player ever to put up at least 40 points, 15 rebounds, and 10 assists in a postseason contest.
If this is just the start for the 21-year-old, we're in for quite a ride.