Following Monday's rundown of the Eastern Conference, here's every Western Conference squad's most valuable player to this point in the season:
Dallas Mavericks
Pick: Luka Doncic
It's hard to envision any prospect, let alone a teenager coming over from Europe, adjusting to NBA stardom better than Doncic. Already the Mavericks' franchise star in just his second season, the 21-year-old has improved on his incredible Rookie of the Year campaign by averaging nearly a 29-point triple-double in 2019-20.
Denver Nuggets
Pick: Nikola Jokic
It's impossible to overstate how crucial Jokic is to the Nuggets. His feel as a playmaker is downright uncanny for a 7-footer, and it's allowed head coach Michael Malone to turn the offense completely inside out to resounding success. Jokic's ability to hit the right pass means opponents can't overcommit to him in the post; he'll either find a teammate making a timely backdoor cut or simply drain the jumper over his man with ease.
He's been prone to the occasional defensive lapse, like when he's switched onto a guard in a pick-and-roll. That's but a blip in his overall game, however, and he's been the main reason Denver is a top-three team in the Western Conference.
Golden State Warriors
Pick: Eric Paschall
Thanks to myriad injuries to their stars, the Warriors have been the NBA's worst team this season and have lacked a clear MVP. Stephen Curry has played in five games, and though Draymond Green has played in 43, he's dealt with injury troubles of his own and been far from convincing without Curry or Klay Thompson.
With the Warriors shipping D'Angelo Russell to the Timberwolves, Golden State's MVP has to be Paschall. The rookie forward has averaged 14 points and 4.6 rebounds to make the most of a tough situation, proving to head coach Steve Kerr that he'll still warrant minutes when the Warriors' lineup is replenished.
Houston Rockets
Pick: James Harden
Harden's style has drawn criticism, but the Rockets star has revolutionized scoring. He entered the hiatus leading the league in scoring for a third straight season with 34.4 points per game and ranked first in free throws made (619) and 3-pointers made (271). He's also had five 50-point games this season - with only one of those contests going to overtime.
For better or for worse, Harden is the Rockets. That usually benefits the team, though Houston has suffered badly when his shot's been off this season, going 9-16 when The Beard shoots 30% or worse from 3-point range.
Los Angeles Clippers
Pick: Kawhi Leonard
Leonard has alleviated any concerns Clippers fans had about his quad injury entering the season. Though the team has still occasionally kept him out as a precaution, Leonard's put up career-best averages of 26.9 points and five assists in 51 games this season.
Paul George has been instrumental for the Clippers, too, but it's clear Doc Rivers' squad falters without Leonard. Los Angeles owns a winning record (14-8) when George is out of the lineup but has gone just 6-7 without the reigning All-Star Game MVP.
Los Angeles Lakers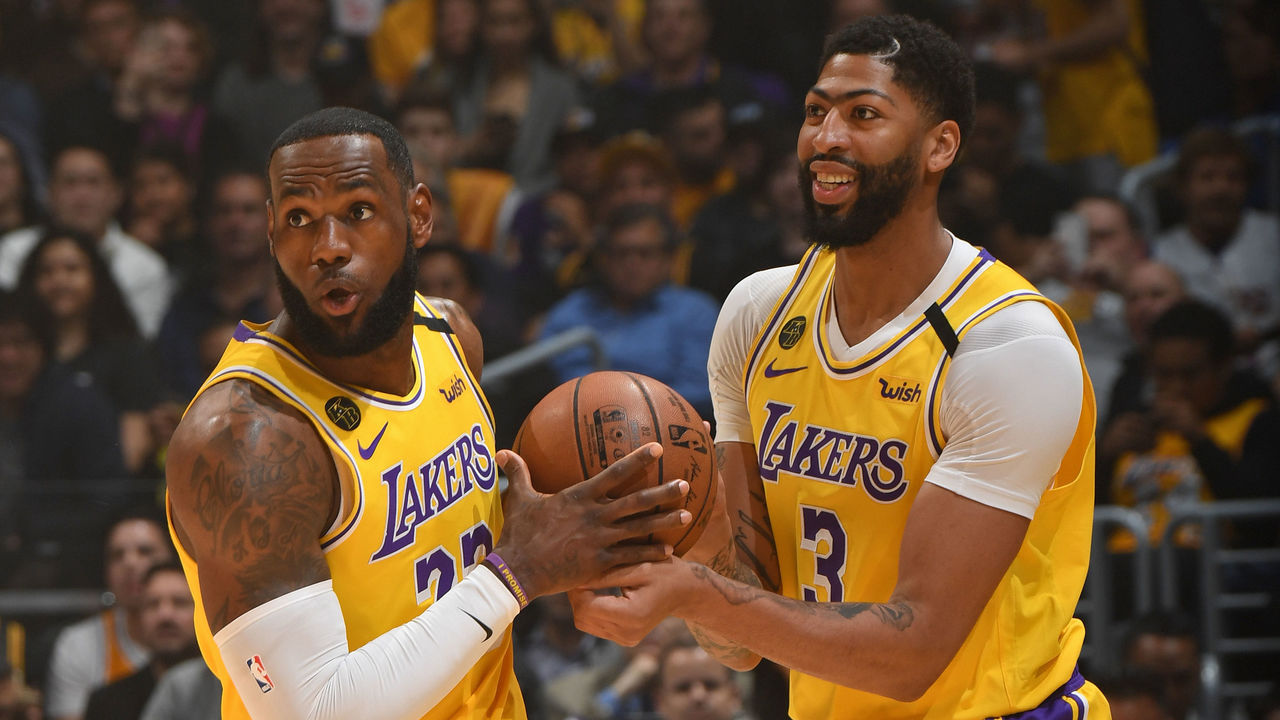 Pick: LeBron James
At first glance, choosing between James and Anthony Davis for Lakers MVP honors seems an almost impossible task.
| Player | GP | MP | PTS | REB | AST | STL | BLK | FG% | 3P% |
| --- | --- | --- | --- | --- | --- | --- | --- | --- | --- |
| Anthony Davis | 55 | 34.3 | 26.7 | 9.4 | 3.1 | 1.5 | 2.4 | 51.1 | 33.5 |
| LeBron James | 60 | 34.9 | 25.7 | 7.9 | 10.6 | 1.2 | 0.5 | 49.8 | 34.9 |
Dig deeper, though, and it becomes clear that one of them has been far more integral to Los Angeles' success this season.
The Lakers have scored 8.1 points more per 100 possessions with James on the court than off it this season. That differential is just 1.4 points per 100 possessions for Davis, suggesting the team has maintained its offensive production even with the former Pelicans big man on the bench.
The discrepancy is further illustrated by how each star fares when the other is off the court. According to Cleaning The Glass, all Lakers lineups featuring James but not Davis have had a combined net rating of 10.7, a number that ranks in the 96th percentile league-wide. When Davis plays without James, the Lakers' net rating actually drops into the negatives at minus-0.9.
Even in his 17th NBA season, James is evidently the Lakers' most important piece.
Memphis Grizzlies
Pick: Ja Morant
It's a tad hyperbolic to say Morant has saved the Grizzlies, but the second overall pick of the 2019 NBA Draft is the primary factor in the franchise's rapid trajectory change from painfully rebuilding to potential playoff underdog.
Though he's frequently dominated highlight reels with his thunderous dunks - even the ones he doesn't make - the Murray State product has proven he can be just as effective as he is entertaining. Morant's 17.6 points and 6.9 assists per game are both tops among rookies who've played at least 20 contests this season, and the latter statistic shows he's been making life easier for his teammates, too.
Minnesota Timberwolves
Pick: Jarrett Culver
Your first thought, naturally, is Karl-Anthony Towns, indisputably Minnesota's best player. But he's played in only 35 of 64 games this season - a 54% attendance record. Examining the rest of the Timberwolves' roster, you quickly realize any other real MVP candidates are either no longer with the team or haven't played enough.
With that in mind, only two legitimate possibilities remain: rookie guard Culver and sophomore Josh Okogie. We'll give the nod to Culver. His 9.2 points per game give him a slight scoring edge over Okogie, and Minnesota has been a minor 1.8 points per 100 possessions better with Culver on the floor.
New Orleans Pelicans
Pick: Brandon Ingram
Sorry, Zion Williamson. Just as his late NBA debut likely rules him out for the league's Rookie of the Year prize, so too does it prevent him from being his team's MVP despite an electric 19-game stint.
Before Williamson was helping the Pelicans inch closer to that final playoff seed, Ingram was key in keeping them in the hunt all year. The lanky 6-foot-7 forward leads the team with 24.3 points per game and has also averaged 6.3 rebounds and 4.3 assists while making 38.7% of his shots from deep. He's a strong contender to claim the league's Most Improved Player honors, too.
Oklahoma City Thunder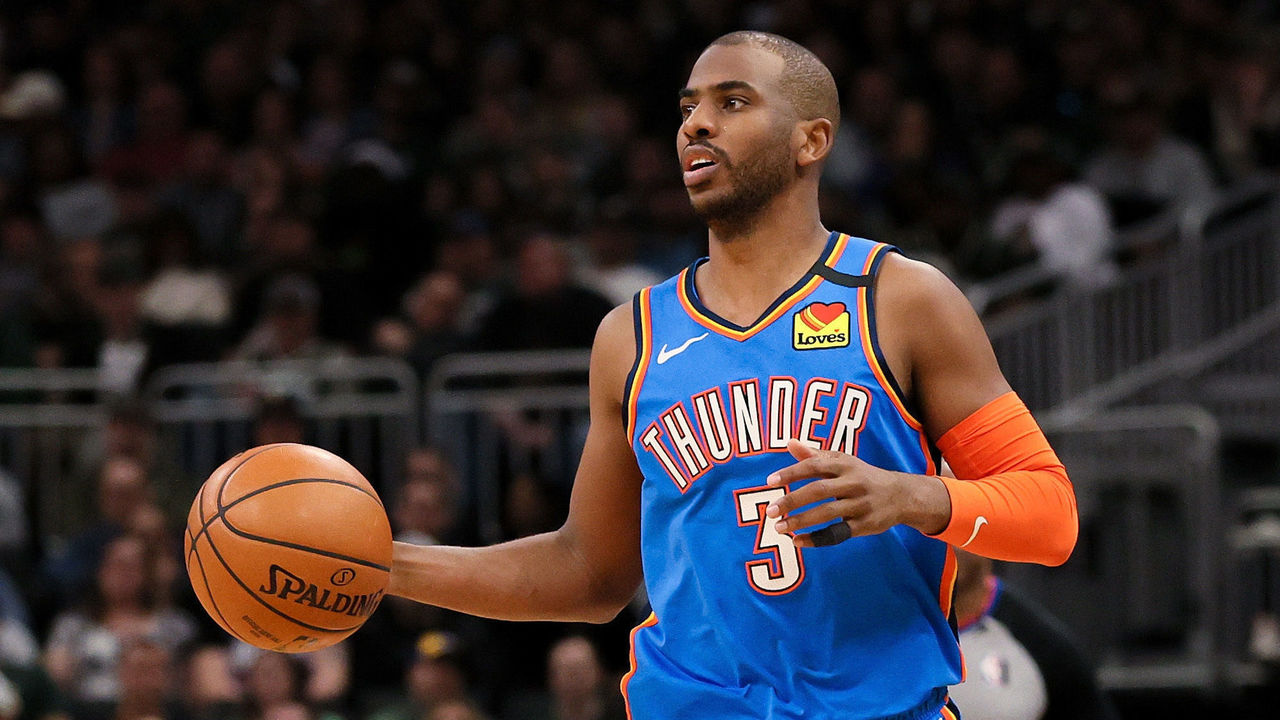 Pick: Chris Paul
Paul's numbers don't jump off the page like they used to, but his impact on a young Thunder roster has been remarkable. Among qualified players, Paul gives Oklahoma City its highest net rating at 6.8. When he sits, the team has its lowest net rating at minus-5.4. That 12.2-point swing proves the Thunder have been at their best when Paul plays - and at their worst when he doesn't. There aren't many players in history who have had that kind of effect at age 34.
A well-earned shoutout has to go to sophomore Shai Gilgeous-Alexander, who leads Oklahoma City in scoring. It won't take him much longer to replace Paul as the Thunder's most important star.
Phoenix Suns
Pick: Devin Booker
Look no further than Booker. Deandre Ayton might've been a contender for Suns MVP honors had he avoided that 25-game suspension earlier in the season, but Booker is the clear pick today.
Finally named an All-Star for the first time in his career this season - albeit as a last-minute injury replacement - Booker has been the league's 10th-best scorer at 26.1 points per game. That average ranks better than those of fellow All-Stars such as LeBron James and Jayson Tatum, to name just a couple.
Portland Trail Blazers
Pick: Damian Lillard
It looks like the Trail Blazers won't come close to satisfying any of the expectations fans had for the 2019-20 campaign. Those fans can take solace, however, in another incredible individual season from Lillard, who's averaged career-bests with 28.9 points and 7.8 assists in 58 games. The 29-year-old has even tied the best 3-point percentage of his career this season, matching the 39.4% clip he managed during his sophomore campaign.
Lillard also owns minor bragging rights among the league's top scorers as the only player to score 60 or more points in multiple games this season.
Sacramento Kings
Pick: Buddy Hield
De'Aaron Fox's numbers across the board might be slightly better than those of Hield, but Fox's MVP stock takes a hit because he sat for a month with an ankle sprain earlier in the season. Hield, on the other hand, hasn't missed any of the Kings' 64 games.
It hasn't been a perfect year for Hield, though. While he did secure a four-year extension potentially worth north of $100 million, his scoring has dipped slightly from 2018-19. Head coach Luke Walton also indefinitely removed from the starting lineup in January. Walton's move seemed to fix Hield's 3-point stroke, though; after shooting 36% as a starter, Hield has shot 47.6% from deep in 20 games off the bench.
San Antonio Spurs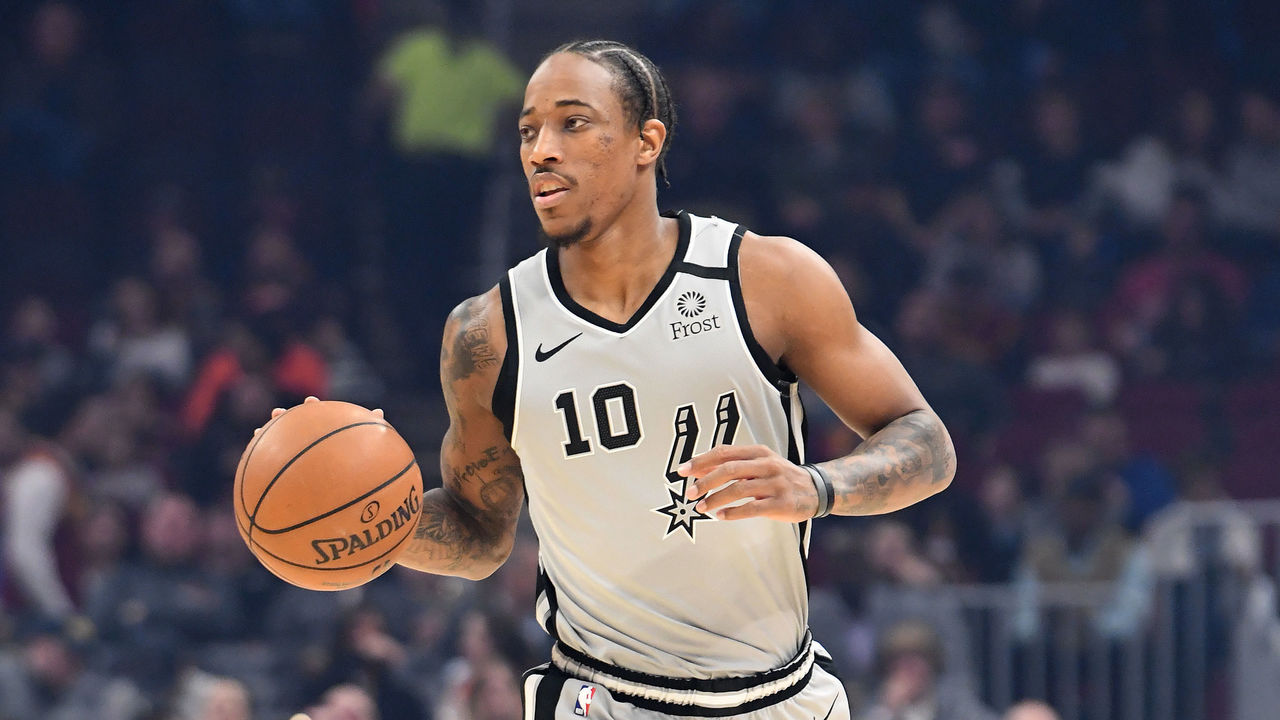 Pick: DeMar DeRozan
It sounds like DeRozan's stint with the Spurs will likely come to an end whenever free agency begins, but there's no denying he's been their best player this season. His 22.2 points, 5.6 rebounds, and 5.6 assists per game aren't personal bests, but he's been the most consistent producer on a team with a dearth of efficient scoring.
Utah Jazz
Pick: Donovan Mitchell
Mitchell has continued to blossom into a superstar in his third NBA season. The 23-year-old has been the Jazz's top scorer every year of his young career, including a 2019-20 campaign that's seen him pour in a career-high 24.2 points per game to keep Utah on pace for a second straight 50-win season. Mitchell also earned the first of what's expected to be many All-Star nods in February.