Before their game against the Boston Celtics on Thursday, the Philadelphia 76ers learned they would need to get by without their franchise player for at least a little while. Joel Embiid, who gruesomely dislocated his ring finger on Monday, would undergo surgery and then be re-evaluated in one-to-two weeks.
That scenario would have set off alarm bells for the 76ers over the last few seasons, when navigating minutes without their All-NBA center was an enormous and consistent struggle. Last year, the Sixers were outscored by 3.5 points per 100 possessions with Embiid on the bench, a net drop-off of 11.1 points per 100 from how they performed with him on the floor. The season prior, their net rating dipped 13.5 points per 100 when he wasn't in the game. The year before that, it fell 11.9.
The team's dependence on Embiid was epitomized in last season's second-round playoff tilt against the Raptors, in which Philadelphia outscored Toronto by 90 points with Embiid on the floor but still lost the series. Game 7 was a microcosm of that trend - Embiid spent just three minutes on the bench, but the Sixers were somehow outscored by 12 points in that time as the Raptors won 92-90.
Philadelphia's offseason signing of Al Horford was, in large part, an attempt to mitigate that problem. The two bigs would share the court plenty - and Horford still considers power forward his natural position - but the Sixers could also stagger their minutes, with Horford serving as the de facto backup center.
The results have been evident so far: This is the first season of Embiid's career in which Philly owns a positive scoring margin with him on the bench.
But there have also been some predictable hiccups with the new frontcourt alignment, which often relegates Horford to spot-up duty and gives him far less to do (and far less space to do it in) when he shares the floor with Embiid. As has seemingly become the tradition for high-profile Sixers imports, Horford recently aired some frustrations about his marginalized role within the team's unconventional offense.
That ongoing issue cuts to the core of the paradox with the Sixers as a whole. Embiid has been one of the very best defenders in the league this season, but his presence on the court often comes at the expense of both Horford and Ben Simmons at the offensive end, where there's too much spatial overlap for the three of them to coexist effectively. Embiid remains absolutely vital to the Sixers (obviously), but his current absence should help unlock his teammates at an individual level.
Surprisingly, Simmons' numbers have actually been slightly better when he's played with Embiid. Horford's, though, have been dramatically worse:
| Horford | Pts/36 | Reb/36 | Ast/36 | Usage % | EFG% |
| --- | --- | --- | --- | --- | --- |
| With Embiid | 7 | 6.6 | 3.8 | 10.4 | 43.3 |
| Without Embiid | 19.1 | 8.2 | 4.8 | 21.6 | 54.2 |
There's also this: When Horford and Simmons play together without Embiid, the Sixers own a 113.1 offensive rating and an 8.0 net rating. (In case anyone takes this as a knock on Embiid, Philly also has a 10.3 net rating when he's on the floor and the other two are on the bench.) While the team loses a reliable source of half-court offense without Embiid's devastating post-ups, there's more oxygen to go around when he's out of the picture.
We got a taste of that extra air on Thursday night, as the Sixers climbed back from 15 points down to beat the Celtics. In the process, they hung a 113.5 offensive rating on one of the best defenses in the league and clinched the season series over Boston.
Here are some takeaways from the Embiid-less contest:
Different defense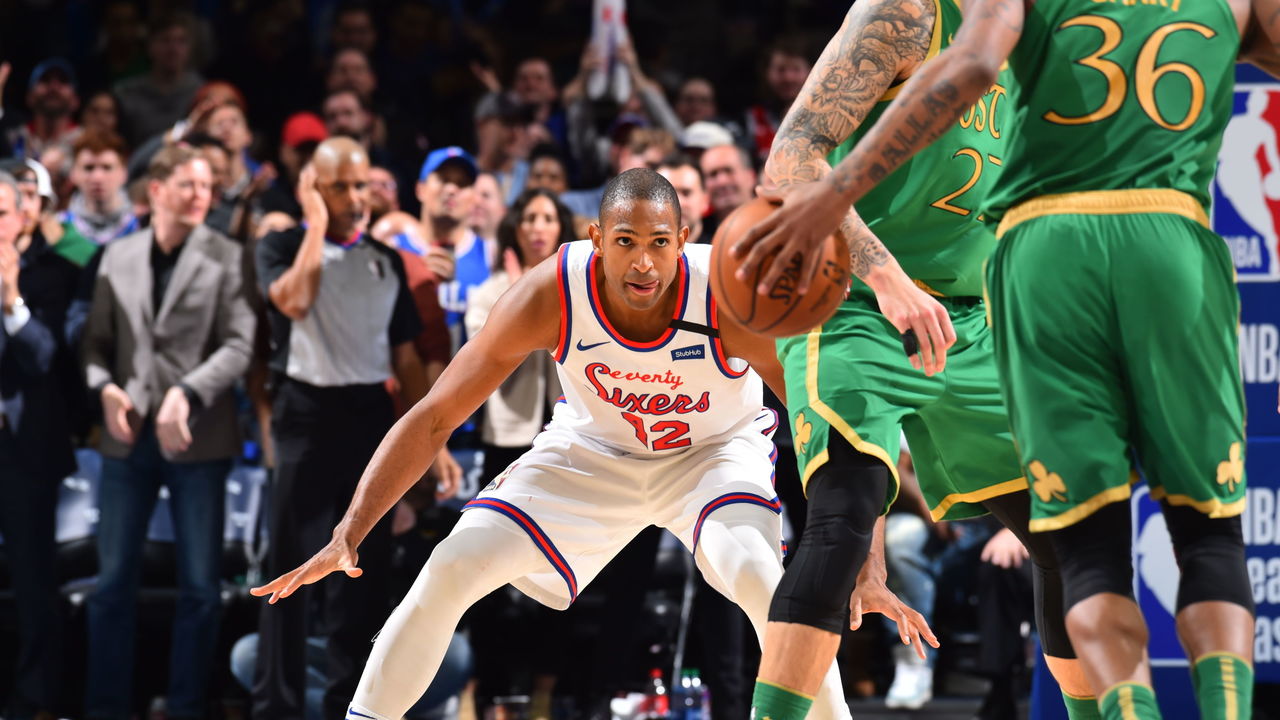 Before the game, Sixers coach Brett Brown told reporters he was "putting a blowtorch and bullet to what we used to do with Joel." Given Horford's mobility as a defender, one assumed that would mean scrapping the deep-drop-back scheme Philadelphia's employed all season while instead stationing Horford higher in pick-and-roll coverage. That strategy seemed particularly sensible given that Philly was set to face one of the game's preeminent pull-up artists in Kemba Walker.
But, for most of the first half, Horford was still dropping way back in the pick-and-roll - as deep or deeper than Embiid typically does. And without Embiid's extraordinary reach to keep the ball-handler at arm's length while staying in contact with the roll man, the Celtics found plenty of space to get comfortable in the middle of the floor. Walker cooked that coverage for 13 first-quarter points, repeatedly stepping into open pull-up threes, mid-rangers, and floaters while Horford sagged beneath the free-throw line and made no effort to contest. The Sixers found themselves trailing 51-36 midway through the second quarter.
Around that point, Philly began to vary its coverages, mixing in more switching and hard hedging. While there were still plenty of drops sprinkled in, Horford came up way higher against Walker late in the game and wiped out Jayson Tatum and Jaylen Brown on switches. The Celtics' offense stalled out as they got bogged down in one-on-one play.
It's worth noting, too, that Horford snuffed out just about everything around the basket. Boston shot a putrid 13-of-29 from inside the restricted area, thanks largely to the big man's timely interference. Horford can't quite replicate Embiid's interior defense (who can?), but he's able to provide a close facsimile when called upon.
Ultimately, what makes Horford so valuable is his flexibility. He can be effective in drop-back coverage, but using him exclusively in that role - as the Sixers did for the early portion of the game, and as they have for much of this season - feels like a waste of his unique defensive skill set.
In the end, Brown didn't quite purge his game plan with a flamethrower on Thursday. It was more of a matchstick.
Shot redistribution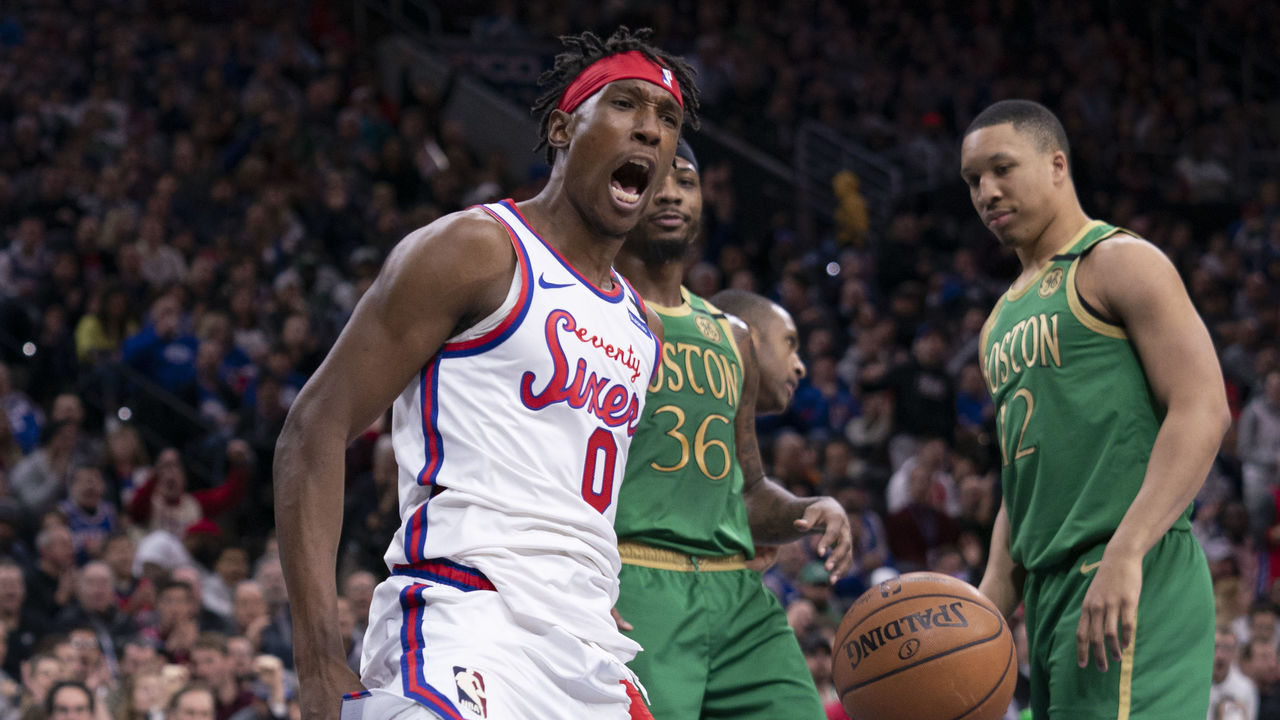 Offensively, the Sixers had a lot of shots and touches to hand out with Embiid sidelined.
For his part, Horford saw 42 frontcourt touches, 10 elbow touches, and seven post touches against Boston, up from his season averages of 36, 3.9, and 4.6, respectively. He got to feel the ball more, in spots he prefers, with more room to operate. He got to be more of a playmaking hub, and he made the most of it, finishing with a game-best plus-19 rating as the Sixers averaged 125.8 points per 100 possessions with him on the floor. Horford dimed up cutters with nifty touch passes, busted Daniel Theis a couple of times in the post, and generally looked freer than he has for most of this season.
He wasn't the only one. Josh Richardson, another first-year 76er who's struggled at times to find his role and rhythm within the offense, got extremely busy. He was aggressive in hunting his own shot en route to maybe his best game as a Sixer. He ran the pick-and-roll brilliantly, snaking his way to mid-range pull-ups and soft floaters. He poured in 29 points on 9-of-16 shooting to go along with seven assists. Perhaps most encouragingly, he got to the free-throw line 10 times. For a night, at least, Richardson looked every bit like the off-the-bounce initiator Philly's been missing.
Simmons' offense, meanwhile, was a bit more muted than expected. He did produce his usual spate of highlight-reel sequences in the open floor and stayed involved enough in the half court to end up with 19 efficient points. On the other hand, it's clear that simply surrounding Simmons with shooters and letting him operate as a "Giannis-like" rim-runner in space isn't some cure-all. Even when flanked by shooters, without a post behemoth clogging up his driving lanes, Simmons wasn't regularly parading to the rim or getting deep enough to collapse the defense. Even after gaining a head of steam in transition, he would often pull the ball out or look to pass rather than continue barreling toward the basket.
Granted, Boston is one of the better teams in the league at packing the paint, helping on drives, and recovering back into passing lanes. But it still feels like Simmons should be a more imposing and assertive offensive player than he is most nights - particularly when Embiid's out of the lineup.
Liberty Pelle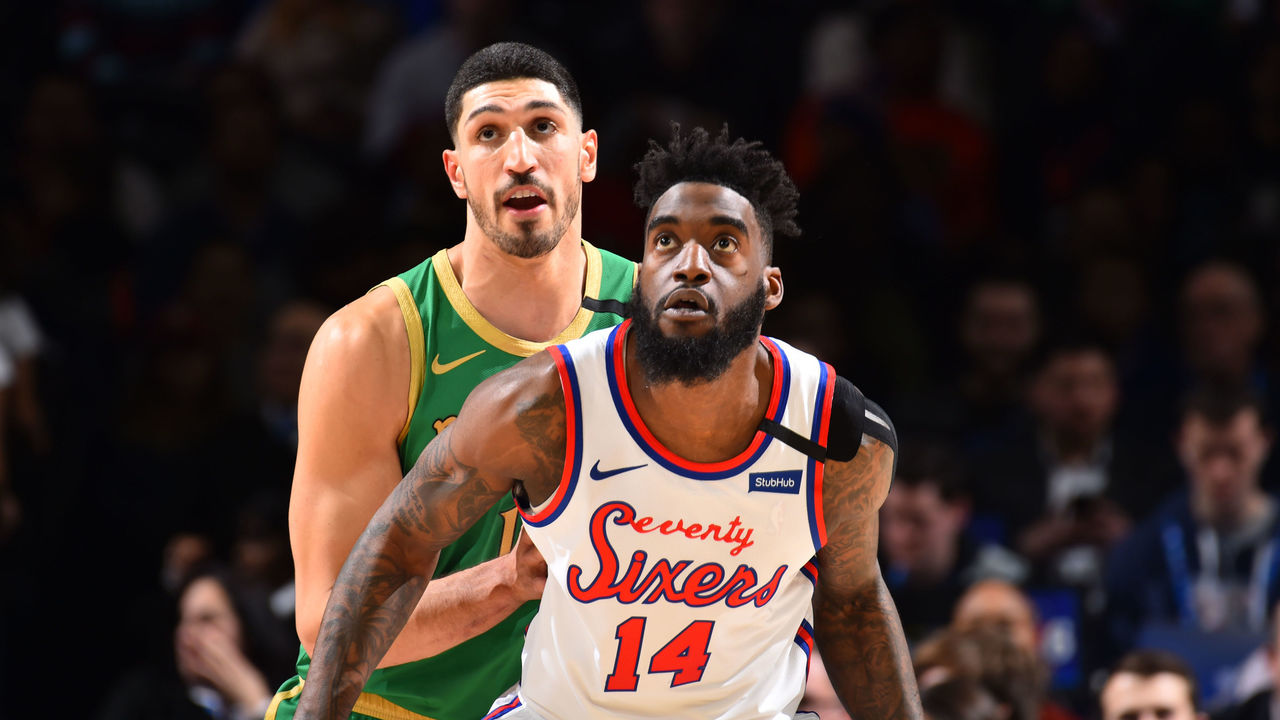 Playing Simmons at center has been a "break glass in case of emergency" look for the Sixers whenever Embiid is unavailable, but after a brutal three-minute stretch to close out the first quarter against Boston, the Sixers mothballed that configuration for the rest of the game. They didn't run Mike Scott at the five or turn to Kyle O'Quinn, either. Instead, the contest became a showcase for two-way center Norvel Pelle.
Little of what Pelle does on the court is subtle. On Thursday, he had an impressive block on Gordon Hayward after staying with him on a drive, picked up Brown on a cut and got his hand on the ball even after getting pump-faked off his feet, stoned Kanter at the basket, goaltended Kanter at the basket, got caught out of position and surrendered a put-back, lost contact with Kanter on a roll and ceded a layup, and loudly finished a pair of lobs. In short, it was a mixed bag, which is what you'd expect from a guy who's averaging 4.7 blocks and 7.6 fouls per 36 minutes.
Pelle's contributions mostly landed on the positive side of the ledger, though. His length and bounce spooked Boston at the rim, and he looked good when screening and diving in the pick-and-roll with Richardson. (Philly doesn't really have anyone else who consistently rolls hard to the rim.) Pelle could be a useful stopgap while Embiid is out.
The problem is, he's got just five NBA days left on his two-way, and the Sixers don't have an open roster spot, which means they'll have to waive someone if they want to convert Pelle's contract into a full-on NBA deal for the rest of 2019-20. If Philly goes that route, Jonah Bolden - who's played just five minutes all season - seems like a possible pink-slip candidate.
Closing time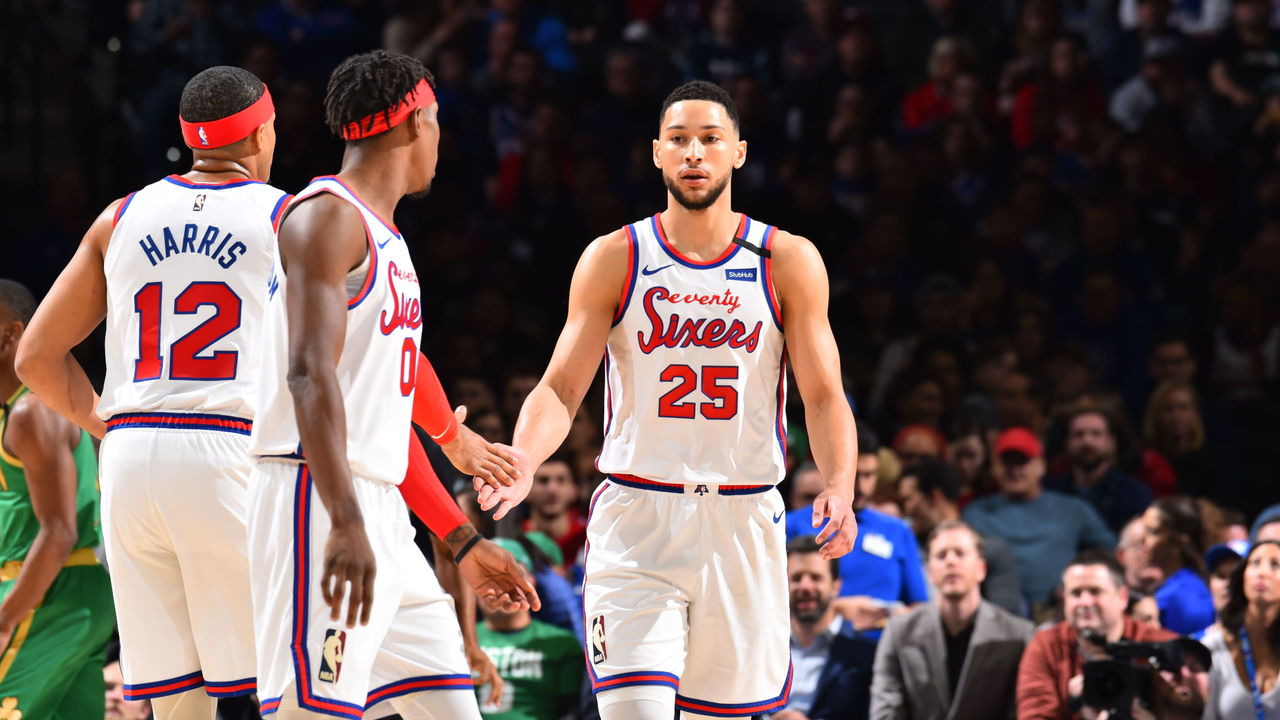 On the surface, this game spoke well of the Sixers' ability to close without Embiid. They finished the fourth quarter on a 15-6 run over the final five minutes, clamping down on defense and scoring at will in the half court. On top of being a disruptive menace at the defensive end down the stretch, Simmons hit two game-breaking jump hooks, taking advantage of a downsized Celtics closing lineup that showed him single coverage in the post.
For the most part, though, this was a case of good results and not necessarily good process for the Sixers' much-maligned crunch-time offense. Simmons and Horford were in each other's space for much of it, as both looked to post up on the same side of the floor. Only one play in the final three minutes saw either of them used as an on-ball screener. It was mostly isolation offense, which didn't generate particularly good shots.
The Sixers deserve credit for hitting those shots - it's the point of the game, after all - but if we're looking at repeatability, that baby hook isn't a reliable weapon for Simmons, who's typically a very inefficient scorer in the post. Horford hit a contested baseline jumper over Theis to help ice the victory, but he wasn't involved in much pick-and-roll or pick-and-pop action, suggesting the Sixers haven't quite figured out how to optimize him offensively, even with Embiid sidelined. Overall, they still need to figure out how to organize their attack late in games.
But we're picking nits here. This was a big win over a quality opponent - one that provided a look at how Philly can weather Embiid's absence. And using these stretches to figure out how to play without Embiid may ultimately help prevent another situation where the Sixers lose a playoff series during his minutes on the bench.
Joe Wolfond writes about basketball and tennis for theScore.