Once upon a time, Orlando Woolridge and Olden Polynice could have staged their own rendering of the Spider-Man meme: two sinewy big men pointing cross-court at each other as though staring into a mirror. Imagine how Woolridge must have felt early in the 1990-91 season when, after a decade as an NBA original, the Nuggets forward spotted his good friend and Seattle SuperSonics counterpart rocking the identifier that until then had been Woolridge's alone.
"You like my number, huh?" Woolridge said to Polynice back then, laughing.
Before Gilbert Arenas entered his Agent Zero prime and Russell Westbrook began averaging triple-doubles over whole seasons, the number adorning Woolridge's and Polynice's uniforms marked their membership in an exclusive club: NBA players who wore the jersey No. 0. Following their careers, exclusivity gave way to trendiness; what was first a curiosity and then a fad is now the norm. These days, the league's 0-wearers wouldn't fit in a single conference.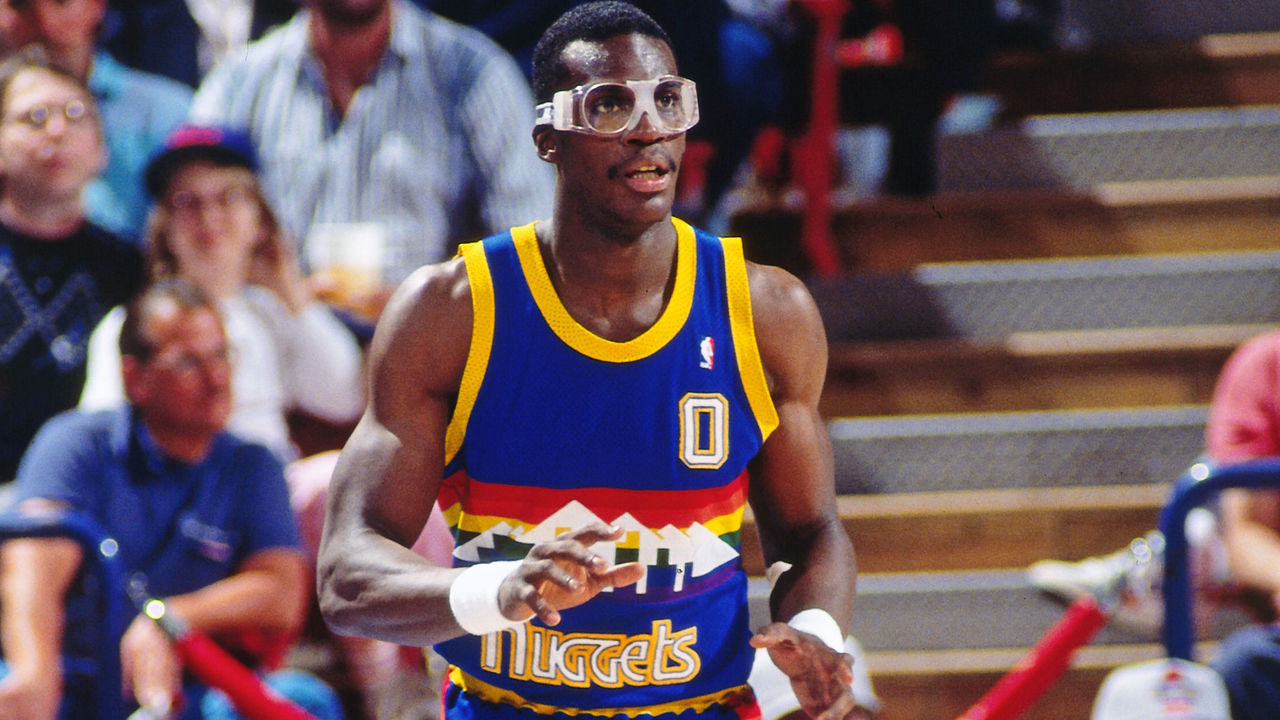 No fewer than 21 players have worn No. 0 in an NBA game this season, the second-highest total in the league after No. 5. Eighteen 0-wearers feature in their team's rotations, constituting an unofficial all-time high. Rendezvous between such like-minded opponents, once infrequent, are now a nightly possibility.
The conference-leading Lakers (Kyle Kuzma) and Bucks (Donte DiVincenzo) have zeros on their rosters. So do the lowly Cavaliers (Kevin Love), Knicks (Kadeem Allen), Pelicans (Nickeil Alexander-Walker), and Warriors (D'Angelo Russell). The marquee Christmas Day slate features eight teams with zeros, including the Celtics (Jayson Tatum), Raptors (Terence Davis), 76ers (Josh Richardson), and Rockets (Westbrook). Eleven players started wearing No. 0 just this season, affirming, as much as any statistic could, its elevation to an object of desire.
| Active No. 0 wearers | Team | Seasons wearing 0 |
| --- | --- | --- |
| Russell Westbrook | HOU | 12 |
| Jeff Teague | MIN | 10 |
| Damian Lillard | POR | 8 |
| Andre Drummond | DET | 7 |
| Kevin Love | CLE | 6 |
| Josh Richardson | PHI | 5 |
| Kyle Kuzma | LAL | 3 |
| Jayson Tatum | BOS | 3 |
| Kadeem Allen | NYK | 2 |
| Miles Bridges | CHA | 2 |
| Trevor Ariza | SAC | 1 |
| Donte DiVincenzo | MIL | 1 |
| Brandon Goodwin | ATL | 1 |
| Meyers Leonard | MIA | 1 |
| De'Anthony Melton | MEM | 1 |
| David Nwaba | BKN | 1 |
| D'Angelo Russell | GSW | 1 |
| Nickeil Alexander-Walker* | NO | 1 |
| Terence Davis* | TOR | 1 |
| Coby White* | CHI | 1 |
| Nigel Williams-Goss* | UTA | 1 |
*Denotes rookie
This phenomenon is almost entirely distinct to the NBA. Only 21 MLB players have ever worn No. 0; Yankees pitcher Adam Ottavino was unique in this regard in 2019. The number is outlawed in the NFL and NHL. But on the hardwood, the ranks have swelled: 105 wearers in league history, including 73 who first sported it sometime this decade - the era directly following Arenas' peak.
It all amounts to proof that in basketball, the nil value of our numeral system has gone mainstream. To its proponents, zero means a whole lot more than nothing.
"I always have meaning behind numbers that I wear. This year was 'zero fear,'" said Davis, one of four rookies who picked up No. 0 upon entering the league this season.
"It's a fresh start - the idea of no looking back," said Heat forward Meyers Leonard, who wore No. 11 for seven seasons with the Trail Blazers before a trade to Miami this past summer.
"It kind of looks like an O," said Richardson. "I'm from Oklahoma."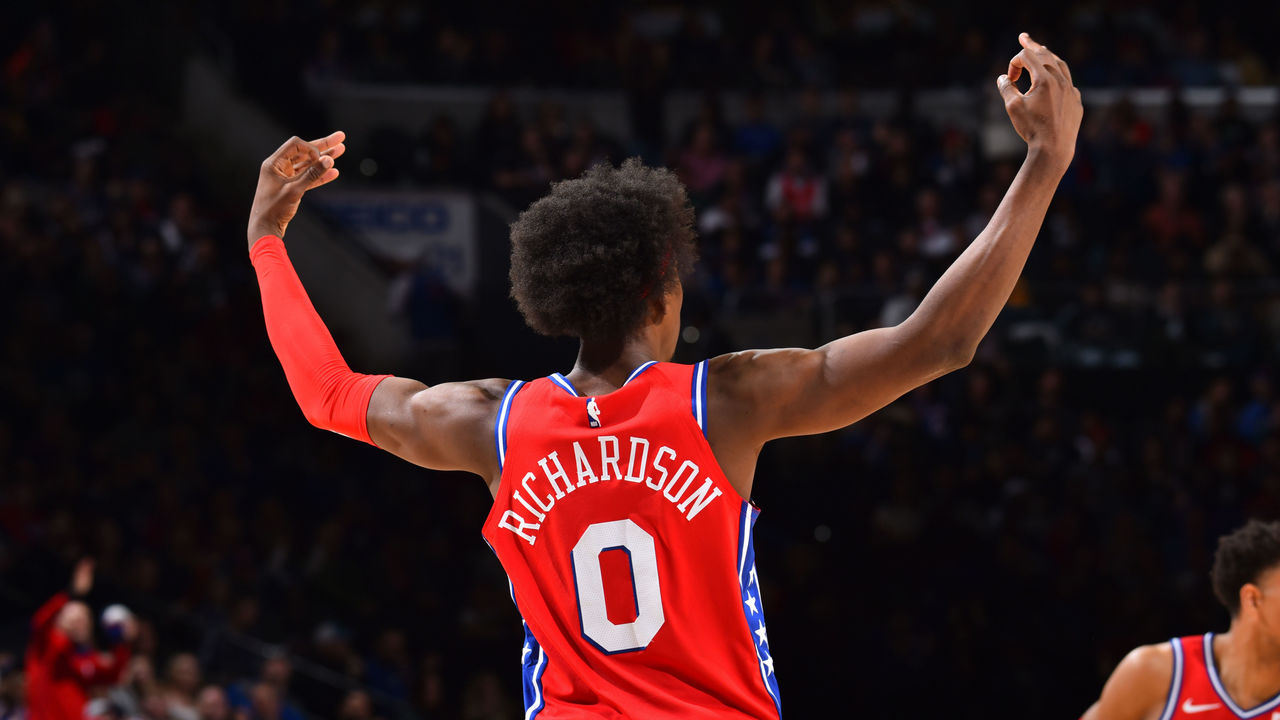 These varied rationales proliferate across the 0-wearing population. Take the resemblance to the alphabet's 15th letter. Love grew up in Oregon and (for the moment) now plies his trade in Ohio. In Portland, the Blazers' public address announcer introduces Damian Lillard - an Oakland native who went to college in Ogden, Utah - as wearing "the letter O." And it's no coincidence a guy named Orlando started repping zero first.
Some, like Leonard, see zero as symbolic of a personal reset. When Westbrook was a college freshman at UCLA, he told The New York Times that players choose to wear No. 0 when searching for a new beginning: "It helps you get the swag back." Kuzma, not wanting to imitate Kevin Durant, dropped his college No. 35 when the Lakers drafted him out of Utah in 2017, opting instead, as he told a Chinese newspaper last year, to "start from zero."
For others, zero embodies an inner fuel: a self-confidence the player wants to publicize, or a pull to prove doubters wrong. As a freshman at Ohio State in 2015, Russell explained his zero represented the number of defenders capable of guarding him. Arenas told his Agent Zero origin story in a 2007 Adidas commercial, recalling how naysayers predicted he'd play zero minutes as a rookie with the 2001-02 Warriors. His number, he said, reminded him "to go out there and fight every day."
Other innate impulses can help persuade players to fix their sights on zero. Some feel a tug to stand out amid the pack. Leonard, for one, said he's always preferred lower numbers to archetypal big-man options in the 30s and 40s. Some see in No. 0 the opportunity for flair - "If you're wearing zero, it turns someone's head," Leonard said. "It's got some pop." Tireless faith in one's own abilities seems a prerequisite, even if the 0-wearer in question isn't quite as outwardly assured as Russell.
"I think it's got to be a confident move," Richardson said. "You can't wear a zero and play like a zero."
A number on the rise
Though Woolridge's rookie season with the 1981-82 Bulls marked the first time an NBAer wore zero permanently, another Chicago player beat him to the numerical distinction by 34 years. Windy City-born guard Johnny Jorgensen donned No. 0 during the lone game he played for his hometown Stags in 1947-48, two seasons before that franchise went defunct. (Jorgensen scored four points in Chicago's 80-70 win over the St. Louis Bombers.)
A few years before Woolridge belatedly took up Jorgensen's mantle, Robert Parish made league history by wearing 00, the number the Celtics later retired in his honor. That the singular zero has far surpassed its dual counterpart in league-wide popularity can be traced, in a way, back to the Hall of Fame center. Polynice became the second player to wear No. 0 on a regular basis after joking to his coach K.C. Jones - Parish's former coach - that he figured he could play half as well as Parish. Jones suggested Polynice ditch his original number, 23, and extend that statement to its logical conclusion.
Two pivotal points along zero's NBA rise were Arenas' entrance into the league as a second-round pick in 2001 and his subsequent ascent to stardom with the Wizards. Arenas established his Agent Zero bona fides by scoring at will in a significantly slower-paced league. From 2004-07, he averaged 27.7 points per game and made three straight All-Star teams. (Knee injuries, as well as his suspension in the wake of a 2009 locker-room gun incident involving teammate Javaris Crittenton, soon precipitated his decline.)
"When he was with the Wizards, he was dope," Richardson said.
"A lot of people forget he was playing for maybe a four-year window just as well as James Harden is playing right now, with the same type of moves," said retired forward Drew Gooden, who wore No. 0 intermittently throughout his own 14-year NBA career.
"My nicknames never came from my jersey numbers," Gooden added. "It came from my last name or stuff that I did out on the floor. Put it that way."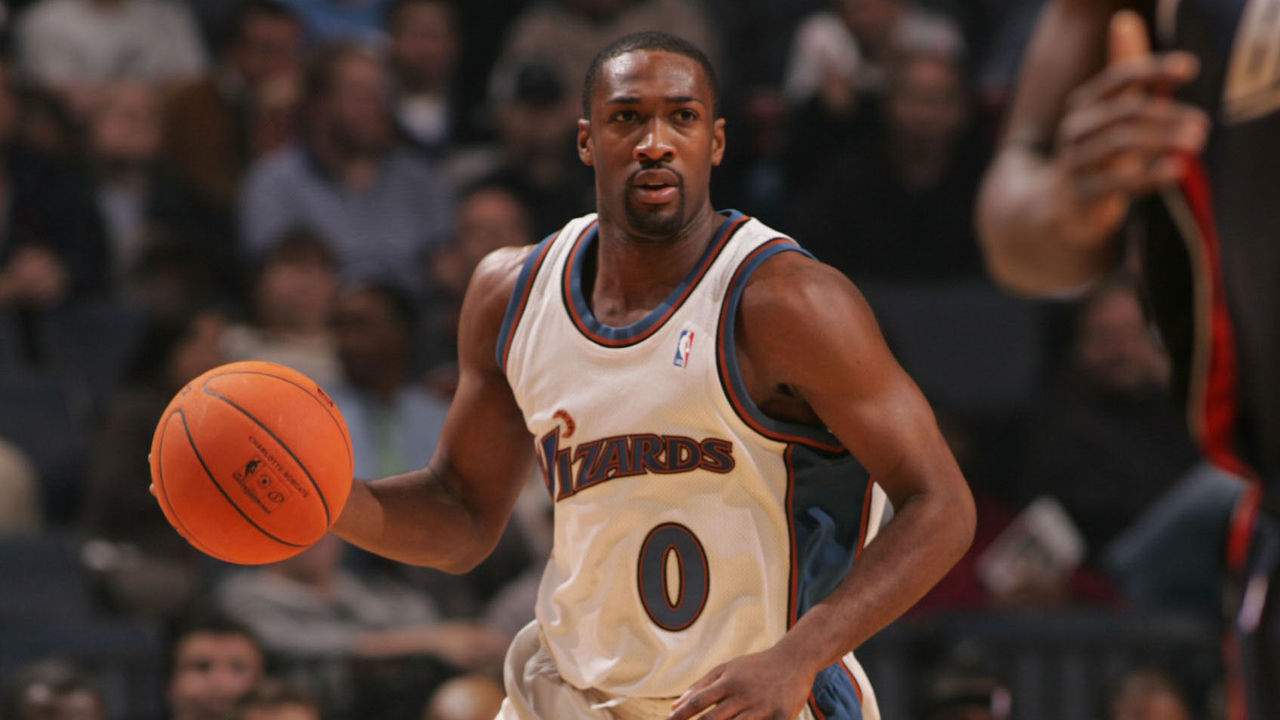 With No. 0 growing ubiquitous on NBA scoresheets, membership in the club has increasingly come to depend on circumstance. Jersey distribution around the league can be something of a musical-chairs act; whether a coveted number is available on a given team is often beyond a player's control. Leonard was able to nab zero with the Heat because Miami sent Richardson to Philadelphia as part of the same trade. The Wizards haven't retired No. 0 in Arenas' honor, but multiple Washington players - Gooden in 2013-14 and C.J. Miles this season - have been asked or have chosen to relinquish the number in deference to his legacy.
Boston represents another curious case. Tatum and teammate Jaylen Brown both wore No. 0 in college, but Tatum has it with the Celtics despite joining the team one year later - when Boston dealt Avery Bradley, its 0-wearer for seven straight seasons, to Detroit. The Celtics' roster has featured a No. 0 almost without interruption for more than 20 years, partly due to the glut of numbers (22) the franchise has retired over the years. Pressed for options, forward Walter McCarty started the streak in 1997-98 because he preferred zero to a far-flung number such as, say, 57.
"Uh, that just looks weird," McCarty said, describing his thought process at the time. "I'll go for zero if I can get it."
In L.A., Kuzma has entrenched himself as the Lakers' resident No. 0 despite his relative lack of NBA seniority. Bradley is wearing No. 11 in Lakerland after signing as a free agent in the summer; DeMarcus Cousins, formerly a 0-wearer with the Pelicans and Warriors, will sport No. 15 if he returns from an ACL tear this season. When the Lakers let Kuzma claim zero straight out of the 2017 draft, the move doubled as a sign to pending free agent Nick Young - the Lakers' No. 0 for four seasons running - that he should seek employment elsewhere.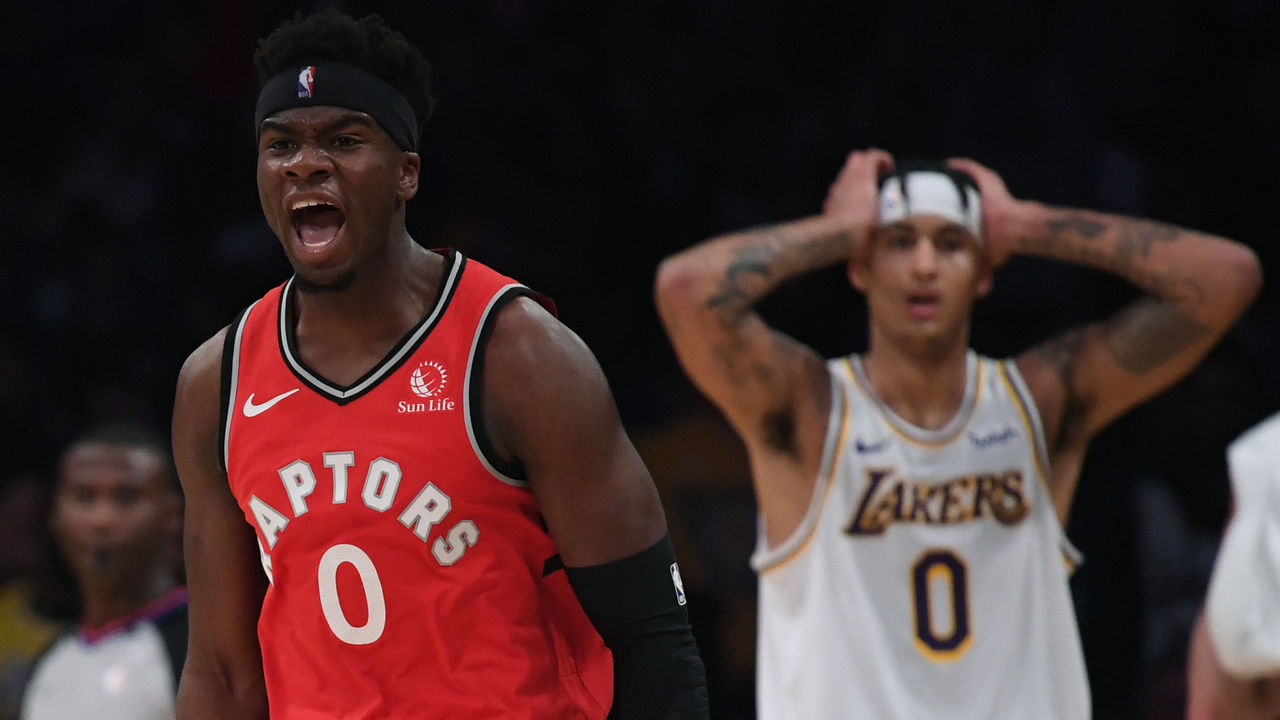 Naturally, some prospective 0-wearers have tried to test the extent to which money talks. Cousins commended Patrick McCaw's prowess as a negotiator after he took No. 0 from McCaw in Golden State in the summer of 2018. (McCaw, then a restricted free agent, wound up not returning to the Warriors.) When Gooden joined Cleveland in a trade in 2004, he failed to pry zero from Jeff McInnis, another early adopter of the number: "He wouldn't take the bribe." Even Polynice attempted to cajole Woolridge into surrendering No. 0 during their short stint as teammates with the 1992-93 Pistons. Woolridge wouldn't budge, not even for $5,000.
Not all roads lead to zero. Shabazz Muhammad confused some onlookers when he declared his intent to wear No. 0 as a rookie swingman with the 2013-14 Timberwolves - for the easily disprovable reason that it belonged to no one else in the league. In the end, Muhammad settled on No. 15, his first choice, when that number's owner was waived.
Those who've stuck with No. 0 over the years have run the risk of inviting ready-made chirps from opposing crowds. Some fans used to ask Polynice if zero denoted his scoring or rebounding average. In that sense, the number served as inspiration: "You didn't want to hear anybody's mouth."
"I used to hear (this) one a lot: 'Zero stands for nothing!'" Gooden said with a laugh. "By that time, I already had a double-double, so it really didn't end up bothering me."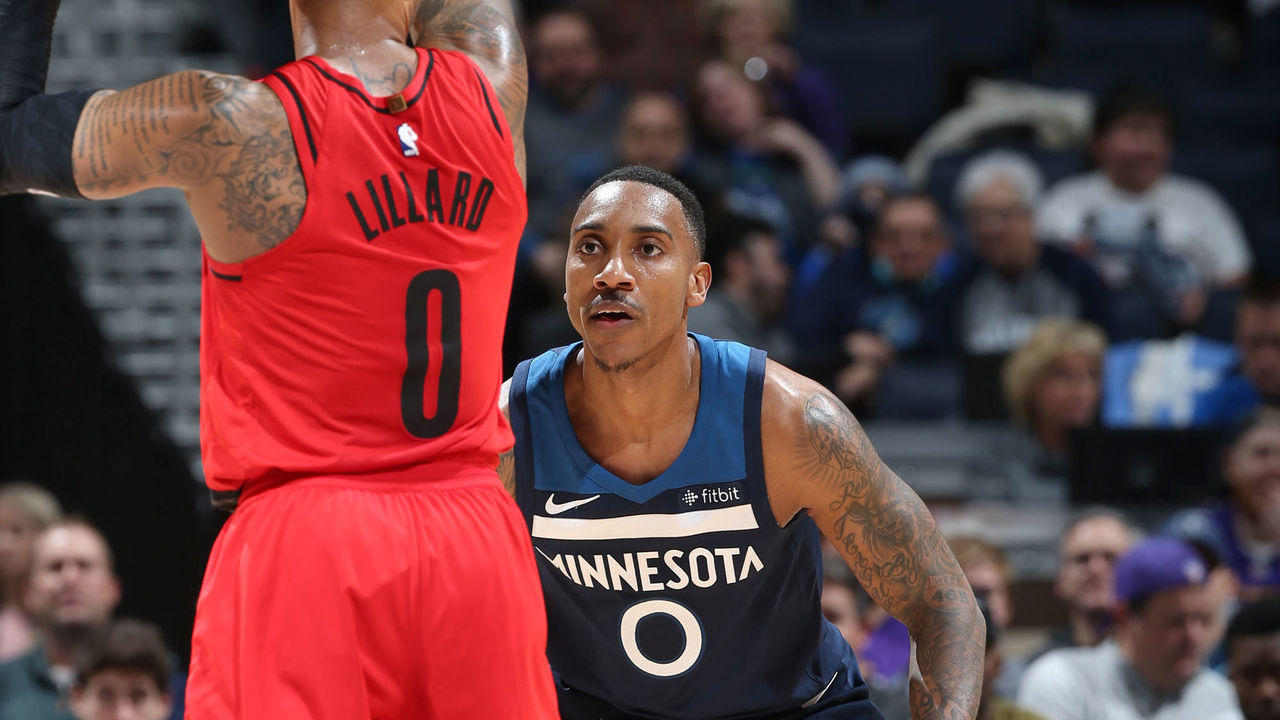 Nothing is everything
If Jorgensen and Woolridge can each claim credit for introducing No. 0 to the NBA, the number's own genesis extends slightly further back in human history - about 5,000 years back, to the Sumerian era in the region we now call Iraq. At the risk of simplifying their contributions to modern civilization, the Sumerians are known for leaving behind clay tablets that displayed a groundbreaking early form of writing. They're heroes in this story thanks to another of their seminal ideas: that we could use a digit to indicate the presence of nothing.
Zero is the base of our entire mathematical system, said Robert Kaplan, a retired Harvard math professor who authored the 1999 book, "The Nothing That Is: A Natural History of Zero." It has no value on its own, but its presence confers meaning to every other number, a function of existential importance.
"The very first sentence of my book is, 'If you look at zero you see nothing, but look through it and you will see the world,'" Kaplan said. Zero is the axis around which we organize our days. How else would we know tip-off is at 7:30 p.m.? Sumerian bookkeepers created zero so they could record for future generations, as an example, that 108 sheep were donated to the local temple in a given year. Millennia later, the same logic allowed Polynice to conceptualize his unsuccessful $5,000 bid for Woolridge's jersey number.
"Zero gives a value to other numbers by its location," Kaplan said. "It's just like passing in basketball. It's setting up the play."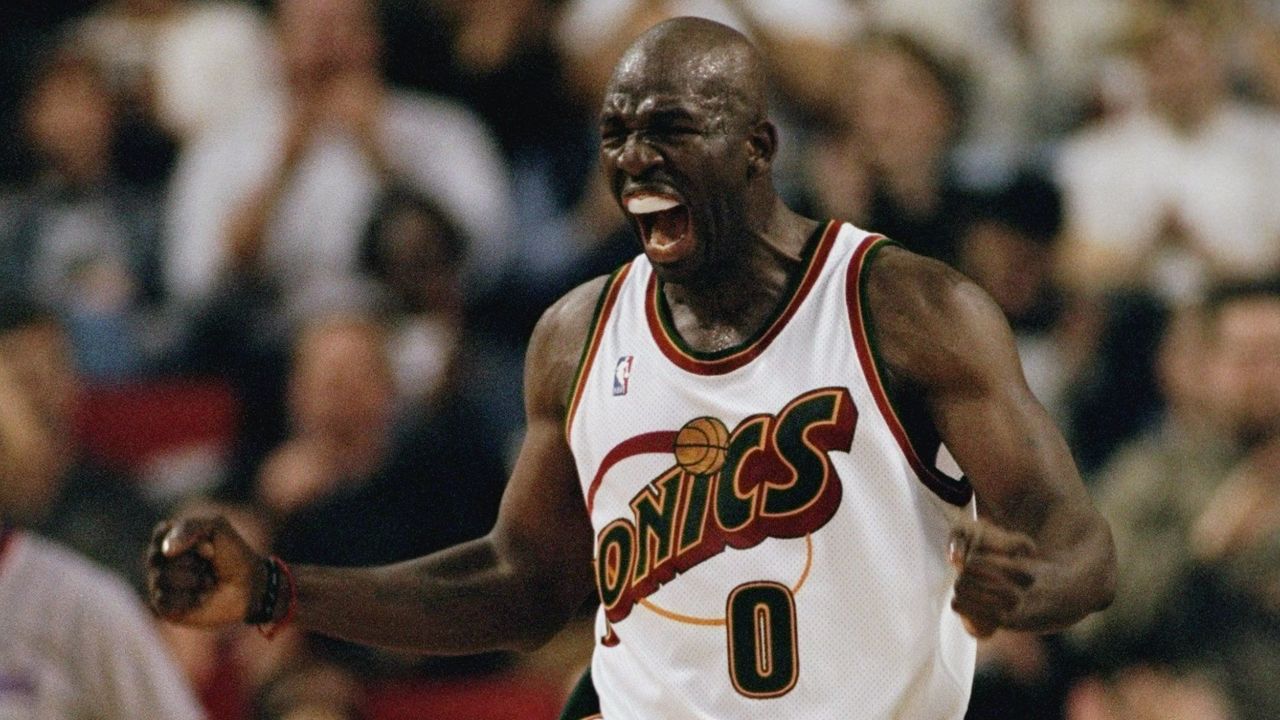 To Kaplan, the subliminal parallels between zero and basketball don't stop there. He has his own theory about why the number's stock has burgeoned in the NBA: "The zero is an abstract representation of a hoop." No player interviewed for this piece offered that reasoning, but that isn't to say Kaplan's broader line of research is out of place in this conversation. Over the course of his career, Polynice came to consider zero "the perfect number" - a model after which he sought to pattern his game.
"When I rocked that zero, I knew I was always going to surpass it, no matter what. Don't ever have anything with a zero. Don't have no zero points, zero rebounds," Polynice said. "It was like the beginning. That's what the number symbolizes. It was like the start, but there is no end. You can only go up from there."
Zero underpins everything. It's foundational, the fountainhead from which self-expression can spring. In the early 1990s, it also concretized the bond between Polynice and Woolridge. They met in 1987, at a players association meeting in Chicago ahead of Polynice's rookie season. Both men were muscular and gregarious, and Polynice wanted to pick Woolridge's brain about the game. In his telling, it wasn't long before they became tight.
When Polynice started wearing No. 0 in 1990, he didn't mind that it looked like he was copying a player he admired. He switched to No. 34 during the half-season he and Woolridge were teammates in Detroit, reclaiming the number soon after Woolridge was traded to the Bucks. Many years later, he helped train Woolridge's son Renaldo, a forward who played for a time in Europe and the G League. The former teammates stayed close right up until 2012, when Woolridge died of a heart condition at the age of 52.
Their connection felt familial, Polynice said. Maybe that's why Woolridge reacted as he did back in 1990, when Denver played Seattle and he saw his number, for the first time, duplicated on an NBA court.
"He just had a big old laugh about it," Polynice said. "It was so cool."
Nick Faris is a features writer at theScore.