Last season, Pascal Siakam rose from relative obscurity outside Toronto to become an integral part of the Raptors' championship run.
Siakam unleashed the potential that Raptors president of basketball operations Masai Ujiri envisioned when he drafted the Cameroon native in 2016. The 25-year-old increased his scoring average by nearly 10 points, consistently put defenders in a blender with his patented spin move, and made huge strides in his outside shooting en route to being named the NBA's Most Improved Player.
While it's hard to foresee one player matching Siakam's ascension, here are five players who could be primed for a breakout campaign of their own this season.
Anfernee Simons, Trail Blazers
2018-19 key stats:
| Points (per game) | FG% | 3-PT FG% |
| --- | --- | --- |
| 3.8 | 44.4 | 34.5 |
Simons' numbers don't immediately pop out, but his performance on the final night of the regular season turned heads around the league. With the Portland Trail Blazers resting many of their regulars, the 6-foot-4 guard received his first NBA start and didn't disappoint. Simons poured in 37 points on 13-of-21 shooting - including 7-of-11 from downtown - while adding nine assists and six rebounds without sitting a single second during the game.
The performance isn't all that surprising for those who've followed Simons' journey to the NBA. The 20-year-old was the ninth-ranked recruit on the ESPN 100 for 2018 - ahead of future lottery picks Darius Garland and Coby White - and chose to forgo his college eligibility to enter the draft instead.
Simons is a dynamic scorer capable of manufacturing his own offense. He can beat defenders off the bounce or stop on a dime to pull up for a jumper. He's also a reliable catch-and-shoot threat.
After playing sparingly during his rookie year, Simons is expected to back up Damian Lillard after the departures of Evan Turner and Seth Curry. He looks more than prepared for the increased load, averaging 22 points on 56% shooting to earn All-Summer League second-team honors.
Bam Adebayo, Heat
2018-19 key stats:
| Points (per game) | FG% | Rebounds (per game) |
| --- | --- | --- |
| 8.9 | 57.6 | 7.3 |
Adebayo has shown steady progression since the Miami Heat drafted him 14th overall two years ago, but the center will have a chance to accelerate his growth with Hassan Whiteside out of the picture. The 6-foot-10 Adebayo averaged nearly a double-double in 28 starts last season and had plenty of preparation this offseason for his expanded role, participating in Team USA's World Cup training camp and working out with franchise legend Chris Bosh.
"If we're talking about raw, natural talent, he's got all that," Bosh told Forbes' David Ramil in September. "The sky's the limit for him."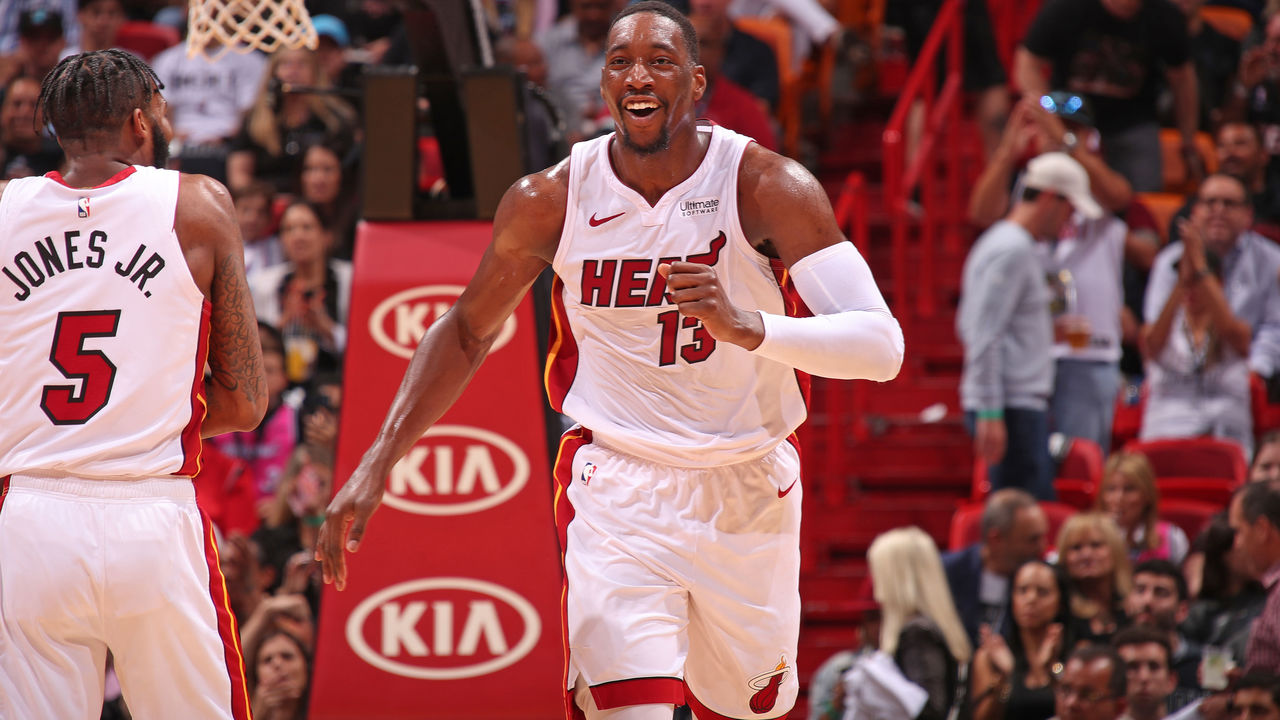 Miami would be wise to maximize Abebayo's skill set. The Kentucky product could inject some life to the Heat's transition game, which ranked dead last in the Association last season with 9.9 fast-break points per game. Adebayo is more than capable of bringing the ball up the floor and fills passing lanes for his teammates.
His playmaking skills are a huge upgrade over Whiteside and add another wrinkle to the offense. Adebayo's 14.8 assist percentage and 0.92 assist-to-usage ratio ranked in the 83rd and 91st percentile, respectively, among big men. Adebayo isn't the rim-protector that his predecessor is, but he provides more versatility and finished eighth - ahead of Whiteside - in defensive box plus-minus, according to Basketball-Reference.
Tomas Satoransky, Bulls
2018-19 key stats:
| Points (per game) | FG% | Assists (per game) |
| --- | --- | --- |
| 8.9 | 48.5 | 5.0 |
The Chicago Bulls drafted White as their point guard of the future, but in the meantime, Satoransky could bring some stability to the position after years of turnover. The 27-year-old filled in admirably for the injured John Wall, averaging 10.7 points and 6.2 assists in 32.5 minutes across 54 starts for the Washington Wizards last season.
From his shot selection to decision-making, Satoransky was incredibly efficient with the ball in his hands. As a starter, he shot 40.4% on threes and nearly 50% from the field overall despite having a relatively low usage rate. He also posted a 3.5 assist-to-turnover ratio during that span, which would've ranked around the NBA's top 10.
The 6-foot-7 guard joined Chicago via a sign-and-trade this offseason and Bulls fans have many reasons to be excited about their new floor general. The former second-round pick was one of the top players at this summer's FIBA World Cup and thrived as the leader of an underdog Czech Republic squad.
Satoransky finished the tournament second in assists per game with 8.5 and shot just under 50% from distance to help the Czech Republic reach its first-ever World Cup quarterfinal as an independent nation.
Jonathan Isaac, Magic
2018-19 key stats:
| Points (per game) | 3-PT FG% | Blocks (per game) |
| --- | --- | --- |
| 9.6 | 32.3 | 1.3 |
Just two years into his NBA career, Isaac has already proven to be a solid defender with his length and mobility. He has great shot-blocking instincts and can switch onto smaller guards. Isaac should continue making strides with the Orlando Magic under the defensive-minded Steve Clifford. But after a strong second half this past season, the former No. 6 pick also appears ready to take the next step offensively.
Isaac grew more confident in his shooting as the season progressed, especially from distance. Prior to the All-Star break, Isaac made only 28.7% of his 3.1 attempted triples per game. In the subsequent 22 appearances, he averaged 1.5 more threes and connected on nearly 40%. He found his sweet spot in the right corner, hitting 38.1% of his 3-pointers from that area across the regular season.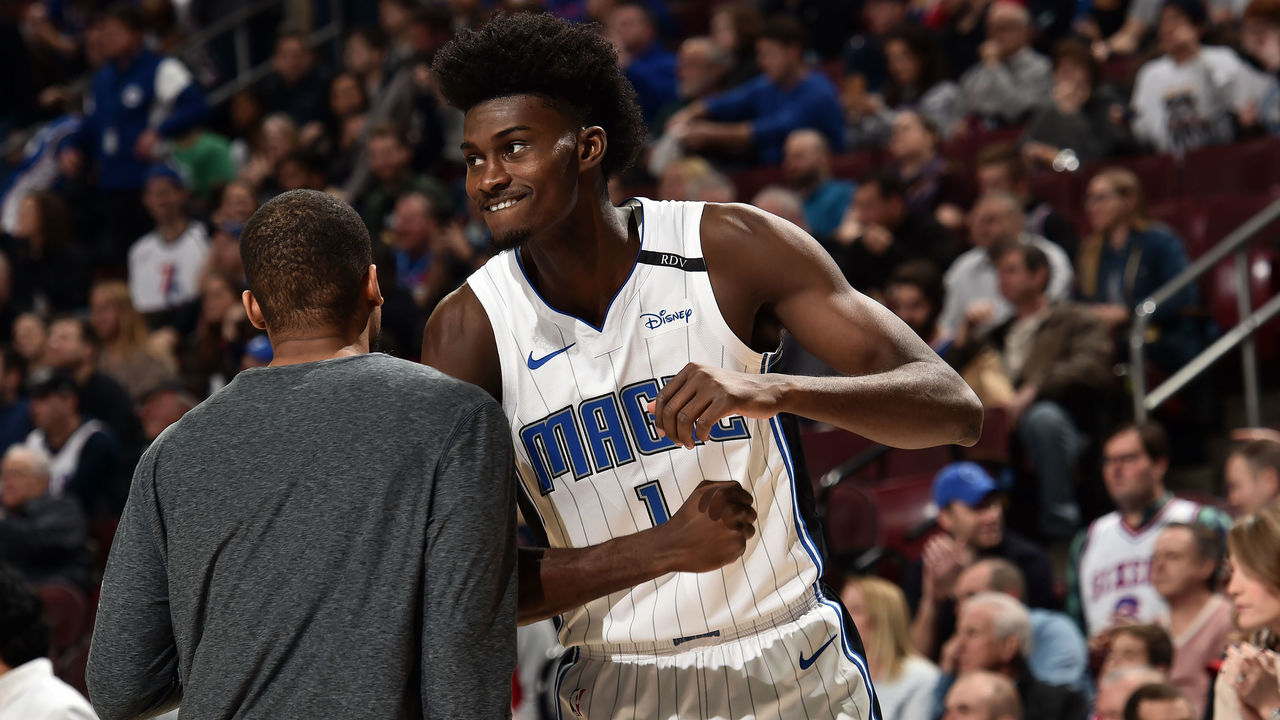 If the 22-year-old can continue his progression as a stretch-four, he'll see plenty of chances to expand his offense. Opposing defenses will be more aggressive in their closeouts, allowing Isaac more opportunities to pull up or attack the paint. He's a solid free-throw shooter and should look to draw more fouls, especially after adding approximately 25 pounds this offseason.
"It's just about being comfortable out there on the court and with the changes in my body," Isaac said in August. "It's now about being able to bump and grind on the inside and take those hits."
Mitchell Robinson, Knicks
2018-19 key stats:
| Minutes (per game) | FG% | Blocks (per game) |
| --- | --- | --- |
| 20.6 | 69.4 | 2.4 |
You'll be hard-pressed to find a player who was more efficient than Robinson last season. The New York Knicks center managed to rack up the fourth-most blocks in the NBA despite missing 16 contests and playing less than half a game per night. Robinson's usage rate was among the lowest at his position, but he topped all players with a 69.2 true shooting percentage during the 2018-19 campaign.
At 7-foot-1 and 240 pounds, Robinson was nearly automatic around the rim. He made 70% of his shots within 4 feet of the basket and has the strength to finish through contact, landing in the 72nd percentile among big men in buckets made after drawing a shooting foul.
Robinson's rebounding took major strides that can't solely be attributed to a bump in playing time. Before the All-Star break, he had averaged 4.7 boards in 17.9 minutes across 42 appearances but doubled his average in the 24 games that followed despite just 7.5 more minutes of play per contest.
His 109 contested rebounds and 226 overall over that span ranked eighth and ninth, respectively, in the Association. Robinson ended the 2018-19 campaign with a 13.1% offensive rebounding rate on his team's missed field goals, which ranked in the 91st percentile for his position.
While Robinson struggled with foul trouble at times, he should build on his already impressive numbers as the Knicks' full-time starting center this season.
(Percentiles courtesy: Cleaning the Glass)