Every year, 29 teams fall short of the ultimate goal, and every year those 29 teams are left asking themselves how they can take the next step.
With the Eastern Conference's second round in the books, here's a look at how the two eliminated teams might go about answering that question:
Philadelphia 76ers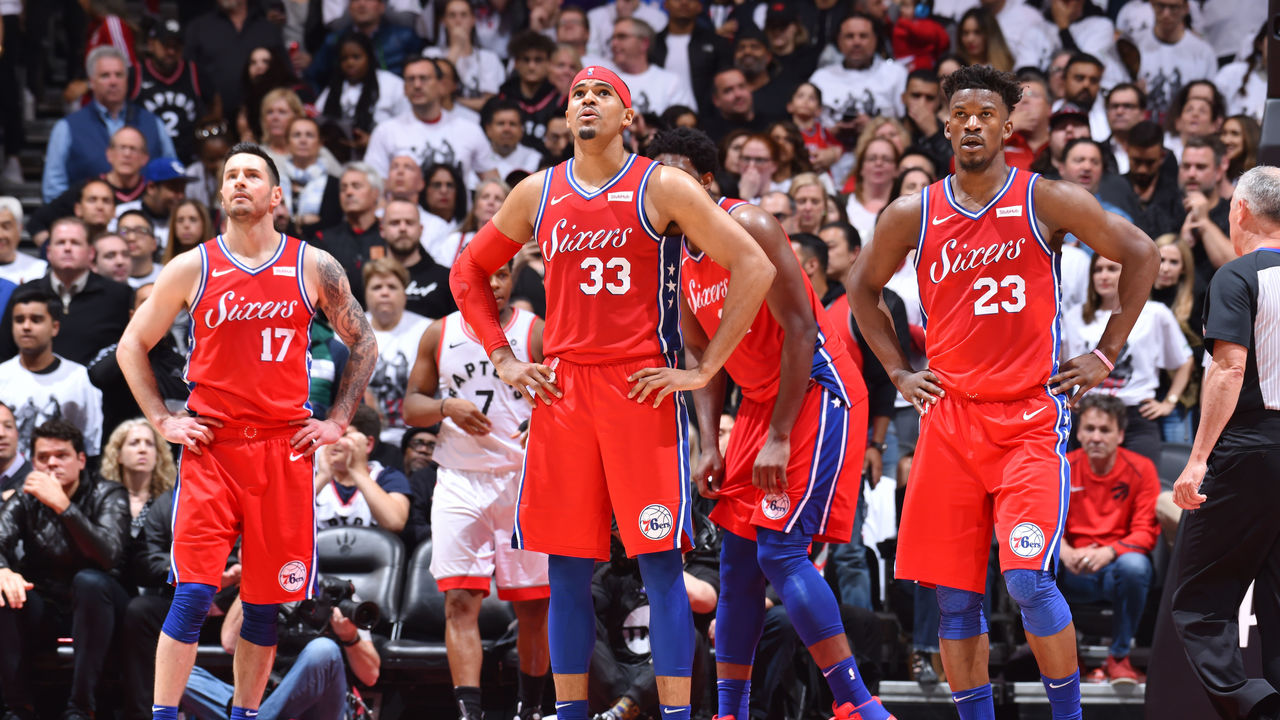 After years of methodical planning and asset accumulation, the 76ers and first-year general manager Elton Brand slammed on the accelerator this season, swinging two massive trades for a pair of stars on expiring contracts in Jimmy Butler and Tobias Harris. Ultimately, it wasn't enough to get the Sixers out of the second round, but their impressive showing in a seven-game loss to the Toronto Raptors offered plenty of reasons for optimism.
However, after seeing their all-in season end in the most painful possible fashion, the 76ers are staring at an offseason in which 80 percent of their roster is hitting free agency, from tentpole guys like Butler, Harris, and JJ Redick to supporting pieces like Mike Scott and James Ennis. The only players under guaranteed contracts are Joel Embiid, Ben Simmons, Zhaire Smith, and Jonah Bolden.
Securing coach Brett Brown's job status was a good first step toward a semblance of stability. Brown had to adapt on the fly with a roster that was remade twice during the season. And while there were certainly bumps in the road, he ultimately pulled things together and turned in a very good playoff coaching performance. After gamely steering this team through its multi-year tanking endeavor, Brown deserves a chance to see what he can do with a stable roster.
Questions about Simmons' offensive fit will surely burble up again after a series in which he posted a 20 percent turnover rate while using just 14.9 percent of Philly's possessions, the second-lowest mark among the team's rotation players. Those fit issues are going to persist for as long as Simmons' jumper remains strictly theoretical. But there are workarounds for that hole in his game, even in the half court, and in the meantime, Simmons has proven himself as an exceptional defender of wings and forwards.
And for all the handwringing about fit, Philadelphia's star-laden starting lineup played extremely well together, putting up a plus-17.6 net rating during the regular season and a plus-24.9 mark during the playoffs. In fact, that lineup outscored the Raptors by 8.7 points per 100 possessions in the second round. It was the Sixers' bench and transitional lineups that got them into trouble. Going forward, they need to bolster their depth and address a couple specific areas of need.
For one, Philadelphia desperately needs to upgrade the backup center spot. The team was a train wreck all season when Embiid wasn't on the floor - a situation that was only exacerbated in the second round, when the Sixers were somehow outscored by 109 points in the 99 minutes Embiid spent on the bench. Simmons may be able to handle that role in spurts when the 76ers stagger his and Embiid's minutes, and Bolden holds some promise, but the team needs some insurance at the position. Philly can't end up relying on the likes of Boban Marjanovic and Greg Monroe in high-leverage spots again when Embiid sits.
The Sixers could also really use a more natural point guard defender. As good as Simmons can be defensively, his size makes it difficult to track smaller, shiftier guards. Maybe Philly can nab a free agent such as Patrick Beverley - a guy they probably should've gotten in the Harris trade with the Clippers.
When Philadelphia made that Harris trade at the deadline, it seemed like a potential hedge against losing Butler in free agency. Butler is nearly 30 years old with a checkered injury history and a track record of wearing on teammates. The thought of giving him a five-year max contract might cause a stomach ache. But the playoffs definitely proved he should be Philadelphia's top offseason priority.
Through two rounds, Butler was the Sixers' most reliable scorer and playmaker, and the only guy who seemed able to organize their half-court offense. He was their closer, and they came to rely on him immensely to create in crunch time. Philly likely will - and should - try to get him to accept a four-year deal. That's all he can sign elsewhere, anyway, and the Sixers can still offer him more money than any other team. But the fact is, Butler has most of the leverage here. The team needs him, and he knows it.
Nobody seems to talk about Redick's free agency, but his shooting has been vital for the Sixers, and they don't really have a way of replacing it. Sure, Harris is a great shooter, but he doesn't have Redick's quick release, and he doesn't move as well without the ball.
Redick's off-ball gravity pumps much-needed oxygen into the Sixers' offense when they play multiple non-shooters at once. It allows Simmons and Embiid to punish defenders who sag way off them by either screening away or pivoting into quick-hitting dribble handoffs that free Redick for catch-and-fire jumpers. And when defenses sell out and send two at Redick coming off those handoff screens, he's become an adept-enough passer to hit the screener, usually Embiid. Even given his advanced age - Redick turns 35 next month - and his defensive shortcomings, Philly likely can't afford to lose him.
Harris might pose the trickiest offseason question for this team. He's a good fit, and the Sixers gave up a ton to get him, including two unprotected first-round picks and Redick's would-be replacement, Landry Shamet. But is being pot-committed reason enough for the front office to bring Harris back at any cost? Especially after the woeful postseason he just suffered though?
Harris figures to command an annual-value contract somewhere in the realm of $25 million, which would be appropriate given his skill set but doesn't necessarily make sense for a Sixers team that can't really optimize those skills. On this roster, he's at best a third or fourth option on offense, and a target on defense. Given that Philly will likely be paying max or near-max money to Embiid, Simmons, and Butler pretty soon, a nine-figure contract for Harris could be tough to swallow.
So, yeah, the Sixers are facing a lot of questions this summer, with few easy answers. For the most part, though, these are good problems to have. The talent is there, and they've proven they can go toe-to-toe with the league's best teams, even if the fit isn't quite perfect. Embiid and Simmons only figure to get better, and a team led by those two and Butler should be a defensive juggernaut. Ownership has expressed a willingness to spend into the luxury tax for a championship contender, and this team absolutely has the makings of one. It's time for the Sixers to put their money where their mouth is. - Joe Wolfond
Boston Celtics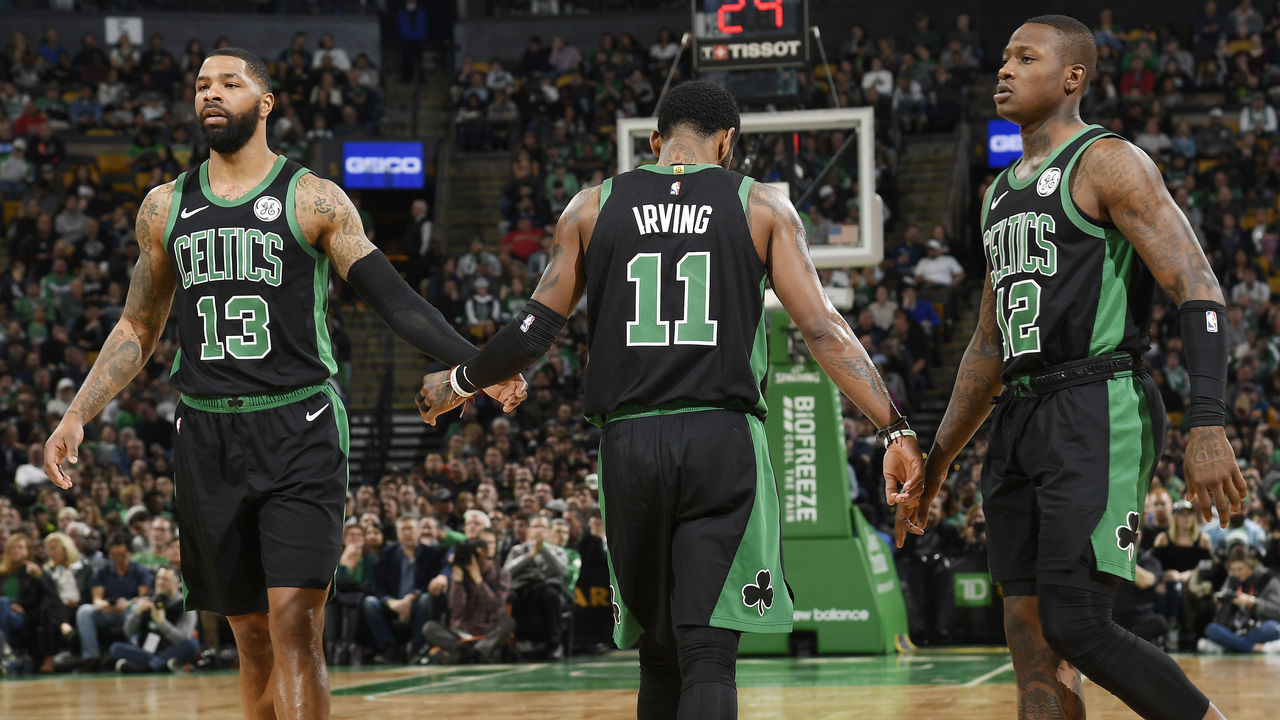 It was all so promising just seven months ago.
The Celtics were supposed to rule the East. Kyrie Irving was supposed to become a Celtics legend. A healthy Gordon Hayward would return to stardom while young players Jayson Tatum, Jaylen Brown, and Terry Rozier took monumental steps forward. Oh, and Boston would leave the lottery with four first-round picks while the team did battle in the conference finals.
Yeah, about all that.
The Celtics stumbled out of the gate this season, rarely seemed capable of putting a consistent week of elite basketball together, bumbled their way to a disappointing 49 wins followed by a second-round playoff exit, and reportedly saw their locker room fractured by Irving's failures as a leader. Those four first-rounders, meanwhile? Turns out it will only be three, and they aren't nearly as good as imagined back in October.
As a pending unrestricted free agent, Irving's return is far from a foregone conclusion. Al Horford could join him on the open market, and pending restricted free agent Rozier sounds like he's had enough of the poisoned well in Boston. So where do the Celtics go from here?
Here's the best-case scenario: Armed with three first-rounders and Tatum headlining a still-promising crop of youngsters, the Celtics force their way into the Anthony Davis sweepstakes and land the type of superstar partner who can convince Irving (and potentially Horford) to re-sign.
The worst-case scenario? Irving has already decided that his next game at TD Garden will be as a visitor, Horford wants to chase an elusive Finals berth elsewhere, and Danny Ainge quickly realizes that his prized projects have lost too much luster to entice the Pelicans in a deal for Davis.
Based on the way Boston's 2018-19 season unfolded, which of those scenarios seems more likely right now?
There's probably an in-between reality, where even if the Celtics strike out on Davis, Irving, and Horford, the team still has enough youth, draft picks, and cap space to remain a formidable playoff team next season under the guidance of coach Brad Stevens.
Still, given what this team was supposed to be for the next half-decade, anything but the best-case scenario will feel like somewhat of a failure. - Joseph Casciaro