Bruce Buffer Q&A: Working during COVID-19, desire to announce at Super Bowl
Cooper Neill / UFC / Getty
For the first 24 years of his career as the UFC's Octagon announcer, Bruce Buffer fed off the energy of crowds to deliver what he calls his most impactful "roars."
But then COVID-19 happened, and Buffer had to start announcing in empty venues such as the UFC Apex in Las Vegas and Flash Forum in Abu Dhabi, United Arab Emirates.
Somehow, the 64-year-old had no issue adjusting.
"It's the same," Buffer said of announcing during the pandemic. "I bring it every time."
theScore caught up with Buffer to discuss working during the pandemic, his new business, and several other topics.
(Editor's note: Interview edited for length and clarity.)
theScore: You recently launched Millions.co, a social e-commerce platform that connects athletes with fans. Can you tell me more about the company and how you got involved?
Buffer: I've always been very interested in the fighters making as much money as they can make beyond their purses in the Octagon or the ring. Obviously, you always want to see them make as much money as they can there. But the basic fighter or athlete, I realized they seem to think they need to be hugely popular before they can get a hat or a T-shirt, a sponsorship deal, or whatever.
If you're a professional fighter, you should have a chance to give back to your fans, whether it's to have an Ask Me Anything-type video, where they can ask you any questions they've accessioned. So, instead of doing it for free on Instagram or Reddit, you charge a little bit of money to your dedicated fan base to give them even more of a dedicated thing, and you make money. Or you can invite them to watch a fighting event with you - like Joe Rogan does on his podcast. And they're sitting there with you, and they're watching it with you because they're your fan.
And then, of course, the all-important merchandise line - to have a T-shirt, hat, hoodie to offer back. The problem is that most young athletes or most older, experienced athletes, they don't want to have to go out and buy the merchandise and sell it and stock it and ship it. We do all that for you. Everything. And if you're with a company and they give you a clothing deal, you're probably going to receive maybe 10% of the net profits off that deal. We give back 80%. We're giving the lion's share back to the athlete. I want the athletes to make money. And that's what we do.
theScore: The COVID-19 pandemic has affected all of our lives over the past 15 months. How, if at all, has it changed your job as a ring announcer?
Buffer: It's the same. I bring it every time. There were 22,000 people in the audience at UFC 262 and maybe 22 to 50 people in the audience at the event after that. But I still bring it. Now, of course, when there's 22,000 fans, I'm going to bring it a little harder and a little more, because I'm playing to a huge group. But I still want to enhance the moment for the fans watching on TV and whoever happens to be in the Apex at that time.
My job is to lift that fighter beyond where he or she already is, to enhance that moment even more to get them ready to put their blood, sweat, and tears on the line. And I'll always bring it, and I bring it 100%. And the moment I can't is the moment I'm going to retire. But I'm not going to retire. Don't worry.
theScore: Has the job changed behind the scenes at all?
Buffer: Audience or not, there's preparation. My cards take anywhere from three-to-four hours to finish. Obviously, there's not as much research or work as a commentator like Jon Anik, who's going to talk for six-to-seven hours, but the preparation, the preshow, and the postshow are all exactly the same, audience or not. The UFC is a very well-oiled machine, and everybody is in there to do the best job that they can do.
theScore: As much as it's been the same for you during the pandemic, I'd imagine you loved having the fans back at the recent pay-per-view events.
Buffer: I loved it. I'm very COVID safe and very COVID conscious. I apologize to the fans that I'm not taking pictures, shaking hands, and signing autographs. I'll take pictures from afar, but they just have to understand that until further notice, that's the way it's going to be. I'm in this game to stay healthy so I can keep doing my work and take care of my loved ones and family around me. I'm very COVID conscious. This is not a joke. Even now, this is not a joke.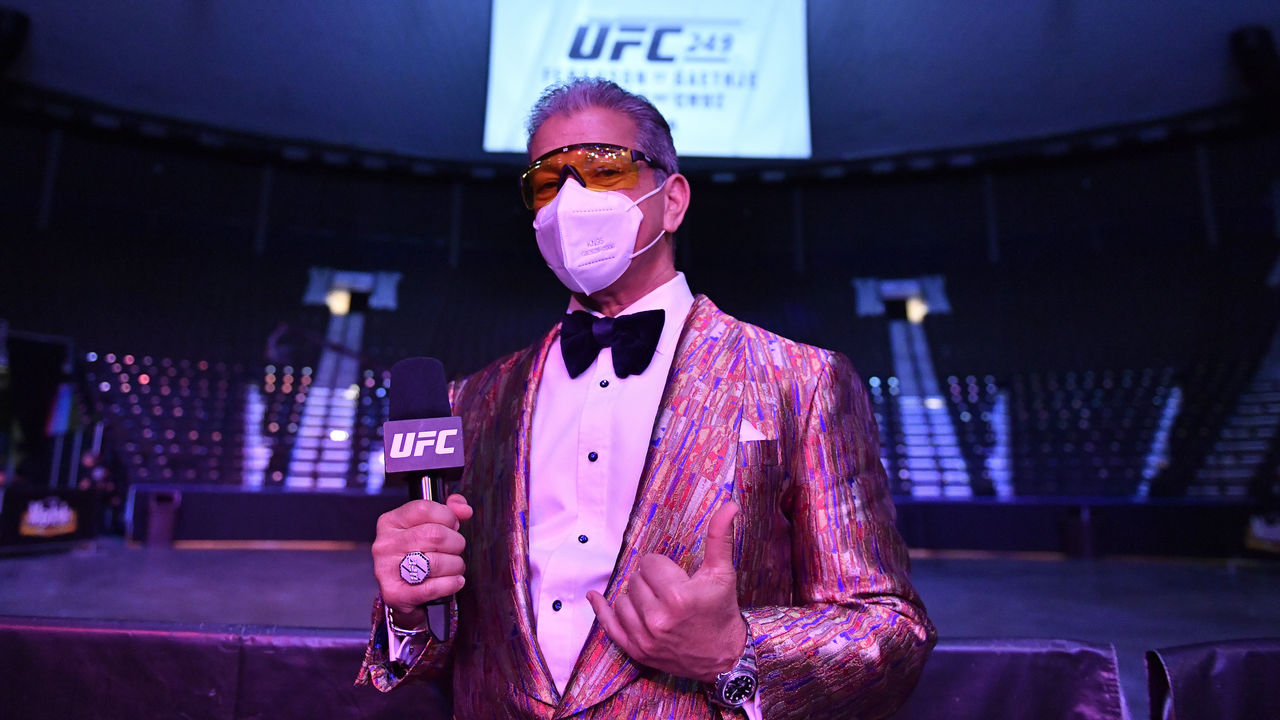 theScore: Over the years, your main-event speech has gotten tweaked once in a while. How and why are those changes made?
Buffer: There's an evolutionary process to everything. It's grown over the years. My main-event speech pretty much is along the same lines every time. A little bigger and more rubato for the bigger events. But I clear everything with production. And to me, it's not what I say, it's how I say it. I always emphasize the words - I emphasize to create that excitement. But that's just a natural evolutionary process. Maybe (UFC president) Dana White and I met 20 years ago and he wanted me to stop saying, "It's time to begin the Ultimate Fighting Championship," the way I used to say it, at the beginning of the show, which is fine.
It wasn't until maybe a couple years later that I developed, "It's time," as my catchphrase for the main event. I was never catchphrase-driven. Everybody thinks because of my brother - the great Michael Buffer - that you need to have a catchphrase, but you don't. I never wanted to be Frank Sinatra Jr. I wanted to be Bruce Buffer and seen for Bruce Buffer. And I spent years developing my own style. That changes over the years.
theScore: What goes into your vocal preparation for fight nights?
Buffer: All I do is take care of my voice and don't damage it in my off time, much less at a show. I've got honey on the table, and some Halls mentho-lyptus and Rincinol when I need it. But outside of that, I never rehearse. I only go over the fighters' names to make sure I have them right. I walk out and that first announcement I make is the first roar that I give. I feed off the energy of the crowd. There's a rehearsal voice and then there's a live voice. I want to make sure that I give it the live voice, not the rehearsal voice.
I know where my voice is, I know where it's going to come from, I know what I have to do. It's almost like, put me in that Kentucky Derby cage, where the horses are in and they're huffing and puffing and spitting before that door opens and they race around the track. Well, that's the way I am before I enter the Octagon. Let me get into that Octagon and boom, let me go run.
theScore: One thing I find fascinating is the evolution of the Buffer fist bump. Have you noticed an increase in fighters who reach out for a fist bump during their prefight introduction? If so, why do you think that is?
Buffer: Yes, I've noticed it, too. I never instigate the fist bump. That does not come from me. That's the fighters instigating it to me that they want it. Or guys like Michael Chiesa or Jack Hermansson wanting to get close to me, for me to be in their space, that's the highest of compliments, because they could easily just pop me and say, "Get out of my space." There's no other announcer I think that the fighters entertain like that. And whether there is or not, when it happens to me, it's like when a kid walks up to me and asks me for an autograph. That's one of the greatest compliments to my work that I could possibly get - that I'm having an effect on a young child.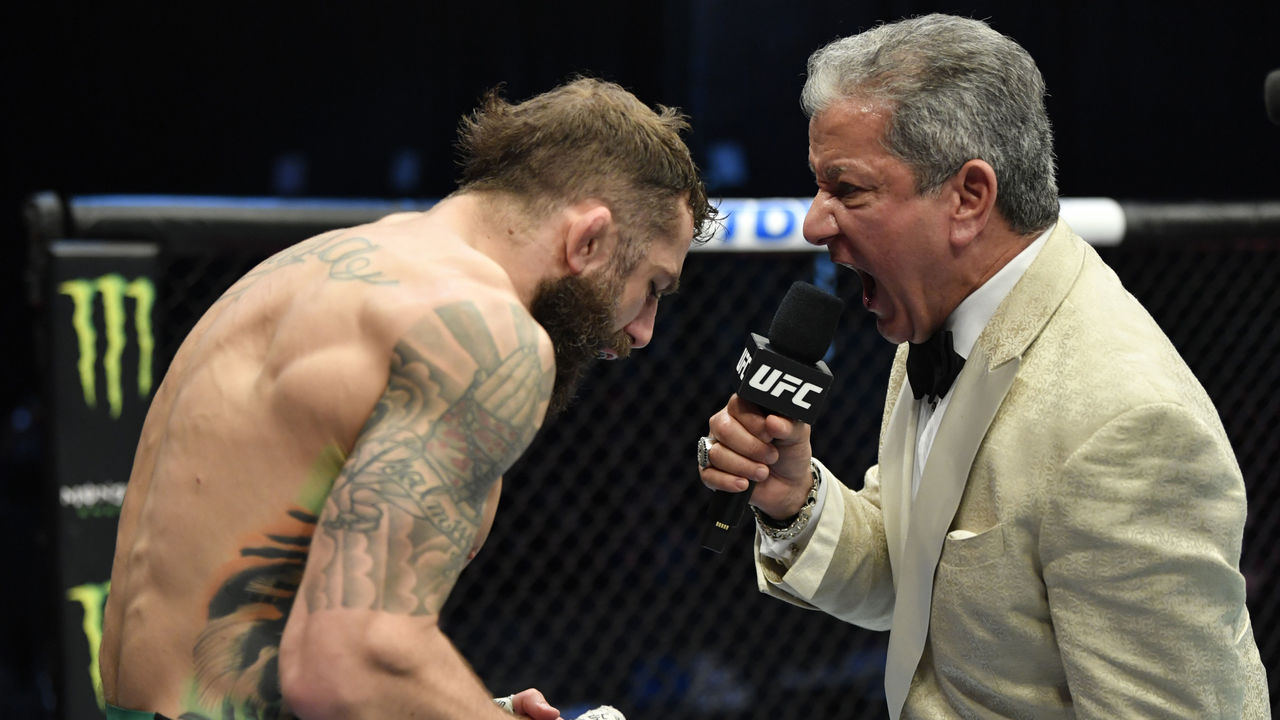 And if I'm having an effect on the great warriors that I'm introducing, then that's another fantastic compliment that makes my job all the more worthwhile - that they respect me and that I'm getting them going like that. That's what I'm there to do. I don't stand still and work on the modulation of my voice - I put my whole body and everything into it. And that's the way I have to work. And if I can't work that way, I'm not going to work.
theScore: Although you don't root for fighters, do you have any current favorites to watch?
Buffer: I like to watch all the fighters, but you have those "it"-factor fighters out there that are just so much fun to watch. Israel Adesanya, of course, and Francis Ngannou commanding the heavyweights. I'm a fan of a lot of the fighters. I'm a fan first. Before I'm an announcer walking in, I'm a fan first. So I have a lot of fighters that I'm a fan of. And I respect all of the fighters. They're an amazing group of people. I've had the chance to create some very fantastic friendships and relationships over the years.
theScore: So, when you're sitting cage-side, maybe you're prepping for the next announcement, but you're also enjoying the fights just as much as the person next to you.
Buffer: Oh yeah. If you see my head down, I'm making notes for the next fight or I'm getting texts from production or people I know about the fights. But I'm enjoying the fights. I'm always enjoying the fights. I can announce somebody and not look at the card and get it all right. Believe me: If it doesn't look like I'm seeing the fight, I'm seeing the fight. Trust me.
theScore: It's been 25 years since you first stepped into the Octagon. What moments stand out to you?
Buffer: The thing is, there are tons. You go back to Forrest Griffin and Stephan Bonnar at the "TUF 1" finale. That was a great fight. You go to UFC 100, where I jumped up and did a 360 after the pushing of the internet fans and Joe Rogan for some eight months. That was a fun night for me. You go to UFC 200 or when Tito Ortiz fought Ken Shamrock one time. I can go on and on and on. There's all these great nights. And every time I think it's been the greatest night, boom, another great night happens.
Look at all the great shows we've had just in the last year. It's phenomenal. This is the beauty of the UFC and all the entertainment it brings and what Dana White and the powers that be put together for us. I'm happy to have a first-class seat on a rocket ship called UFC going uphill, and it's a great ride, man. That's all I can tell you. It's a great ride.
theScore: You've done a lot outside the UFC. You wrote a book, played professional poker, launched a line of bourbon, and much more. Can you think of anything you want to accomplish but haven't yet?
Buffer: I would love to be out on the Super Bowl field announcing the two teams on the 50-yard line coming out and setting off the game with "It's time." I've had a Super Bowl commercial, but I haven't appeared at the Super Bowl. I would love to do that.
theScore: Is that something you'll actively pursue?
Buffer: You wait for the right opportunity. Just like managing my brother, when they want him or me to do things, they come after us. So, hopefully, one day I'll get a call. I mean, if I'm in a room and I know the power that be that makes that decision is in that room, you don't think I'm going to talk to him? Trust me. I already told Tom Brady to get me on the field for the Bucs at the first game next year. So we'll see what's up.
theScore: He can probably make it happen.
Buffer: Yeah, I think Tom has power.
theScore: Most would say you're one of the most beloved figures in UFC history. Why do you think you've resonated with fans?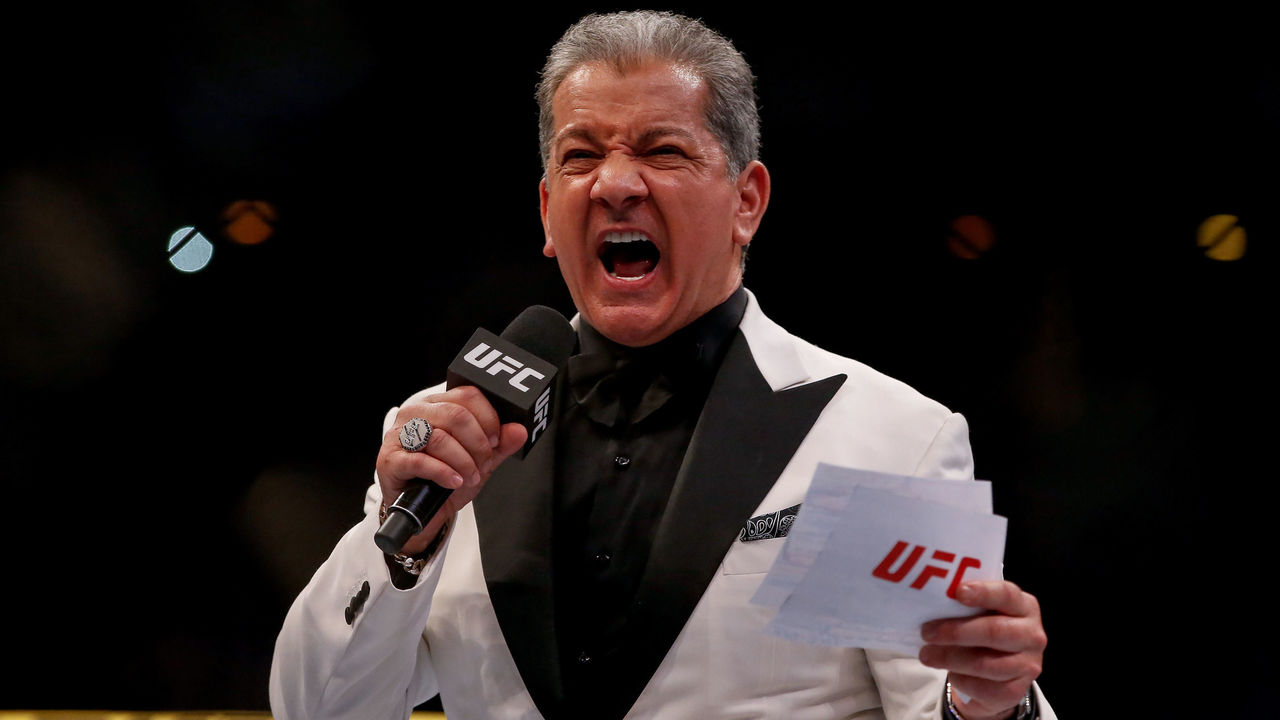 Buffer: I have a basic rule in life: I treat everybody with respect. I don't consider myself better than anybody, that I should be parking my car in the middle of the street like some people we've heard of. I think people - especially in Brazil and other places - realize that I have a passion for what I do, that I really love what I do, that I really care about what I do, and I really give everything into what I do. Like me or don't like me, performance-wise or as a person, all I can do is be the best I can be.
And if people recognize that around me and my honesty - don't play poker with me, I'll lie through my teeth to get your money - but I'm always honest. Maybe it's just the respect factor - I have respect for the people I meet, and hopefully, they have respect for me. And then when I go out and do my thing and I get them going, it creates whatever it creates. It's kind of hard for me to answer that question, but I'm just being me.
theScore: How much longer do you want to announce in the Octagon? Do you ever think about that?
Buffer: Sure. I might not want to travel to 35 shows a year. I might want to go down just like Joe Rogan's gone down a bit. I'm not saying now, but there could be a time. Do I want to leave the Octagon? No. I plan on being there for 10 or more years from now. I just turned 64 years old, so I plan on being there. I stay in shape, and I'm in better shape than I've been in 20 years. I'll still go toe to toe if I have to, but that's not my job. I'm just there to announce the fights. It's all good.
Comments
✕
Bruce Buffer Q&A: Working during COVID-19, desire to announce at Super Bowl
  Got something to say? Leave a comment below!