It's remarkable to consider that Jonathan David is both three months removed from his 20th birthday and halfway to Canada's all-time scoring record.
With 11 goals in 10 senior outings - including eight tallies in this calendar year alone - David eclipsing Dwayne De Rosario's 22-goal mark is becoming increasingly inevitable with each appearance.
Does David's swift goal-scoring clip and its imminent place in the national record book speak more to the player's virtues, or the failures of a soccer nation that's long yearned for a credible scoring threat?
It can be both.
As an alluring Nations League clash with the United States on Tuesday looms, the 19-year-old's latest opportunity to prove he's the first of his kind for Canada awaits.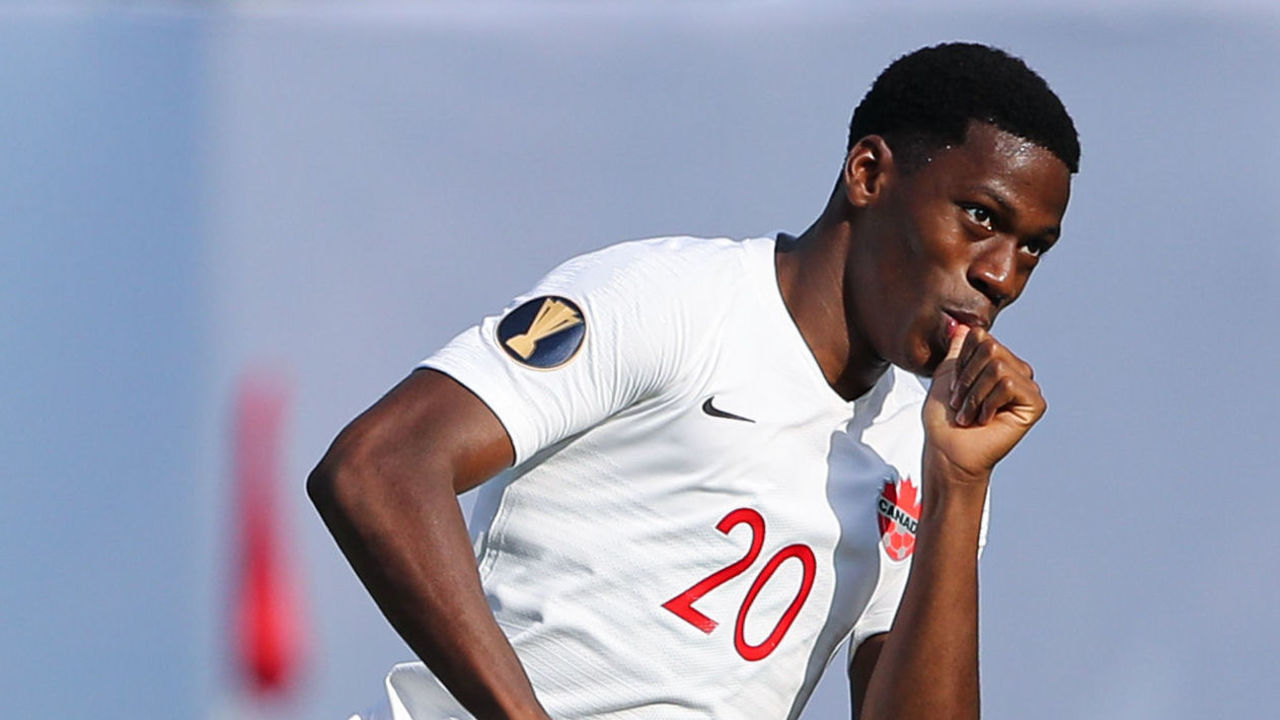 Perhaps it's a simplistic appraisal, but two prevailing qualities tether David's diverse catalog of skills: polish and poise.
For a teenager, he's an uncommonly polished player capable of briskly rotating between roles anywhere across the frontline. That's something Canada head coach John Herdman noticed immediately when the then 18-year-old was summoned into the Under-23 ranks for the Toulon Tournament in May 2018.
"We took him to Toulon for that tournament and I remember the first training session," Herdman told theScore following a 6-0 victory over Cuba in September.
"We've never seen a player as clean as Jonathan," he added. "He's technically clean and his understanding was right up there."
David's versatility also speaks to the talents of a player who's cultured beyond his years.
He's been used in several positions just 60 matches into his club career with Belgian side KAA Gent. As part of manager Jess Thorup's preferred 4-4-2 formation, David has played both as the attacking tip of a midfield diamond behind Laurent Depoitre and Roman Yaremchuk, and as one of two forwards with either of Gent's traditional point-men in a 3-5-2 set-up.
For Canada, David's roles have been equally varied. In the first of two Nations League matches against Cuba, the teenager played on the right side of a 4-2-3-1 in support of striker Cyle Larin and opposite fellow prodigy Alphonso Davies. In the reverse fixture at BMO Field in Toronto, David was used as the lone forward in the same system.
"When you're a versatile player you can adjust to any position and any situation," David told theScore following the second match against Cuba. "If I want to stay deep and make runs in behind and also if I want to come in and combine in pockets of space I can."
A poacher's goal versus Saint-Etienne in the Europa League illustrates David's fruitful runs from deep.
Herdman regards David's versatility as both a weapon for his side and a source of bewilderment for opponents.
"With the amount of analysis now, if you're a one-position player after the second game people know you and they know every movement you make," he said. "They know the cues and the triggers on those movements so I think with Jonathan it's a gift that he has that IQ that allows him to play anywhere across the front three and his timing is so clean."
There doesn't appear to be a limit to what David can do when in on goal. Right-footed rocket? Check. Left-footed strike from distance? OK. Perfectly timed run? Sure.
Considering he was an unknown commodity prior to a meteoric rise that resulted in a January 2018 move to Gent, the poise David has displayed both on and off the pitch is noteworthy.
Born in Brooklyn to Haitian parents before moving to Port-au-Prince three months later, and then to Ottawa as a six-year-old, David's aplomb throughout a rapid rise is credited to his family.
"I call him the Iceman," Herdman said in September. "He comes from a really solid family. He's not going to get carried away, and I think for him that might be the difference."
That's particularly true while reports surface of a potentially life-changing move to one of Europe's top domestic leagues, as Herdman explains.
"The danger they have is the people behind them asking 'what if you break your leg?' Or having a career-ending injury at 20 and they'll give them a list of kids that it's happened to," Herdman said. "I just hope that Jonathan stays (at Gent) and plays and that the timing is right."
When speaking to him, you can't help but feel like that won't be a problem, and he won't be rushing into anything. Fitting his nickname, David is noticeably calm and tactful when pressed about his emergence.
"It reflects who I am. I'm always somebody who is calm," he said. "My teammates always tell me this. I'm always relaxed, and I think that's where the nickname comes from, and I think it suits me."
Those qualities are clear on the pitch, too, as evidenced by a goal in last month's win over Cuba that David calls "my best at the pro level."
"I remember making eye contact with Mark-Anthony (Kaye) and he played the ball in behind so I had to take the touch the way I did," he said.
David would have been forgiven for taking a shot with his right foot when the Cuban defender slid his way. Instead, Canada's No. 20 opted for restraint.
"I said to myself, 'If I shoot now he's going to block it so I decided to fake a shot and see what happened,'" David added. Canada's sixth goal on the night came next in a result that was never in question.
In a match against the U.S. that promises to be a narrower affair, David's patience could be the determining factor. There's no better moment for the unique talent to showcase his refined goal-scoring abilities and take the next step in his blossoming career. The Iceman cometh.