The Milwaukee Brewers are on the verge of handing a mammoth extension to superstar outfielder Christian Yelich, who could sign a nine-year deal worth around $215 million by this weekend, according to Ken Rosenthal of The Athletic. If completed, the deal will keep Yelich in Milwaukee through at least 2028, and his new contract is expected to include a mutual option for the 2029 campaign, as well.
Yelich, in short, gets life-changing, take-care-of-your-family-until-this-planet-explodes money. The Brewers, meanwhile, essentially lock up one of the game's preeminent superstars - who might've been the back-to-back National League MVP if not for a freak knee injury late in 2019 - for the rest of his career. Everybody's happy.
Still, all things considered, this deal is surprising. Not only in scale - Yelich's deal will more than double the overall value of what is currently the largest contract in franchise history - but in strategy, too. Yelich, after all, was already locked up for the remainder of his prime.
In 2015, after dazzling in his first full season at the big-league level, Yelich signed a seven-year, $49.57-million extension with the Marlins that included a $15-million team option for 2022. Had the Brewers - who acquired Yelich from Miami ahead of the 2018 season - not opted to extend Yelich, they still would've had him for another three seasons (assuming they exercised his team option), and the two-time All-Star would've hit free agency ahead of his age-31 campaign. Effectively, then, the Brewers are about to commit more than $200 million largely to Yelich's decline years, with his impending extension set to expire just before his 37th birthday.
As such, it's impossible to ignore the parallels between Yelich's deal and the extension that Ryan Braun, the Brewers' superstar emeritus, signed a few weeks after Opening Day in 2011. At the time, Braun, a 27-year-old mega-stud who would claim National League MVP honors months later, was only three seasons into an eight-year extension he signed less than a year after his MLB debut. That deal was set to keep him in Milwaukee through 2015. But the Brewers couldn't imagine their longer-term future without Braun, and thus handed him a second extension worth $105 million, locking him up through 2020, his age-36 season.
Thanks to a solid 2016 campaign, the returns on Braun's second extension aren't egregious from a dollars-per-WAR perspective, with the Brewers paying him roughly $10 million for each marginal win provided over the last four seasons. (FanGraphs estimates teams paid about $7.8 million per win in free agency last year.)
Ultimately, though, Braun has been more incidental than essential to the Brewers' recent renaissance: He was worth less than 2 WAR in each of the last three seasons. The opportunity cost of his salary also looms large following an offseason in which the Brewers either weren't able or inclined to re-sign All-Star catcher Yasmani Grandal, their second-best player in 2019, and in which the most impactful addition to their suspect rotation might have been Brett Anderson.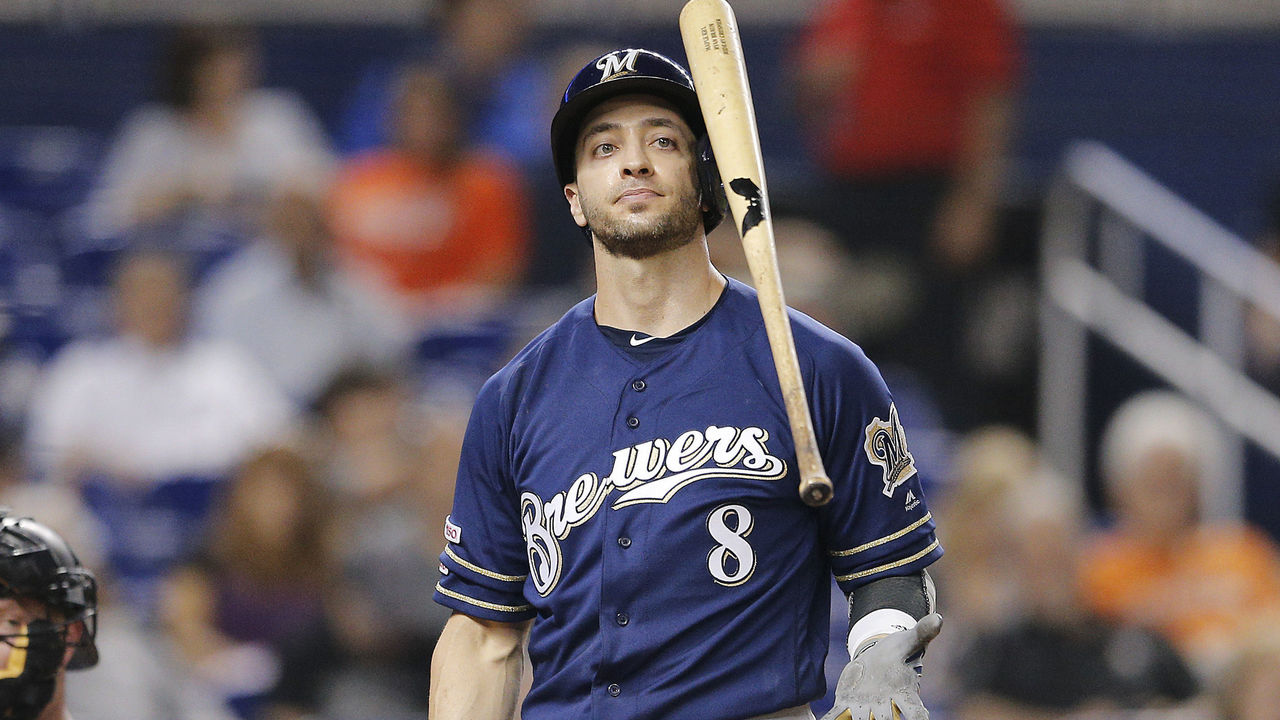 Yelich, to be sure, is a better player than Braun was when the latter signed that second extension. On top of being perhaps the game's best non-Mike Trout hitter, he's also an elite baserunner and a fine defender; Braun was a defensive liability at the best of times.
In fact, over the last three seasons stretching back to his final campaign in Miami, Yelich has accrued more WAR than everyone except Trout and Mookie Betts, the two most recent AL MVPs. He deserved a massive windfall - more than $215 million, frankly, and he likely acquiesced to this extension only because his alternative was hitting free agency at 31 - and he very much belongs in that upper echelon of players who seem poised to remain productive into their late 30s.
Having said all that, it's still a somewhat perplexing investment for the Brewers, who will commit roughly a quarter of their yearly payroll to a player in his 30s for the better part of the next decade. Only once before has Milwaukee's payroll exceeded $105 million, a byproduct of playing in baseball's smallest market. That means Yelich will have to continue to provide plenty of surplus value during the back side of his career if the Brewers are to realistically be competitive in the middle and latter stages of his extension.
But they're not the Angels. The Brewers can't spend their way around a costly mistake. The abysmal state of their farm system - which was recently pegged as the worst in the game and won't be graduating any high-impact, low-cost talent to the majors anytime soon - only consolidates the pressure on Yelich to remain a star into the twilight of his career.
And he might well do that. Yelich was an incredibly productive player even before he transformed into the Trout-adjacent star he is today, and with his full complement of tools, he's better equipped than most to defy the ravages of age.
It can't be overstated that more small-market teams should be making efforts to lock up their stars, rather than liquidating them for prospects when they're a year or two from free agency. But the Brewers already had Yelich under contract for the foreseeable future. Given its perpetual financial limitations, the club's outlook beyond the foreseeable future is now inextricably linked to him too, for better or for worse.
Jonah Birenbaum is theScore's senior MLB writer. He steams a good ham. You can find him on Twitter @birenball.