If you had plugged your ears on Sept. 1, 2016, and tried to tune out the rest of the world, you might have been able to concentrate on sports in the narrowest framing of the term. The National League-leading Cubs beat the Giants at Wrigley Field. It rained at the US Open, but Serena and Venus Williams won second-round matches under Arthur Ashe Stadium's new retractable roof. Lamar Jackson, Louisville's sophomore quarterback, passed and ran for eight touchdowns against UNC Charlotte, the first opponent to mount zero resistance on his march to the Heisman Trophy.
In San Diego, the 49ers visited the Chargers for each team's preseason finale. It was a Thursday night. Steven Powell, a petty officer in the U.S. Navy, sang the national anthem. Colin Kaepernick dropped to his right knee.
So started the silent protest that dominated multiple cycles of American discourse in a way no box score could. Paradoxically, Kaepernick also came to embody something essential about the 2010s, the decade in which pro athletes made their voices heard. They spoke out against injustice and abuse and for causes they considered vital. They rejected the notion that critical thought was not their domain; that acting on their convictions didn't fall within the strict bounds of a player's lane. They refused, as it were, to stick to sports.
The Cubs, the Williams sisters, and Jackson made a lot of noise on the day they authored these respective triumphs. But it was Kaepernick's quietude that resonates most in the world we inhabit - a world that is complicated and dangerous and too often unfair. Occasionally, the loudest cry to make it safer, better, a little more just, is one in which nothing is actually said aloud.
Kaepernick doesn't have a quarterbacking job these days, not since he opted out of his 49ers contract after the 2016 season and the NFL's owners and general managers - if not intentionally, then effectively - banished him from the league. Barring the slim possibility that he gets another chance to play, his will remain a lonely post to occupy.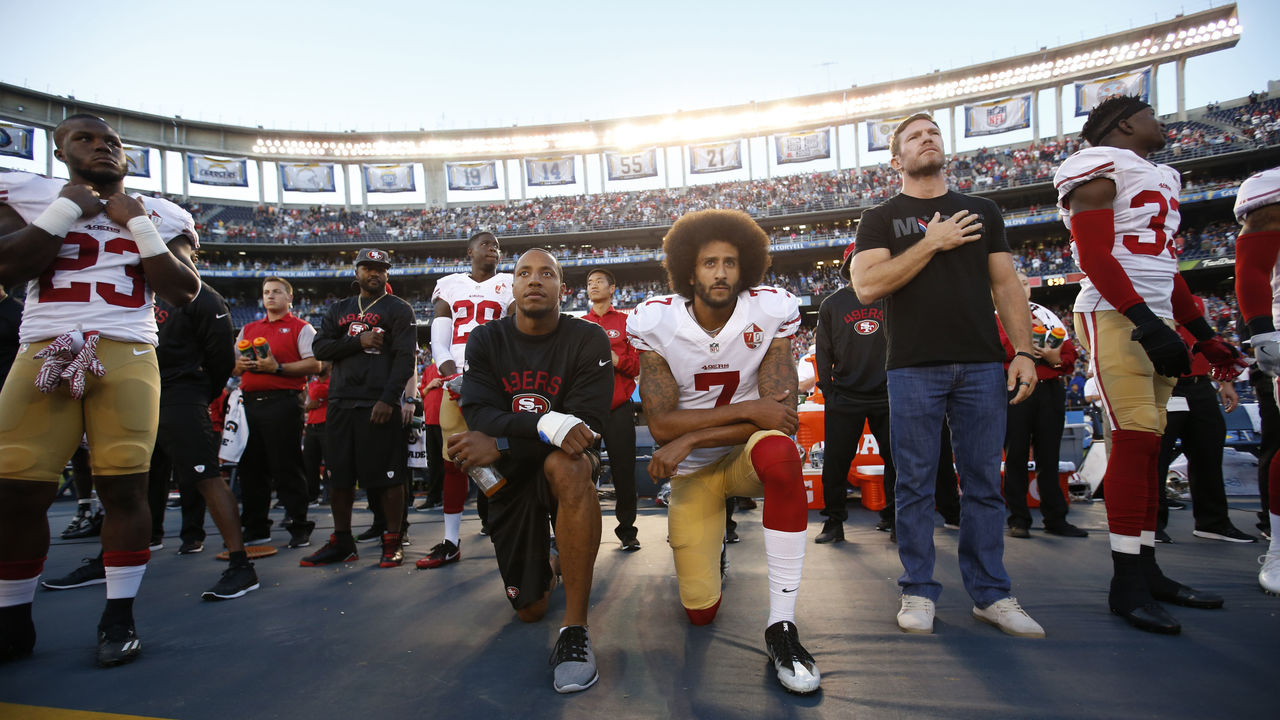 In his protest, though, Kaepernick was never alone. Not in his resolve to object to a malignant societal trend. Not in his specific campaign against police brutality and racial injustice. And not on the very first day he assumed his solemn sideline posture; kneeling directly to his right was 49ers safety Eric Reid, his fiercest partner inside the game from that point forward.
When Reid and more than 200 fellow players kneeled en masse before a slate of Sunday games on Sept. 24, 2017 - lashing back at U.S. President Donald Trump's call, two nights earlier, for any such dissenter to be "fired" - they were emulating Kaepernick and aligning themselves with their shunned contemporary. The display of support wasn't limited to the NFL. That day, the Los Angeles Sparks sat out the national anthem in their locker room before Game 1 of the WNBA Finals. Members of the Indiana Fever and Phoenix Mercury had adopted Kaepernick's mode of protest before a game the previous September, as did American soccer midfielder Megan Rapinoe.
These players' spiritual forerunners - Muhammad Ali losing nearly four years of his prime for refusing to serve in the military during the Vietnam War; Tommie Smith and John Carlos raising black-gloved fists on the Olympic podium in 1968; Denver Nuggets guard Mahmoud Abdul-Rauf declining to stand for the U.S. anthem in 1996 - weren't of the 2010s. But this decade, athletes revived the practice of protesting on an unprecedented scale, harnessing the attention and reach conferred to them by their platform to lobby for profound social change.
Trace the trend backward from Kaepernick to 2012, when unarmed black teenager Trayvon Martin was shot and killed in Florida and the Miami Heat, led by LeBron James and Dwyane Wade, posed for a team photo in dark hoodies. (Wade wrote "We Want Justice" on the shoes he wore in that night's game.) Follow the throughline to the two-week span in 2014 when, in chronological order:
Five St. Louis Rams took to the field with their hands in the air, a "don't shoot" gesture meant to protest a Missouri grand jury's decision to not indict the police officer who shot and killed Michael Brown;

James, Derrick Rose, Kyrie Irving, and other NBA players warmed up in "I Can't Breathe" T-shirts to recognize the family of Eric Garner, the New York man who died after an officer placed him in a chokehold; and

Andrew Hawkins wore over his Cleveland Browns jersey a T-shirt that read "Justice for Tamir Rice and John Crawford III," the 12-year-old and 22-year-old, respectively, shot and killed by police in Ohio.
Just as these symbolic shows of solidarity weren't contained to one person or sport, the discovery and use of this collective voice was not merely a metaphorical exercise. Athletes who spoke pointedly and courageously this decade in support of a cause formed an influential throng. In some cases, their outspokenness led to consequences that were long overdue.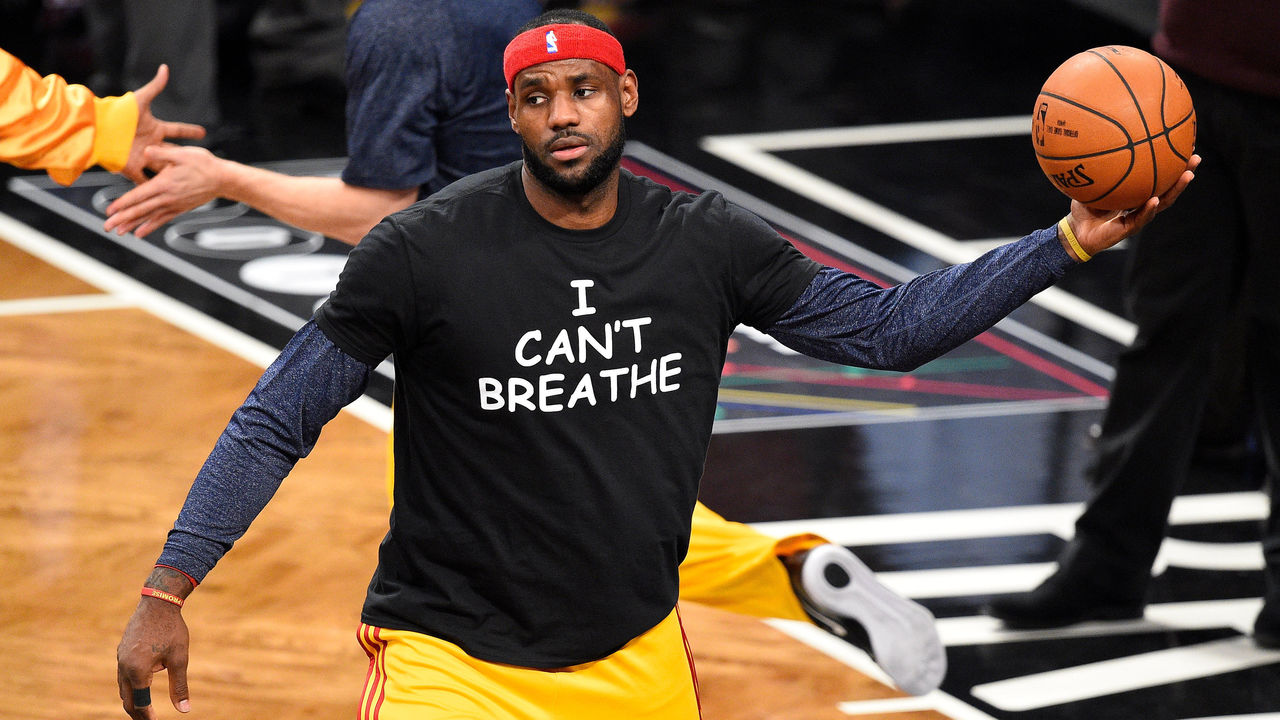 Never was this combination more striking than in the 2018 conviction of Larry Nassar. Hundreds of women - led by Rachael Denhollander and counting among them Olympic champions Simone Biles, Gabby Douglas, McKayla Maroney, Aly Raisman, and Jordyn Wieber - accused the former USA Gymnastics team doctor of sexual assault. More than 150 of his victims shared harrowing impact testimony in court, at the end of which Nassar was sentenced to up to 175 years in prison. (In concert with that delivery of justice, USA Gymnastics' entire board of directors resigned within the month. Michigan State University, where Nassar also worked, settled with victims for $500 million; several top leaders resigned and a former school president faces charges for covering up what she knew.)
In November, as the decade neared its end, several former members of the Nike Oregon Project followed the lead of star American middle-distance runner Mary Cain in alleging physical and emotional abuse under Alberto Salazar, the marathon champion turned coach. The same month, similar accounts were aired in the NHL; Calgary Flames head coach Bill Peters resigned from that post after being accused of kicking and punching players on the bench and directing a racist comment toward Akim Aliu in previous jobs with the Carolina Hurricanes and Chicago Blackhawks organizations. These revelations prompted NHL commissioner Gary Bettman to mandate the creation of annual diversity and inclusion training for coaches and GMs.
The power of voice was manifest on a range of other fronts, too, as athletes spoke out for who they are and what they believe in. Robbie Rogers, Jason Collins, and Michael Sam broke ground in soccer, basketball, and football, respectively, by coming out as gay during their playing careers. In 2015, several weeks into protests at the University of Missouri over the marginalization of black students, the school's president resigned two days after football players entered the fray by threatening to boycott games. At the risk of persecution and prosecution, Enes Kanter has sounded an alarm about human rights abuses under the Erdogan regime in his native Turkey. By candidly discussing how they've experienced depression and anxiety, DeMar DeRozan, Kevin Love, Daniel Carcillo, and Robin Lehner became prominent advocates for mental health awareness.
Two exchanges from the past few years seem to epitomize this attitude shift - the full-throated embrace of an athlete's social responsibility. Both involved LeBron. On July 13, 2016, he and his close friends Wade, Carmelo Anthony, and Chris Paul stood in black suits with their hands clasped to deliver the opening remarks at the ESPY Awards, a week after police shot and killed Alton Sterling in Louisiana and Philando Castile in Minnesota.
"The events of the past week have put a spotlight on the injustice, distrust, and anger that plague so many of us," Anthony said at the top of the show. "The system is broken. The problems are not new, the violence is not new, and the racial divide definitely is not new. But the urgency to create change is at an all-time high."
A little more than 18 months later, after James and Kevin Durant criticized Trump in an Uninterrupted interview, Fox News host Laura Ingraham submitted her own spin on the stick-to-sports trope in telling the players to stop talking politics. James' retort deflected Ingraham's words back at her: "We will definitely not shut up and dribble."
What conditions made this decade different? Why did athletes seem uniquely ready to speak out in such numbers? Social media was undoubtedly a factor, enabling its users to deliver their messages straight to the people. As far back as Martin's death in 2012, James' millions of Twitter followers were immediately privy to the photo he posted of the Heat in hoodies. Aliu didn't even have to name Peters in his tweet alleging racist conduct to spark an inquiry into the coach's past behavior.
That said, it also seems something fundamental changed, transforming the substance of the message itself. The athletes of the 2010s were ubiquitously, persistently in it together, leveraging friendships and pursuing common interests that transcended the traditionally impregnable walls between teams.
This togetherness went beyond one-off expressions of support against a shared foe, though Trump's propensity for the histrionic ensured this happened, too. (See: the scores of NFLers who kneeled in September 2017, or James calling the president a "bum" the same weekend after Trump said Steph Curry wasn't welcome at the White House.) For as hard as players continue to compete between the lines, their personal relationships have evolved, revolutionizing the landscape of their sports in the process.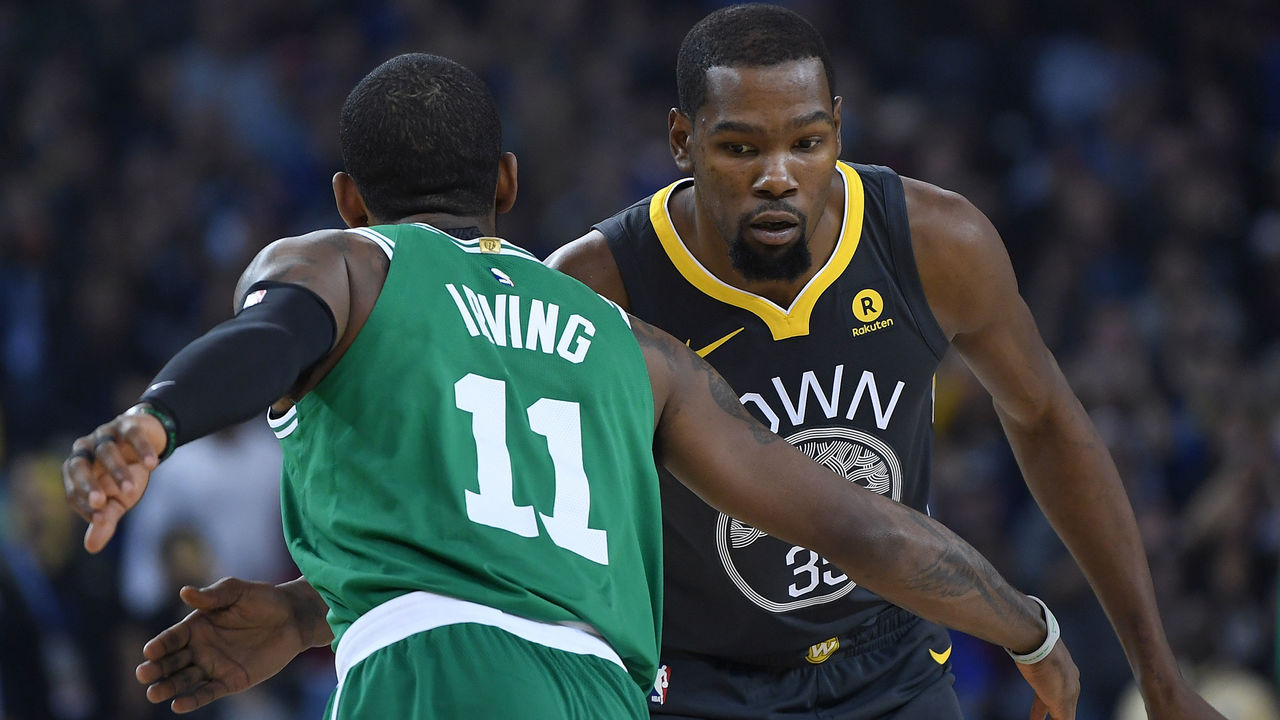 Athletes, generally speaking, like each other now. They embrace postgame at midcourt and midfield. They work out together in the offseason. (In August, players from no fewer than 14 NBA teams reportedly attended an invite-only minicamp near L.A. coordinated by, of all people, Kobe Bryant.) They vacation together; on one jaunt to the Bahamas in summer 2015, James, Wade, Paul, and Anthony - basketball's Banana Boat Crew - were pictured clinking wine glasses and riding the inflatable yellow vessel that inspired their collective nickname.
Bonhomie between players has a whole lot to do with the dawn of the NBA's superteam era, an age in which stars have partnered to stake a shared claim to ownership of their destiny. This development traces the arc of the entire decade, from the formation of James, Wade, and Chris Bosh's Heatles in 2010 to Kawhi Leonard persuading the Clippers to trade for Paul George this summer. The league's fraternal culture empowered the Warriors' Draymond Green to call the Thunder's Kevin Durant from the Oracle Arena parking lot on the night Golden State lost to James' Cavaliers in Game 7 of the 2016 Finals. Durant did go west, and he's now in Brooklyn, the destination he handpicked as a free agent this summer in tandem with Irving.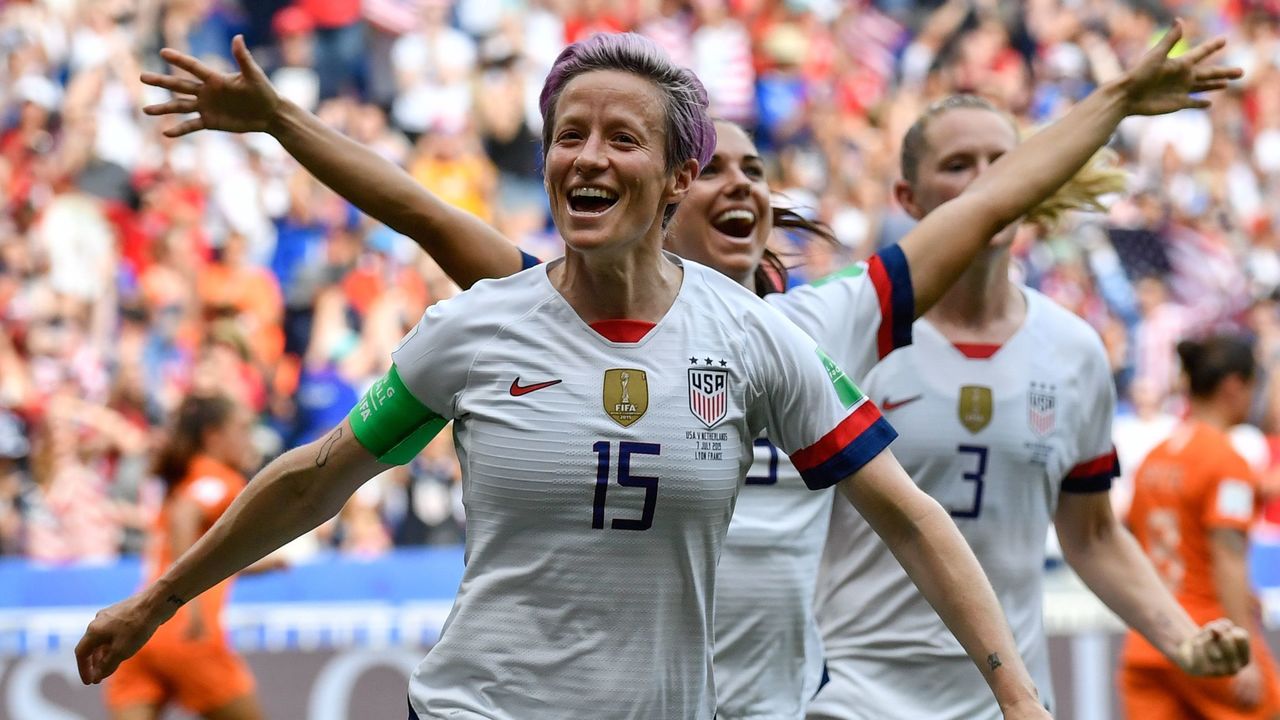 Especially in women's sports, athletes came together to fight for recognition and assert their shared worth. The World Cup champion U.S. soccer team is suing its national federation for gender discrimination as part of its yearslong crusade for equal pay. (In November, Australia's women's team earned an equitable split in a new deal.) American and Canadian women's hockey stars alike are sitting out the ongoing pro season to amplify their call for one sustainable league. WNBA players, who are currently engaged in CBA negotiations, have decried the minimal share of league revenue they receive and the pitfalls of exclusively traveling commercial. Serena and Venus Williams have taken up Billie Jean King's cause by calling for equal prize money at all ATP and WTA events.
Over a 10-year interval, history sometimes resembles itself. In 2014, when a recording surfaced of Clippers owner Donald Sterling disparaging black people, the team's players turned their shooting shirts inside out to warm up for a subsequent playoff game. James and the Heat duplicated the gesture before their next game; the Trail Blazers and Rockets all wore black socks. It wasn't long before the NBA forced Sterling to sell the team and banned him for life.
This past June, during Game 3 of the NBA Finals, a part-owner of the Warriors shoved and swore at Kyle Lowry when the Raptors point guard chased a loose ball into the courtside seats. The shareholder, Mark Stevens, was ejected from the arena, and the following day Lowry delivered his measured yet impassioned take. He said there was no place for Stevens in the NBA. (The league wound up fining Stevens $500,000 and banning him from games for a year.) He seconded an assertion that Green had raised in the past: Use of the term "owner," implying as it does that an athlete is an asset, should be eliminated in sports.
At one point, Lowry was asked what it meant to have the backing of James, who had turned to Instagram earlier in the day to condemn Stevens' actions.
"He's one of the biggest athletes and most vocal guys we have out there. His social activism has been amazing. And he sticks up for his fellow players," Lowry said.
"It really does mean a lot to be able to have the support of a guy like him - and other players, also."
The manifestations of this phenomenon - athletes speaking out for social causes or aligning against adversity - have limits. In October, after Rockets GM Daryl Morey tweeted his support for anti-Chinese government protesters in Hong Kong, James didn't comment on the substance of Morey's statement but said it seemed Morey didn't consider the possible consequences of his speaking out. Togetherness across MLB teams will be tested if there's a work stoppage in 2022; to tilt the economic scales back in the players' favor, the older guard may have to be willing to sacrifice a season.
As for the efficacy of athlete protests, well, there's the matter of Kaepernick's continued unemployment. Even an exiled quarterback, though, can reinforce an enduring lesson from the Ali era. Some things matter more than sports, which can nevertheless serve as a means to an end - a stage from which any player can endeavor to be heard.
On New Year's Day 2017, four months to the day after Kaepernick first knelt, his 49ers faced the Seahawks in the merciful conclusion to a two-win campaign. His performance was efficient if not memorable: He completed 17 of 22 passes for 215 yards and a touchdown. At a postgame press conference, he expressed gratitude to his teammates for standing by him all season.
The 49ers had lost narrowly, and Kaepernick hasn't played since. History will remember him anyway.
Nick Faris is a features writer at theScore.