4 takeaways from Thursday's action at Euro 2020
One year later, Euro 2020 is finally underway. At the end of every matchday, we'll be dissecting the biggest talking points from all the action. Below, we look back on Thursday's games.
North Macedonia can be proud of performances
No one expected North Macedonia to reach the next round of the Euros. theScore ranked the nation of two million people dead last among the tournament's 24 teams, and it became the first country to be officially eliminated from knockout-round contention Thursday.
But North Macedonia fought hard in its opening two matches and gave a good account of itself. Goran Pandev, the country's 37-year-old captain, bemoaned his team's poor game management, but to have such composure without experience is to try to build without tools. After all, this group of players has never played in a major international tournament before.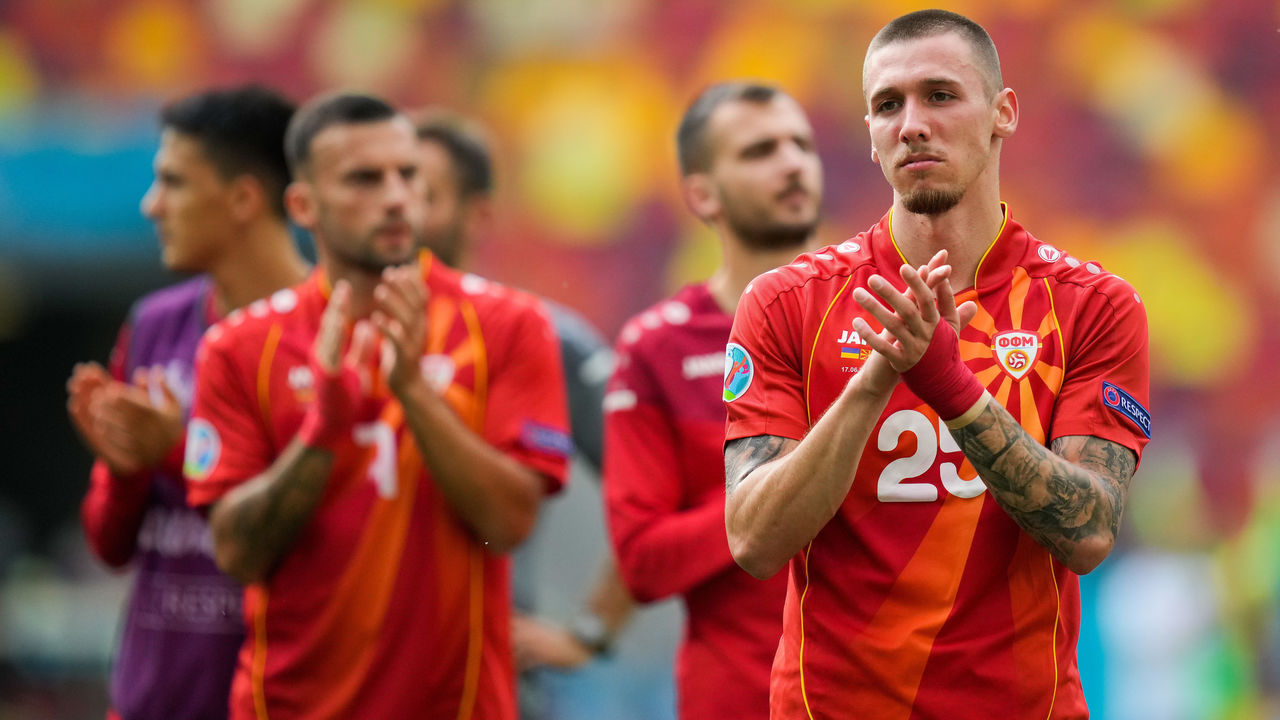 "Just 45 good minutes in a tournament like this is not enough," Pandev said.
That may be true, but North Macedonia also held its own for significant stretches of each of its losses. It outshot Austria 5-0 over a 40-minute spell last week and came to life in the second half of Thursday's 2-1 loss to Ukraine, controlling 62% of possession after halftime. Aleksandar Trajkovski had several glances at goal, and Stole Dimitrievski saved a late penalty to give his country hope of a comeback. Head coach Igor Angelovski can only take positives from this unexpected adventure.
Denmark shows incredible spirit in defeat
Denmark hit the pitch in Copenhagen with a singular desire to make Christian Eriksen and his country proud. All game, the home side pressed and harried Belgium, and that relentless energy caused a turnover that Yussuf Poulsen converted inside the first 99 seconds of play. The crowd helped, and Poulsen's goal - the second-fastest in the history of the Euros - ignited a fire within Denmark's players that burned for the majority of the match.
They deserved a much better fate than the 2-1 defeat Belgium inflicted, but it was a loss with many consolations. Denmark's performance packed punch and bite, and if not for Kevin De Bruyne's heroics and Romelu Lukaku's individual brilliance, the Danes could've pulled through. They dictated the tempo for large parts of the contest, outperforming the Belgians with 2.24 expected goals to their opponents' 0.79. Denmark's expected goals average was the second-highest of any losing side in the tournament thus far.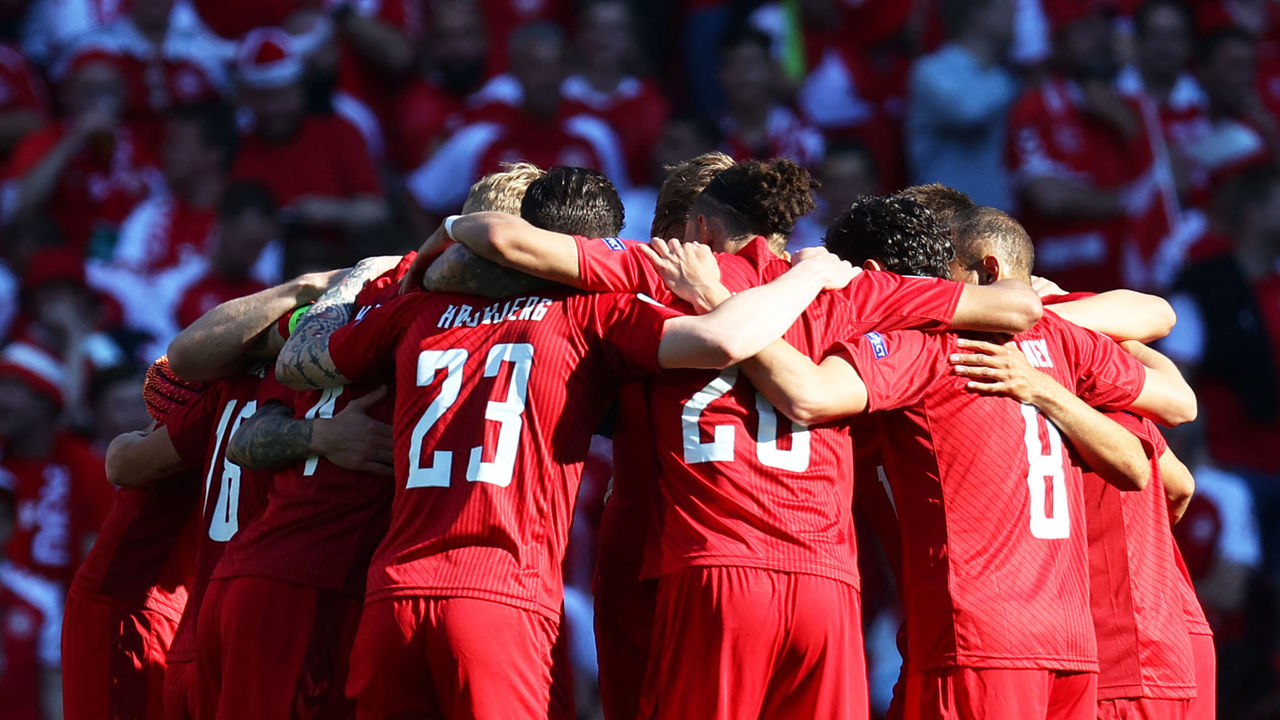 Some of the players who showed incredible leadership during Eriksen's medical emergency stepped up once again. Simon Kjaer - who rolled Eriksen onto his side to prevent him from choking on his tongue - often matched Lukaku stride for stride, and he made a last-ditch tackle to halt a clear breakaway. Joakim Maehle - another teammate who rushed to Eriksen's aide immediately after his collapse - also caused plenty of chaos in Belgium's penalty area. They never gave up, causing one last turnover in the 95th minute when Belgium seemed home and dry.
Denmark still has a chance to advance. Based on Thursday's evidence, fans can expect another spirited effort Monday against Russia.
De Bruyne adds another dimension to Belgium
Belgium looked like a different team with De Bruyne weaving his way through midfield. Despite playing just 45 second-half minutes, the PFA Player of the Year topped the charts in take-ons (five) and big chances created (two), including the exquisite winner he scored with a deceptive run into the final third. De Bruyne upended the game completely.
His presence alone unnerved Denmark, which kept Belgium at bay up until De Bruyne's introduction at halftime. With multiple threats now on the horizon, space opened up for Lukaku, and Belgium solidified possession with the addition of Axel Witsel in midfield.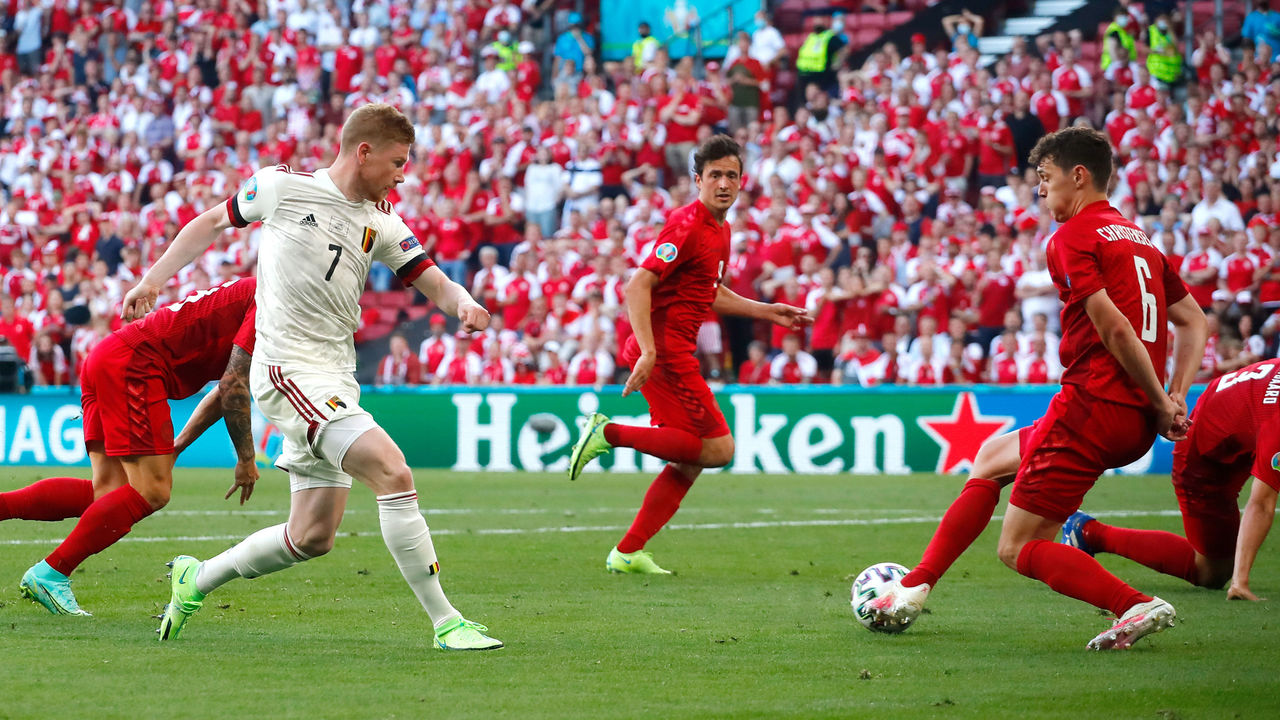 But it was De Bruyne who provided inspiration when Belgium desperately needed it. The Red Devils managed just a single shot in the opening stanza - a rare header from 5-foot-5 playmaker Dries Mertens - and only had three touches in Denmark's penalty area.
All that changed when De Bruyne took the pitch. His effort for Belgium's first goal was truly outstanding. With his back to goal near the halfway line, the 29-year-old whipped a pass out wide to Lukaku and continued his run, waiting patiently for Lukaku to square it. When that happened, De Bruyne collected the ball, put two defenders on their rear ends, and set up Thorgan Hazard for an easy tap-in. De Bruyne showed incredible patience and elegance in and out of possession, restoring order to Belgium's ranks after a chaotic opening half.
Dumfries impresses as leading scorer
Denzel Dumfries leads the Euros with two goals after slotting home in the Netherlands' 2-0 win over Austria. He's arguably been the standout player of the tournament, figuring into each of his team's five goals thus far. He won the penalty Memphis Depay converted in the first half Thursday, and he joined the rush to net the insurance marker in the second.
He clearly has the license to push forward. Head coach Frank de Boer has tasked Dumfries with right wing-back duties in both games to this point, an unfamiliar role for a 25-year-old who has played exclusively at right-back for Dutch club PSV Eindhoven. But the tactical switch has allowed his attacking qualities to shine.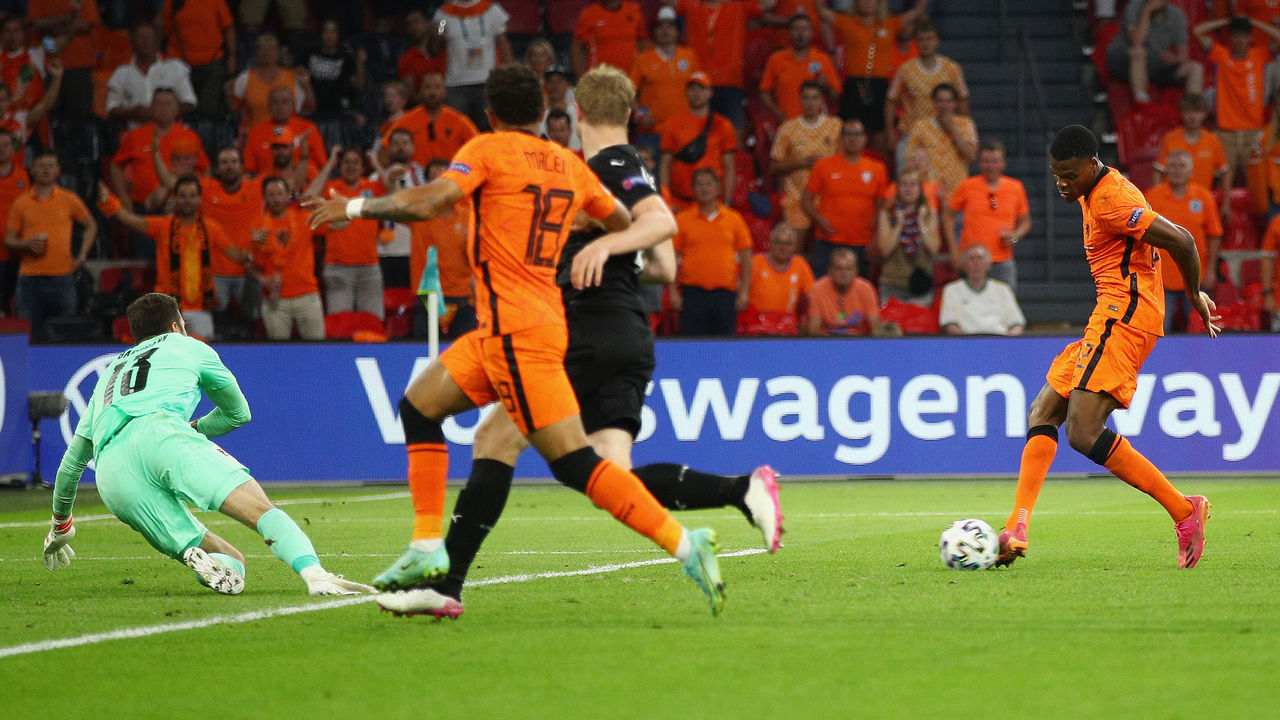 Dumfries has now scored more goals at the Euros than Johan Cruyff, Ruud Gullit, and Arjen Robben managed in their international careers. That's an incredible feat for a defender who had never scored for the Netherlands before this tournament.
Comments
✕
4 takeaways from Thursday's action at Euro 2020
  Got something to say? Leave a comment below!